Cinnamon Whiskey Sour has me falling into autumn with the greatest of ease. The fall twist on the classic cocktail is perfect for your next cocktail party!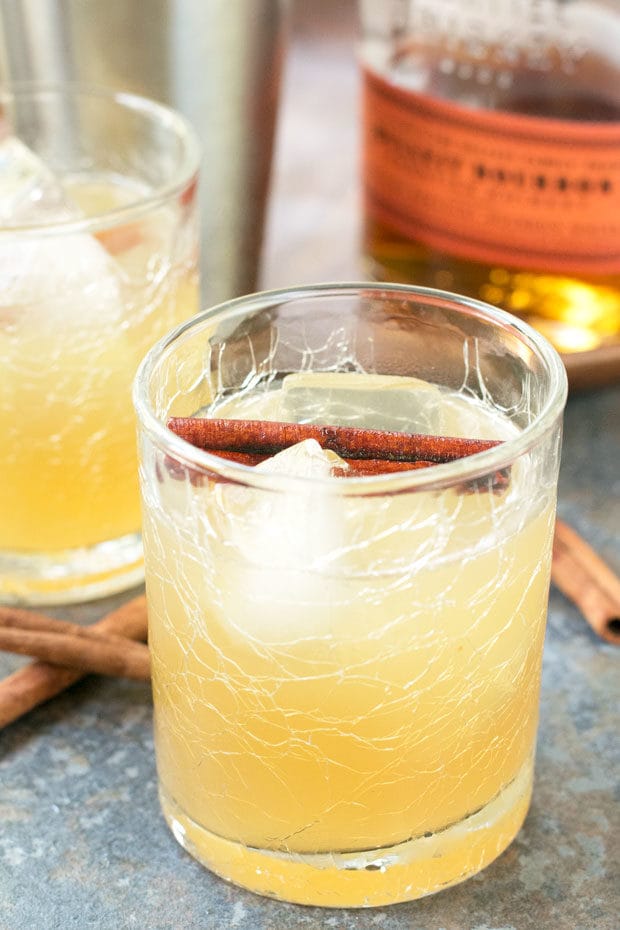 When fall comes a knocking, I always answer the door. I've said it before, and I'll say it again – fall is hands down my favorite season. The weather, the colors, the fashion and the flavors are something I start looking forward to the moment winter sets in every year (always earlier than I'd like it to here in Denver…).
I'm hoping fall holds out a bit longer this year. The temperatures are already sinking into my favorite range and I'm strapping on my leggings and oversized sweaters like a freaking boss.
I'm also inhaling anything pumpkin or cinnamon.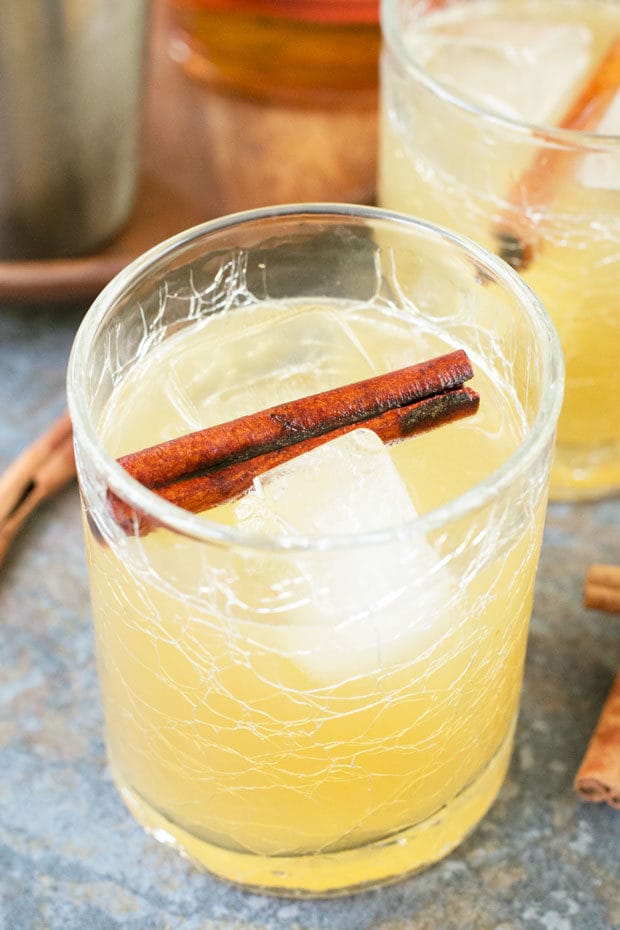 A strong whiskey sour is one of my cocktails of choice when cocktail hour rolls around at my house. It's just the right amount of pucker to wake up my taste buds before dinner, and you all know I'm a whiskey girl at heart. Ain't no one gonna come between me and my whiskey!
This year I wanted to put a fun fall twist on the classic, so I infused my simple syrup with cinnamon sticks. The scent of cinnamon hits your nose with every sip, but when used in this cocktail, the flavor is perfectly subtle. It balances out the acidity of the lemon juice and, let's face it, whiskey takes to cinnamon just like peanut butter takes to jelly.
Match made in heaven.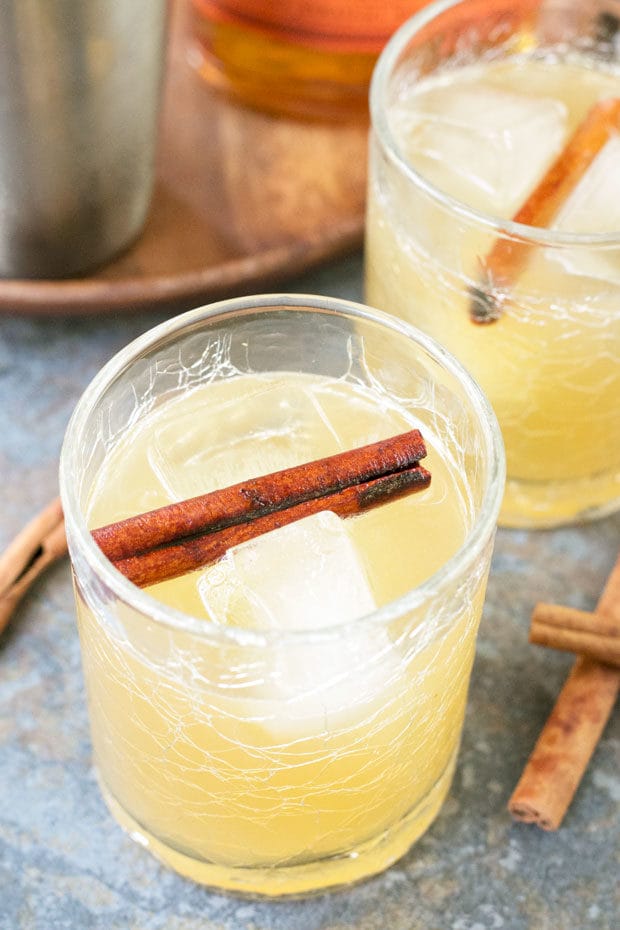 You can even double up on the simple syrup recipe here and try it in other cocktails to give them a quick extra boost of autumn flavor. Another favorite is adding this simple syrup to a simple vodka soda, or a vodka cranberry.
The best part is you probably already have all these ingredients at home, so start looking forward to cocktail hour right NOW.
If you need another sour cocktail to try, this amaro sour is a delightful play on the whiskey sour.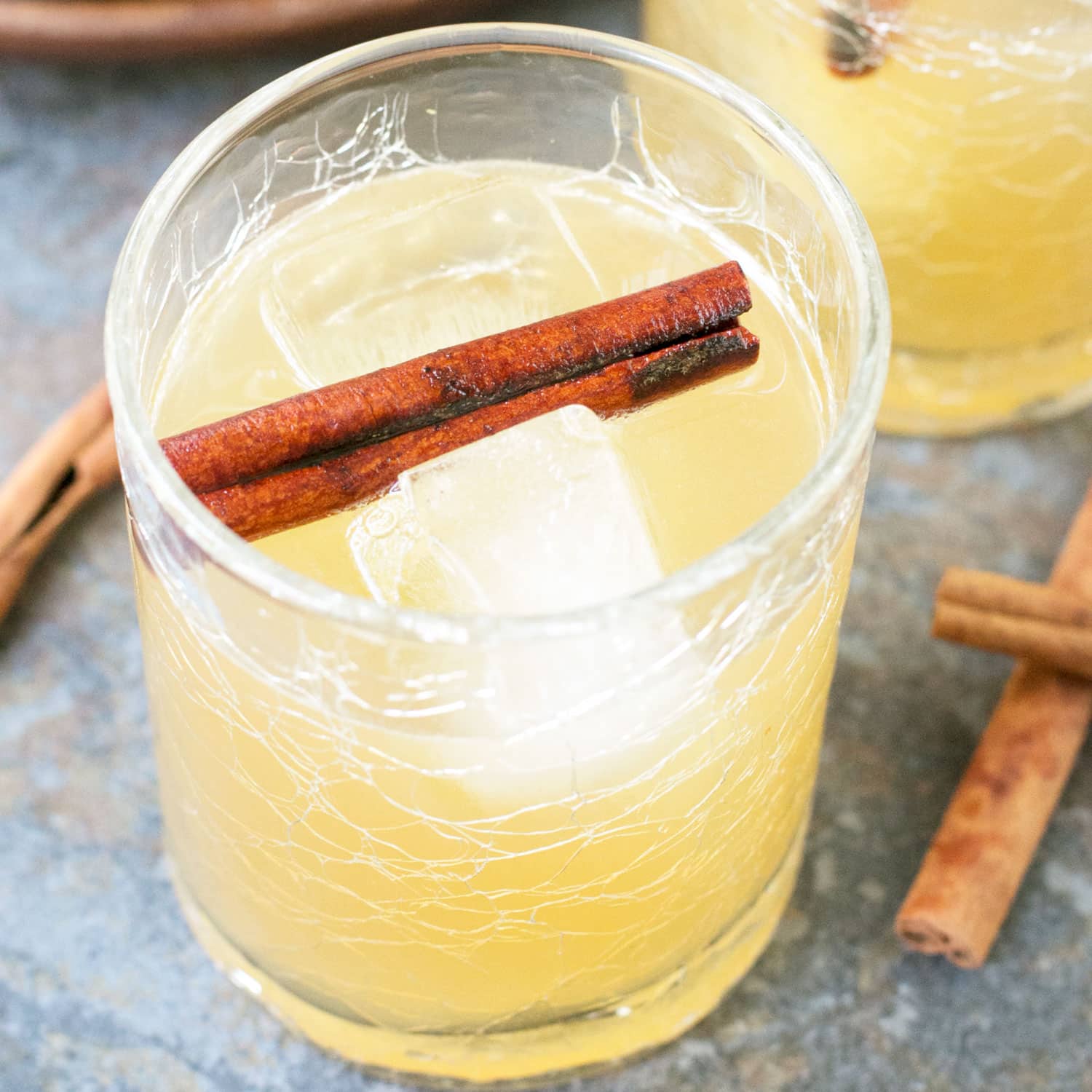 Cinnamon Whiskey Sour
This delicious whiskey sour is taken up a notch with a cinnamon simple syrup!
Ingredients
2 oz bourbon
1/2 oz fresh lemon juice
3/4 oz cinnamon simple syrup
Cinnamon Simple Syrup
1/4 cup water
1/4 cup sugar
4 cinnamon sticks
Instructions
In a small saucepan, bring 1/4 cup water, 1/4 cup sugar and cinnamon sticks to a boil over high heat. Once sugar is dissolved, remove from heat and steep for 30 minutes. Remove cinnamon sticks before using the simple syrup.
To make the cocktail, combine bourbon, lemon juice and cinnamon simple syrup in a shaker filled with ice.
Strain into a glass filled with ice and garnish with a cinnamon stick.