I grew up in a household that was allllll about the cheesecake.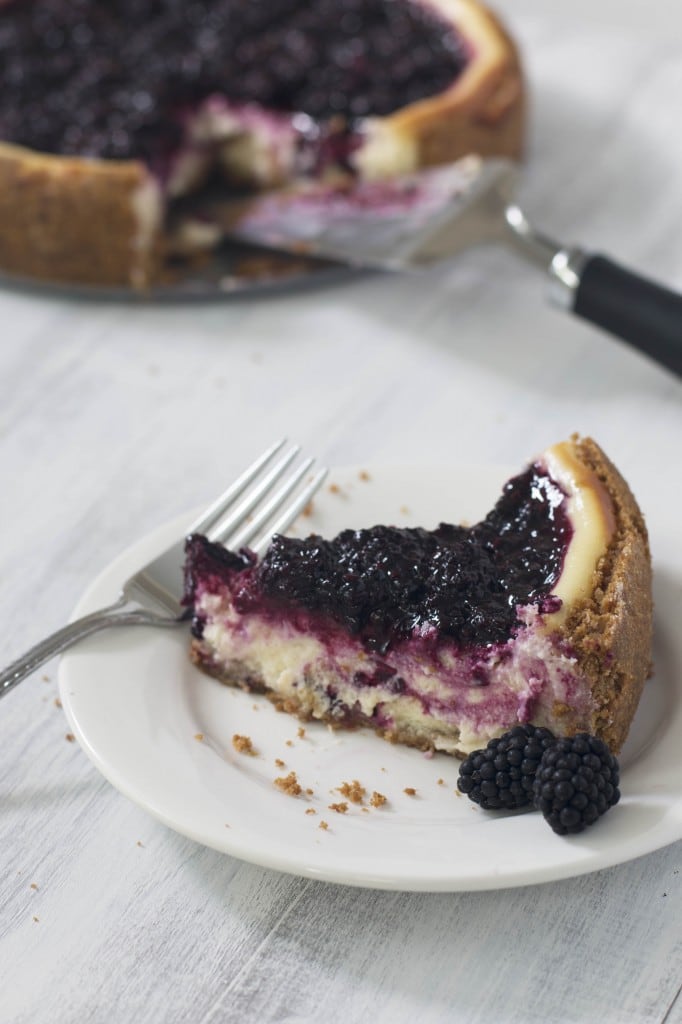 Trips to Cheesecake Factory were the ultimate treat because I would always get my own slice of cheesecake all to myself. And with all the flavors they had at the Cheesecake Factory, well, I was in heaven every time we went.
My fondness for cheesecake has not faded with time. If anything, it's just gotten stronger and stronger as I start indulging myself in different types of cheesecake from ricotta to goat cheese. I have to say, goat cheese is my new favorite addition to cheesecake. Not only is goat cheese my all-time favorite cheese, it is the perfect ingredient for a smooth and creamy cheesecake. It's just the perfect amount of tang to send my taste buds over the edge with delight!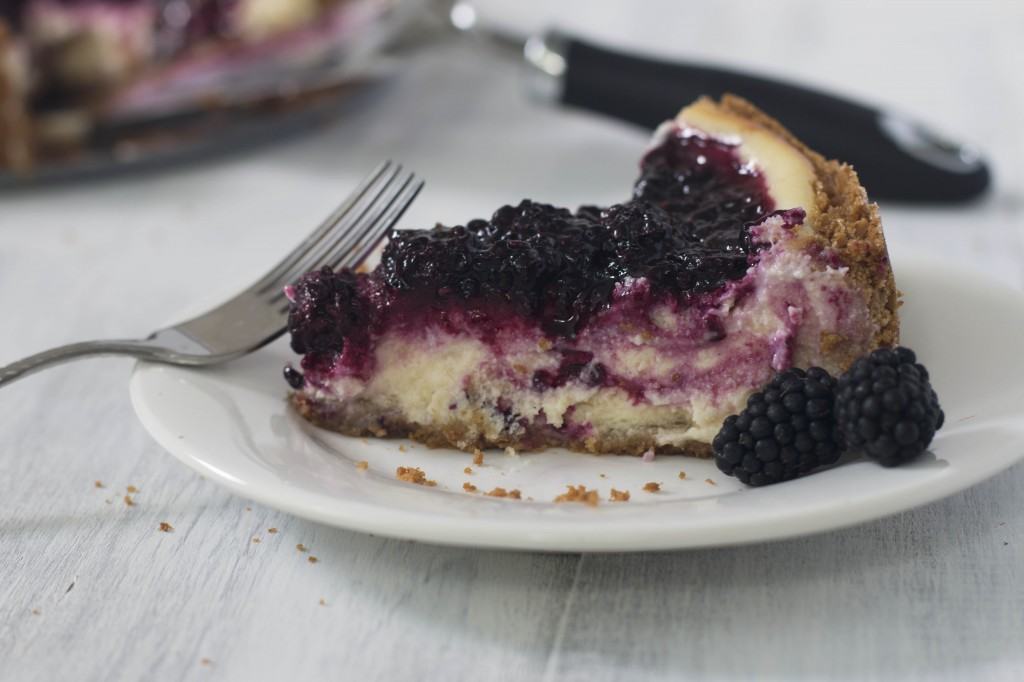 I have to admit, I've been a little absent recently because I have been so overwhelmed. There are so many ups and downs in life and lately for me, it's been a little down. Life gets so overwhelming at times! I thought that a little break from the food blog would be a little less stress, but to be honest, I feel so much better getting back to it. Though things haven't slowed down at all, I am so much happier when I am cooking and sharing my creations with my oh-so amazing readers. 🙂 You guys seriously keep me sane (well as sane as someone like me can be).
So here's a cheesecake dedicated to my incredible readers. If I could give you anything from my heart, it would definitely be a cheesecake.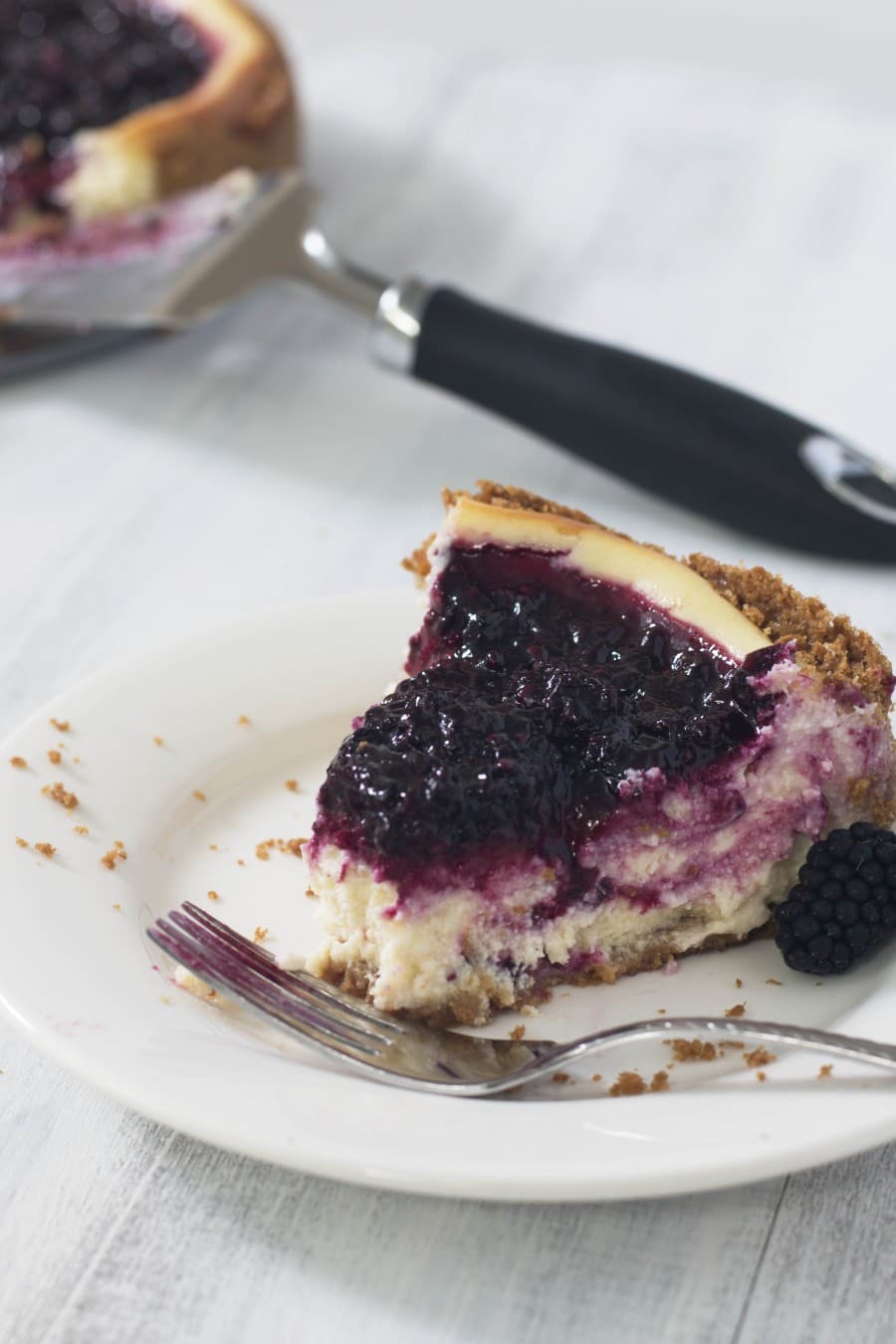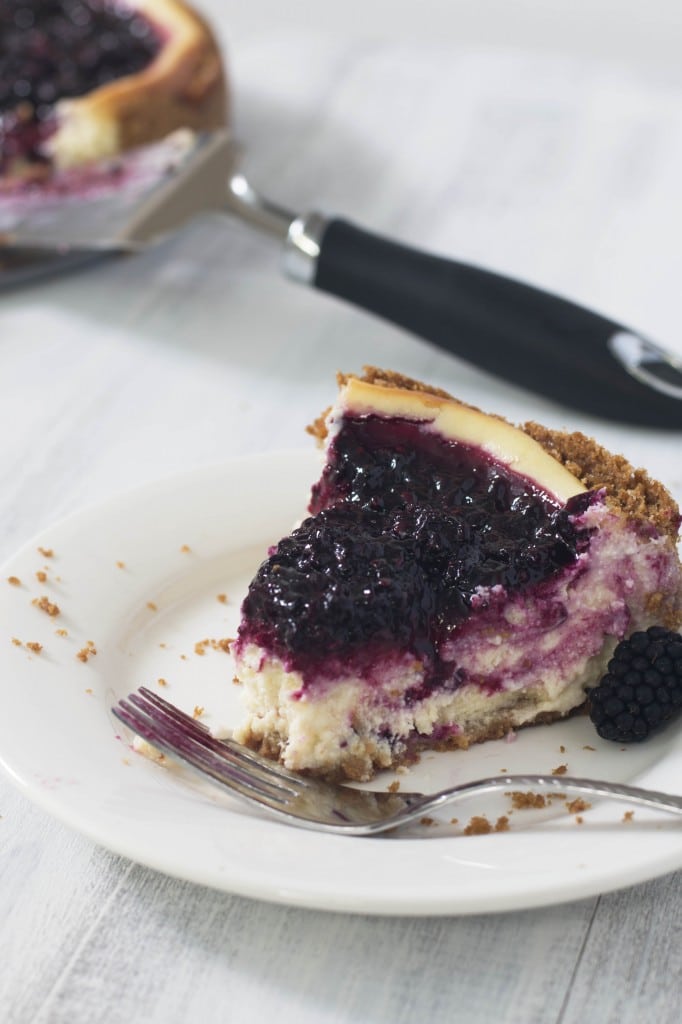 Now get your butts over here and help me devour this thing!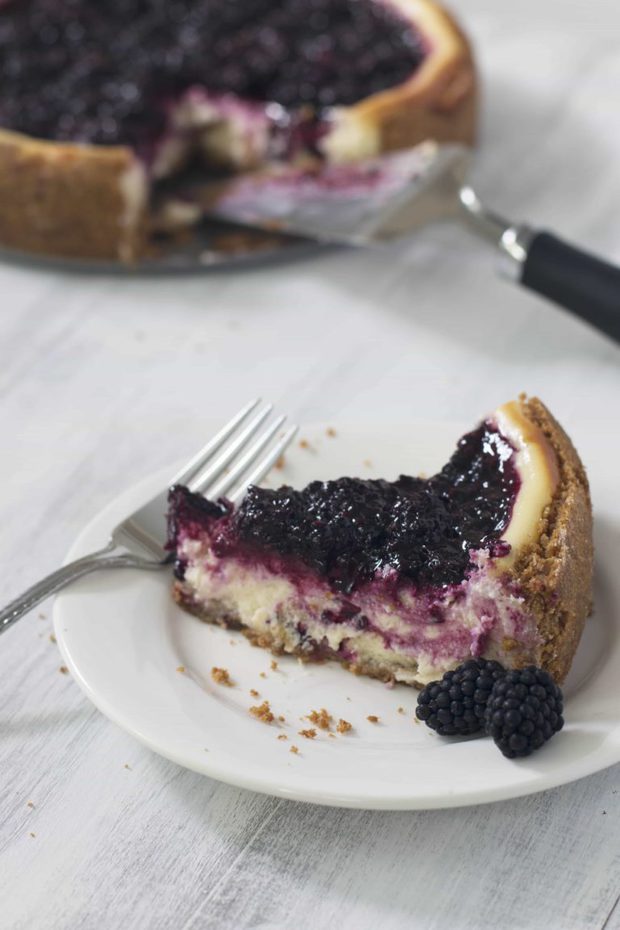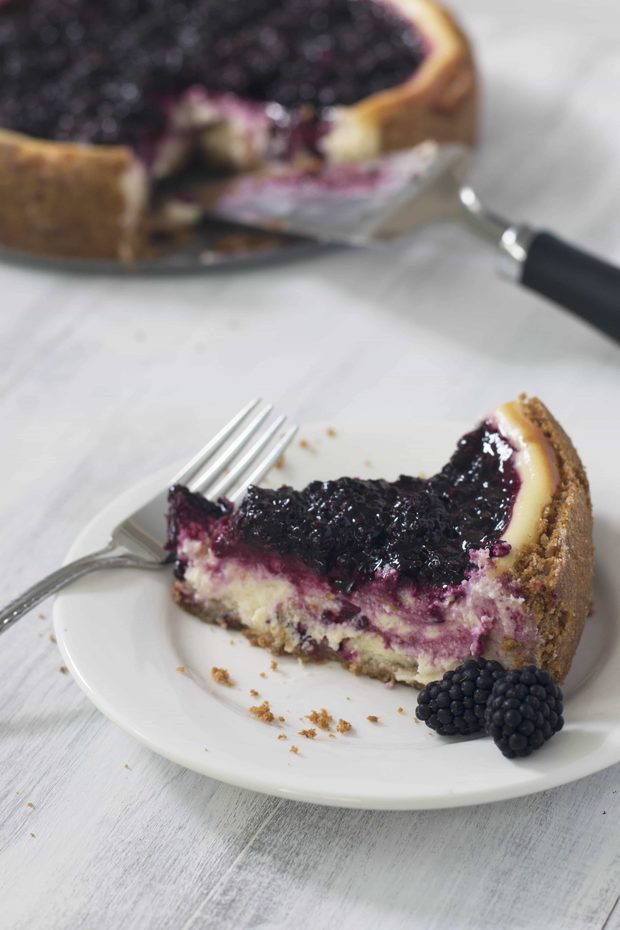 Blackberry Goat Cheese Cheesecake
Cook Time:
1 hour
20 minutes
Total Time:
1 hour
30 minutes
The ultimate cheesecake for all cheesecakes lovers. Perfectly sweet on top, rich and tangy on the inside.
Ingredients
Crust
2 cups graham cracker crumbs
3 Tbsp sugar
7 Tbsp butter
Filling
2 8oz cream cheese packages
12 oz goat cheese
1 1/2 cups sour cream
4 eggs
1 3/4 cup sugar
2 tsp vanilla extract
Topping
12 oz blackberries
1/2 cup sugar
2 Tbsp water
Instructions
Preheat the oven to 350 degrees.
In a medium bowl, combine the crust ingredients and mix together with your hands until just combined. Transfer the mixture to a 9-inch springform pan. Pat the crust down firmly in the bottom and up the sides approximately 2 inches. Bake in the oven for 10 to 12 minutes. Remove from oven to cool.
In the bowl of a stand mixer fitted with the paddle attachment, beat together the cream cheese and goat cheese until the mixture is light and fluffy. Add sour cream and beat until just combined. Add the 1 3/4 cups sugar and vanilla and beat again until combined. Add each egg in, one at a time, beating until well-combined after each addition. Pour the filling into the crust and bake for 1 hour, or until the center jiggles just slightly. Remove from oven and cool in the pan on a wire rack.
In a small saucepan, combine the blackberries, 1/2 cup sugar, and water. Bring to a boil over medium high heat and cook for approximately 5 minutes, stirring occasionally. Remove from heat and cool about 5 minutes. Pour the blackberry mixture on top of the cheesecake and set in the refrigerator to cool for at least 6 hours, ideally overnight.