Please note this post contains affiliate links.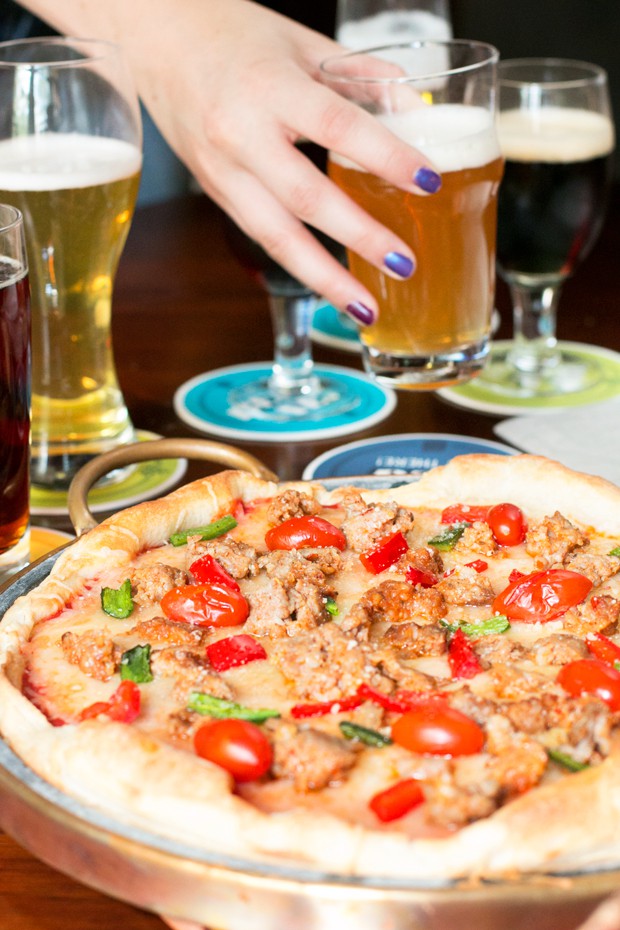 You guyssssss, you know how all that beer has been popping up all over my Instagram lately? I guess you could say I'm actually into beer now… WEIRD, I know.
I mean, this is the girl who hated beer with a fiery passion not too long ago. Now I can actually enjoy some IPAs, and that's seriously saying something. I'm even to the point where I want to go to breweries just to grab a flight and try a bunch of different things!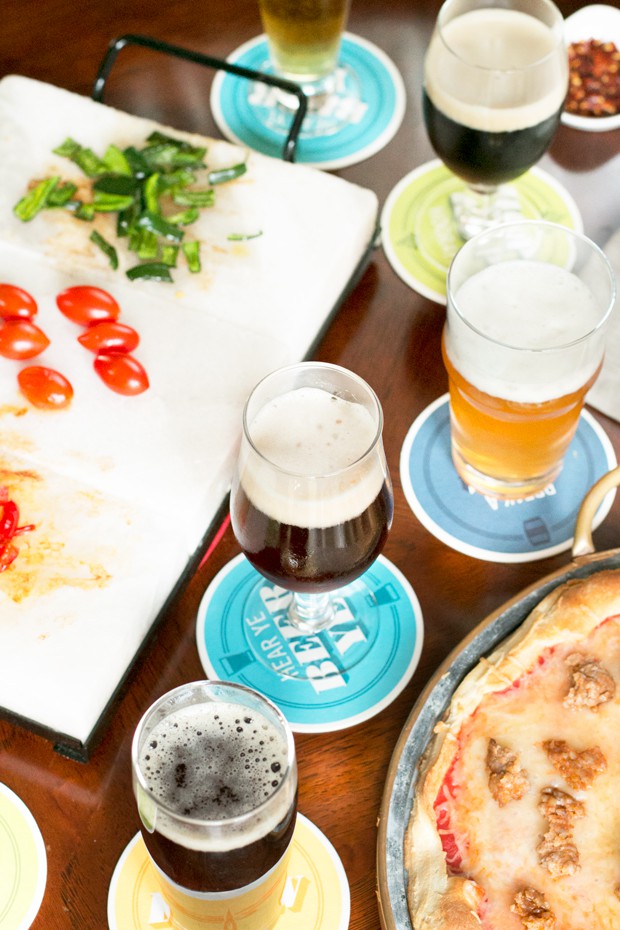 That's actually exactly what inspired this post – a love for trying different beers, an intense passion for pizza and an obsession with trying new ways to cook the foods I love. That's exactly why I'm partnering with Uncommon Goods for this beer tasting pizza party today.
Are you ready to dive in? Are you???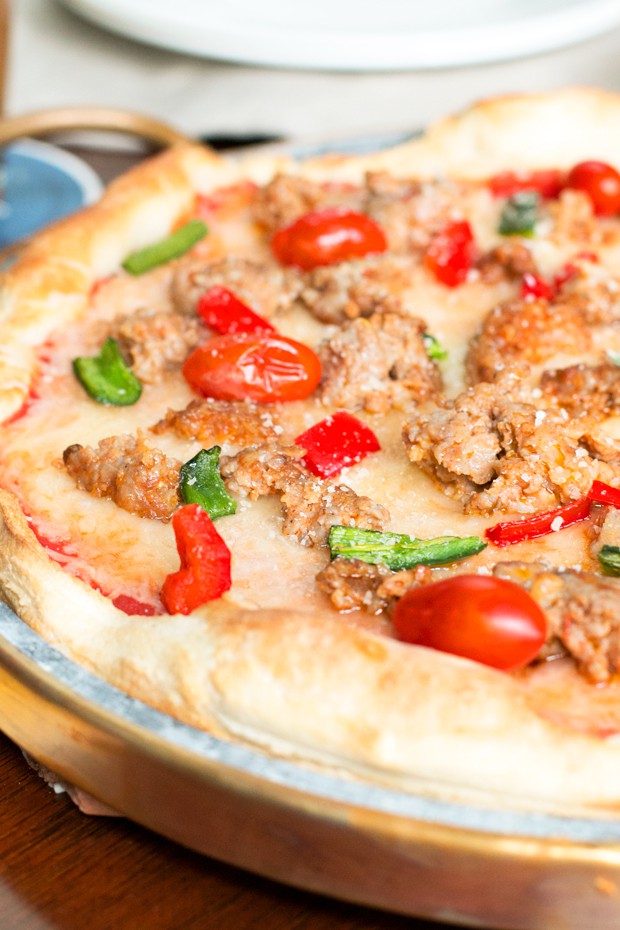 First, can we just take a look at this gorgeous pizza pan? Not only is it gorgeous with a touch of copper on the outside, it's made out of soapstone. Now I'd never really fallen for a pizza stone before. They were cumbersome to put the pizza dough on and never really crisped the bottom like I wanted them to. This pan DOES. It not only crisps up the bottom of the pizza dough, it also goes up the sides a bit so you get that crunchy part of the crust that I will fight someone for. It's right here waiting for you to snatch up btw…
All you people who don't eat the crust, I'll never understand your ways.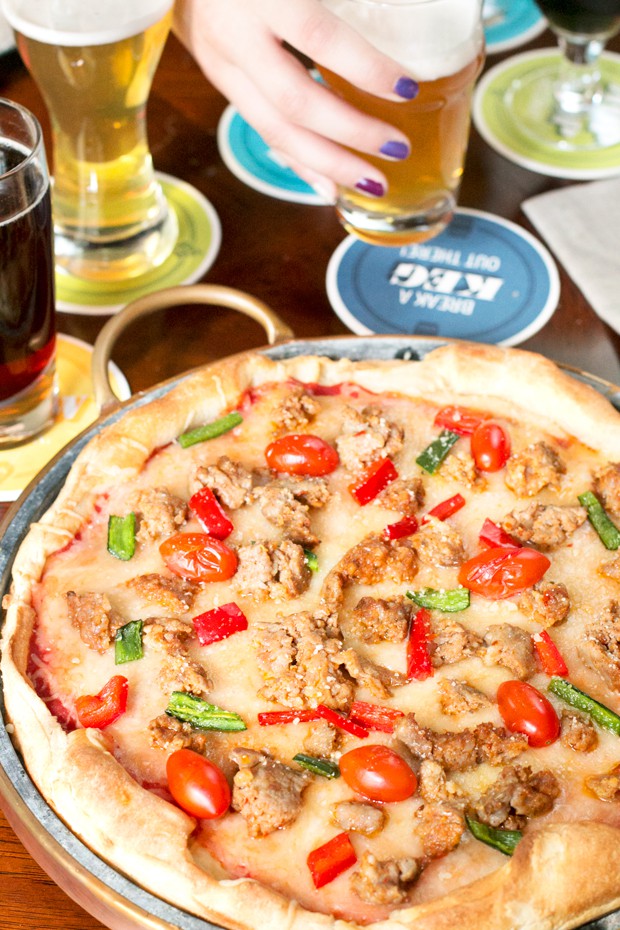 So once you've got the base pizza going – you've thrown on the sauce and the cheese, it's just waiting to be topped – don't just throw some pepperoni on it and call it good. No, no, no. We can do better than that, people. Enter this himalayan salt plank tray (grab it here). Three separate salt planks that you can cook one large thing on (like meat) or you can use it to cook up three separate ingredients like I did. I went with red bell peppers, poblano peppers and some cherry tomatoes.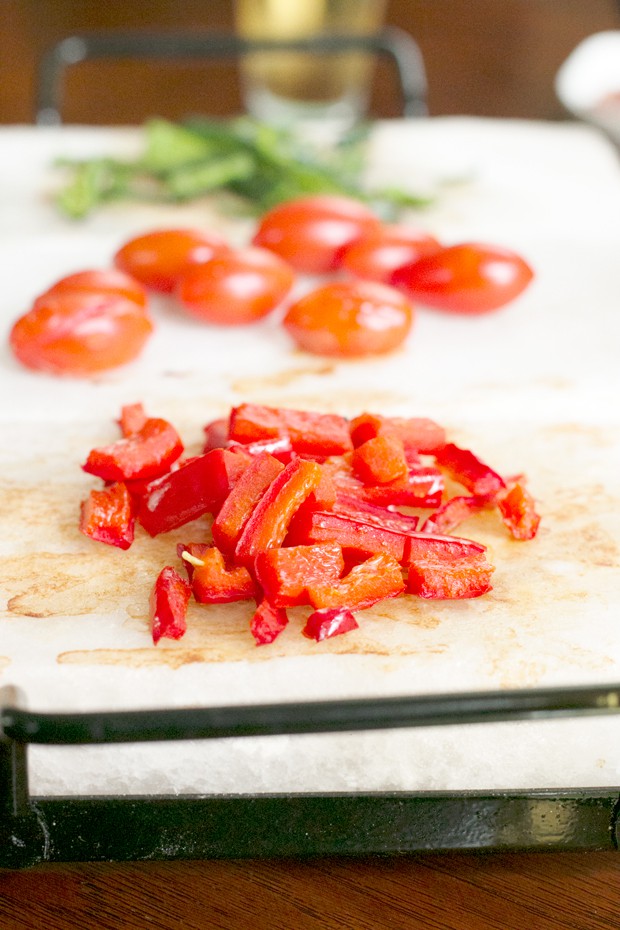 Now I have never cooked with salt planks before… I didn't season the ingredients I put on it at all. The result? Perfectly seasoned veggies that cooked up right as we were sitting there pouring the beer. Yep, that's right. You can use the salt planks to cook table side which is SO fun. I was a little sad about the discoloration that happens on the salt planks but that's just the way they work (this is the anal foodie in me who wants every dish spotless speaking…). I've used these planks a few times since and I am having way more fun with them than I probably should…
Before I hit the beer portion of this post, if you don't know about Uncommon Goods it's about time you got to know them. They have insanely unique items that are all handmade by artists and designers. You won't find mass produced boring stuff on their site. It's all unique and personally handcrafted for you. They even have an Uncommon Collection that's an exclusive assortment of products known for uncommon design, sustainability and doing good.
Once you have the food ready, it's time to pair up some beers. Really, you don't want to drink each entire beer (or maybe you do… just space 'em out a little?) so I love this beer tasting set. It has all the glasses you need and they are all small enough not to leave you hammered after you sample the beers (click here to grab 'em!). They also aren't SO small that you are left wanting more.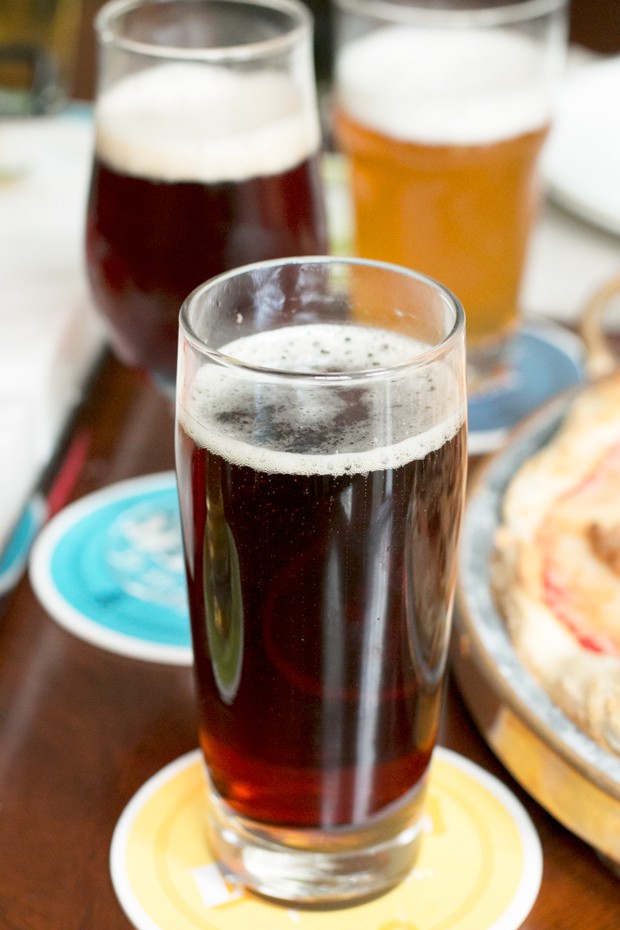 The key is choosing beers that will pair with pizza in general, so your friends can top their slices with whatever toppings they want (there are some people out there that only like cheese pizza after all).
The beers I chose (and by me I mean, I chose one and the rest I had oh-so much help with) were:
Superfuzz Blood Orange Pale by Elysian Brewing
Sunshine Wheat by New Belgium Brewing Company
Black Jack Porter by Left Hand Brewing Company
Pils by Prost Brewing Company
Raspberry Sour by Avery Brewing Company
Mile Highlander by Declaration Brewing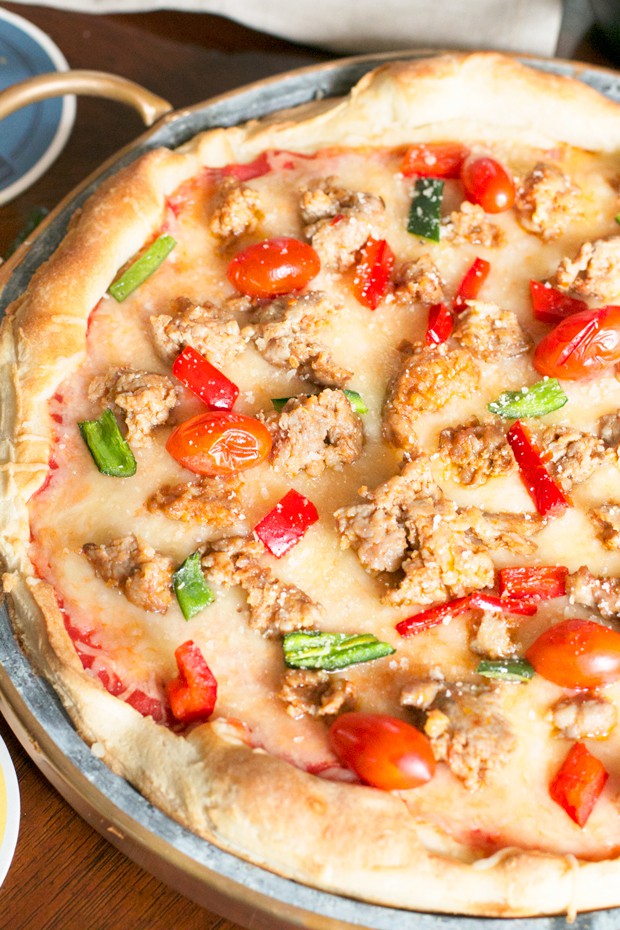 The resounding favorites were the Raspberry Sour and the Black Jack Porter in my mind, but you try them out and tell me what your fav is! And yes, I know most of these are from CO. I can't help it. I've got too much local beer love.
You can grab any of these items and more by visiting Uncommon Goods! You can also grab things like killer wine glasses if you click here, the handiest kitchen tools by clicking here, and just in case you don't end up hosting (or want to drop a hint to your friends) hostess gifts right here.
Disclosure: This post is sponsored by the Uncommon Goods. While I was compensated and provided with product for this post, as always, all opinions are my own. Thanks for supporting the brands that support Cake 'n Knife!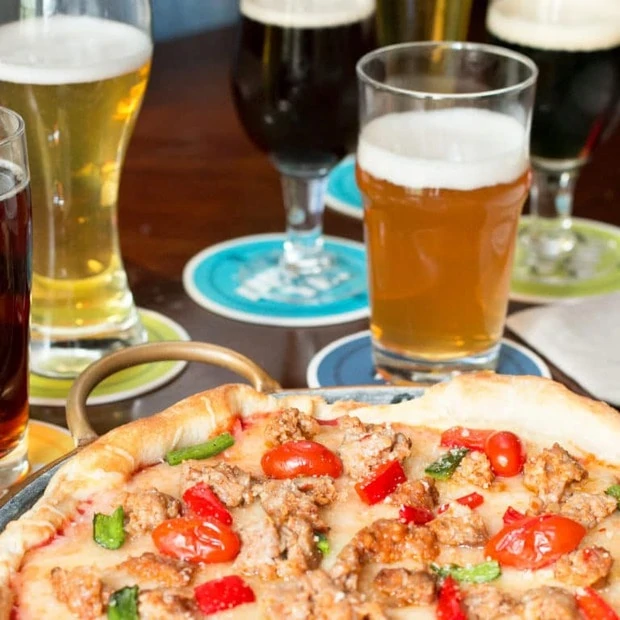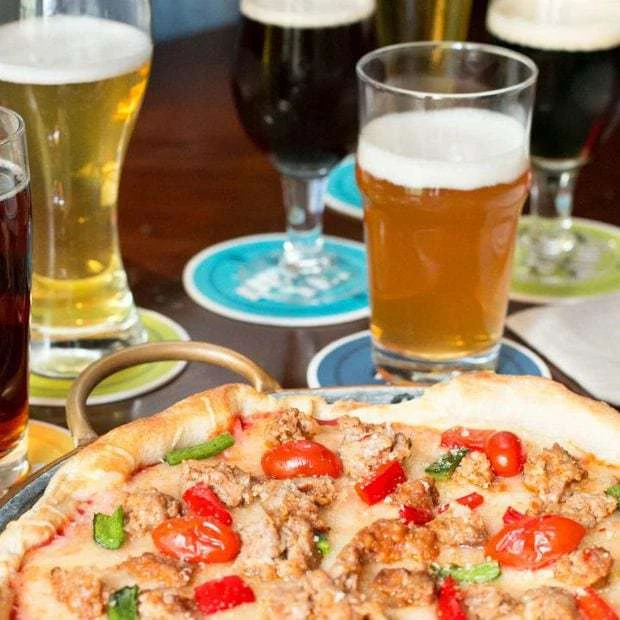 Beer Tasting Pizza Party
Everything you need to host a beer tasting party at home... with pizza!
Ingredients
Pizza dough
Pizza sauce
Shredded mozzarella cheese
Hot Italian sausage, cooked and crumbled
Red bell pepper, seeded and chopped
Poblano pepper, seeded and chopped
Cherry tomatoes
Pale Ale
Wheat Beer
Porter
Pilsner
Sour
Scottish Ale
Instructions
Preheat oven to 400 degrees.
Add the pizza dough to the pan and bake for 10 minutes until just beginning to brown.
Top pizza dough with pasta sauce and mozzarella cheese. Bake until the cheese has melted, approximately 5 to 7 minutes.
Cook vegetables on the Himalayan salt planks when ready to serve the pizza. Let guests tops their slices of pizza as desired, or top the whole pizza for everyone.
Pour beers into their respective tasting glasses and serve.
Enjoy the fun!