I also call this beauty "the best mess".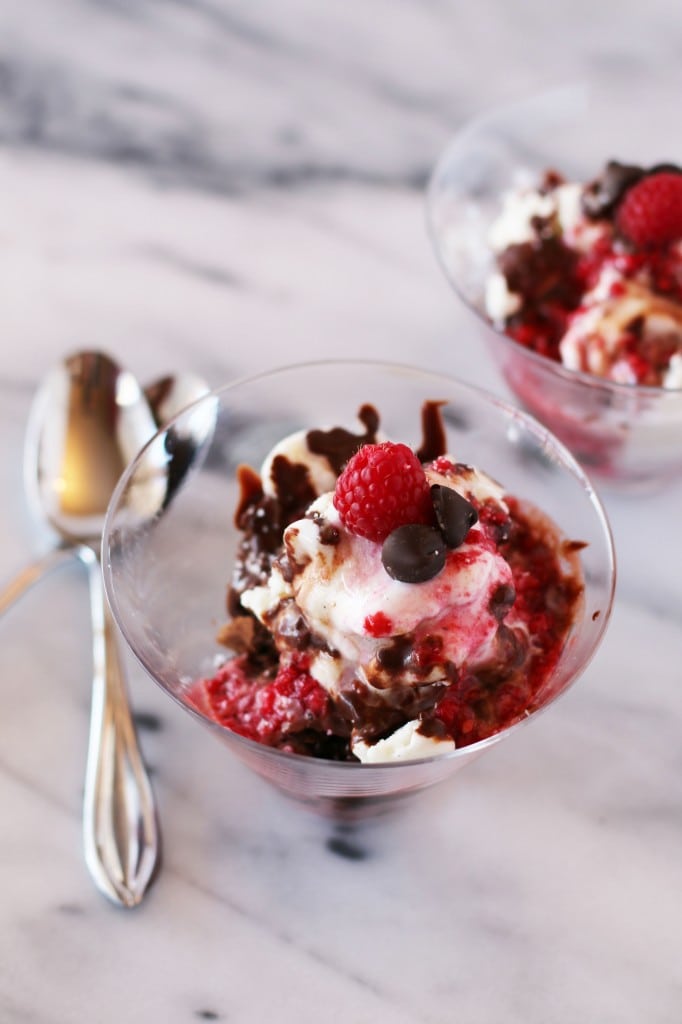 Because it obviously is the best mess in the entire world. Personally, I think some of the best foods every are complete messes. Like poutine. Or s'mores. Or a burger loaded with tons of cheese, bacon, ketchup, and anything else you can imagine. You see my point. 🙂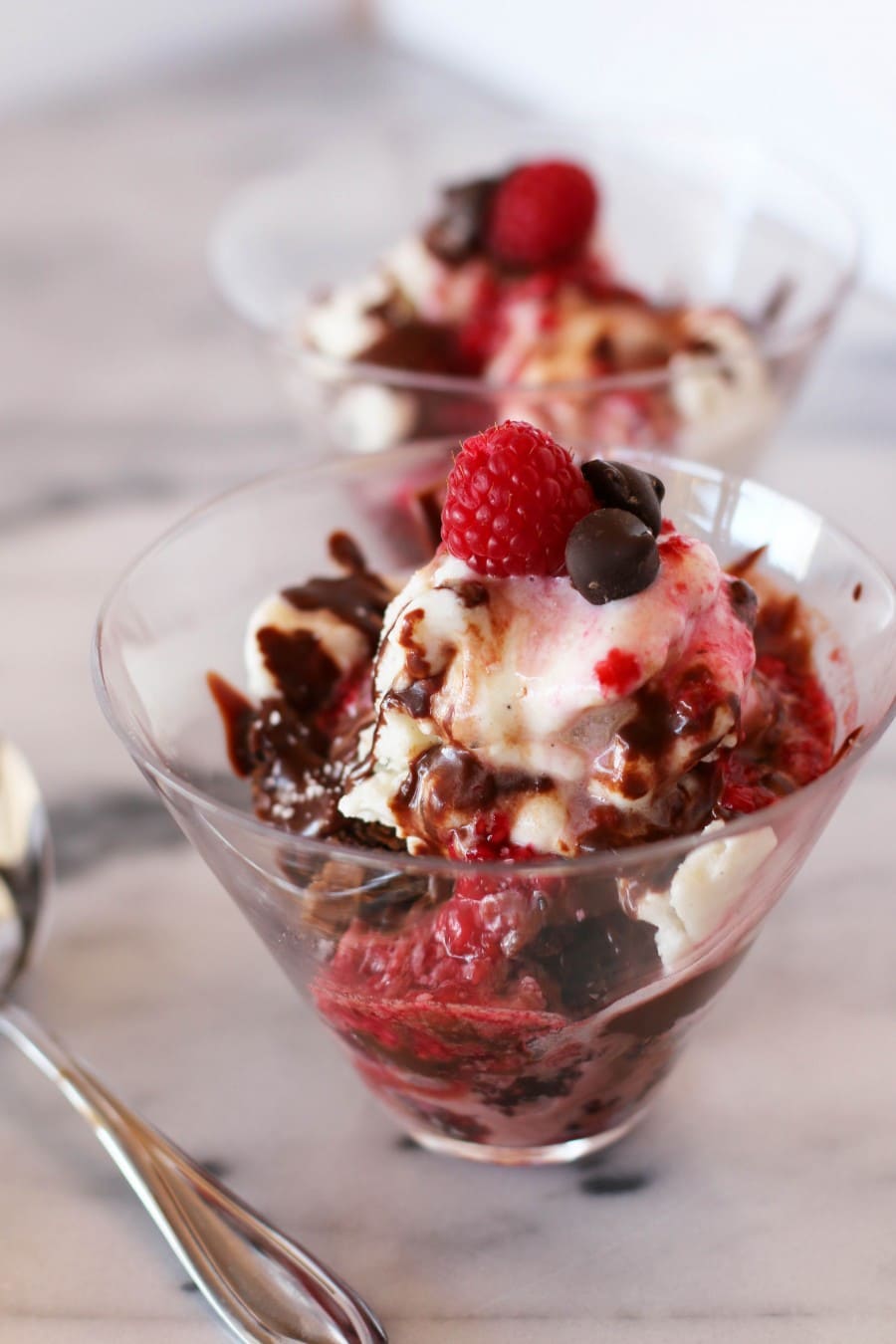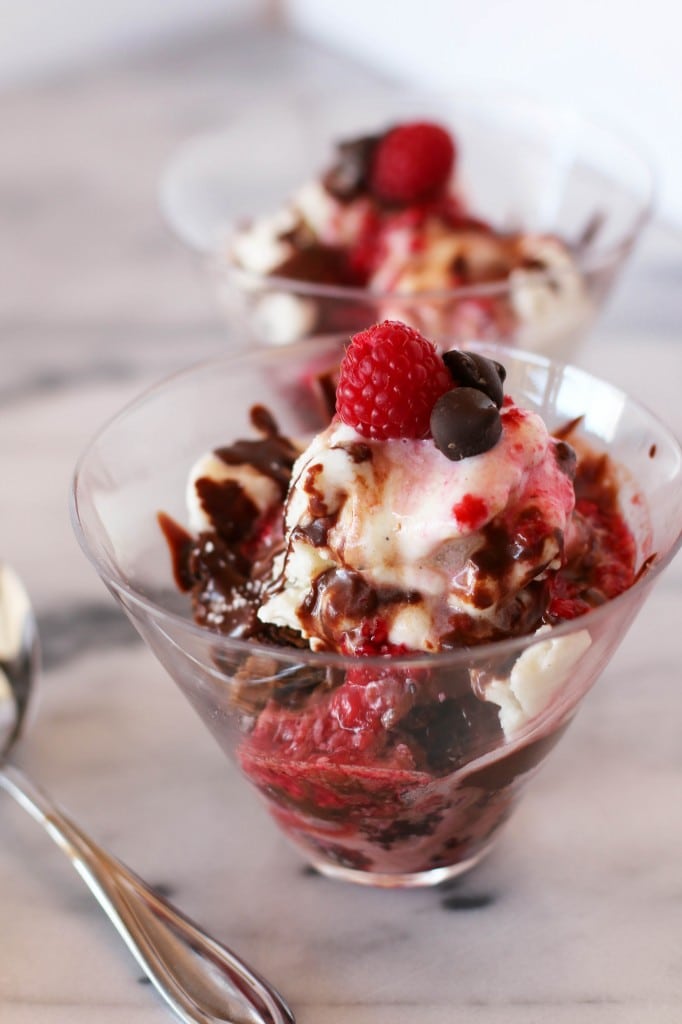 Can we talk about how all of the shows I watch have suddenly come back or are coming back really soon? I was NOT prepared. Particularly when I looked at the DVR and realized I am recording waaaaay too much… What I am reallllllllly excited about is the return of Hell's Kitchen…
I know, some people totally hate Gordon. However some people absolutely love him and I am not ashamed to admit I am one of them. I kind of love how angry he gets. Though if I was on the receiving end of one of his rants I am not sure if I would curl up in a corner and cry or if I would just laugh and laugh.
Anyway all these shows returning is making me feel like a mess. Kind of like this sundae. Just a mess of awesomeness all up in your face.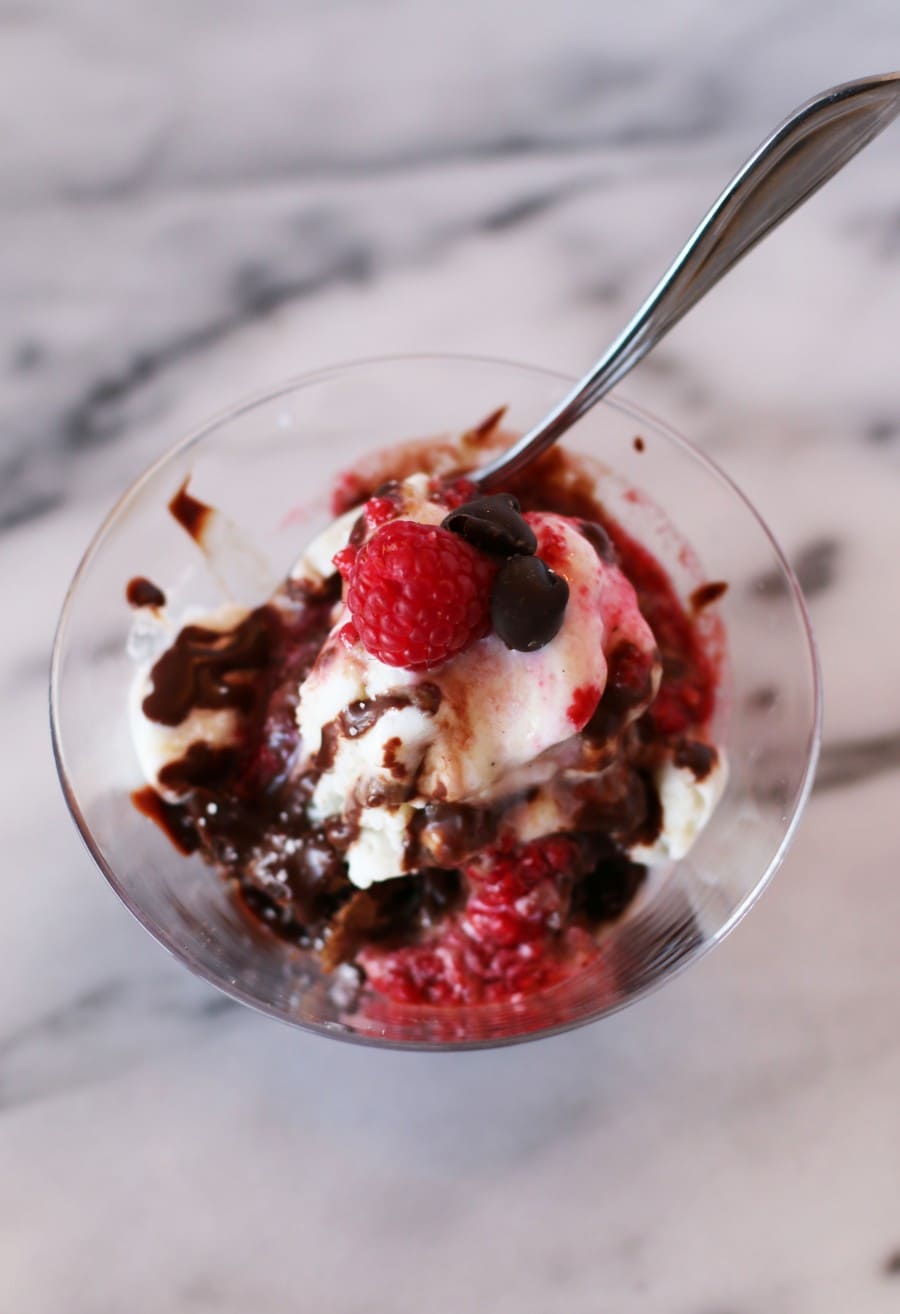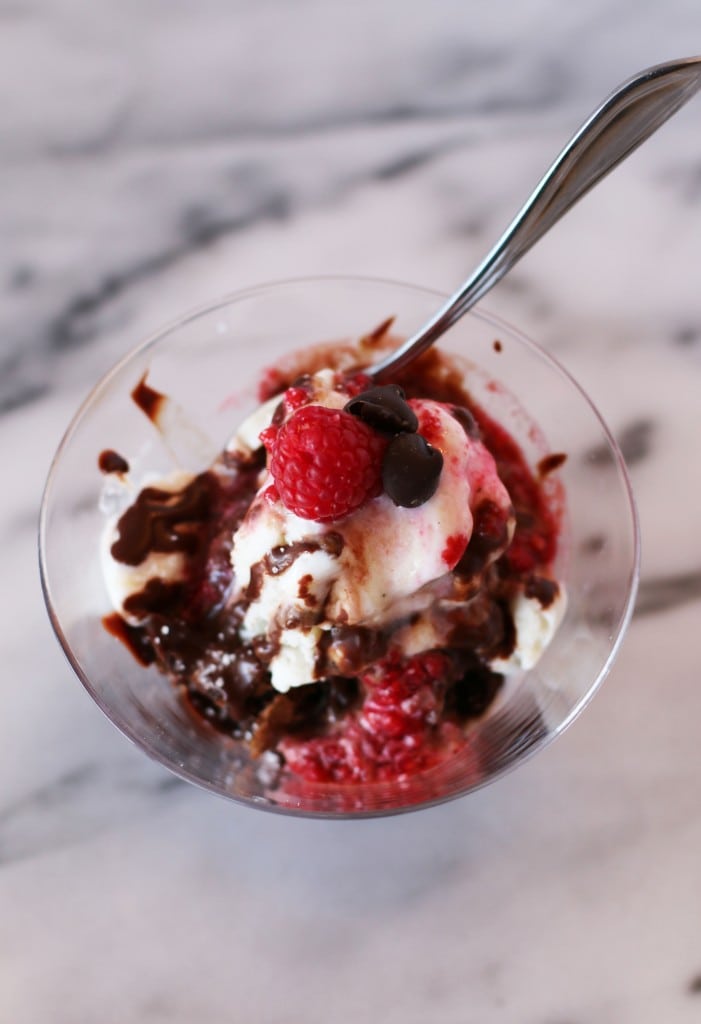 If I could curl up with this sundae every time I sit down to watch Hell's Kitchen, I think my life would be made FOREVER. You know what I mean?
Just pretend you do.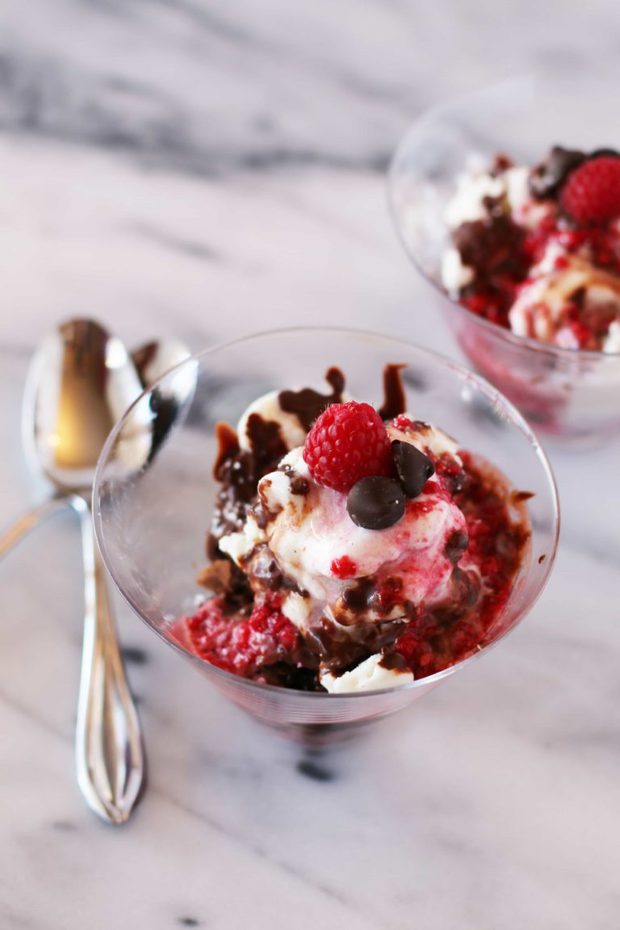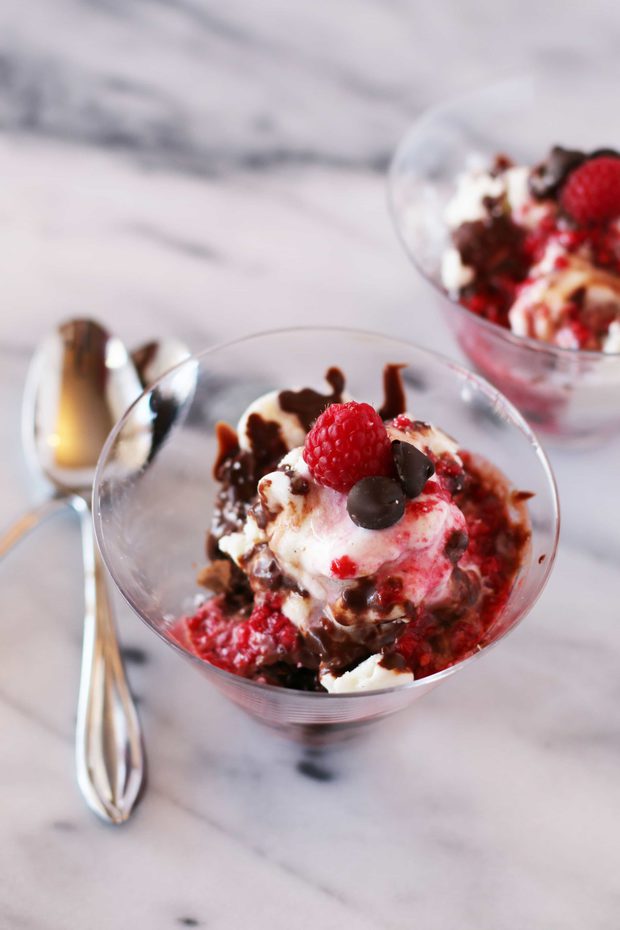 Raspberry & Chocolate Salted Brownie Sundaes
Total Time:
3 hours
10 minutes
Decadent brownie sundaes are the perfect end to any meal, and the addition of salt just makes it that much better!
Ingredients
1/3 cup all-purpose flour
1/2 cup cocoa powder
2 cups sugar
8 oz dark chocolate chips
8 oz unsalted butter, melted
2 tsp vanilla extract
4 eggs, lightly beaten
1 1/2 cups vanilla ice cream
1/2 tsp salt
Chocolate Sauce
1/2 stick unsalted butter (4 Tbsp)
1/2 cup whole milk
1/4 cup light corn syrup
1/2 cup dark chocolate chips
1/2 cup bittersweet chocolate chips
Instructions
Preheat oven to 350 degrees. Grease an 8x12 inch pan and line with parchment paper, leaving the paper hanging over on the two long sides.
Sift flour and cocoa powder into a medium bowl. Add the sugar and chocolate chips and stir together. Make a well in the center and pour the melted butter in the middle. Add the eggs and vanilla and stir until everything is combined.
Pour the brownie batter into the pan and bake for 50 minutes (it should still be a little soft in the center). Chill for at lease two hours before removing from the pan.
Heat the milk in a medium saucepan until simmering. Add butter and light corn syrup, heat until the butter is melted. Pour the chocolate chips to a separate bowl and slowly pour the warm milk mixture over the chocolate, whisking constantly until the chocolate is completely melted and the mixture is smooth. Add the dipping chocolate back to the saucepan and keep warm over low heat.
Crumble portions of the chilled brownies into two bowls (you can use as much or as little brownie as you would like!). Divide vanilla ice cream evenly between two bowls. Drizzle the raspberry sauce and chocolate sauce over the top of each sundae. Top with a raspberry and finish with a generous sprinkle of salt.