August Daring Cook's Challenge – Sweetcorn Fritters
I have to admit, I am not familiar with cornmeal AT ALL. I don't know what it is used for, why it exists, or how it can benefit me in the kitchen.
Until now.
Fritters. Cornmeal's sole purpose in my life and in my kitchen is now fritters.
My absolute favorite part about these fritters is the corn. When you bit into a kernel nestled amongst the dense dough, you get a pop of fresh sweetness that takes it over the edge (especially when slathered with honey mustard dipping sauce…).
You know when you are completely paranoid about feeding a new recipe to someone? That someone for me is basically everyone I know.
Never having made or eaten a fritter in my life, I was freaking out. I mean, fritters are solid 'man food'. They are dense and filling and somehow men can still eat 10 in one sitting. Thankfully when I asked my friend what he thought, he responded by looking me in the eye and saying 'well I already ate 3…' as he reached for another fritter with one hand and grabs the honey mustard off my plate with the other…
Score.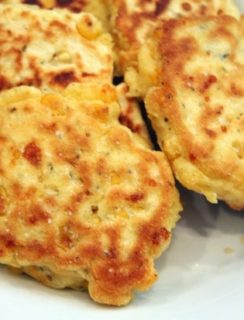 Sweetcorn Fritters
Yield: Serves 6
Prep Time: 5 minutes
Cook Time: 15 minutes
Total Time: 20 minutes
These fritters literally burst in your mouth with fresh corn flavor.
Ingredients:
1 cup cornmeal
1 cup all-purpose (plain) flour
1 1/2 cups sweetcorn, drained
2 large eggs, lightly beaten
3/4 cup milk, plus more if needed
1 tsp baking powder
1 tsp salt
Optional – finely chopped scallions, parsley, chives, cilantro (coriander), chillies, red peppers (red capsicum), shredded cheese, herbs, spices…
Oil for frying
Directions:
Place everything in a bowl except the oil and mix together well. Add more milk if it seems too thick.
Heat about 1 Tbsp of oil in a large frying pan over a medium heat. Working in batches, drop spoonful's of the mixture into the pan. Fry the fritters for 2 or 3 minutes on each side, until golden. Add oil between batches as needed. Drain on paper towel and serve warm.