Thai Street Cart Fries are that late night snack that you crave after a night of one too many beers (but you won't want to wait until that point to try these, trust me). Messy, trashy and yet oh-so classy with the levels of flavors; you won't be able to get enough of them!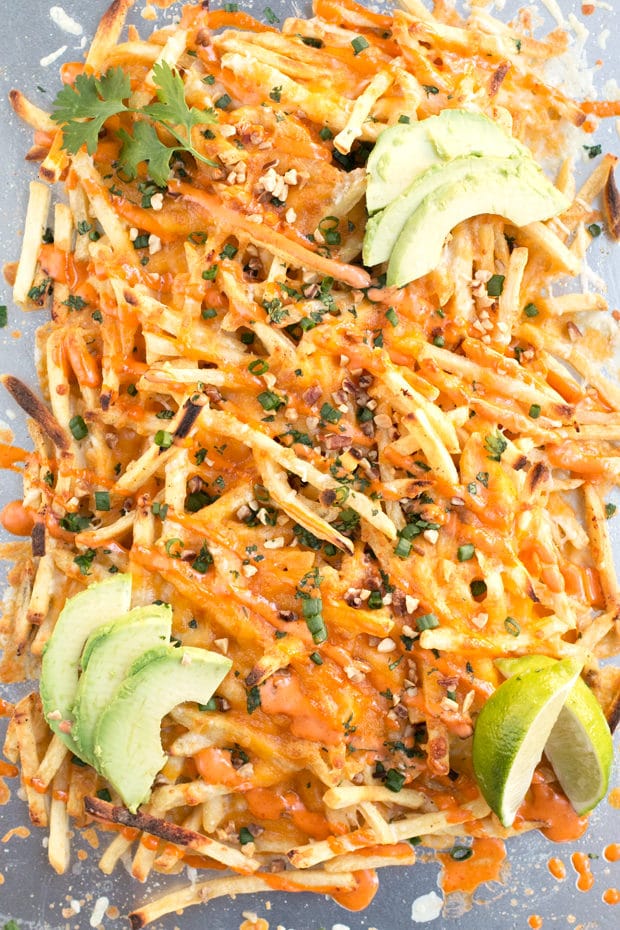 You all know I have a little bit of an obsession with fries. Whether they are fried or baked, topped with tons of cheese or serves straight up with some ketchup, fries just make me feel happy from the inside out.
I've been drooling over a ton of different street cart style fries for the past couple of weeks (yes, I know I should be drooling over Thanksgiving food but sometimes a girl's just gotta have some fries). At the same time, I've been craving Thai food.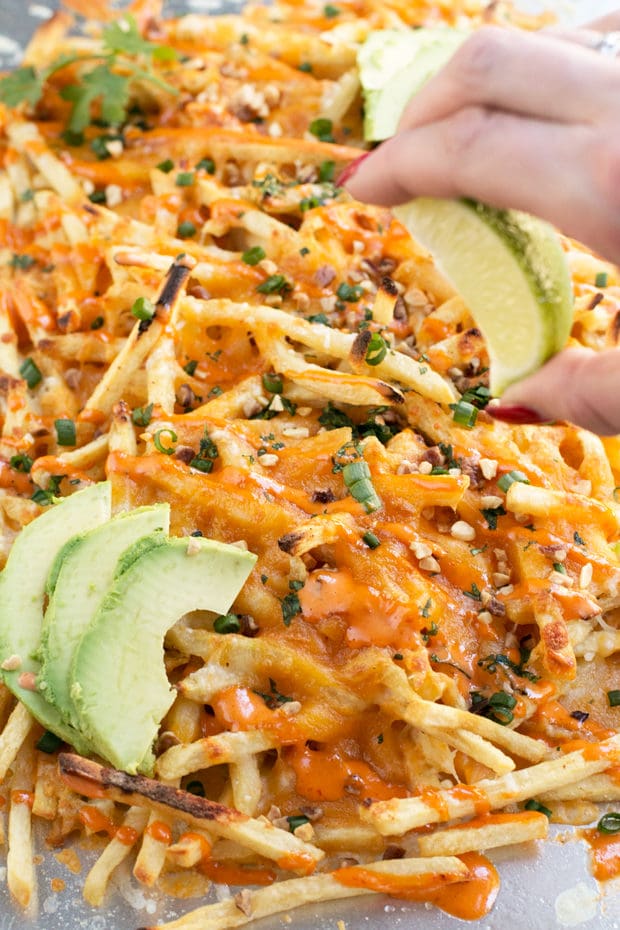 Those two totally make sense together, right? Just say yes…
So I smashed them all together. Then I threw on some cheese. Oh and I made a Sriracha mayonnaise because why the heck not? The diet can wait until January at this point, folks. Let's just be real about that.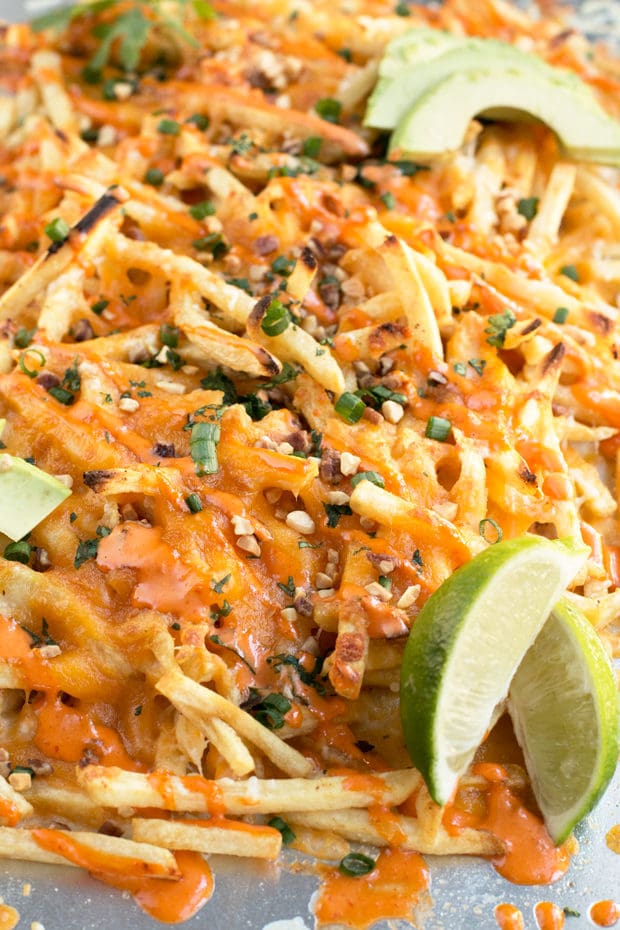 These fries are basically a new version of food crack for me. The fries themselves get a hefty dose of seasoning, then the rest of the toppings and cheese just add layers upon layers of intense flavor.
It's the food you want to chow down on during the game. The food you want in the middle of the night when you've hit the bars a wee bit too hard. The food that satisfies all the crispy, crunchy, savory cravings you have in that little tummy of yours.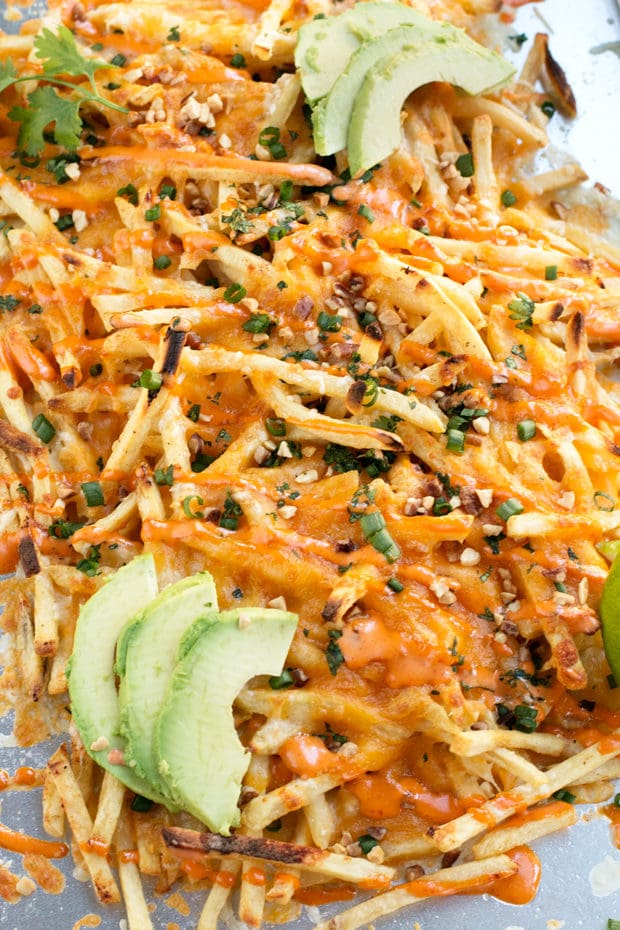 So it might be a little messy. It might be a little off the beaten path. I still consider it to be classy AF. 😉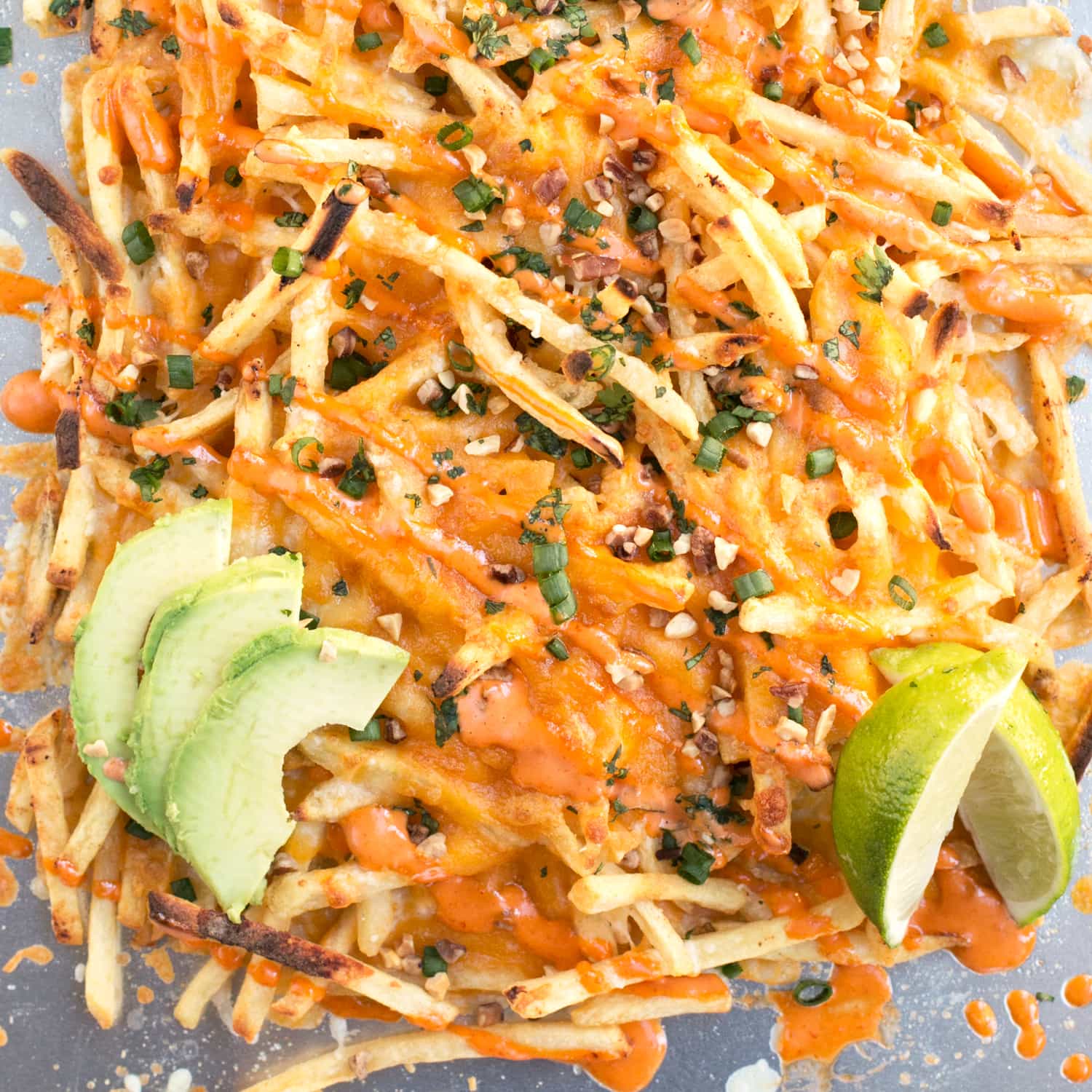 Thai Street Cart Fries
Shake up your fry game and give your fries some serious Thai flavor!
Ingredients
1 lb freshly cooked French fries
1/2 tsp fish sauce
1/2 tsp garlic powder
1/2 tsp ground coriander
1/2 tsp salt
1 cup shredded cheddar cheese
2/3 cup shredded monterey jack cheese
1/2 cup chopped fresh cilantro
1/2 cup chopped peanuts
1/4 cup chopped green onions
2 limes, cut into wedges
1 avocado, sliced thin
Sriracha Mayo
1/4 cup Sriracha
1/2 cup mayonnaise
1 tsp lime juice
Instructions
In a large bowl, toss freshly cooked fries with fish sauce, garlic powder, ground coriander, and salt.
Spread half of the cooked, seasoned fries out on a rimmed baking sheet. Cover with half of the cheeses evenly. Top with remaining fries, and then top with the remaining cheeses. Broil on high until the cheese is melted and bubbly, approximately 2 to 3 minutes.
In a small bowl, whisk together Sriracha, mayonnaise and lime juice.
Top fries with cilantro, peanuts, green onion, avocado and Sriracha mayonnaise. Serve with lime wedges.
Pin this Thai Street Cart Fries recipe for later!