Please note this post contains affiliate links.
Sheet Pan Gnocchi with Winter Vegetables is how you turn a package of gnocchi from the store into one of your favorite easy wintertime meals. You don't even have to boil the pasta on the stove! Serves 4 and ready in 30 minutes.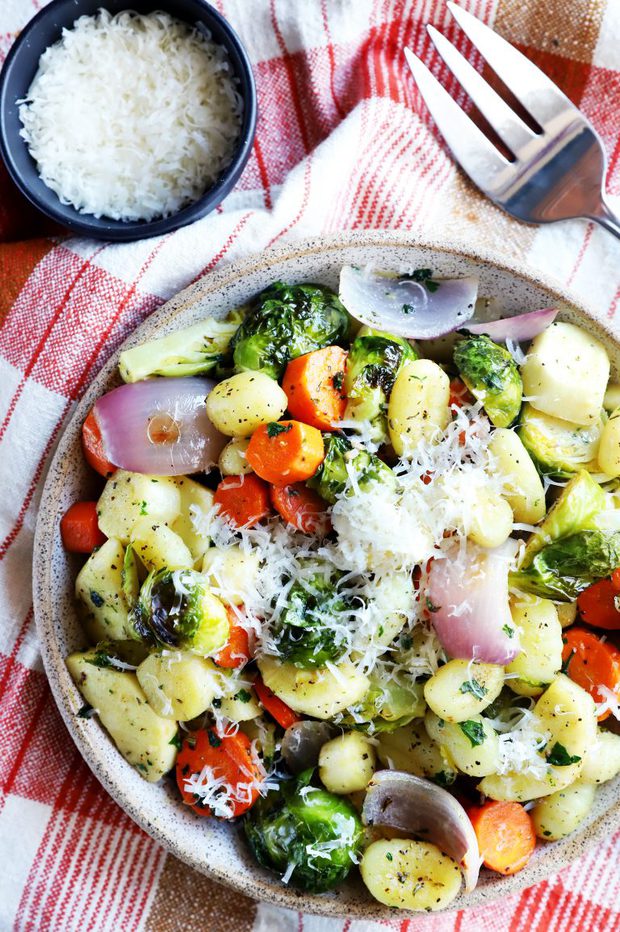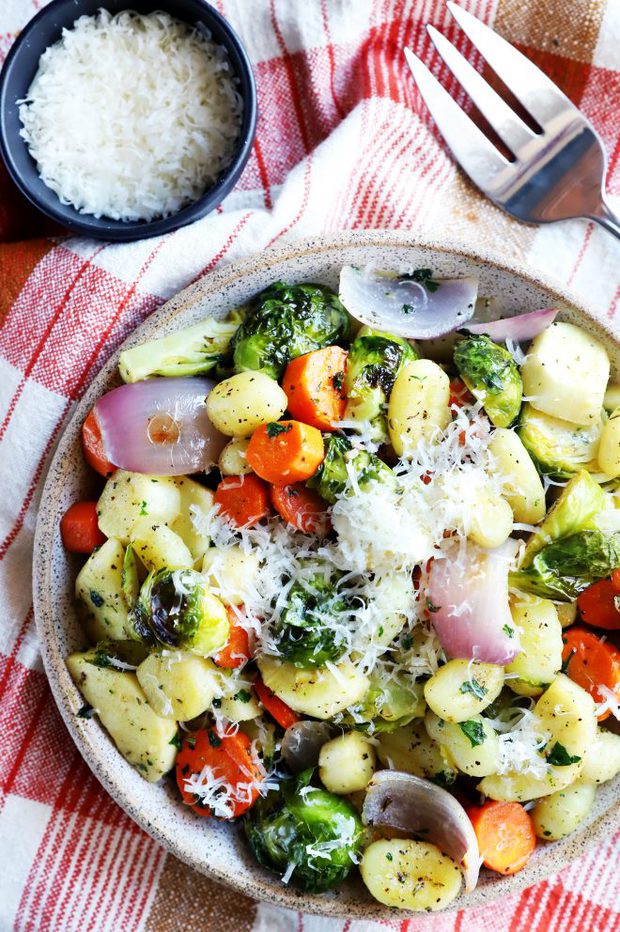 Winter meals are one of my favorite things to cook, but they tend to take a really long time to pull together.
Whether it's cooking a chili, braising some thick cuts of meat, or making mashed potatoes, the meals this time of year tend to be big, heavy, and comforting. As well as time consuming!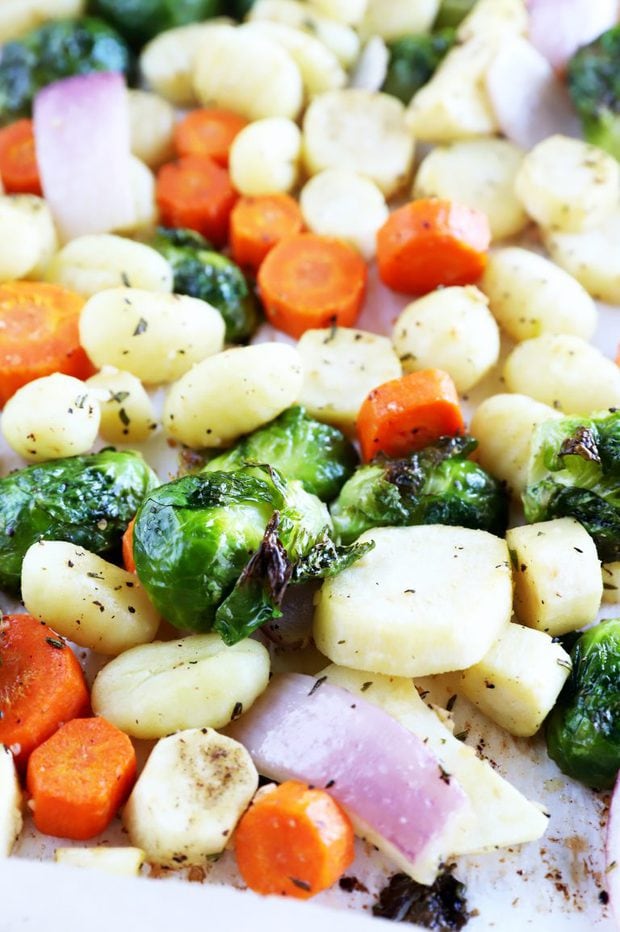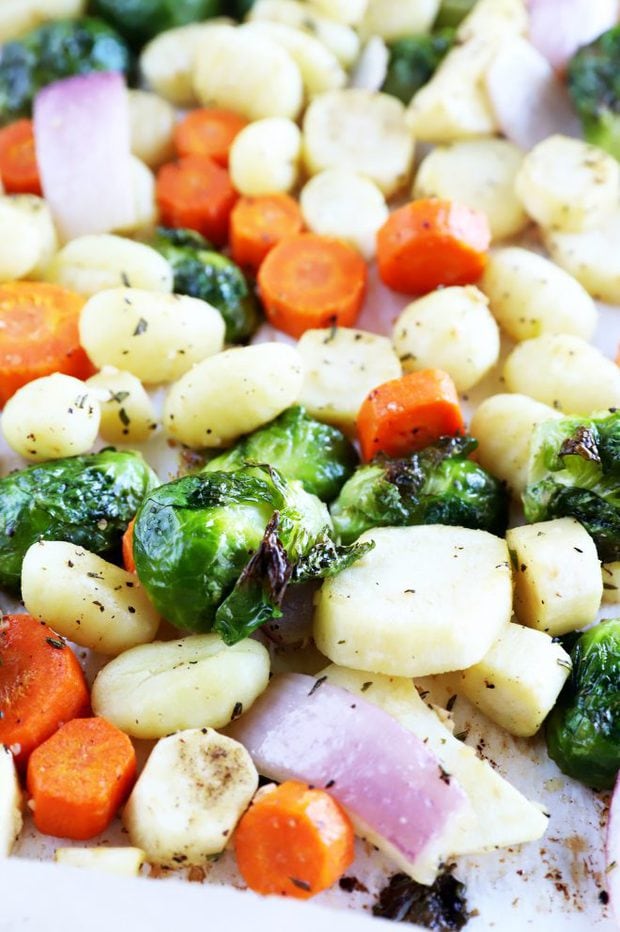 With a new baby in the house, this sheet pan gnocchi is my way of cooking seasonally without having to commit tons of time to babysitting the meal on the stove (I'm already busy enough with a baby in my arms, you know?).
This winter meal is so so simple and full of flavor. It really makes the most of the winter produce I love like carrots, parsnips, and Brussels sprouts! Each bite of the sheet pan gnocchi will warm you up from the inside out.
Plus it's done cooking in just 30 minutes! Fresh, flavorful, and perfect for a weeknight meal!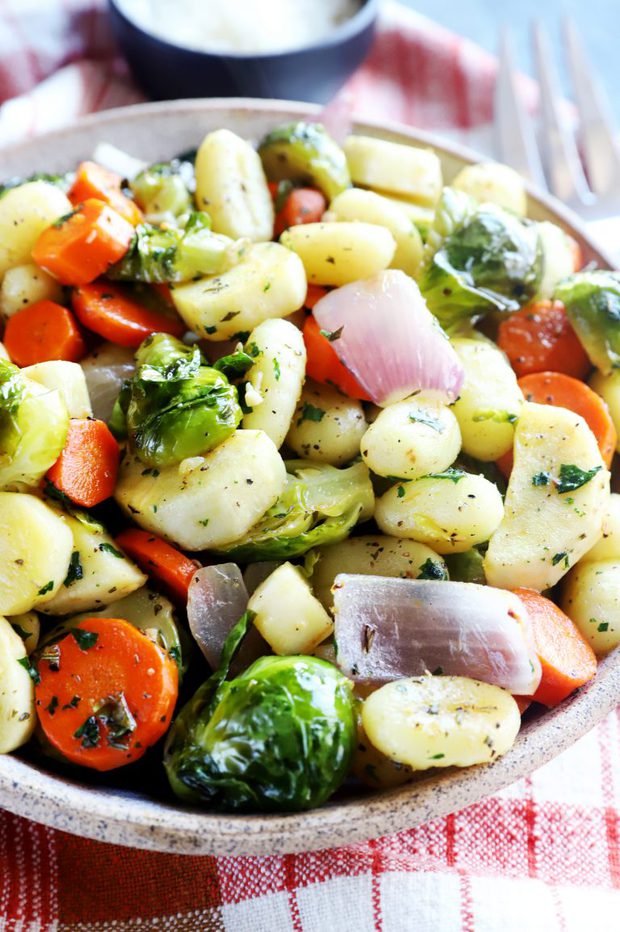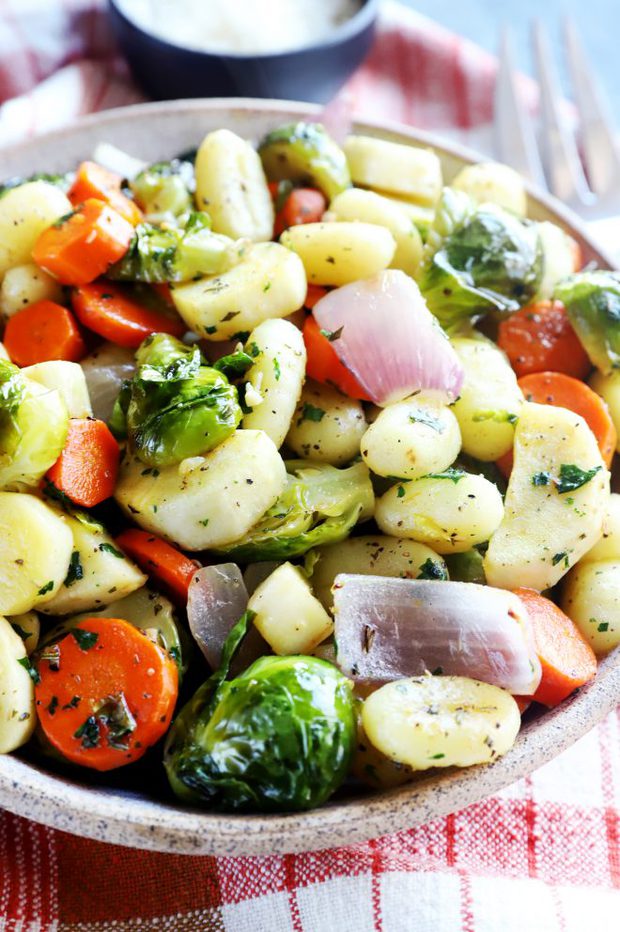 this recipe's must-haves
You'll need the largest of your mixing bowls to mix up all the ingredients of the sheet pan gnocchi.
I used one large baking sheet for this recipe but you can also use two half sheet baking pans if that's what you happen to have on hand.
For stirring, I simply use a wooden spoon. You'll also need a cheese grater to grate the cheese to go on top (if you are serving it)!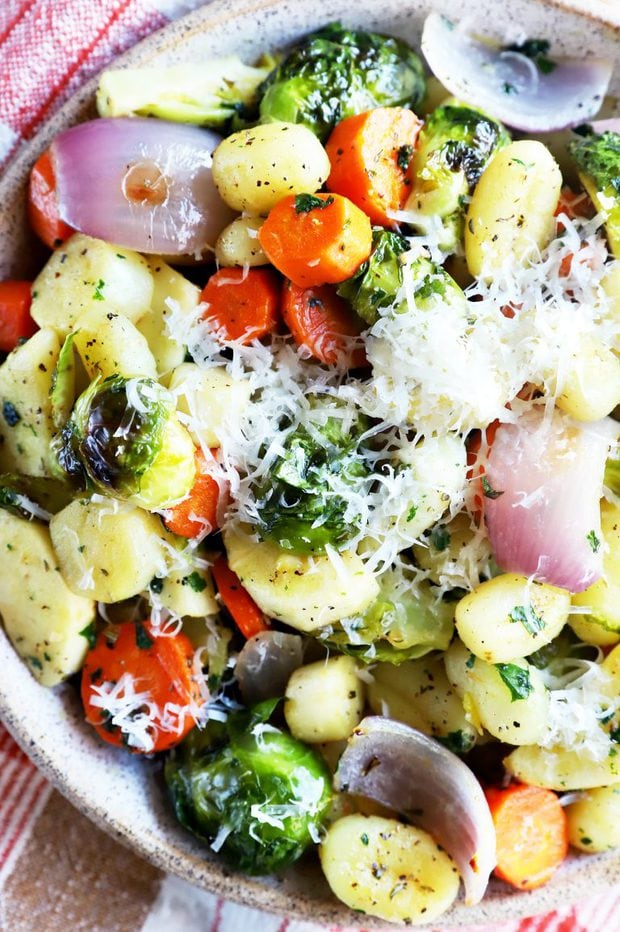 we're making sheet pan gnocchi!
Mix Together Ingredients
While the oven preheats, add the gnocchi, vegetables, garlic, salt, pepper, and oil to a large bowl. Toss everything together until it is well-combined.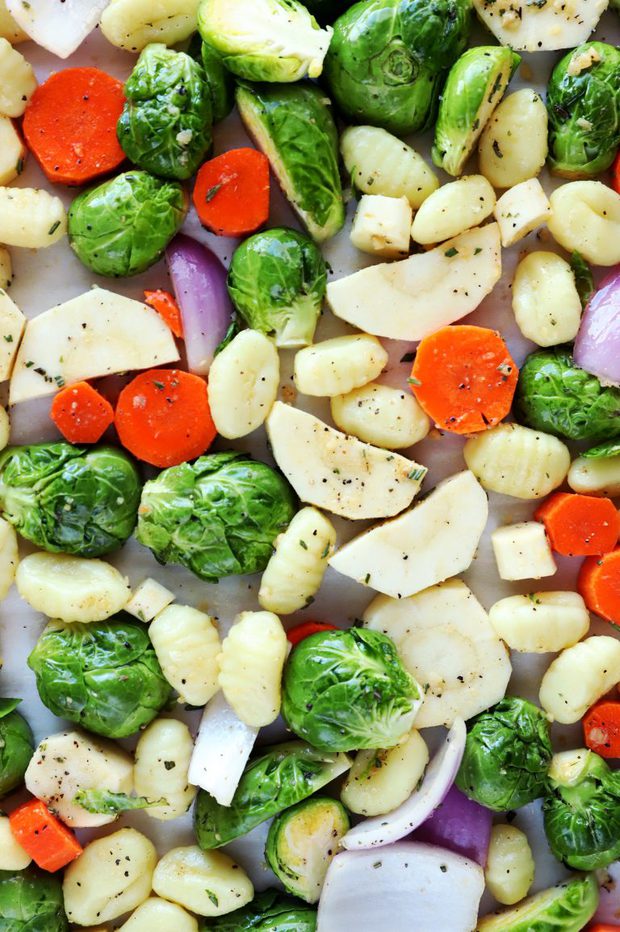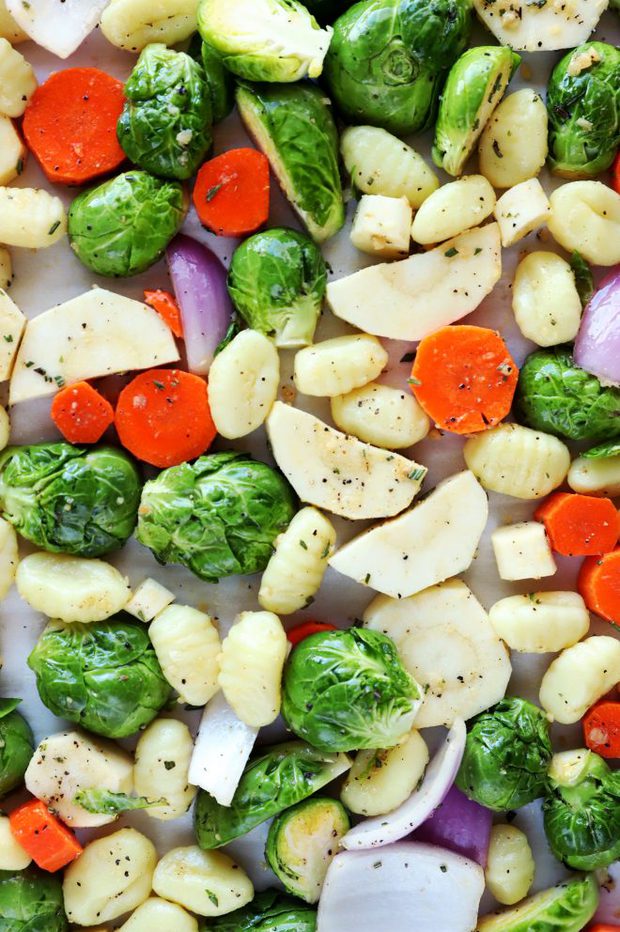 Bake
Line a large rimmed baking sheet with parchment paper (unless you have a silicone mat that's big enough!). Spread the gnocchi mixture in an even layer on the prepared sheet pan.
Bake for 30 to 35 minutes at 450˚F until all the veggies are tender. Be sure to stir things around halfway through roasting!
Finish
To finish, mix together everything with the basil. I like to top my bowl of gnocchi with extra chopped basil and plenty of cheese. You can skip the cheese to make this dish vegan, by the way!
Need some more inspiration for more winter meals? Check out my winter recipes page!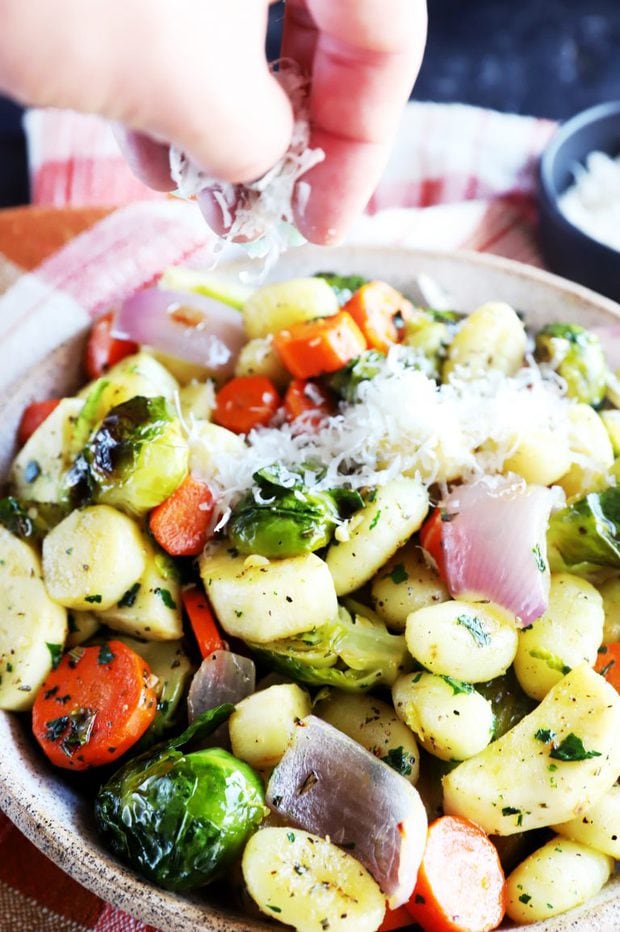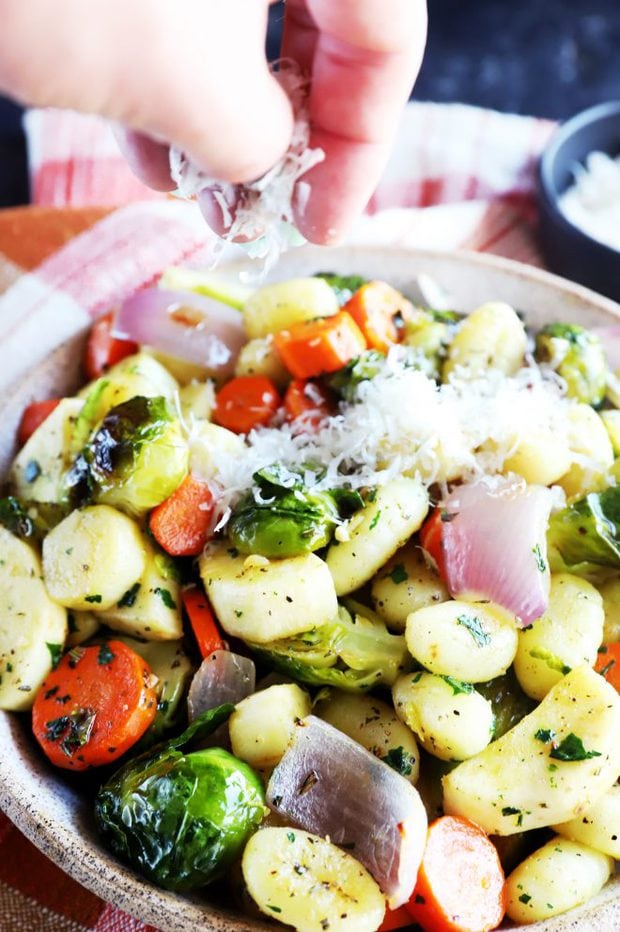 can I use other vegetables for this sheet pan gnocchi?
Yes you can! I love this meal, because it can be easily changed up based on the fresh vegetables that are available at the store. The key is to have about 4 cups of vegetables chopped total. You can use potatoes (russet, red, etc), turnips, and whatever else you get your hands on.
is sheet pan gnocchi vegan?
It can be! All you have to do is use a vegan-friendly gnocchi and oil (I recommend coconut oil). Then just skip the cheese or use vegan cheese if you prefer. With those two simple changes, you have the perfect sheet pan vegan meal.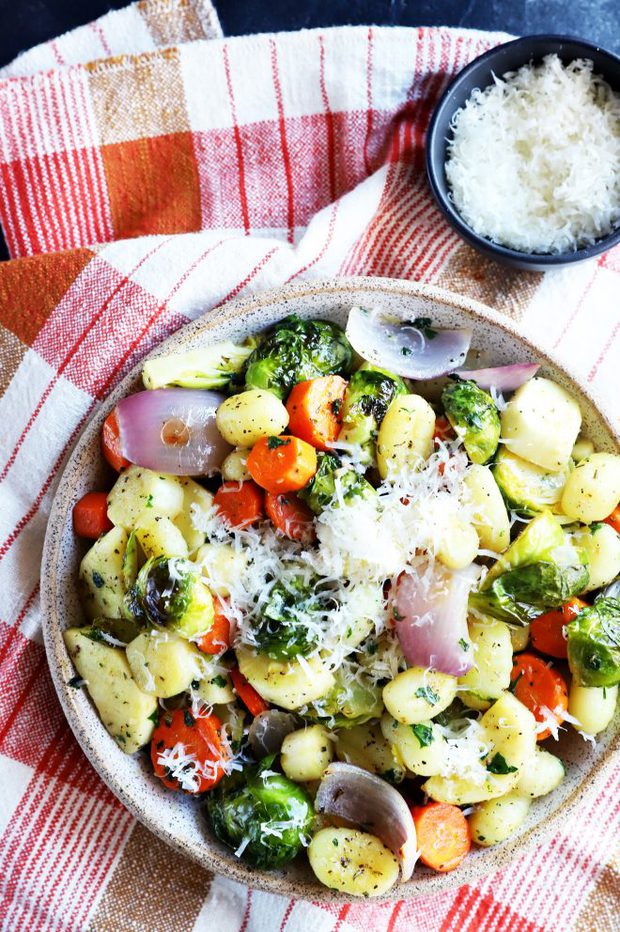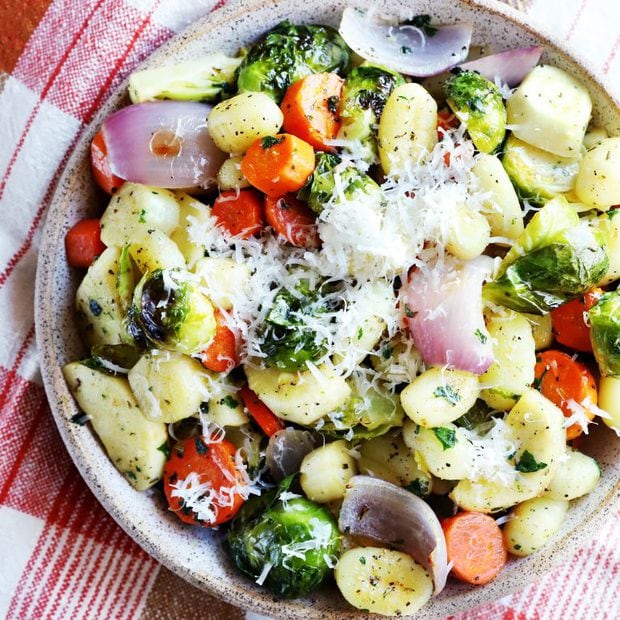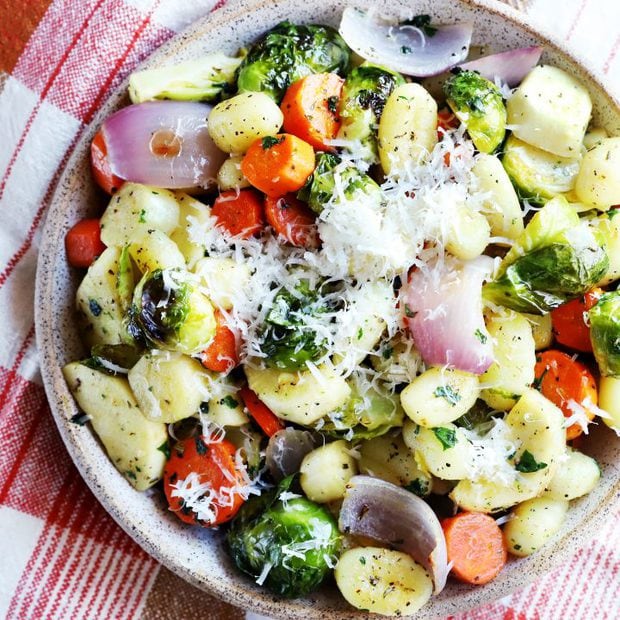 Sheet Pan Gnocchi with Winter Vegetables
This easy winter meal is made with your favorite seasonal veggies and a bag of gnocchi!
Ingredients
1 lb fresh, shelf-stable, or frozen potato gnocchi*
2 carrots, peeled and cut into 1/2-inch thick slices
2 parsnips, peeled and cut into 1/2-inch thick sticks
1 1/2 cups Brussels sprouts, halved
1 small red onion, cut into 1-inch chunks
4 cloves garlic, smashed
1 tsp coarsely chopped fresh rosemary leaves
1/4 tsp kosher salt
1/4 tsp ground black pepper
2 Tbsp olive oil + more for serving*
2 Tbsp coarsely chopped fresh basil leaves
Grated Pecorino Romano or Parmesan cheese, for serving*
Instructions
Preheat oven to 450˚F. Place rack in the middle of the oven and line a rimmed baking sheet with parchment paper or a large silicone mat.
Add gnocchi, vegetables, garlic, rosemary, salt, pepper, and 2 Tbsp oil to a large bowl. Toss well to coat everything evenly.
Spread the mixture out onto prepared sheet pan in an even layer.
Bake for 30 to 35 minutes, stirring halfway through, until the vegetables are cooked through and tender.
Remove from oven and stir in 2 Tbsp chopped basil.
Serve immediately in bowls with an extra drizzle of oil. Top with more chopped basil and grated cheese as desired.
Notes
To make vegan: use a vegan-friendly gnocchi, your favorite oil (I recommend melted coconut oil), and omit cheese (or use vegan cheese).
Recommended Products
As an Amazon Associate and member of other affiliate programs, I earn from qualifying purchases.