Please note this post contains affiliate links.
A warm slice of fresh and fruity Raspberry Lemon White Chocolate Chip Loaf is just the thing to bring a burst of sunshine into your daily morning routine. Make it over the weekend to last you through the week or make it for a special breakfast treat for someone you love! When you spread a slice with butter and pair it up with a cup of coffee, you'll never feel those morning blues again.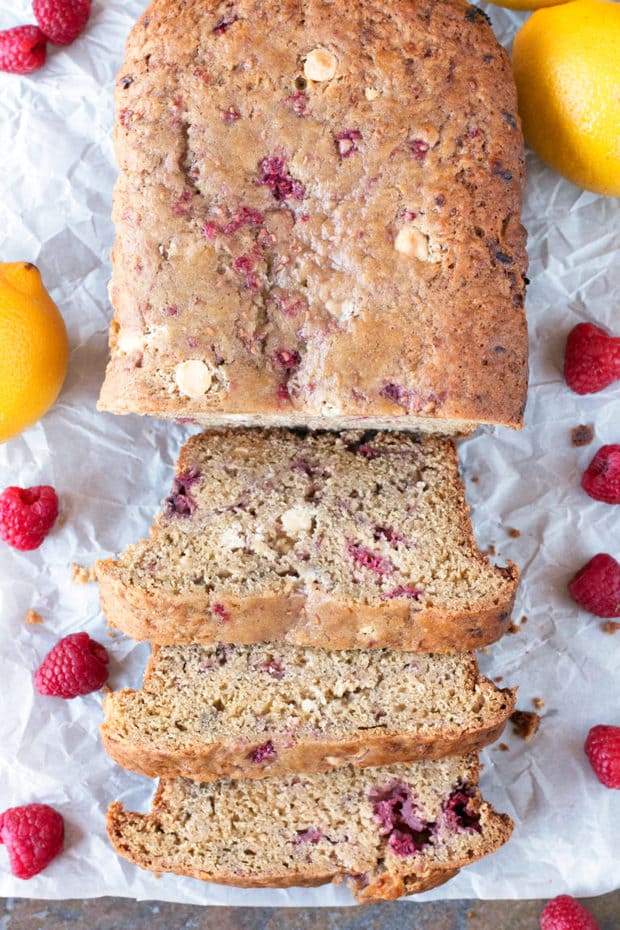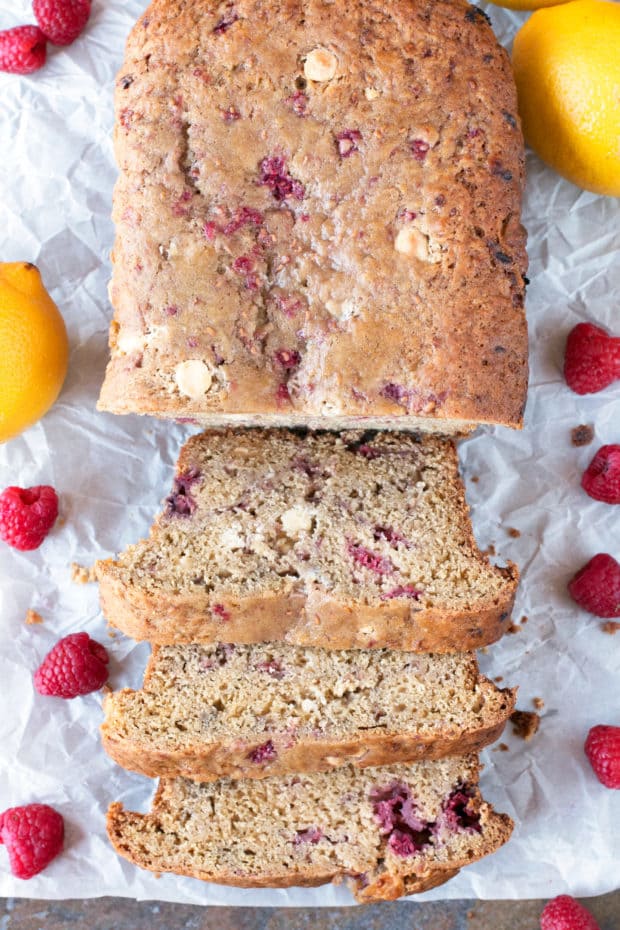 Please note that some of the links below are affiliate links. If you make a purchase through one of these links, I will receive a small commission. Thank you for supporting Cake 'n Knife!
Let's put some sunshine back in our mornings!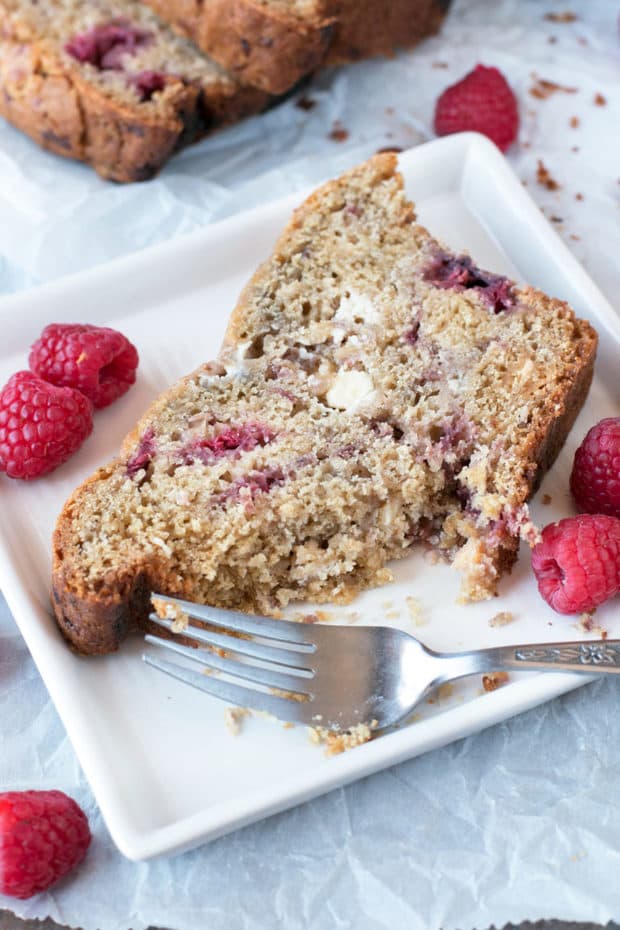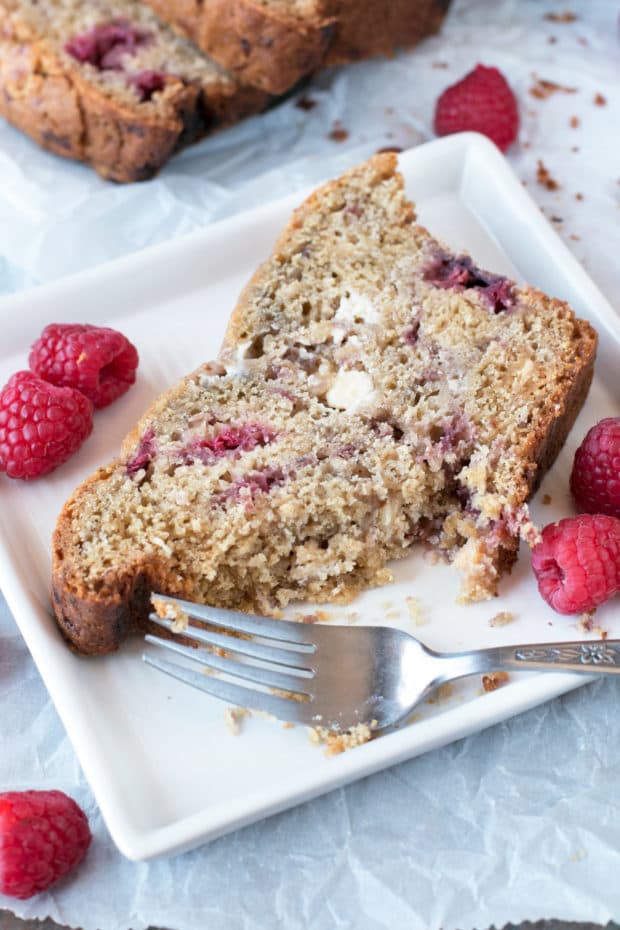 I don't know about you, but I have had the hardest time waking up the past week. It's not like it is raining and dreary outside, so I'm not sure what is keeping me in bed.
Usually I can at least get myself out of bed by the second alarm that goes off, but this week it's been the third… then fourth… then fifth…
Maybe another one of these raspberry lemon white chocolate chip loaves will give me a little extra motivation.
Do you ever struggle with getting out of bed in the morning? Any tips? I NEED HALP.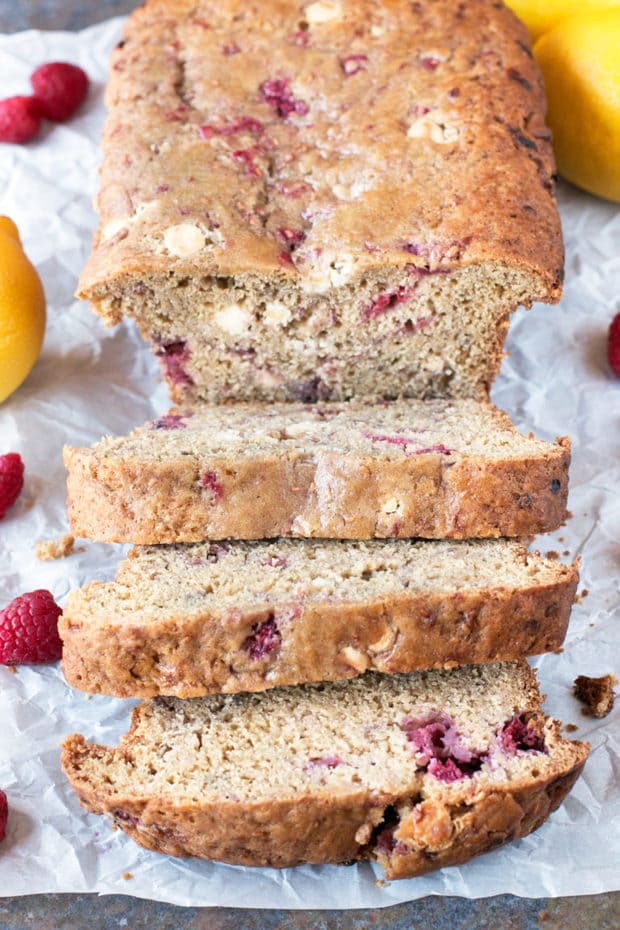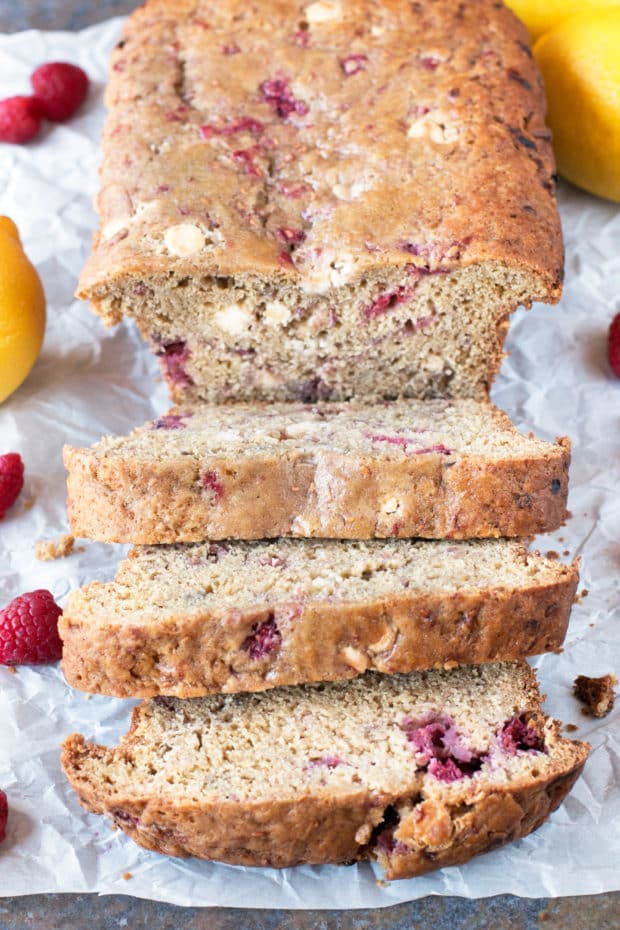 Seriously, a warm slice of this bread, spread with butter and served up with a side of coffee is the most magical way to start your day. A delicious slice of bread is quite possibly the only thing that will make me rise 'n shine – well that and BACON.
But I digress…
There are so many levels of fresh flavors in this loaf.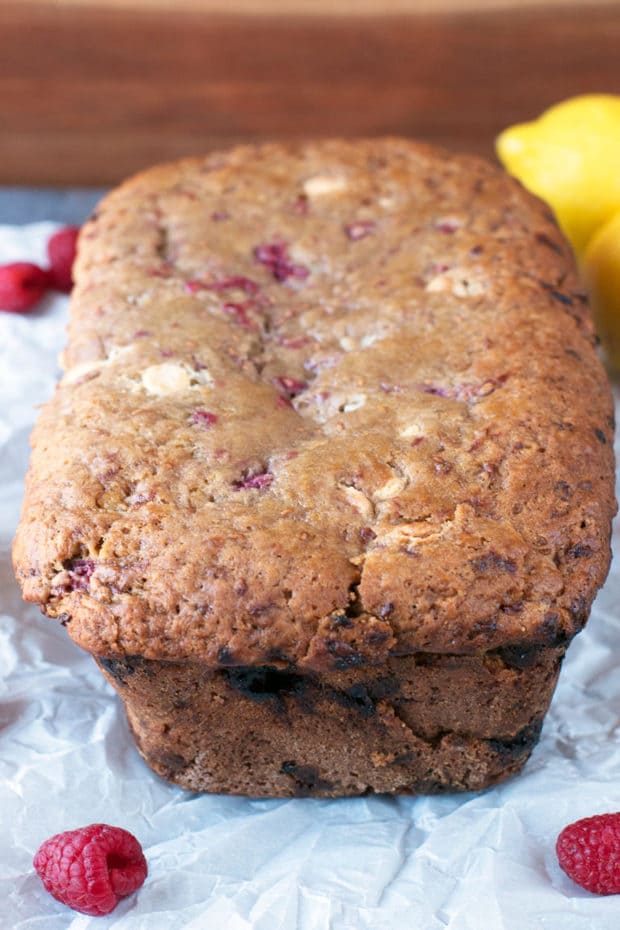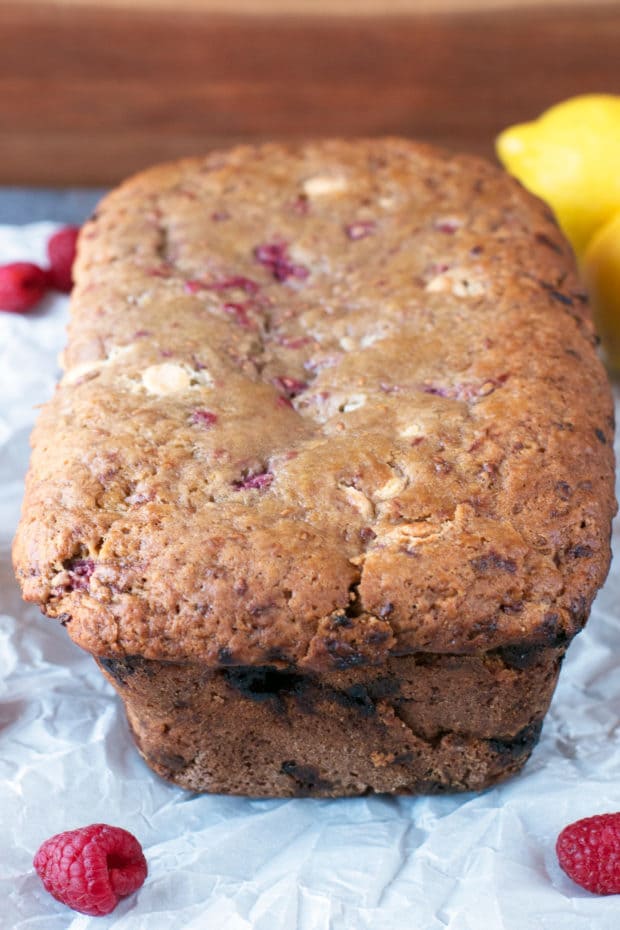 The brightness of the lemon, the fresh burst of raspberry and the rich white chocolate makes every bite explode with flavor! It's moist (*shudders* seriously hate using that word but I have yet to find a better substitute…) and rich, without being too dense and heavy.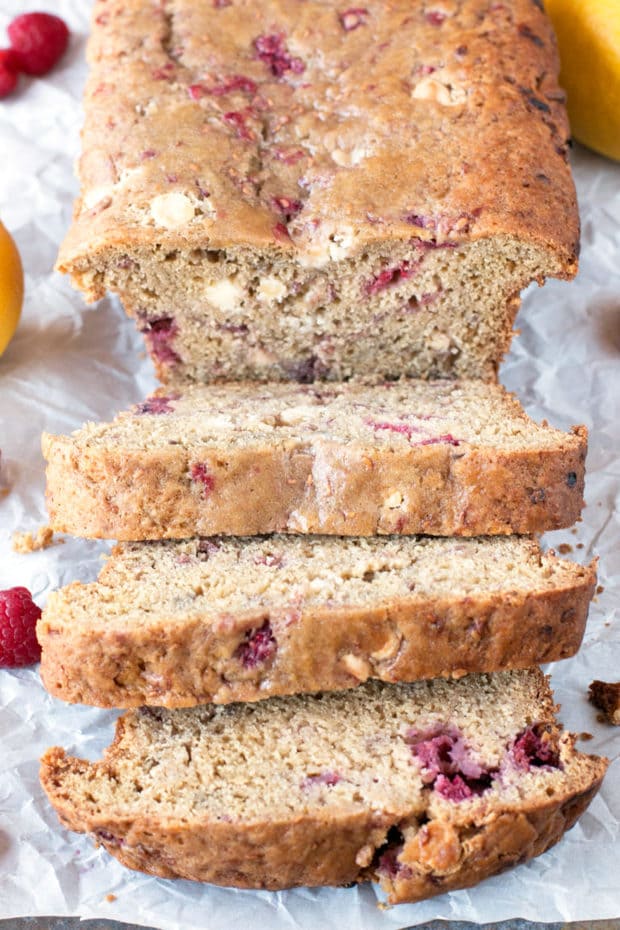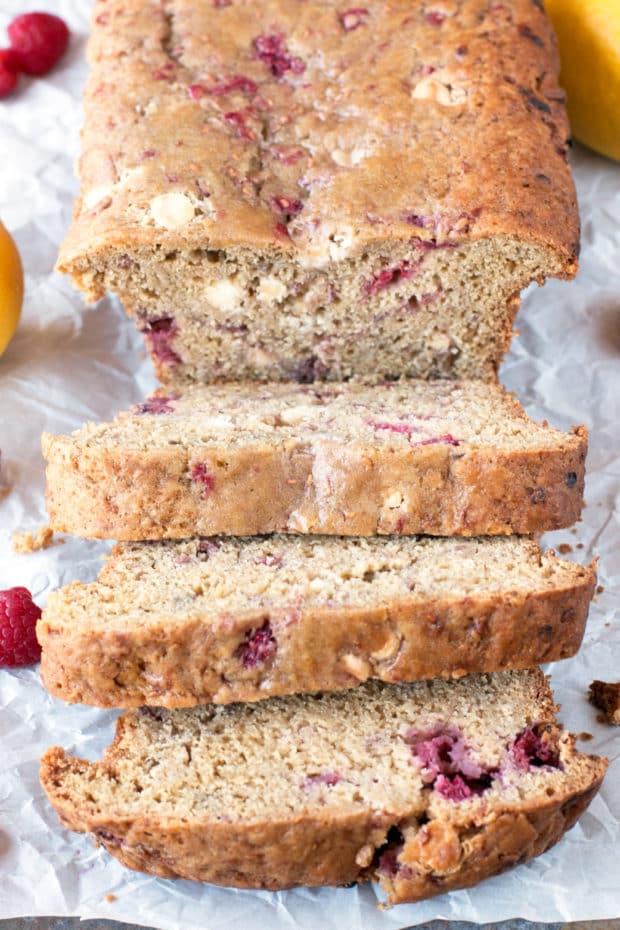 Essentially that means that it won't weigh you down in the morning with heaviness. Instead this light, fruity and fresh bread will lift you right up and out of bed no matter how early you have to get up in the morning!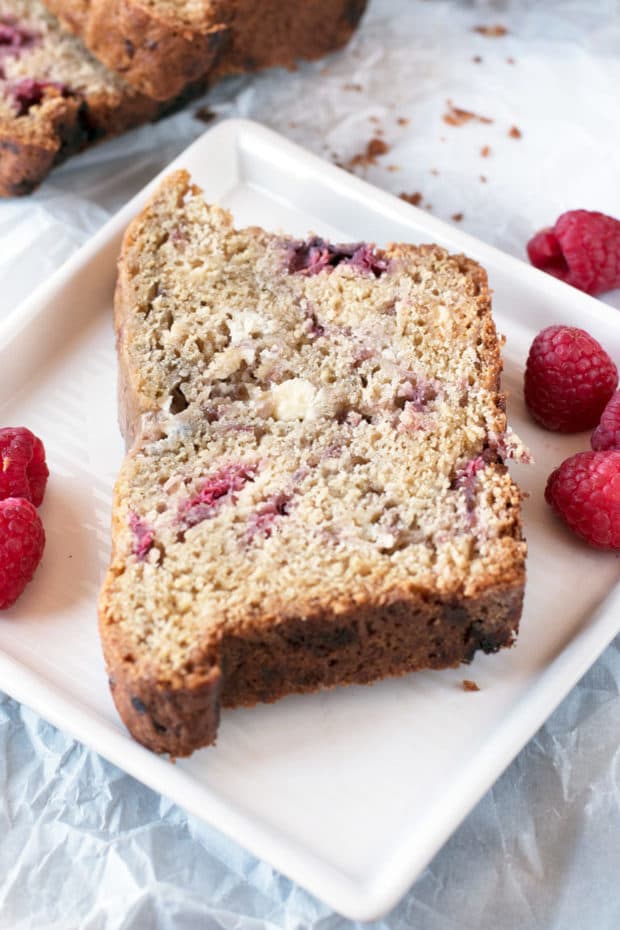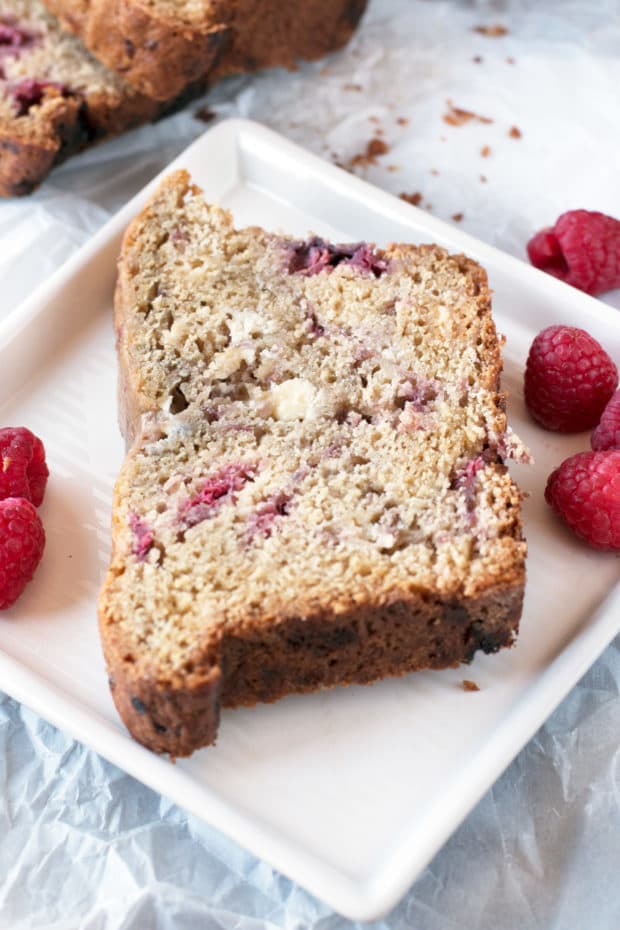 It's summer in a loaf pan.
This Recipe's Must Haves
Watch just how easy this bread is to make below!
Pin this Raspberry Lemon White Chocolate Chip Loaf recipe for later!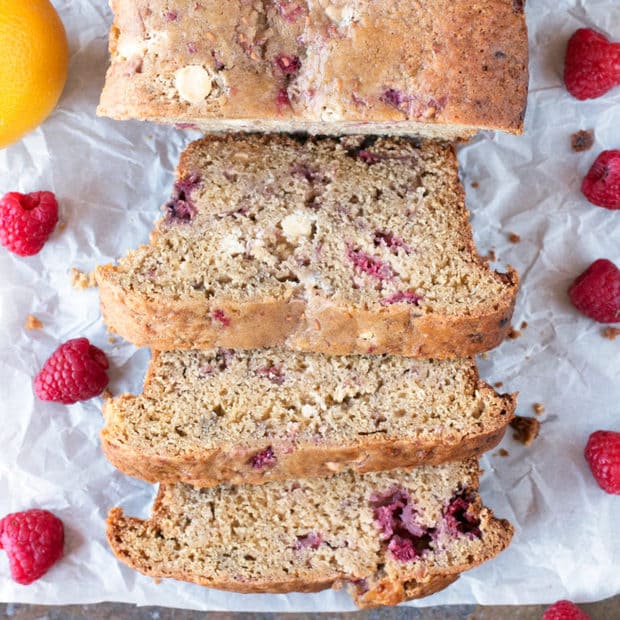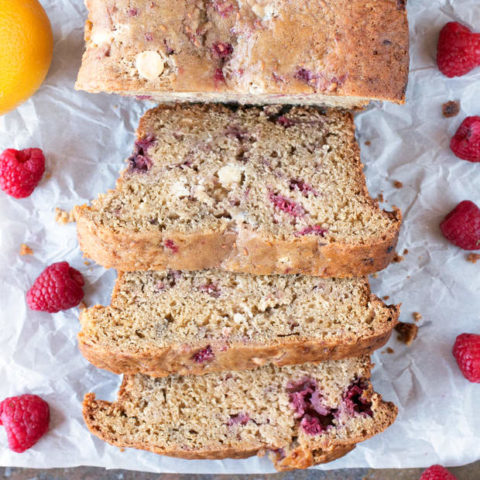 Raspberry Lemon White Chocolate Chip Loaf
Additional Time:
5 minutes
Fresh, fruity and full of white chocolate, this bright loaf brings sunshine to every morning. Spread a warm slice with some butter and you're in heaven!
Ingredients
2 cups + 4 Tbsp all-purpose flour
2/3 cup brown sugar
1/4 granulated sugar
1 tsp baking soda
1/8 tsp salt
1/4 unsalted butter, melted
1 egg
3/4 cup buttermilk
1/4 cup vegetable oil
2 tsp vanilla extract
2 tsp lemon juice
2 tsp lemon zest
2 cups fresh raspberries
1 cup white chocolate chips
Instructions
Preheat oven to 350 degrees. Grease and flour a loaf pan, shaking out the excess flour. Set aside.
In a large bowl, stir together 2 cups all-purpose flour + 2 Tbsp flour, brown sugar, granulated sugar, baking soda and salt. Set aside.
In a separate medium bowl, whisk together butter, egg, buttermilk, vegetable oil, vanilla extract, lemon juice, and lemon zest.
Add wet ingredients to the dry ingredients. Stir together until combined.
In a small bowl, toss together raspberries and 2 Tbsp flour together until the berries are coated. Add raspberries and white chocolate chips to the dough, gently folding them in to combined.
Add batter to loaf pan. Bake for 45 minutes, or until cooked through and no dough sticks to a toothpick when inserted in the center.
Cool 15 minutes in the pan before removing and slicing.