I have always loved petit fours.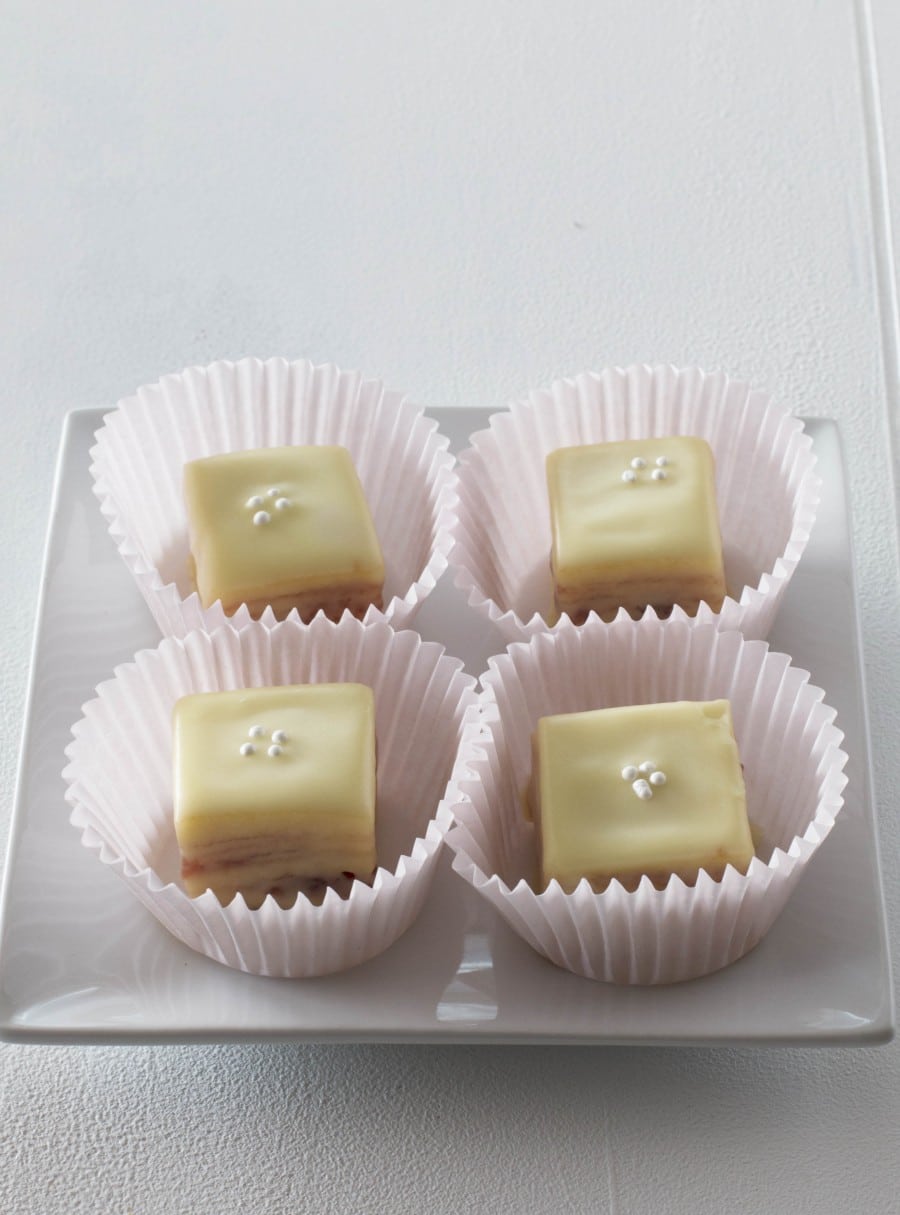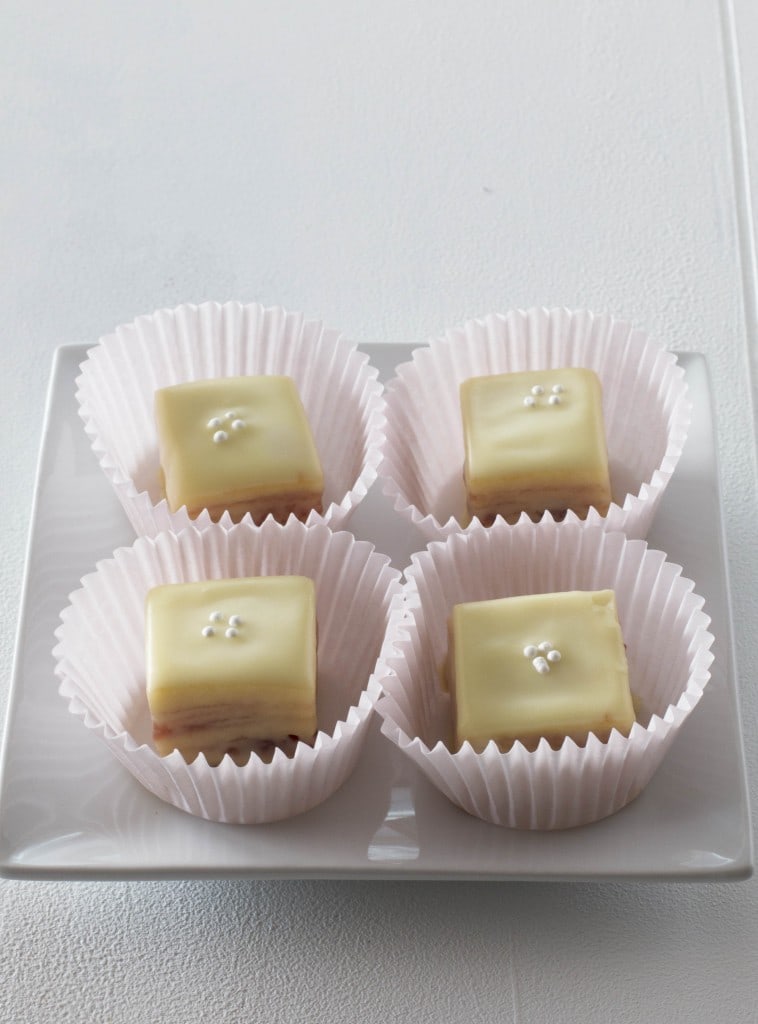 To me they are that perfect elegant cake that reminds me of fancy afternoon tea services I have gone to throughout my life. It started as a tradition with my grandma Alice around Christmastime – all the ladies of the family would take an afternoon and head to some fancy afternoon tea where I would devour endless little petit fours and scones. Even after my grandma passed away, we have been keeping the tradition for years.
The pastel colors that are always used with petit fours scream springtime and Easter to me, no matter when I eat them during the year. I am not the most delicate chef or baker so me making petit fours has been a big NO. Until now…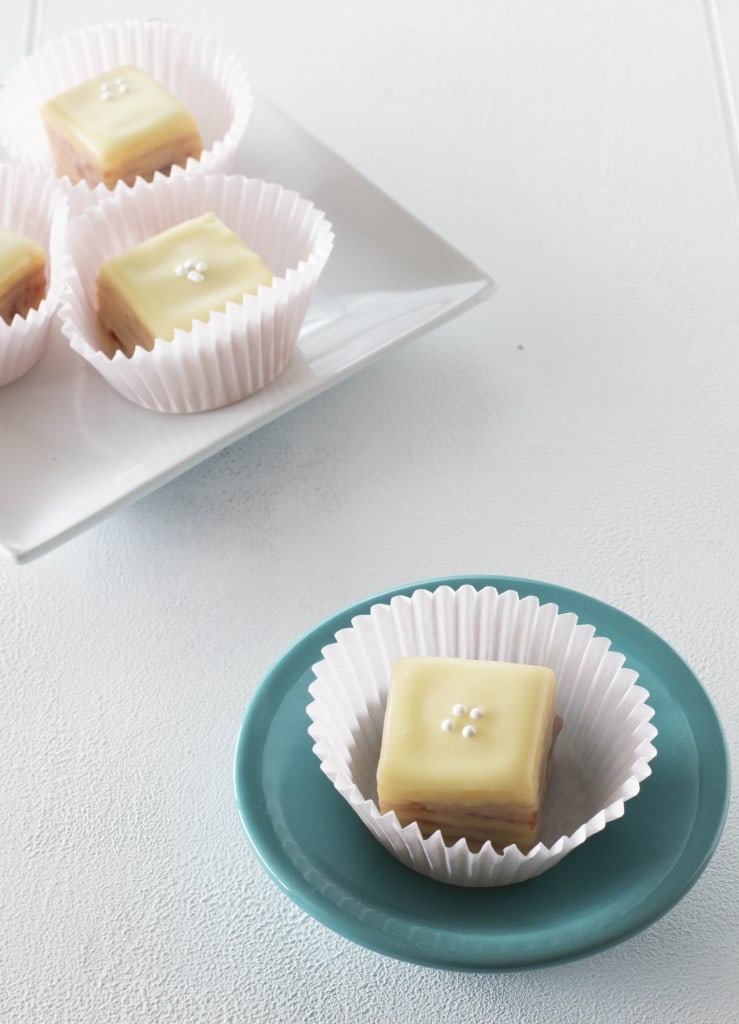 I was reading through a magazine and a chef mentioned in an interview how she will just cut up frozen pound cake, douse the little cakes in icing and call it a petit four. I read that about 5 times in a row – can you say absolutely BRILLIANT? Now I am all about making things from scratch, but you are already cooking so much for any holiday. So why not occasionally do a little cheat and make it easier on yourself?
Plus pound cake, jelly and icing? Come on, it's kind of impossible to go wrong here. These little cakes will be gone before you know it, especially after everyone works up their appetites during the Easter egg hunt!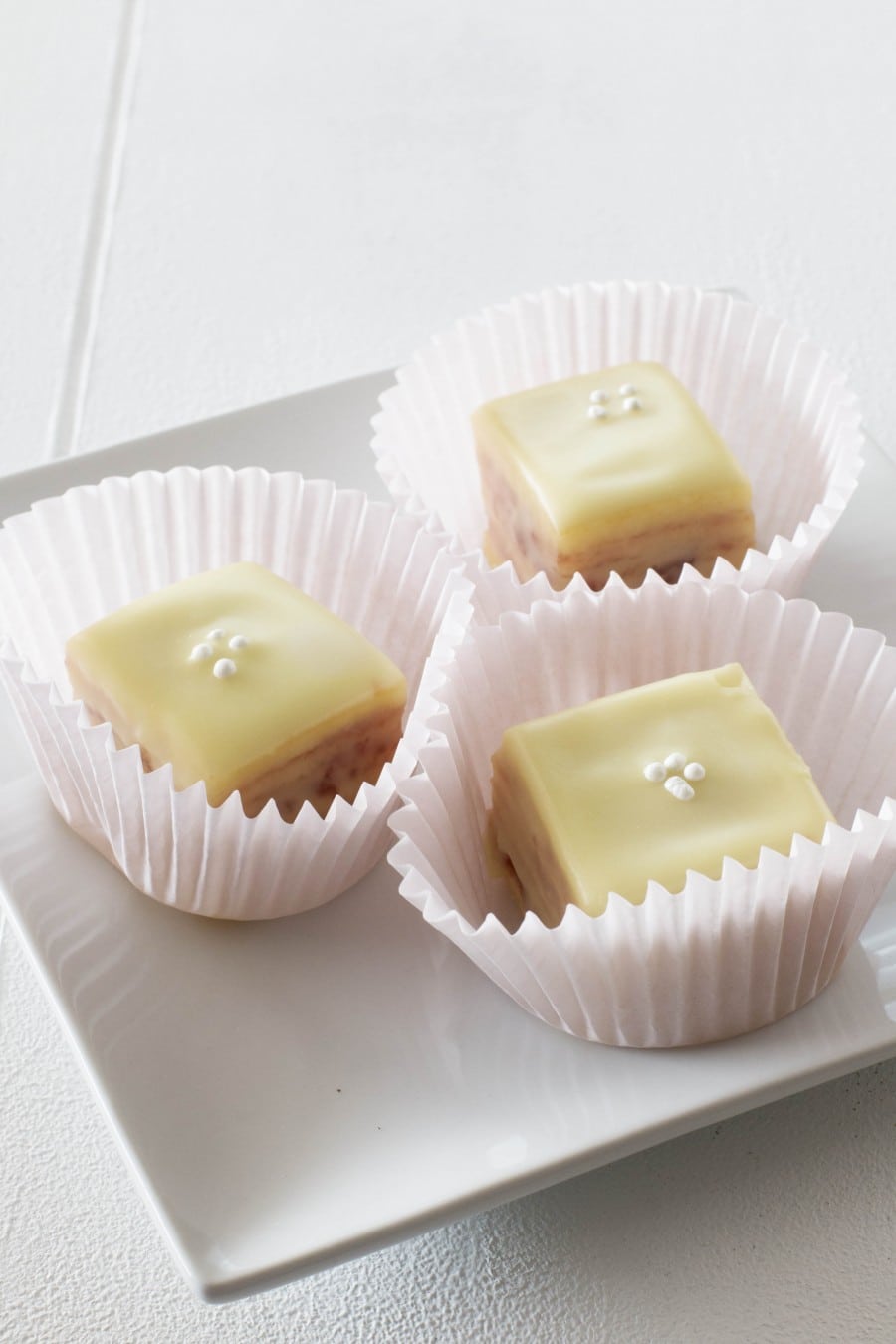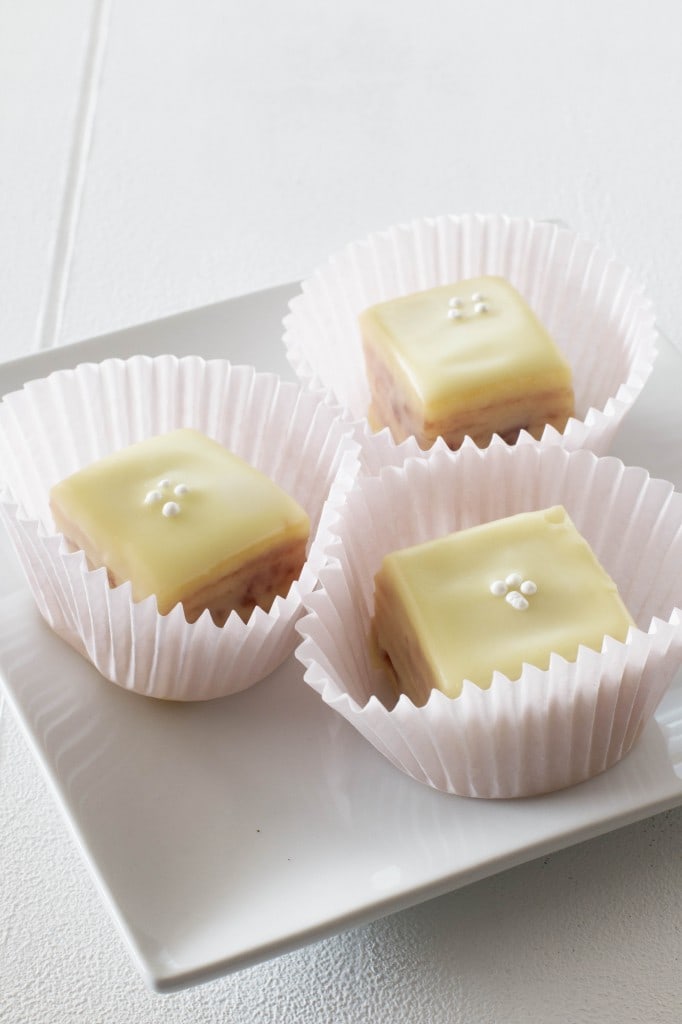 If you want other Easter go-to recipes that I swear by, check out this asparagus goat cheese tart or these truffle devil eggs. Then make these gorgeous little petit fours and tell everyone you made it all from scratch! I promise if you don't tell, I won't.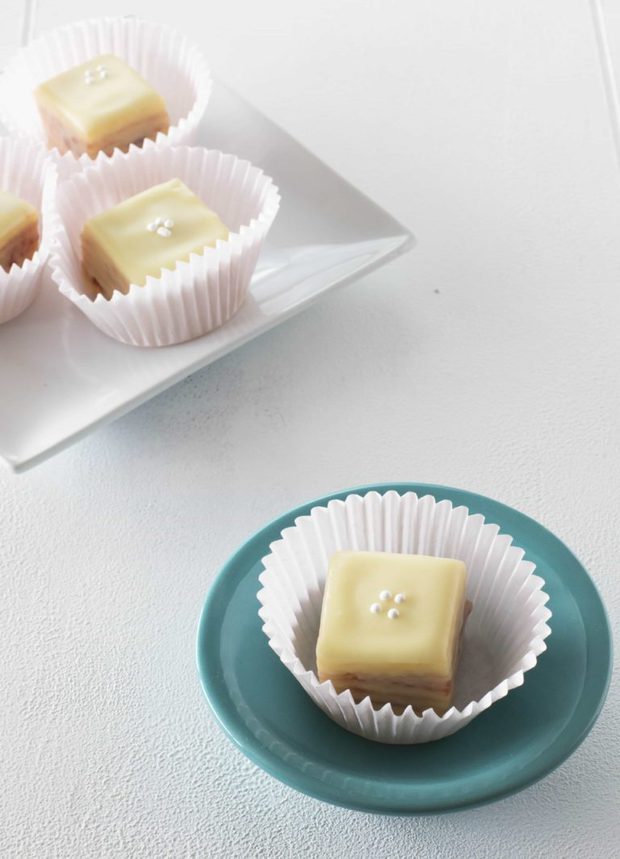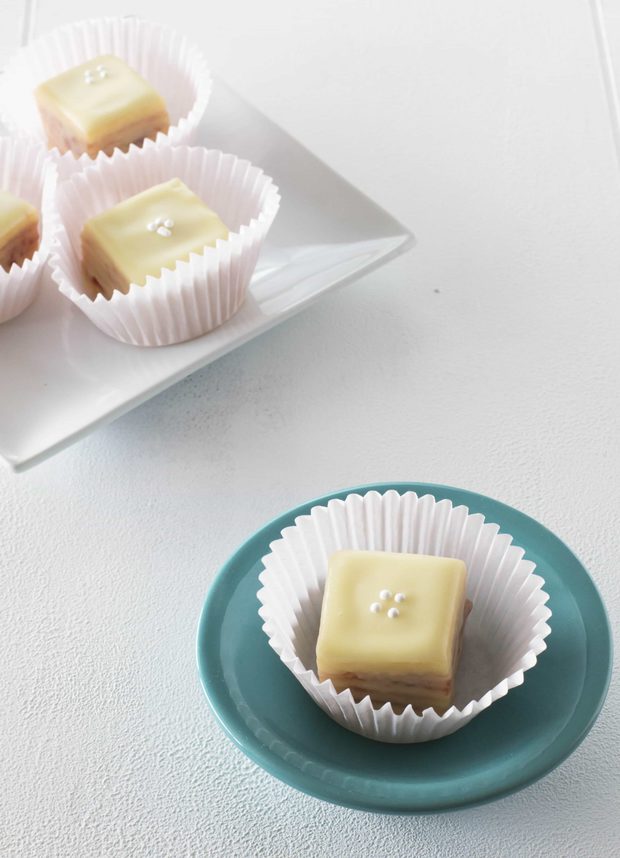 Easy Easter Petit Fours
Additional Time:
5 minutes
Little elegant cakes layered with pound cake and jelly will be a new tradition for your Easter feast.
Ingredients
1 frozen pound cake (I used Sara Lee)
1/2 cup raspberry or strawberry jelly
3 Tbsp water
2 cups sifted confectioners sugar
Food coloring
Instructions
Start by cutting up your pound cake. Note: do NOT thaw the pound cake; keeping it frozen will make it easier to cut. Remove the "crusts" of the pound cake (i.e. the brown outside) to form a rectangle of cake. Make sure all the sides are even and straight. Next, turn your rectangle of pound cake so it is resting on its longest and thinnest side on the cutting board. Cut the cake into thin, even layers - you should end up with at least 4 layers but if you want several really thin layers you can end up with about 6-7 layers. Place one layer flat on the cutting board to start building the pound cake back up. Spread a thin layer of jelly on the top side of the bottom piece and place a second layer of cake on top. Repeat spreading the jelly and adding another layer of cake until you have added your last layer on top.
Cut the layered pound cake into small cubes, no bigger than 1 inch by 1 inch. Line a baking sheet with parchment paper and place a wire grid cooling rack on top of the parchment paper. Add each layered cube of cake to the wire cooling rack, spreading them about an inch or two apart from each other. Set aside.
In a medium bowl, combine the water, confectioner's sugar, and about 2 drops of food coloring (I used yellow, but you can use red or blue to get pastel pink and blue!). Mix together until the icing comes together and is smooth. The icing should be on the thinner side and easy to pour. If your icing is too thick, add water a tablespoon at a time until you reach the desired consistency. Spoon the icing over each cake, making sure you cover the each cake with icing on all sides and corners (I found using a ladle really makes the process a lot easier). Allow the cakes to rest at least 1-2 hours to let the icing set. Place each cake in a paper cupcake liner and serve.