A Rosemary Grapefruit Gin Fizz is a delightful sipper for the winter season. It's bright, refreshing and floral to bring a little sunshine to your cocktail hour even on those dark and cold nights.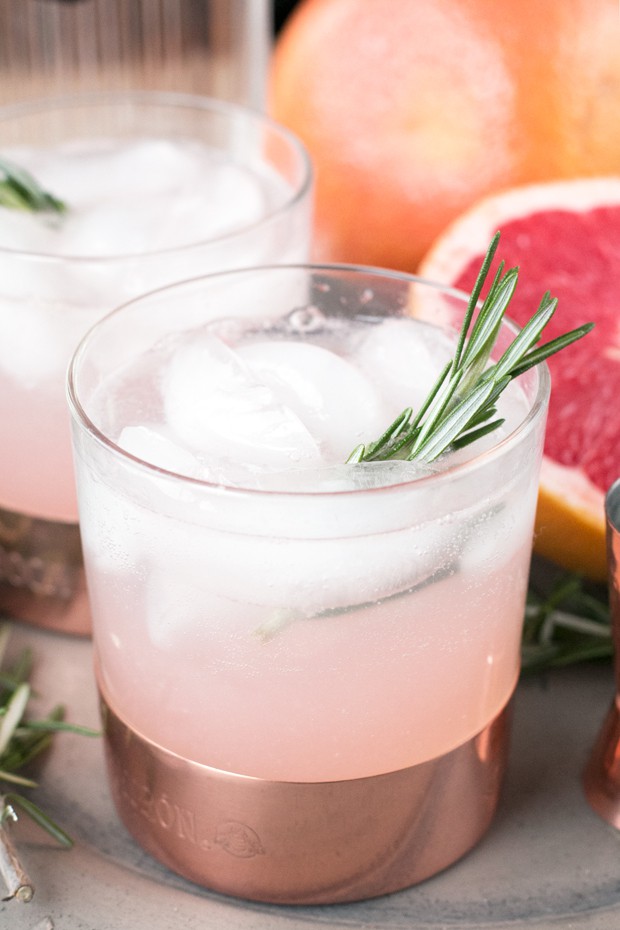 This cocktail… Oh that I could write an ode to this cocktail that would fully embody the floral deliciousness that lives within each sip…
It makes me wish that I was back in college in my creative writing course, writing poetry and prose about whatever happened to float into my mind at the time.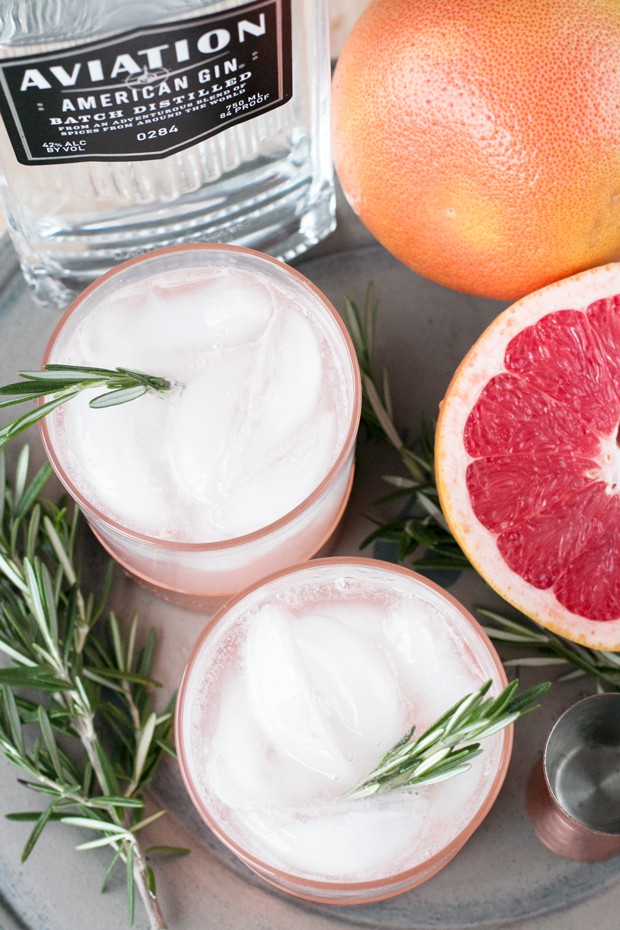 If I had made this cocktail back then, I am pretty sure a sonnet would come flowing from my fingertips.

However lazy college days are a thing of the past and now I focus and hustle and fight with evil printers that don't seem to want to work after sitting for a year in storage not being used…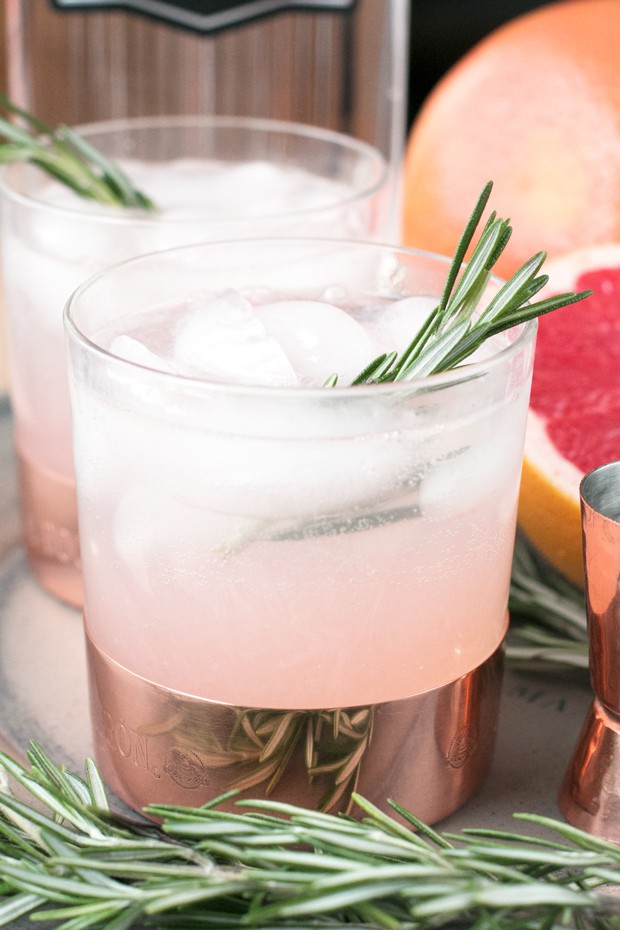 After a long day of battling technology and planning editorial calendars, this gorgeous floral and bright cocktail is a lovely escape when cocktail hour rolls around.
Gin is such a wonderful partner to the rosemary simple syrup and the fresh grapefruit juice in this cocktail. The flavors marry together and bring some much needed sunshine to the dark and cold nights of winter that are in store for us all (at least those of us not living in temperate climates…).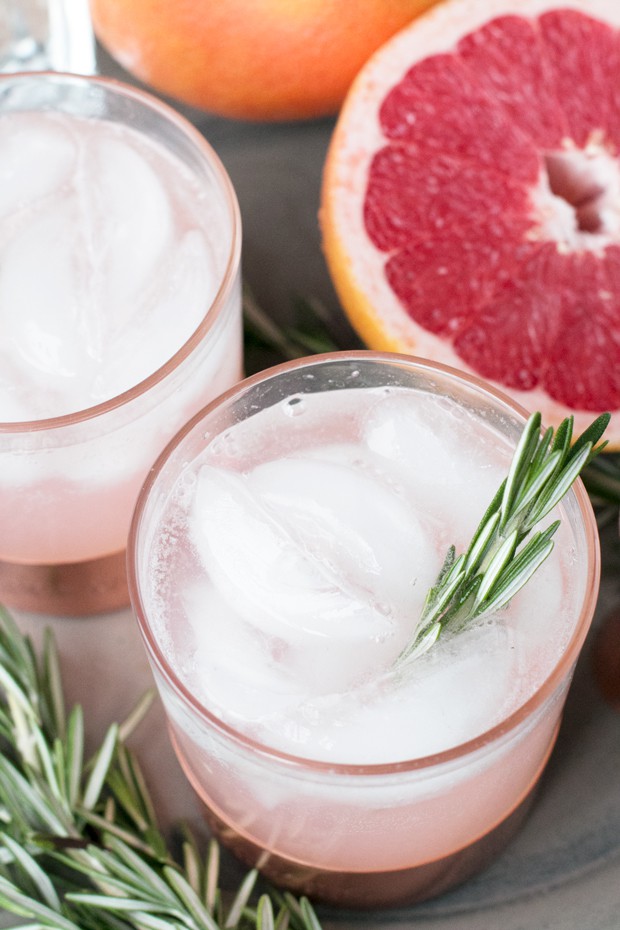 The smell of rosemary makes me think of the holiday season instantly so I love that making a rosemary simple syrup fills my kitchen with that scent.
Not to mention you can use this rosemary simple syrup for the cocktail, but also to liven up your iced tea or even use it with a simple gin and tonic to bring a whole added level of flavor to the table!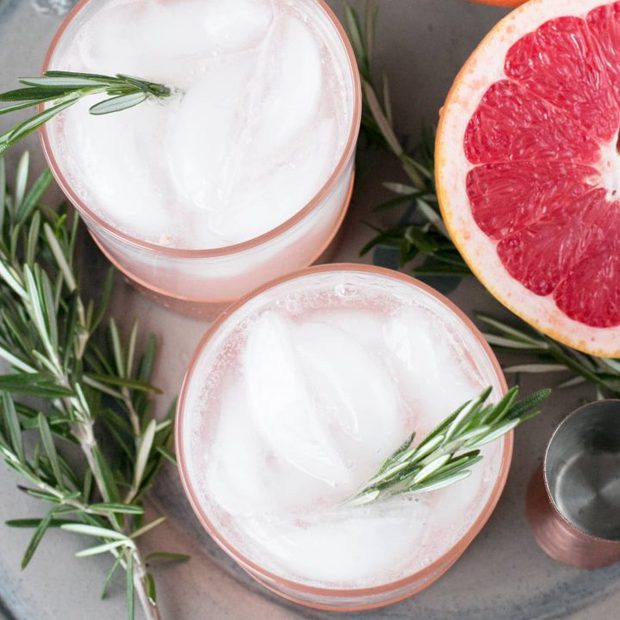 Rosemary Grapefruit Gin Fizz
Yield:
1 cocktail + 1 cup rosemary simple syrup
This bright and floral cocktail makes sipping during the winter that much more satisfying.
Ingredients
2 oz gin 1/2 oz grapefruit juice 1/4 oz lime juice 1 1/2 oz rosemary simple syrup Club soda Ice Garnish: rosemary sprig
Rosemary Simple Syrup
2 sprigs rosemary 1 cup water 1 cup granulated sugar
Instructions
In a small saucepan, heat rosemary sprigs, water and granulated sugar over medium-high heat. Bring mixture to a boil and stir until the sugar dissolves.
Remove from heat, cover and steep for 30 minutes. Remove rosemary sprigs and store in an airtight container in the refrigerator.
To make the gin fizz, combine gin, grapefruit juice, lime juice and rosemary simple syrup in a shake filled with ice. Strain into a rocks glass filled with ice. Top with club soda and give one final stir to combine. Garnish with a rosemary sprig.
Pin this Rosemary Grapefruit Gin Fizz recipe for later!