Please note this post contains affiliate links.
Blueberry Pie Crumb Bars are all the blueberry pie flavor you love, but without all the hassle of making a homemade pie! These easy pie bars are flavorful and sweet, not to mention super portable so you can serve them up wherever you are headed this summer.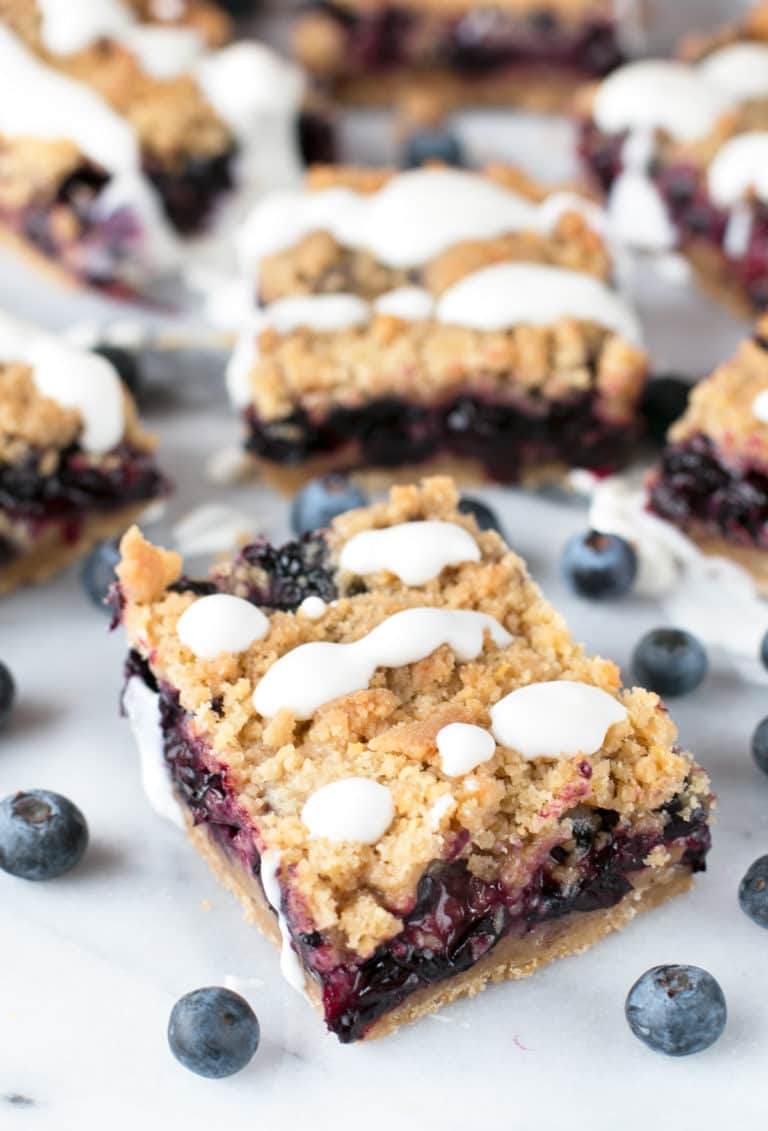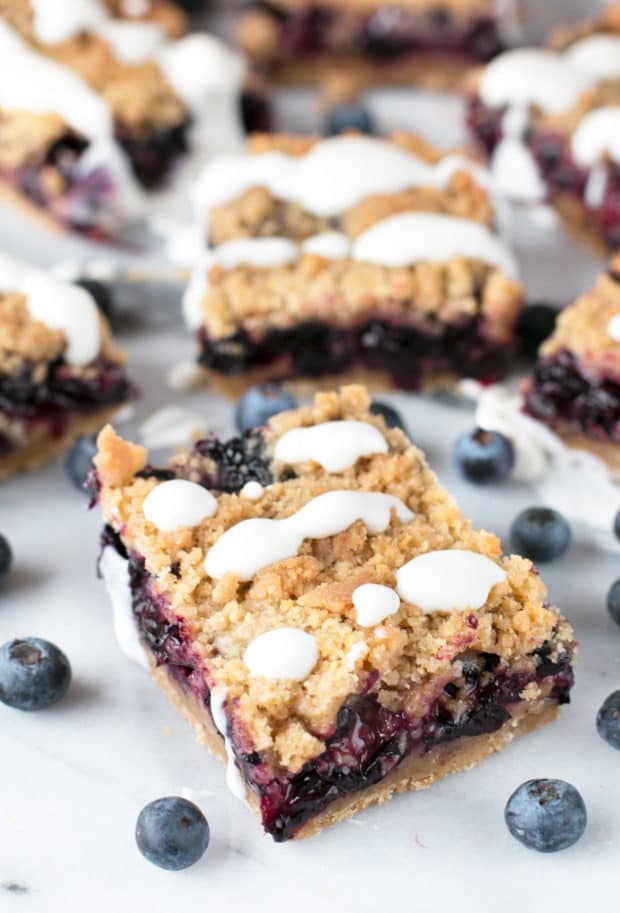 When I think Fourth of July desserts, I think PIE.
Cherry pie, apple pie, blueberry pie…. All the fruit pies are on my radar.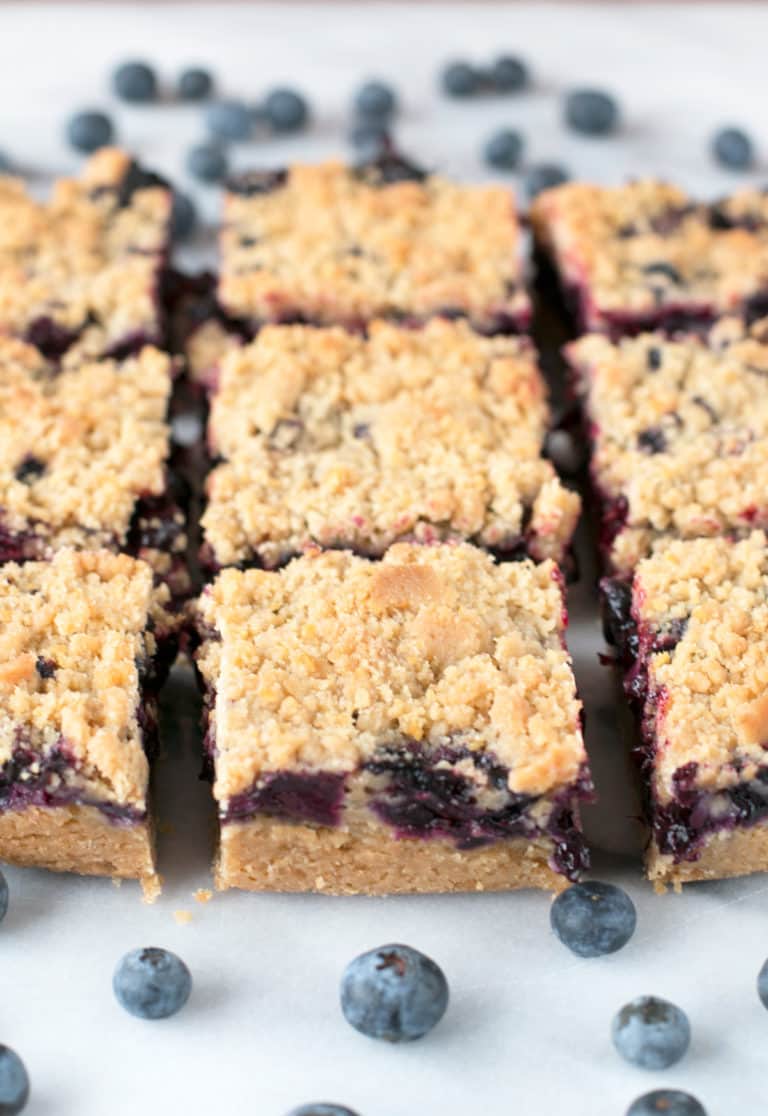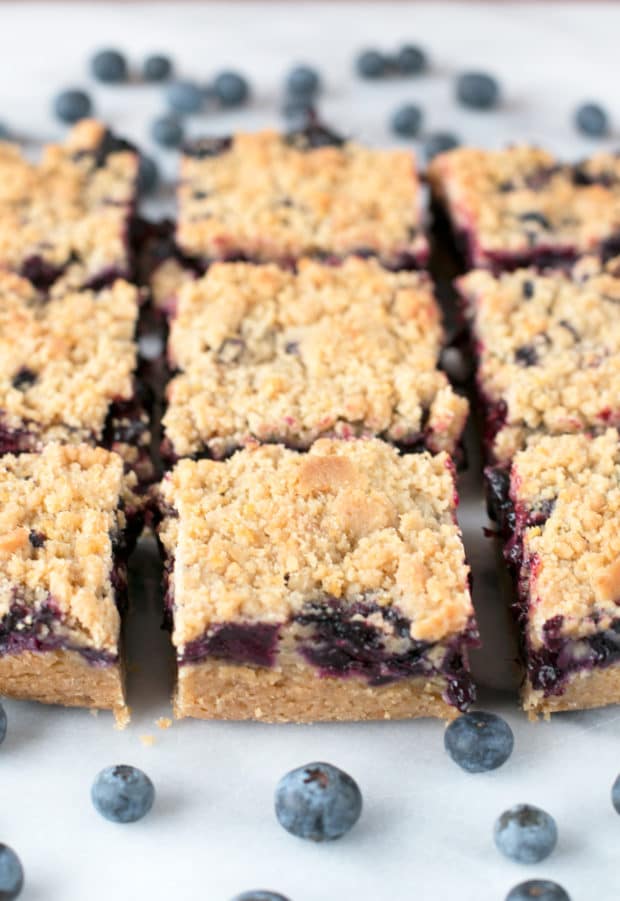 However, I tend to get lazy when the summer heat hits on the weekend. Instead of slaving over a pie, trying to keep the pie dough chilled enough to work with, and all the rest of that mess, I want to be lounging with a drink in hand, relaxing after a long work week.
Because I am lazy. So what? I don't have all the time in the world to make pie after all!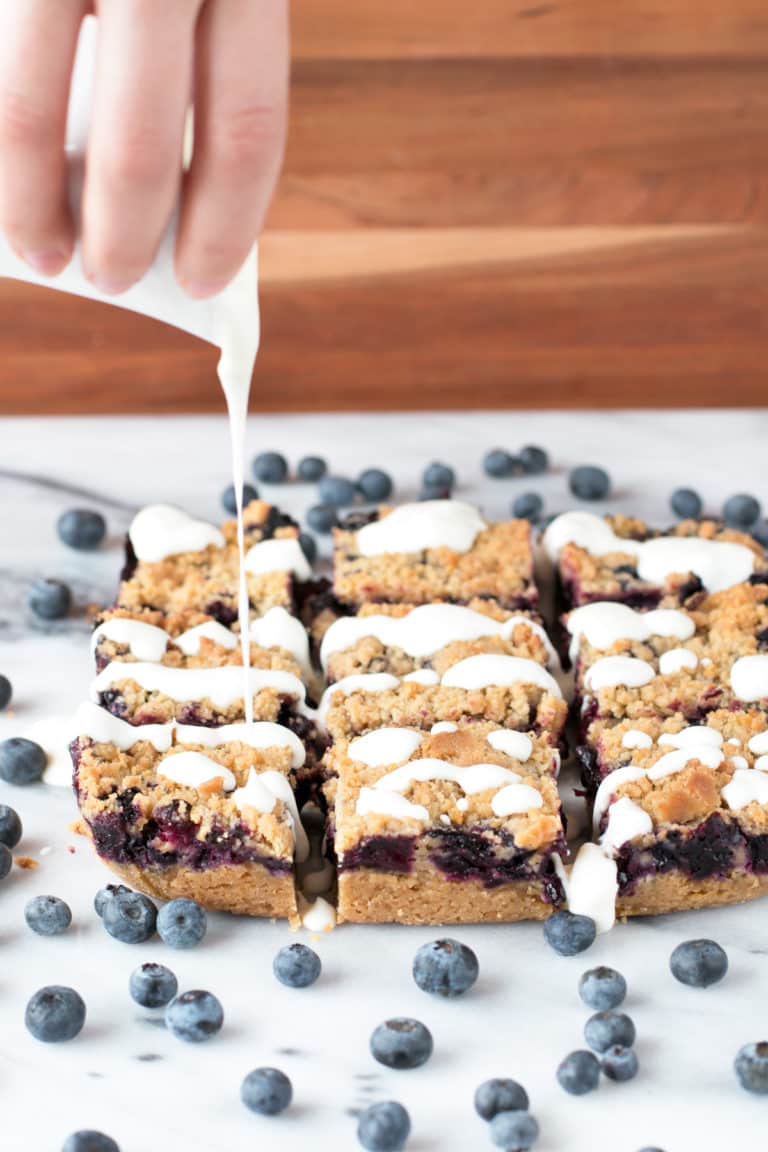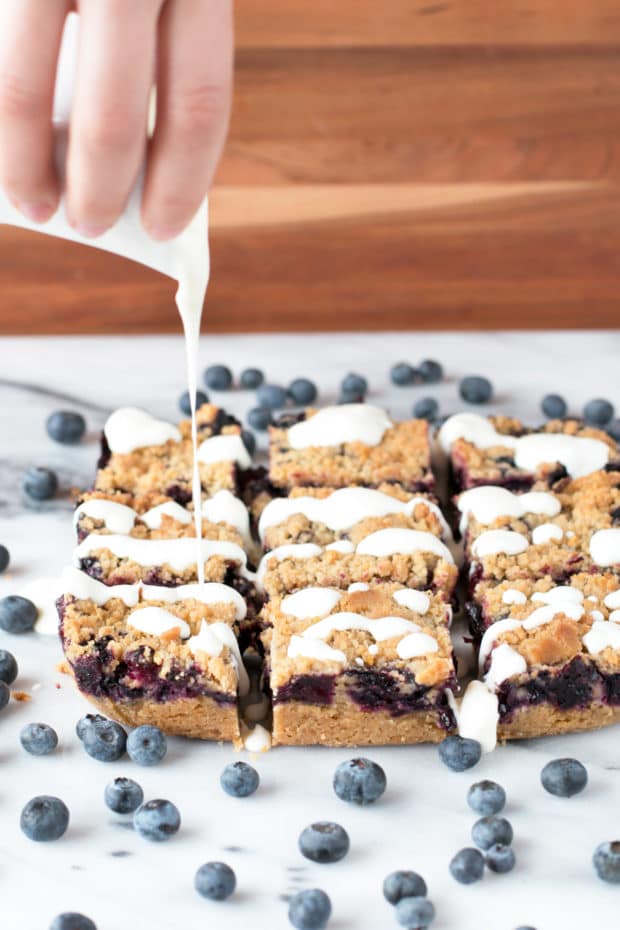 So I decided it was high time to turn my favorite summer dessert into something a little less difficult to make, and a whole lot easier to eat while I have a drink in the other hand.
Of course, you can do even more with pie bars, like cover them with a lemon cream cheese drizzle to add some additional indulgence.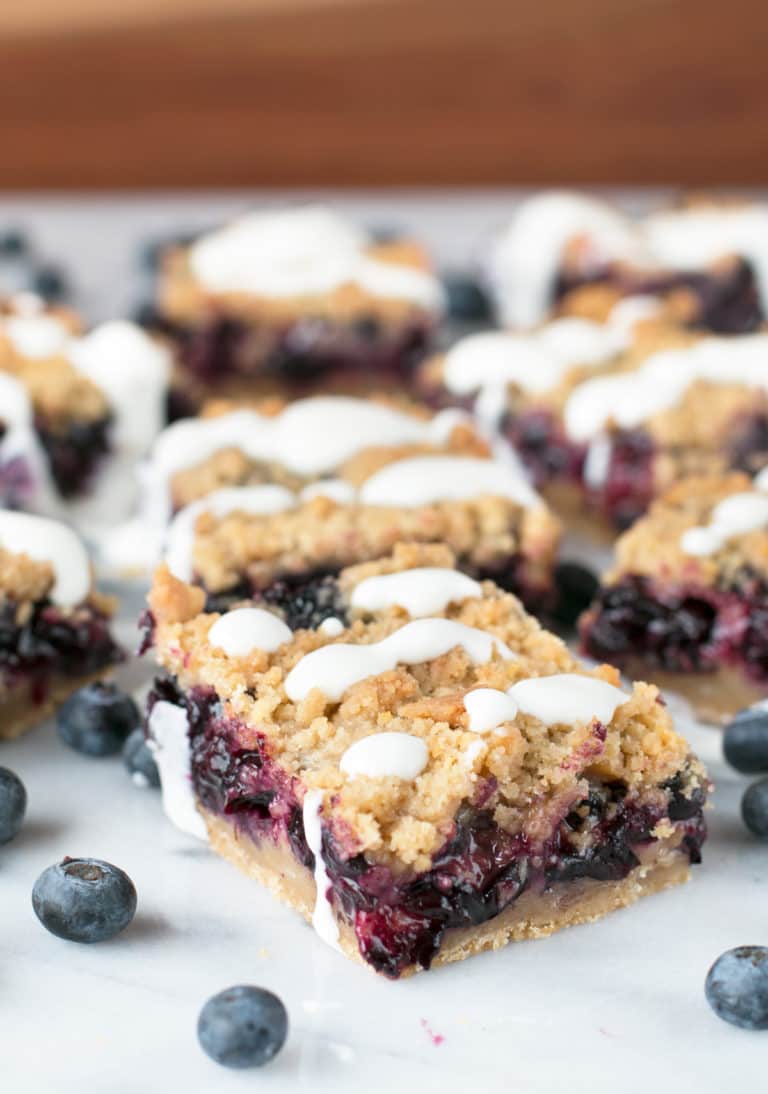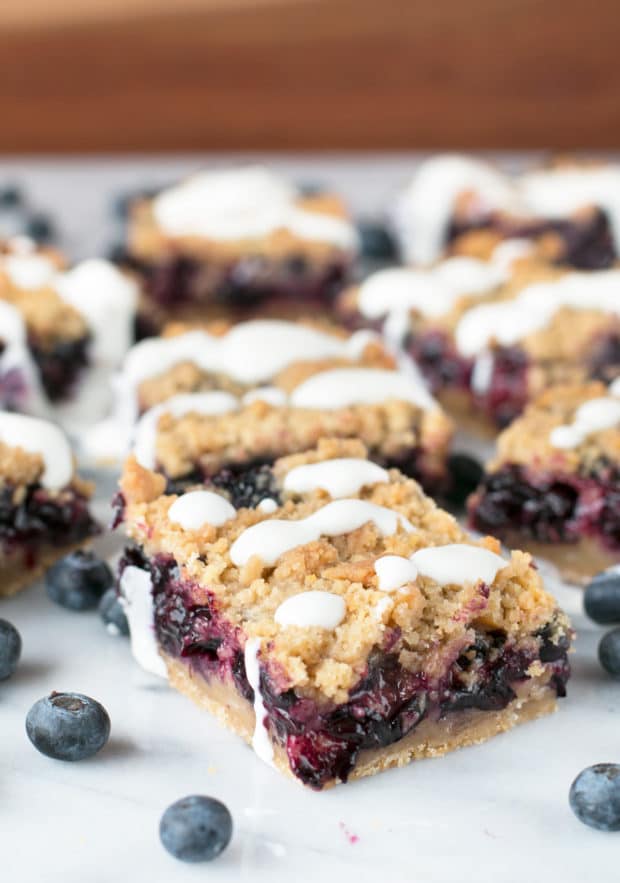 Who says you need a bikini bod in the summer?
Not worth it when you have pie bars within your reach… It's worth every calorie, am I right?
I love the shortbread-like bottom layer of these pie bars almost as much as I like the blueberry filling and crumb topping. The buttery bottom is just the right texture to give you a little bit of a chew, but also balance out the sweetness and tartness of the blueberries. It's even better than a slice of pie!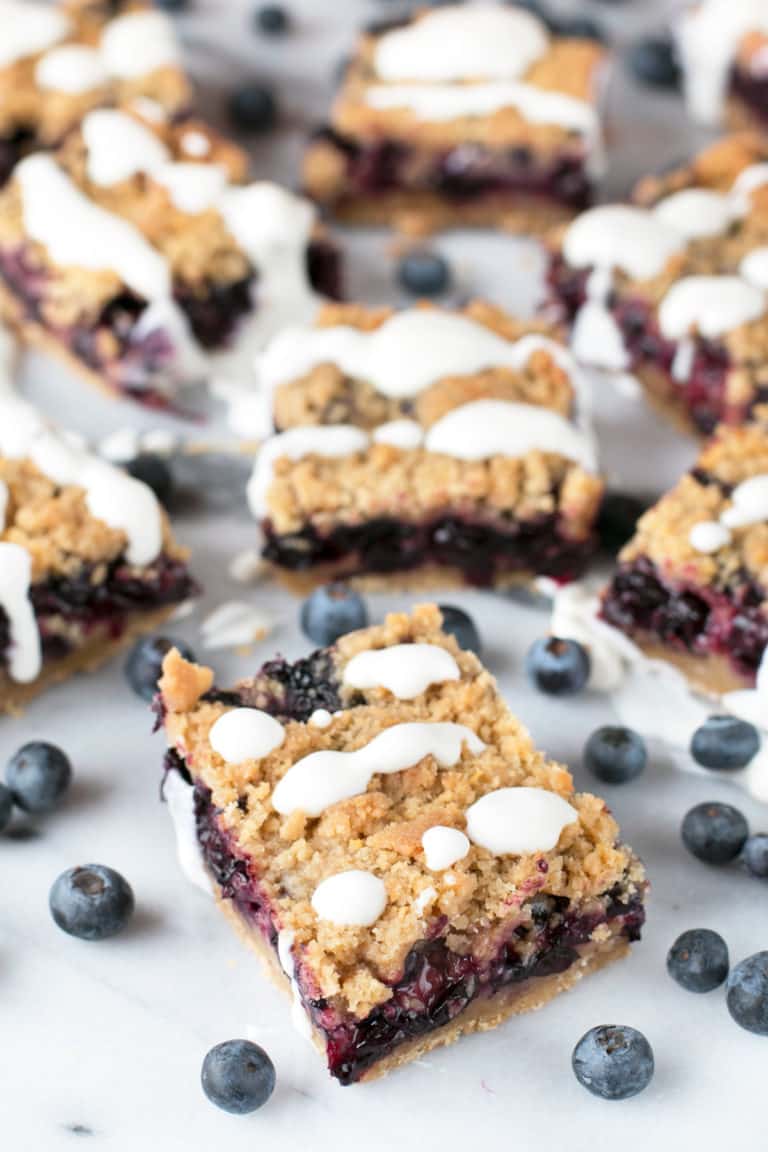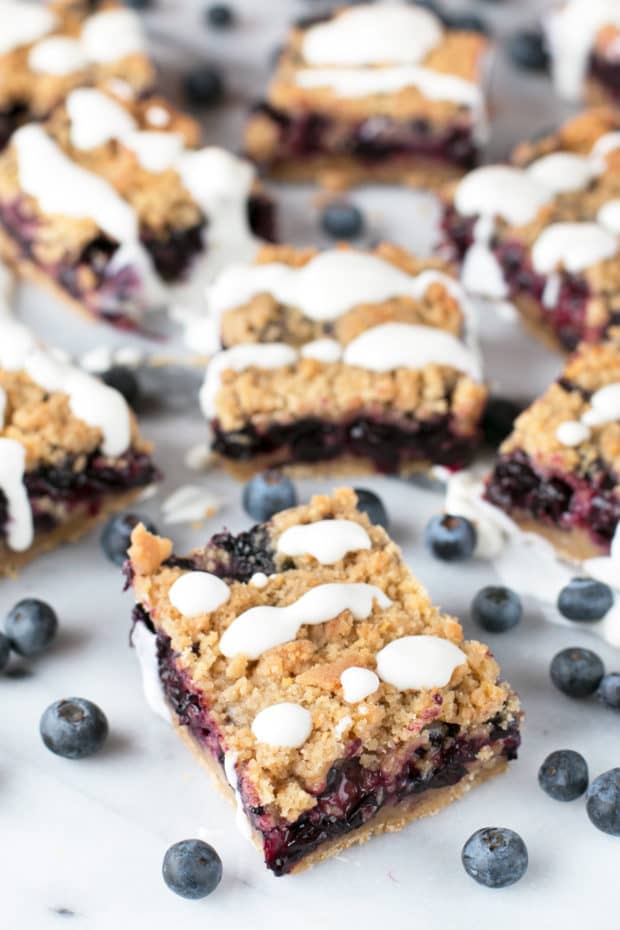 Especially with the tart and tangy lemon cream cheese drizzle on top… That light acid in the drizzle brings everything up another level and really highlights the flavor of the berries!
If you have a party coming up for Independence Day – or even if you're just planning on some fireworks in the park with the friends and family – these pie bars will be a HIT. No one can resist the creamy, fruity goodness once you set them out.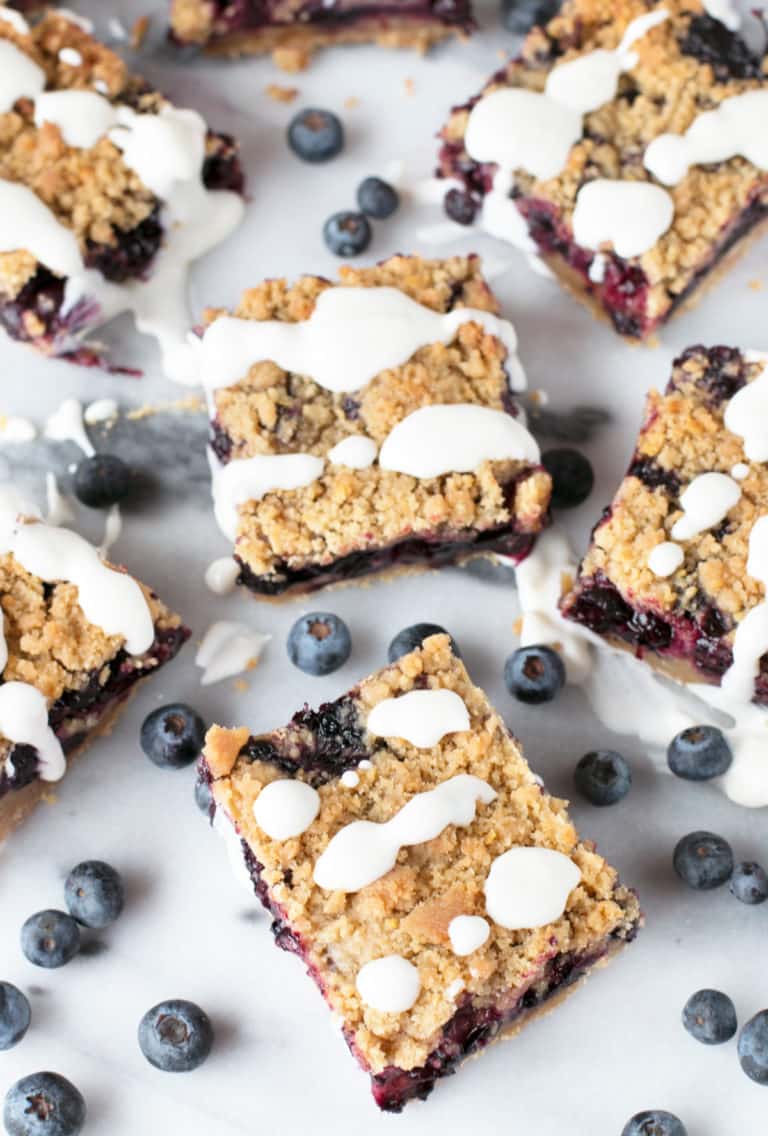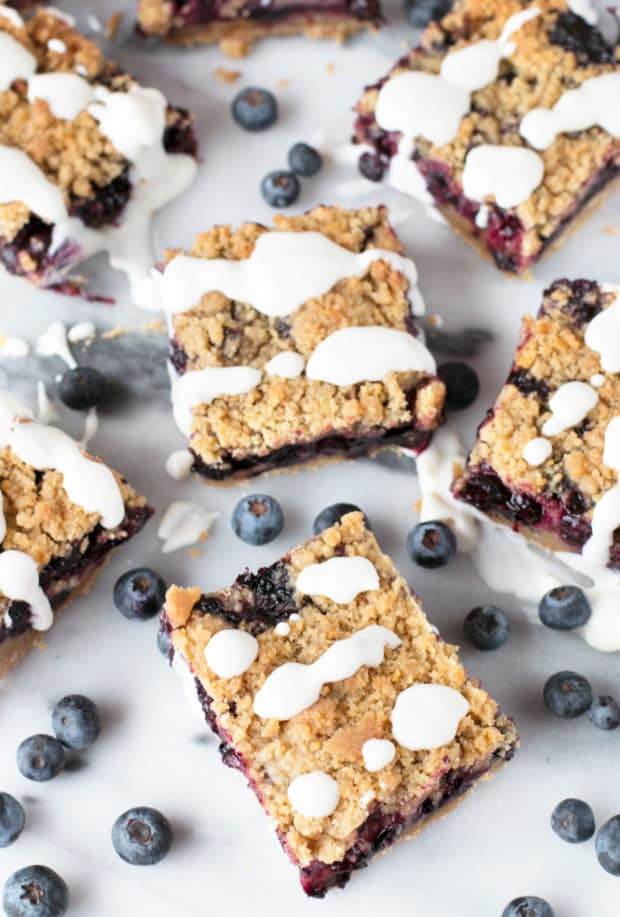 No one.
This Recipe's Must Haves
To make these pie bars, you will need your favorite stand mixer, or a set of mixing bowls with your electric hand mixer.
You will also need a chef's knife to smoothly cut the bars up after they bake!
I like to bake the bars in a simple square baking pan, but if you want to make it even pretties, you can use this Le Creuset Heritage Stoneware 8″ Square Dish
.
Can I use frozen blueberries?
You certainly can! I recommend defrosting them first and draining them before you use them in the recipe.
How long will these last?
These blueberry pie crumb bars will last for up to three days if kept in the refrigerator. Therefore they are super easy to make ahead of time for a party!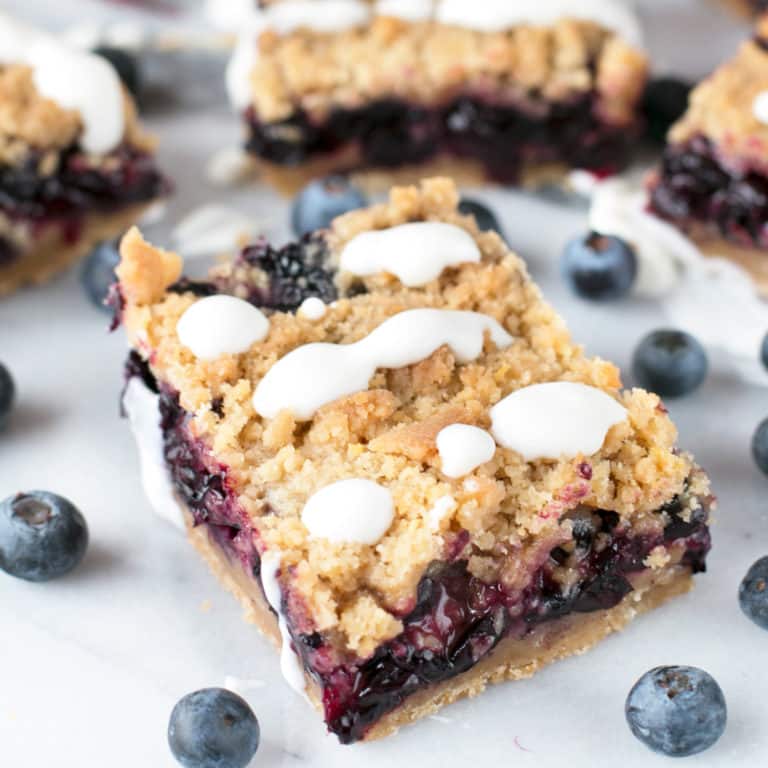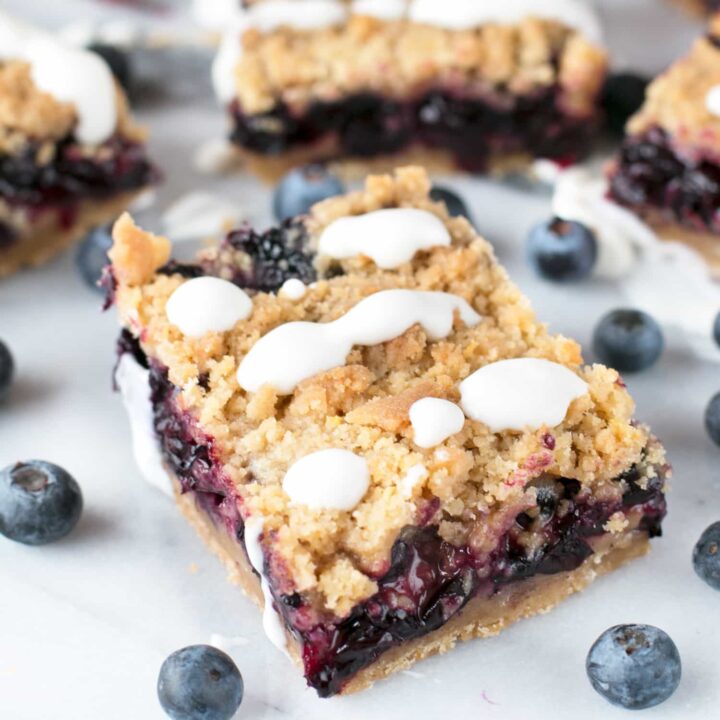 Blueberry Pie Crumb Bars
All the blueberry pie flavor without any of the hard work!
Ingredients
Blueberry Layer
2 1/2 cups fresh blueberries
2 1/2 tsp cornstarch
1/2 Tbsp lemon zest
1 1/2Tbsp fresh lemon juice
1/4 cup + 1 Tbsp brown sugar
Bottom Layer
1 1/4 cup all-purpose flour
1/2 cup + 2 Tbsp brown sugar
1/2 tsp baking powder
10 Tbsp unsalted butter, chilled
1 egg yolk
Lemon Cream Cheese Drizzle
4 oz cream cheese, room temp
1/2 cup confectioners' sugar
1/8 tsp salt
1 Tbsp fresh lemon juice
1 tsp lemon zest
4 to 5 Tbsp whole milk
Instructions
Preheat oven to 375˚F. Line an 8x8 pan with foil and grease with butter or cooking spray.
In a medium bowl, toss ingredients for the blueberry layer together until the blueberries are evenly coated. Set aside.
In a large bowl, whisk together flour, 1/2 cup brown sugar, and baking powder for the bottom layer. Using your fingers or two knives, cut in butter and yolk until combined. The texture should be like wet sand.
Press two-thirds of the mixture into the bottom of the prepared pan. Top with the blueberry layer.
Add 2 Tbsp brown sugar to the remaining flour mixture. Crumble this topping over the blueberry layer.
Bake 45 minutes, or until the top is golden brown. Cool completely.
Once the bars are cool, make the cream cheese drizzle. Beat cream cheese until fluffy, approximately 4 minutes. Add sugar and beat until fully incorporated. Add salt, lemon juice and whole milk until combined.
Drizzle over cooled bars and slice. Serve.
Recommended Products
As an Amazon Associate and member of other affiliate programs, I earn from qualifying purchases.