Lemon Thyme Sidecar is just the right classic cocktail for your springtime happy hours. The thyme simple syrup brings a sweet, herbaceous flavor to this cocktail that is irresistible.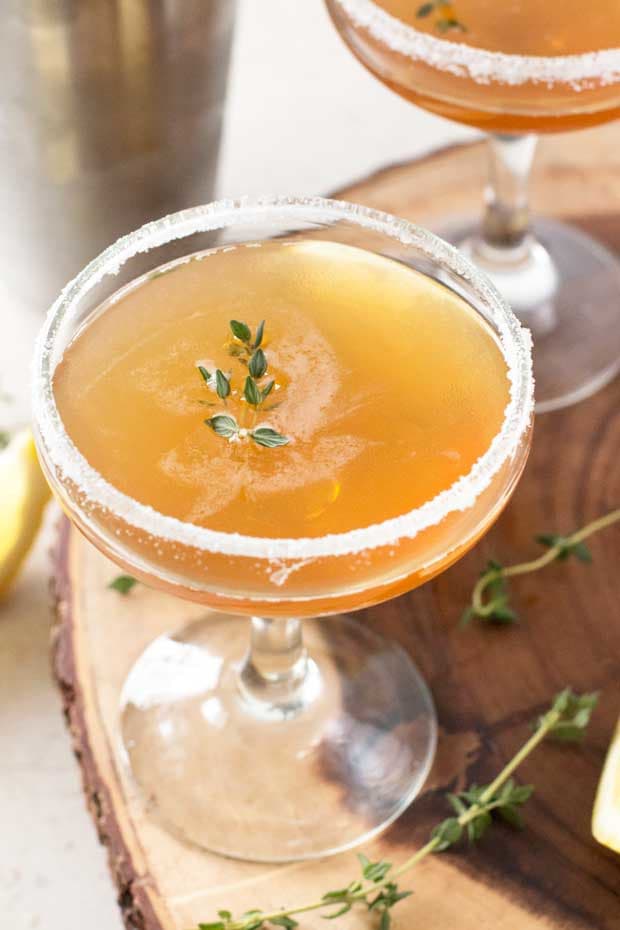 There are few things in this world that I can say I truly loathe. They include running out of Nutella, the dating games we have to play, waiting for an important email or text, and, arguably most important, skipping cocktail hour.
I'm sorry, but cocktail hour is a vital part of my life and my functionality. It serves as a very important reward at the end of the day for me. If I get through work, working out, and making a healthy meal for myself, I've earned a freaking cocktail.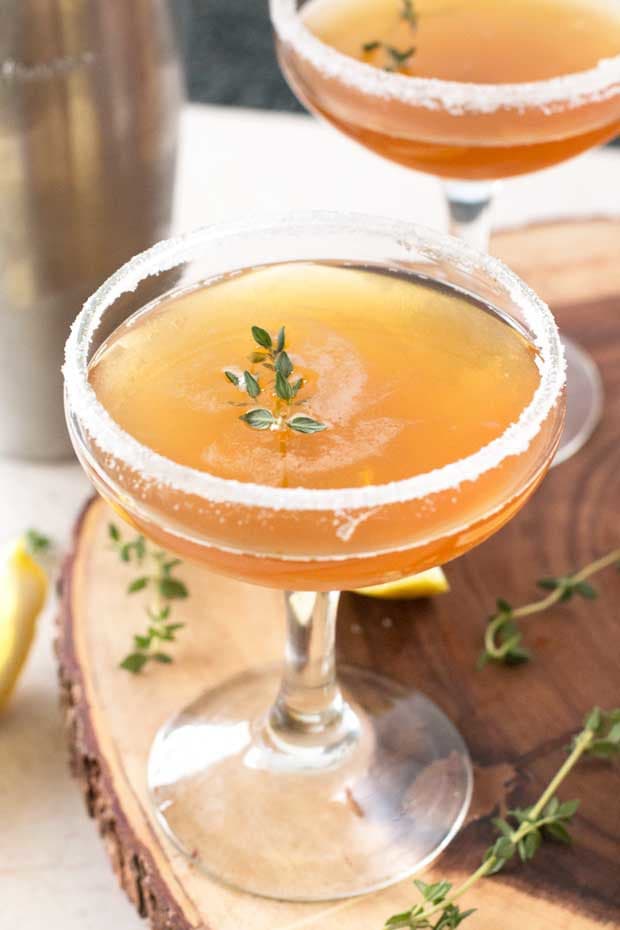 I've earned a second cocktail if I resist eating all the baked goodies I have overwhelming my kitchen at the moment. I plan to start distributing these treats over the next couple of days so I don't gain 200lbs, but until they are all out of the house, I have to have the will power of a god. Sweets are a total weakness for me, especially when 8:30pm rolls around and all I want is something to munch on while I continue whatever Netflix obsession I have at that particular moment in time. So I'll try to turn to a cocktail instead – that doesn't count as calories, right?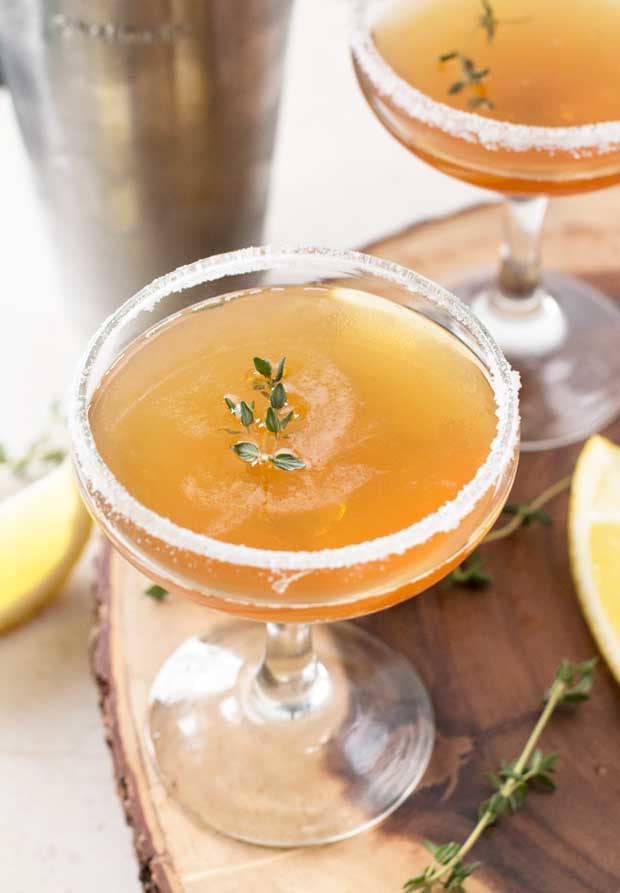 I am deep into the springtime cocktails right now, if you couldn't already tell. I'm also way into simple syrups made with fresh herbs (again, if you couldn't already tell). I really love the freshness that the herbs bring to classic cocktails, especially this lemon thyme sidecar recipe. The lemon in a sidecar isn't all that strange, but the thyme gives the cocktail an extra boost of flavor that awakens your taste buds.
It's like going to one of the those fancy bars with all the craft cocktails, except in your home and you can wear pajamas if you want to. It may or may not have happened yesterday. I'm just saying…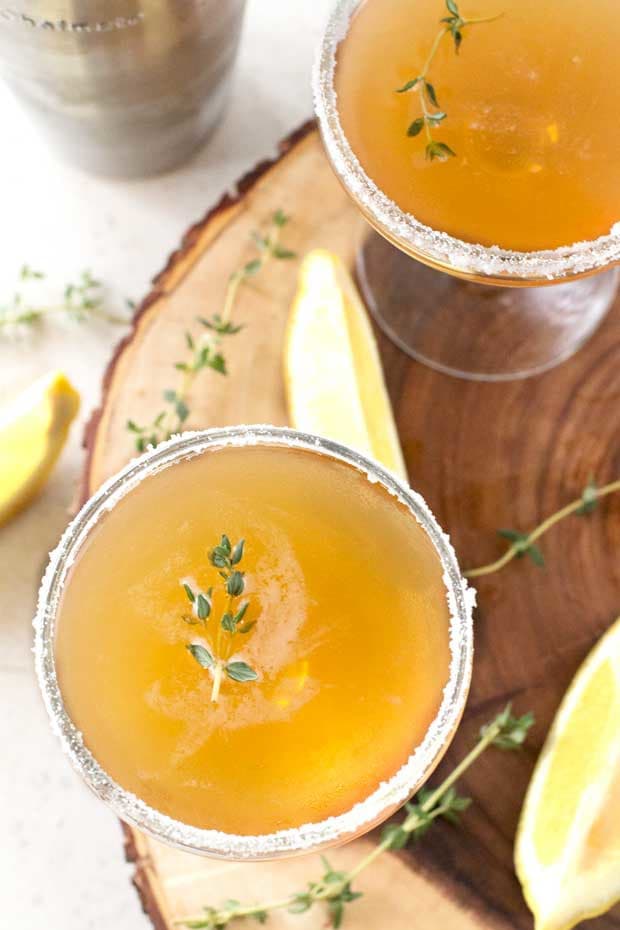 Cheers to a whole new season of cocktails!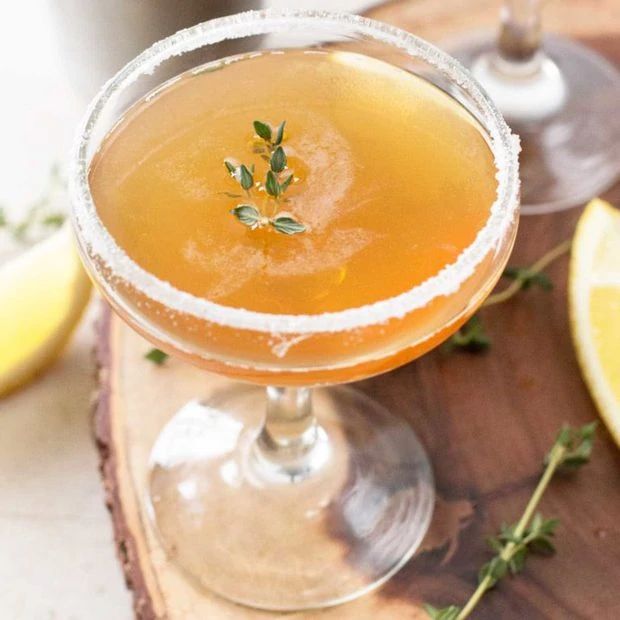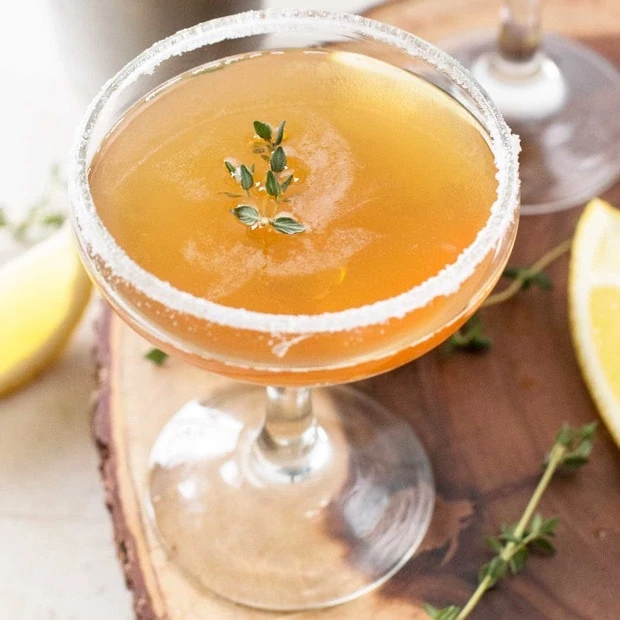 Lemon Thyme Sidecar
Yield:
1 cocktail + 1/2 cup simple syrup
Herbaceous, acidic, and a fun twist on a classic cocktail for happy hour!
Ingredients
1 Tbsp lemon juice
1/4 cup cognac
1 Tbsp triple sec
1 Tbsp thyme simple syrup
1 lemon wedge
Sugar
Thyme Simple Syrup
1/2 cup sugar
1/2 cup water
10 to 12 sprigs fresh thyme
Instructions
Bring 1/2 cup water and 1/2 cup sugar to a boil with fresh thyme sprigs, stirring until the sugar is dissolved. Once boiling, remove from heat and cover, steeping for 30 minutes. Strain and cool completely before using in the cocktail.
Rub the lemon wedge along the rim of a cocktail glass and rim with sugar.
Combine cognac, triple sec, lemon juice and thyme simple syrup in a shaker filled with ice. Shake well and pour into the sugar-rimmed cocktail glass.