I am a genius. Go ahead, you can tell me.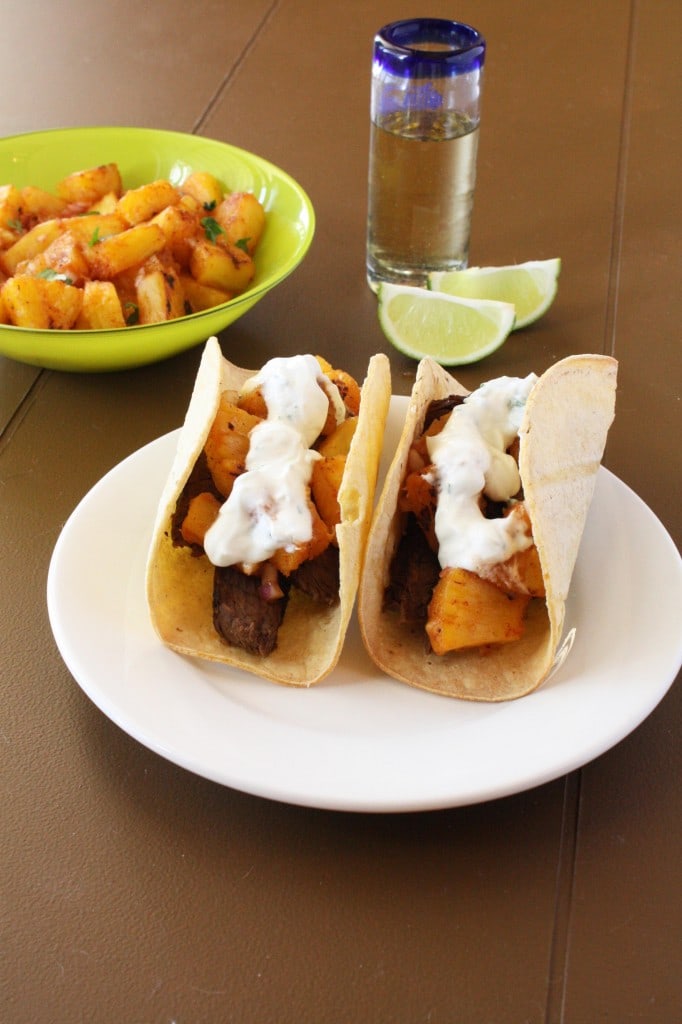 Do you know what one of the greatest things about summer is? Fruit salsa.
Any kind of fruit salsa and I am in heaven. I still remember the first fruit salsa I ever had from one of my favorite bloggers over at How Sweet It Is. Her blueberry-peach salsa blew. my. mind. Ever since then I have been having a love affair with all sweet and spicy salsas.
This pineapple salsa is the perfect combination of sweet caramelized pineapple and the spicy kick of cayenne and red onion. After eating a ridiculous amount of these tacos, I proceeded to eat the remaining salsa (how I lucked out with leftovers I have NO IDEA) right out of the bowl. Ugh, it's just so so good.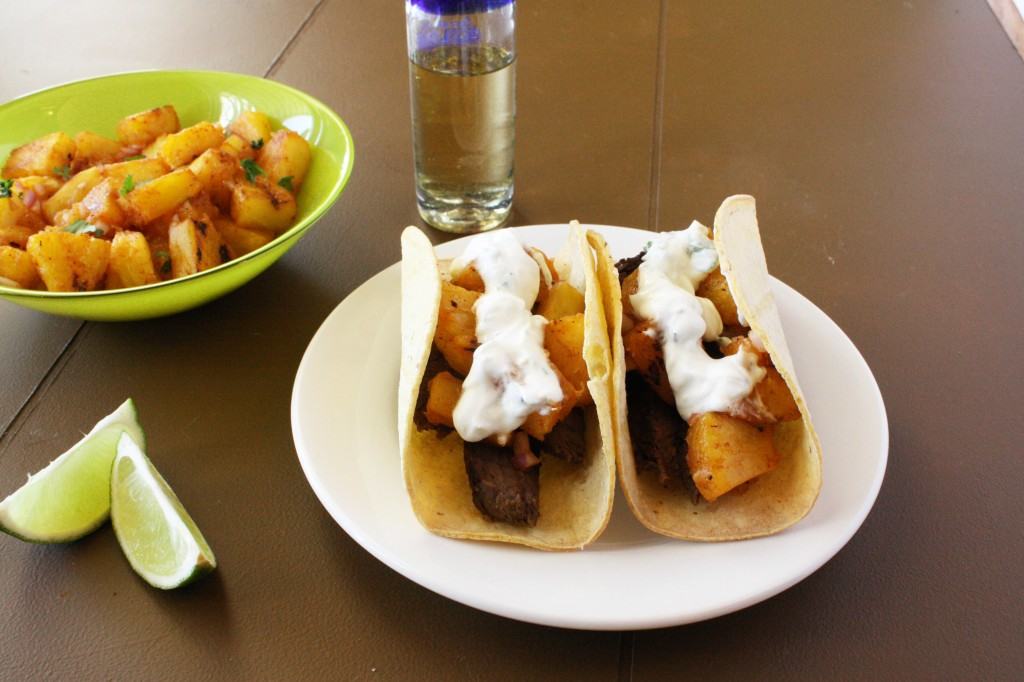 But the most surprising thing about these tacos isn't the fruit salsa. It's the fact that I tried the whole "baked-not-fried" taco shells thing for the first time. Ever. Let me preface this experience with the fact that me turning away from the oh-so-crunchy fried corn tortilla solution is HUGE. And guess what? Baking corn tortillas (yes, just like you keep seeing on Pinterest!) actually turns out deliciously crunchy. Just as crunchy as the fried alternative. Crazy, right?!
I for one was completely shocked. After the first bite, both my hubby and I completely gorged ourselves on this meal. Like shoved-tacos-in-our-faces-without-leaving room-for-words-in-between-bites gorged on this meal.
Pretty sure this will be popping up in our kitchen A LOT this summer.
Whip up a batch of these bad boys, open some beer bottles, pour yourself a generous round of tequila, and enjoy ever sunny moment this summer has to offer.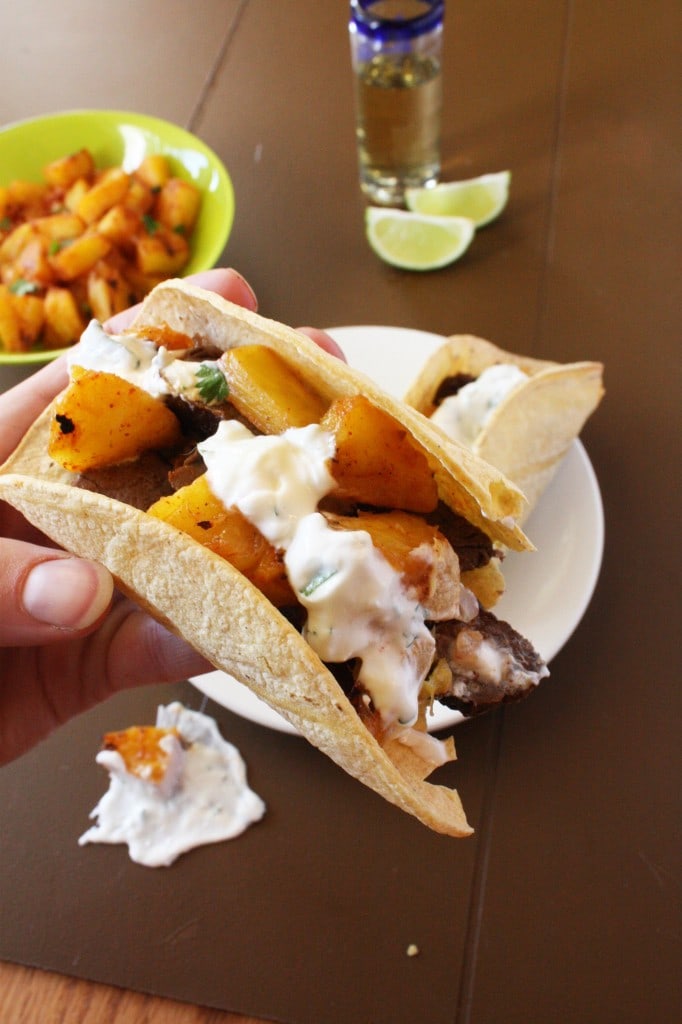 Best way to celebrate summer. Right there. Just ignore that mess I made with a single bite, ok?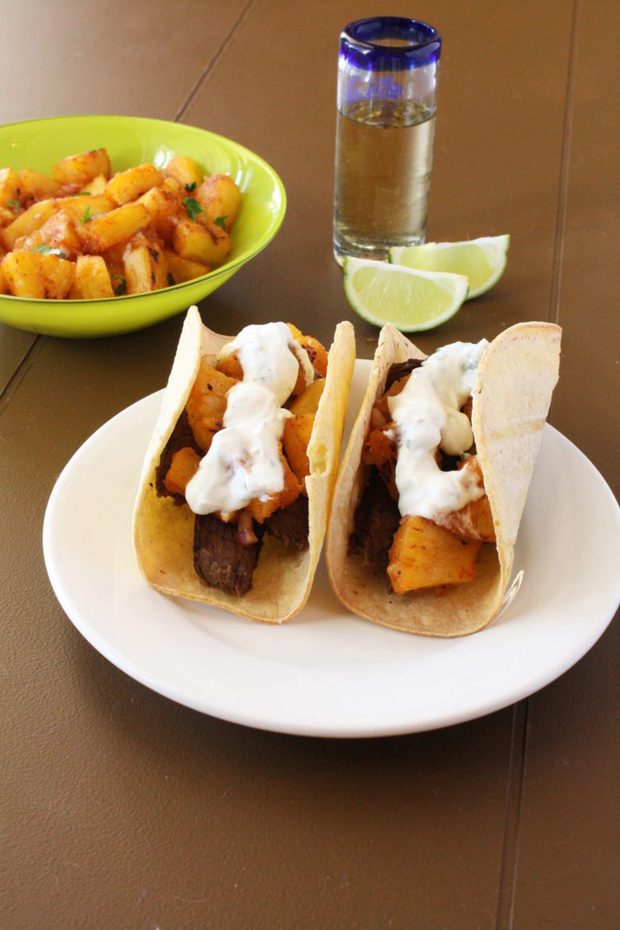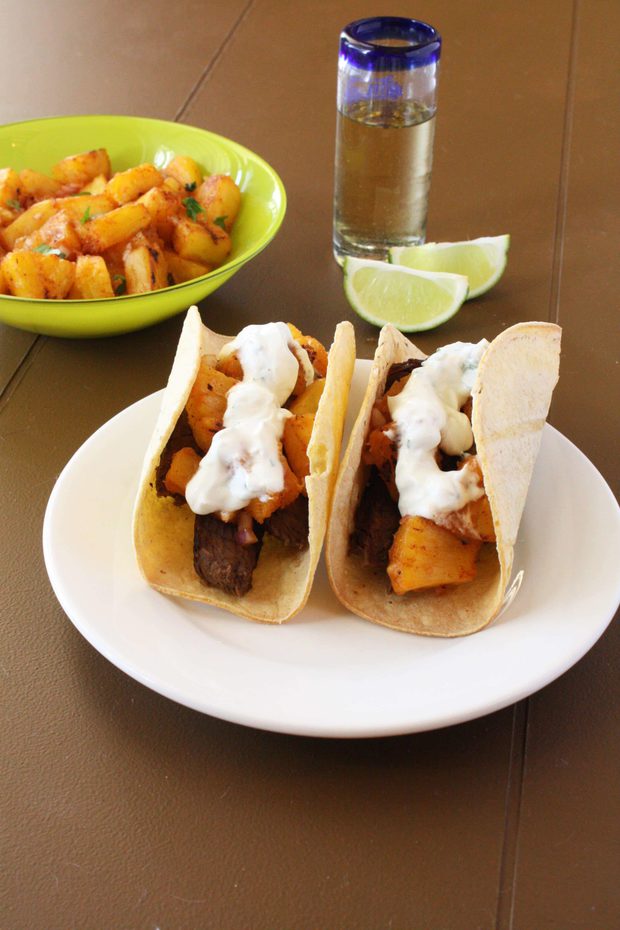 Tequila Lime Marinated Steak Tacos with Spicy Grilled Pineapple Salsa
Additional Time:
30 minutes
Total Time:
1 hour
5 minutes
Fruit salsa makes every taco better!
Ingredients
Steak
½ lb flank steak
1 cup soy sauce
½ cup tequila
Juice of one lime
3 cloves garlic, minced
¼ cup cilantro, chopped
½ tsp pepper
6 small corn tortillas
Cilantro Sour Cream
1 cup sour cream
Juice of one lime
¼ cup cilantro, chopped
Spicy Grilled Pineapple Salsa
1 small pineapple, skin removed and broken down into ½ inch thick discs
¼ red onion, chopped
1 tsp red wine vinegar
½ tsp chili powder
½ tsp cayenne
Instructions
Preheat oven to 375 degrees.
Prepare the marinade for your steak as the oven preheats. Combine soy sauce, tequila, lime juice, garlic, cilantro, and pepper in a ziploc bag. Add the steak and remove as much air as possible from the bag before sealing. Allow steak to marinade for at least 30 minutes in the refrigerator.
Steam corn tortillas between slightly damp paper towels by placing in the microwave for 30 seconds, or until they are flexible. Gently drape each corn tortilla over 2 bars of your oven rack. Bake tortillas for 8 to 10 minutes until they have formed crispy taco shells. Set aside.
Combine the sour cream, cilantro, and lime juice for the cilantro sour cream in a small bowl and set in refrigerator until ready to use.
Fire up your grill (or grill pan over medium-high heat)! Grill the discs of pineapple until caramelized, about 2 minutes per side. Remove from grill to a cutting board and (carefully so you don't burn yourself!) cut the pineapple into bite-size pieces. Combine grilled pineapple, red onion, red wine vinegar, chili powder, and cayenne in a medium bowl. Set aside.
Remove steak from refrigerator and wipe off the excess marinade before cooking it on your grill (or grill pan). Cook steak until it's reached your desired doneness. Allow the steak to rest for at least 5-10 minutes and then slice thinly. Divide sliced steak, pineapple salsa, and cilantro sour cream among the taco shells evenly and promptly devour.