A Blackberry Thyme Irish Whiskey Sour is the perfect way to celebrate spring and St. Patrick's Day, all in one glass! The Irish whiskey makes for a killer pairing for the homemade blackberry thyme simple syrup and sour lemon notes. Forget the green beer, this is what the lucky Irish should be reaching for!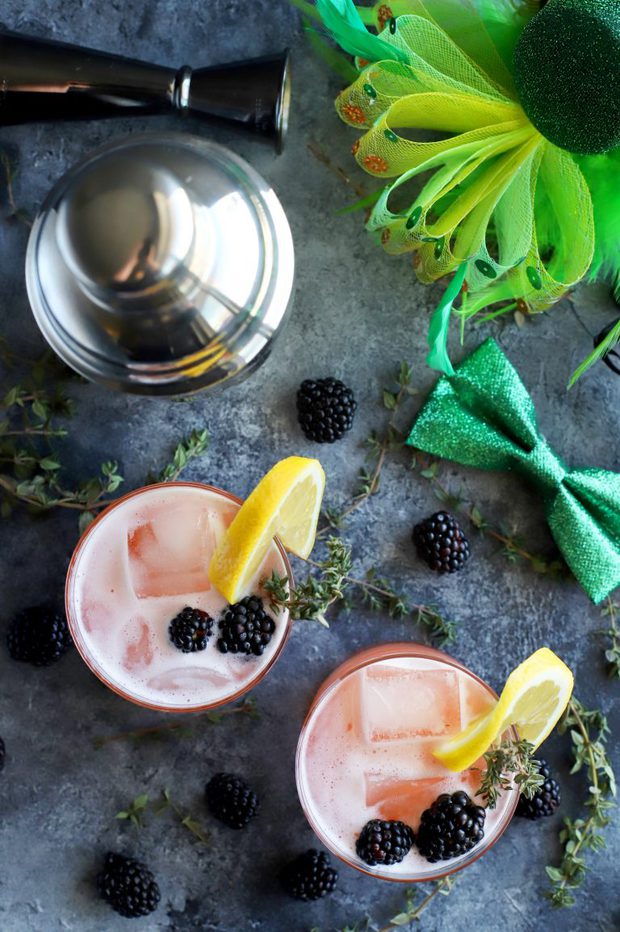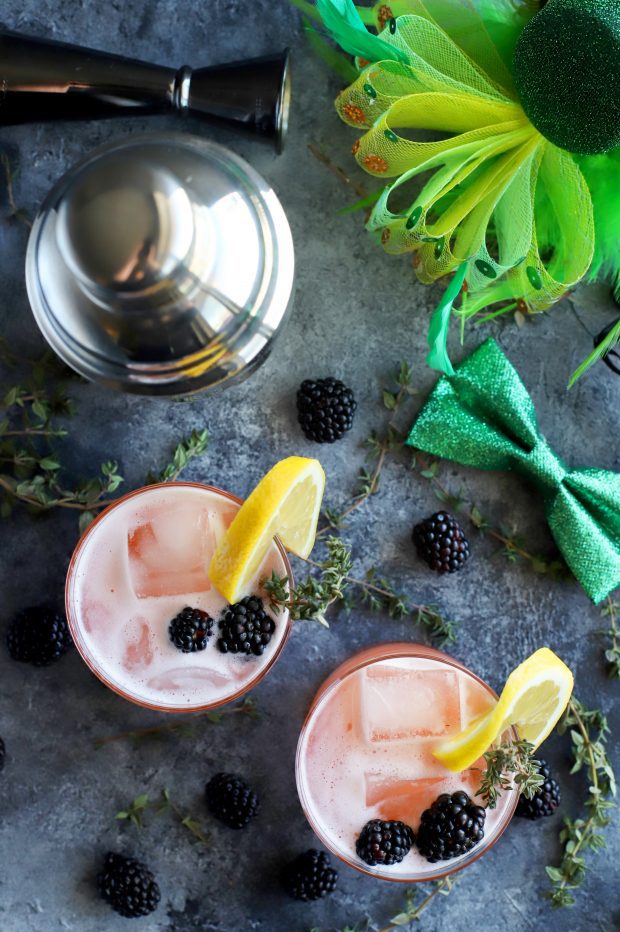 Please note that some of the links below are affiliate links. If purchases are made via these links, I will receive a small commission.
Let's all just be done with this whole green beer and green drink thing already, can we?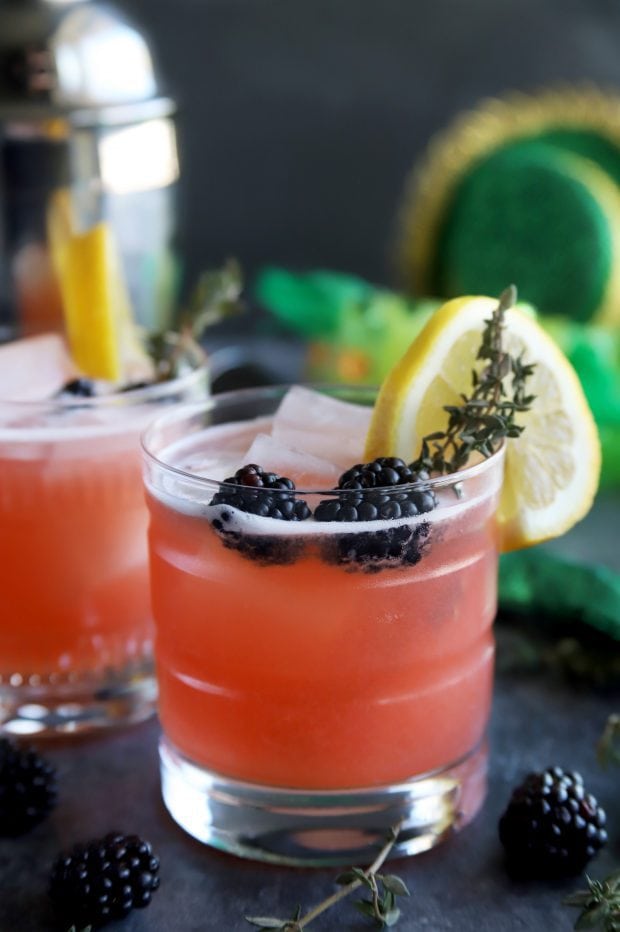 I get that it's "festive" and all, but let's be real. Those drinks are never actually tasty. Instead they are flavorless or they are WAY too sweet.
So, it's time to upgrade your Irish spirit a bit with a cocktail that is absolute perfection. It's ideal not only for the holiday that's fast approaching, but also for SPRING.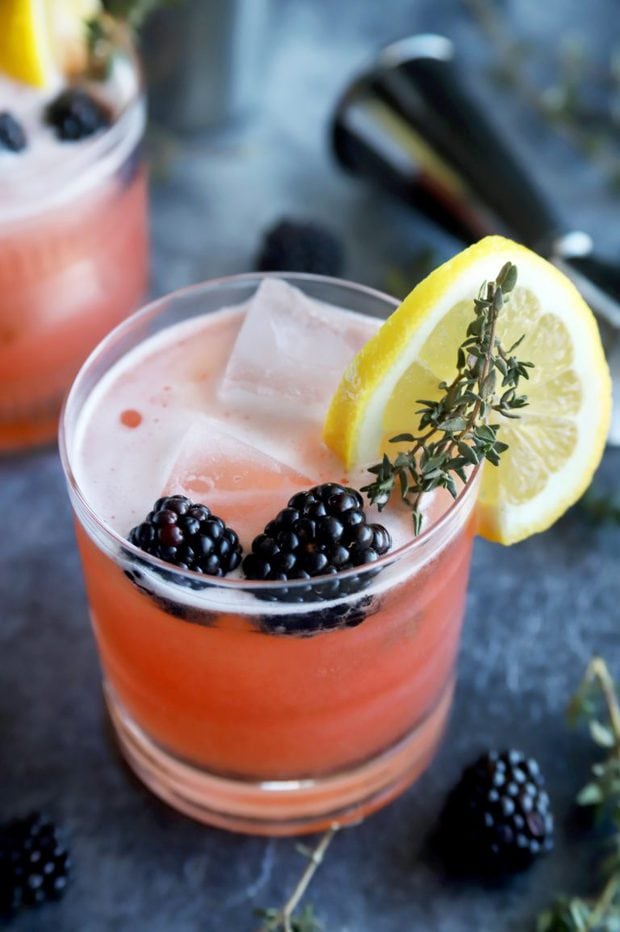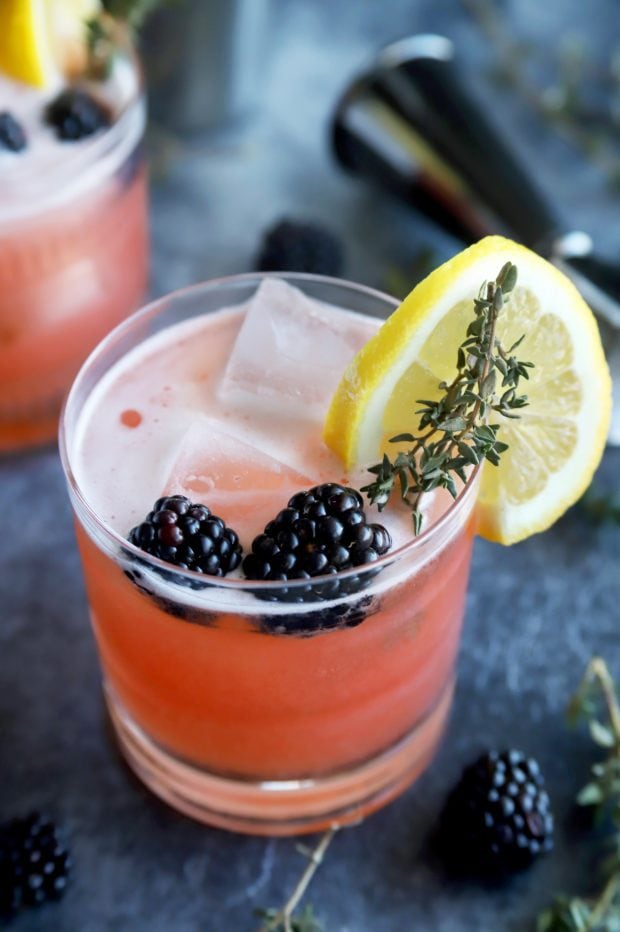 Yes, spring is coming and for some of you it might already be in full swing. I am watching the snow come and go as it usually does this time of year in Colorado, and I can't wait to see hints of green start to pop through.
It's been a long and somewhat dreary winter here, so I'm ready to bust out all the spring things that I can.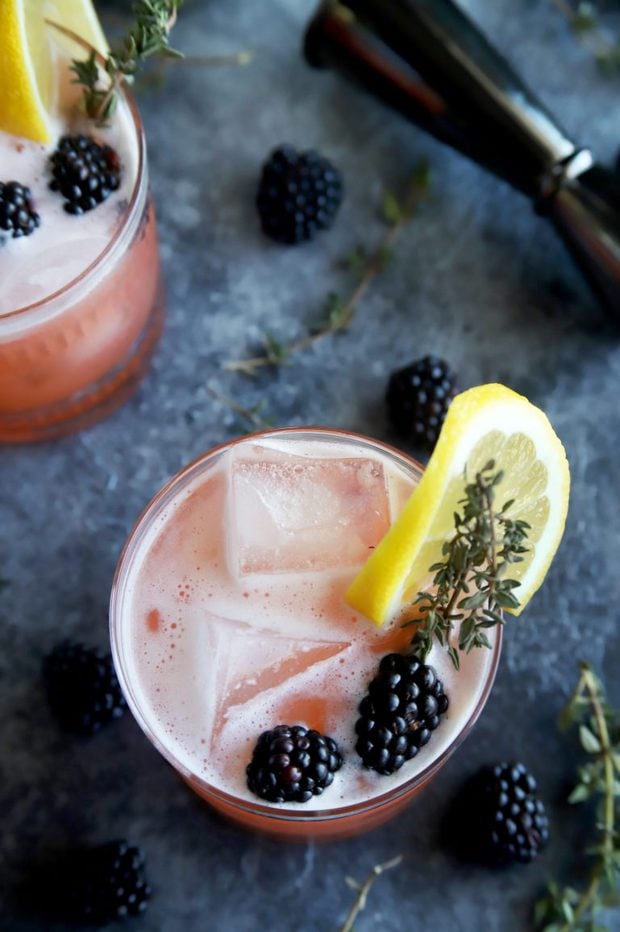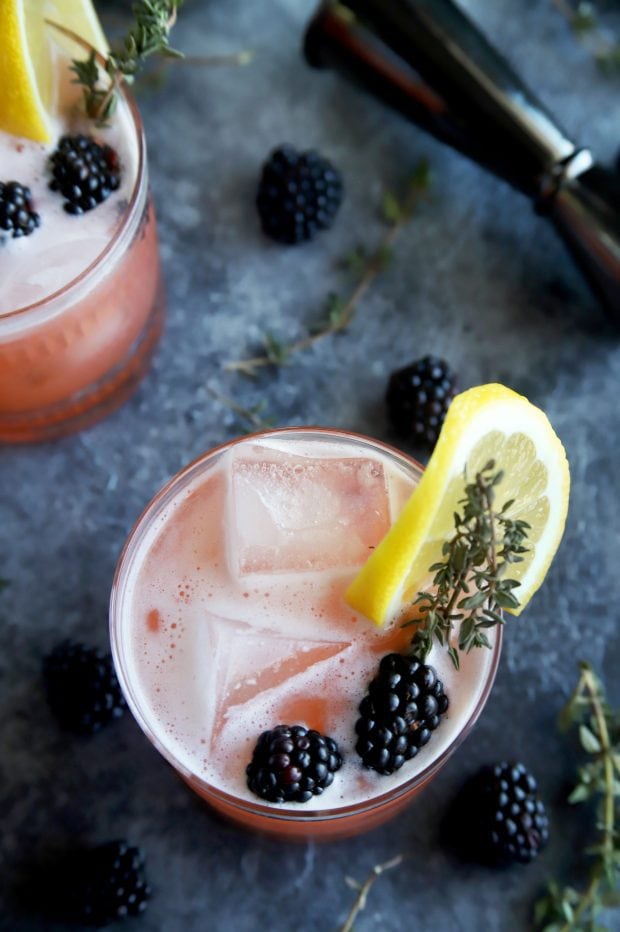 I just wish that the flowers on our trees in the backyard would bloom already… Those little pops of color totally make my day when I glance out the window.
If I was more of a gardener, our yard would be brimming with all the flowers one could dream of. Of course, my green thumb apparently seemed to have gotten lost as an adult… I kill any plant that I bring into the house (sadly including a gorgeous orchid plant that the Man bought me… I kept it alive for at least a month or two though! That's a record for me.)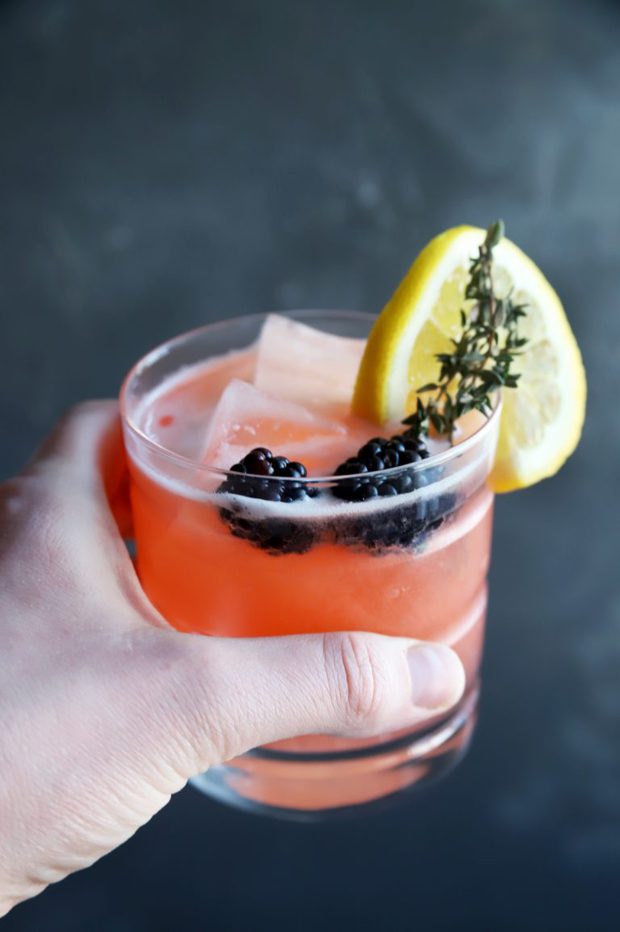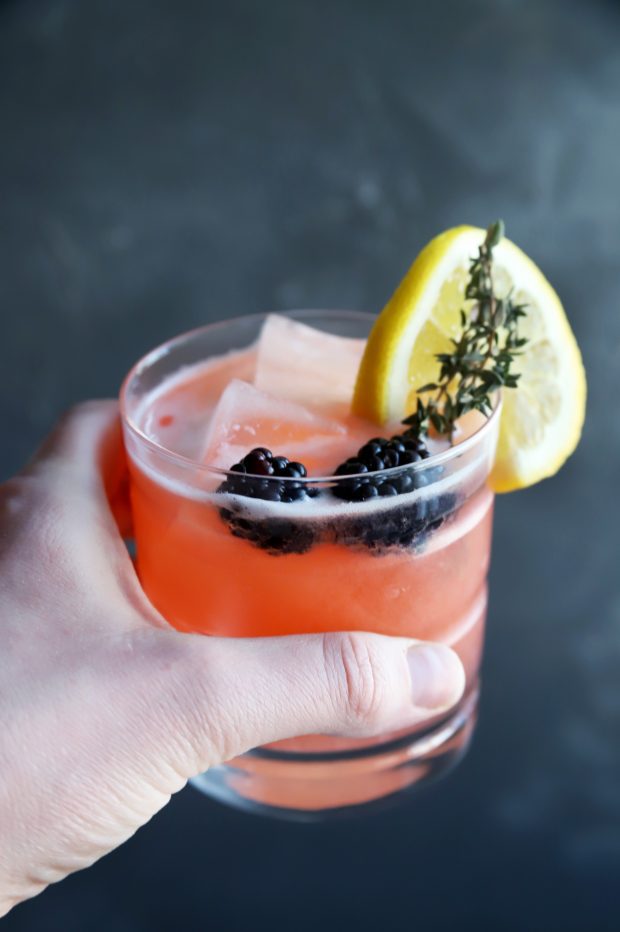 However, I digress. Let's talk more about spirits, shall we?
This blackberry thyme Irish whiskey sour cocktail recipe starts with the blueberry thyme simple syrup that packs in the fruity, herbaceous notes. The syrup is so easy to make and when you make this recipe, you'll definitely end up with more to use for another round of these fabulous drinks.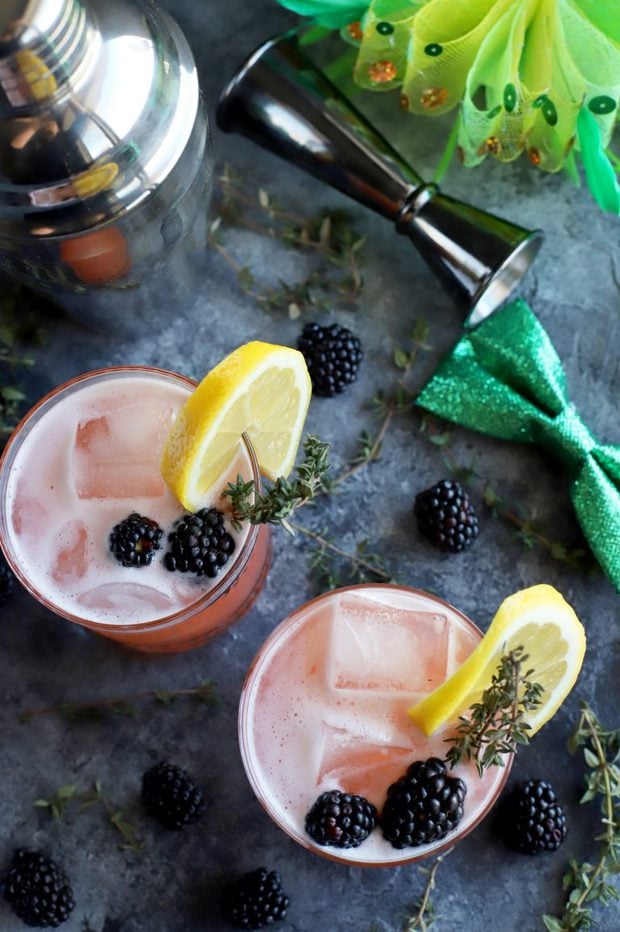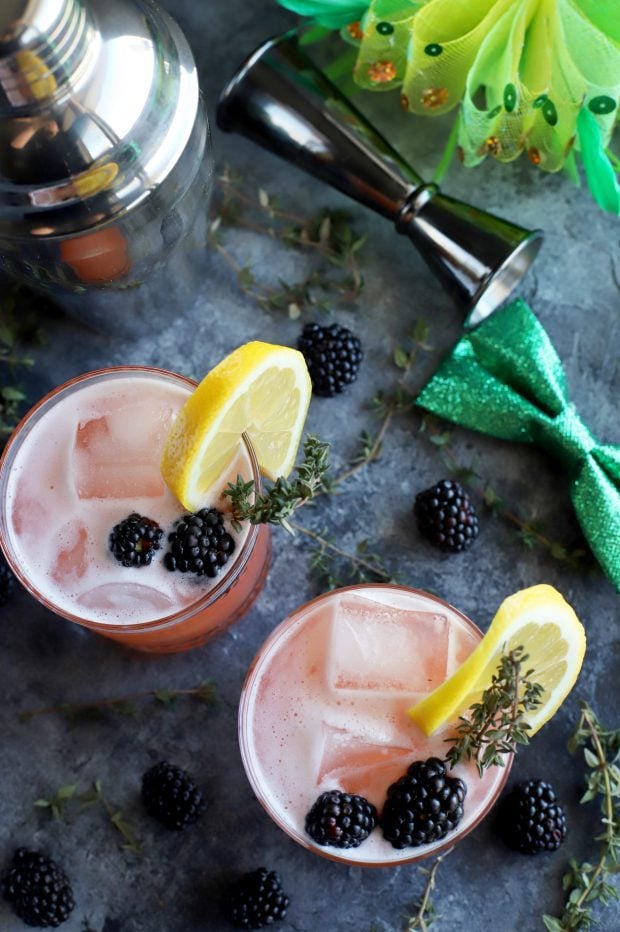 The Irish whiskey comes in with all its power and flavor, but it doesn't overpower the drink. Instead it provides the ideal complement to the syrup, as well as the tangy lemon juice and bite of the bitters.
I personally love that this drink is made with an egg white, because it adds this little bit of creaminess to the drink with a little foam on top of each glass.
No need to worry about reaching out for a drink and getting a green beer in return this year. With this recipe at hand, you can rest assured that you'll be celebrating with the luck of the Irish.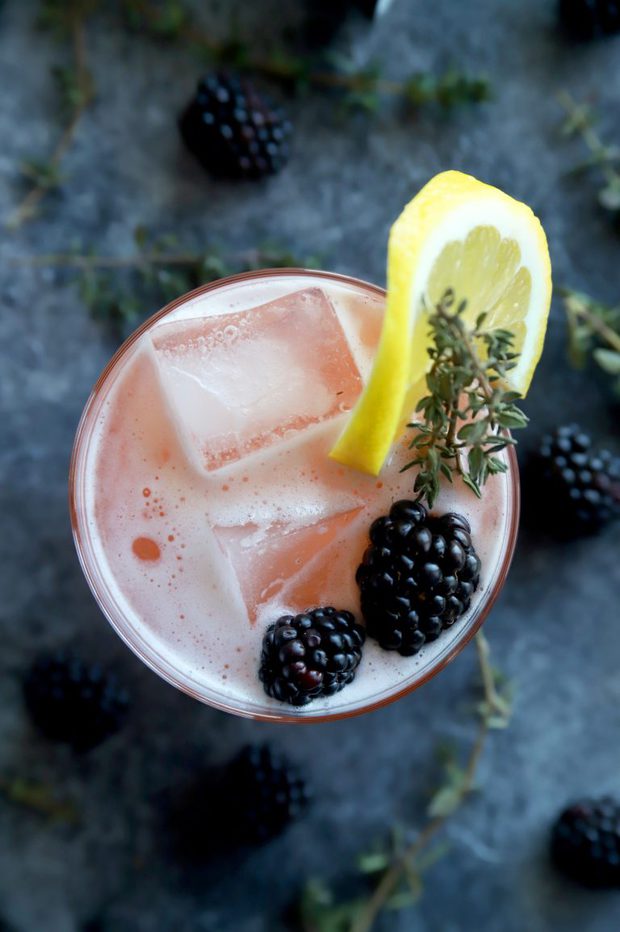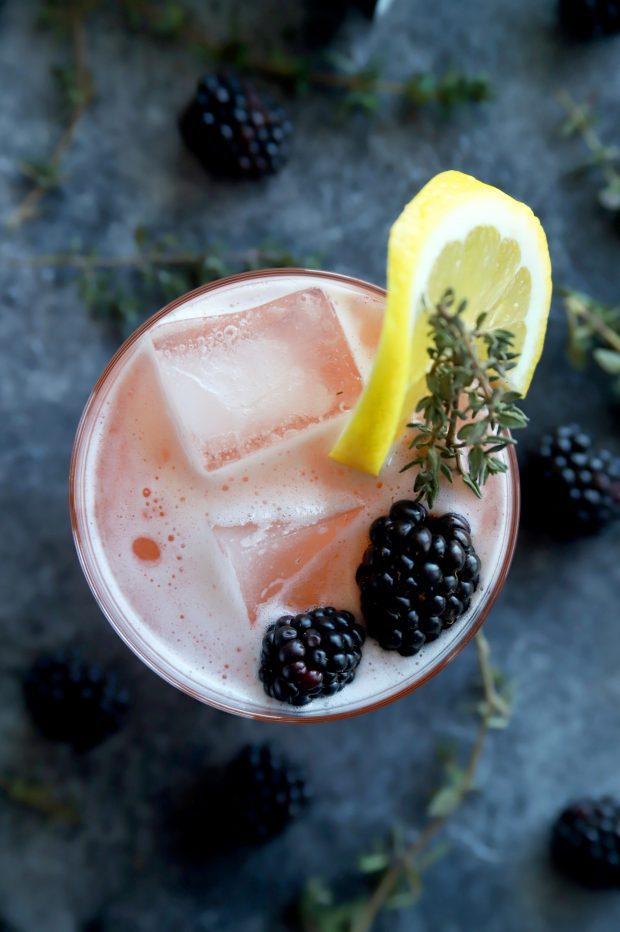 Plus, there's a touch of green with the thyme sprig in each glass. You don't even need to worry about someone pinching you for not having green in your hand!
Where did that ridiculous tradition start anyway? I really wonder why it's a thing… Just, WHY.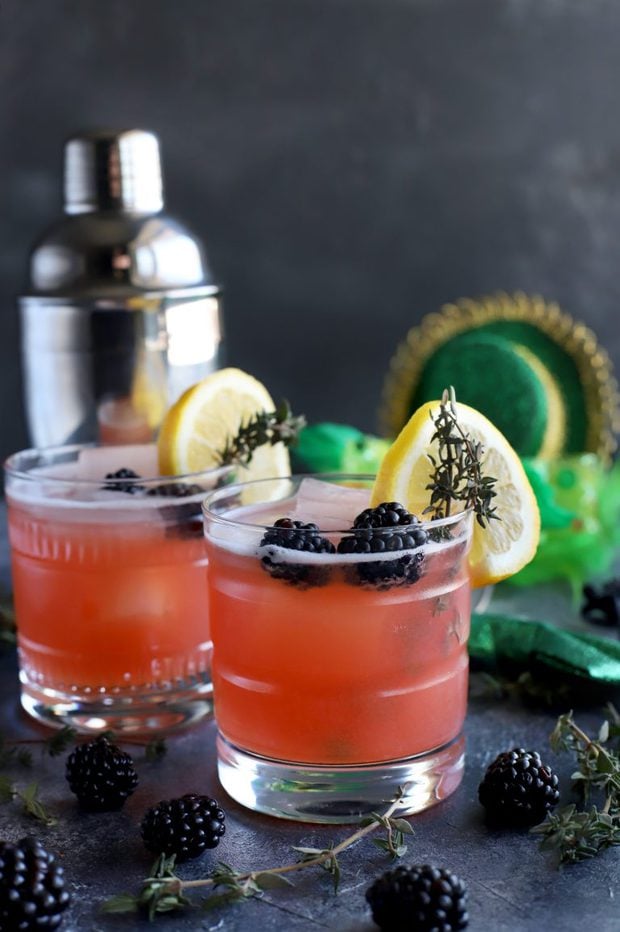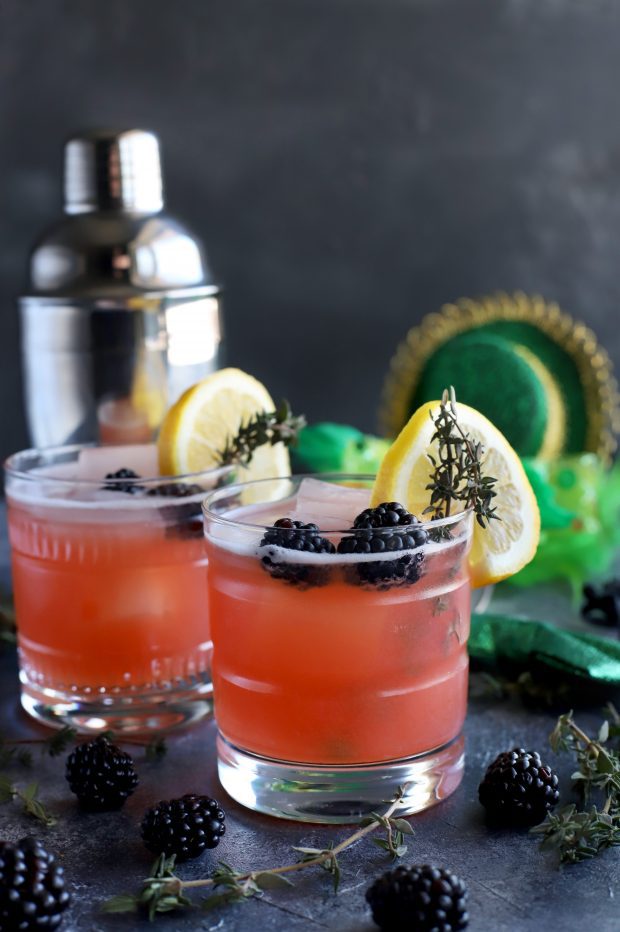 This Recipe's Must-Haves
To shake up this Irish whiskey sour, just reach for this Two-Piece Pro Boston Shaker Set! It's my favorite kind of shaker to use.
For the simple syrup, and any other sauces, I love using my Le Creuset of America Enameled Cast Iron Sauce Pan. It's ideal for all my smaller stovetop jobs, and comes in ALL the colors.
To strain the cocktail, use this OXO Steel Cocktail Strainer if you don't already have one!
Want more festive whiskey cocktails to explore? Check out my 7 essential Irish whiskey cocktails!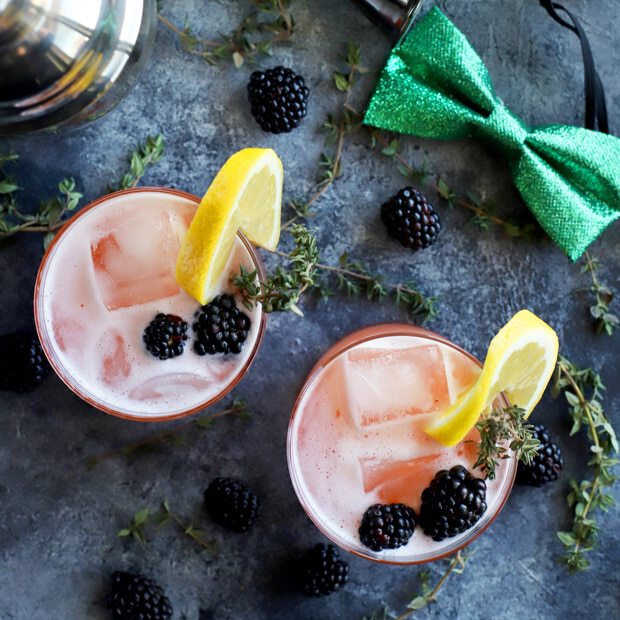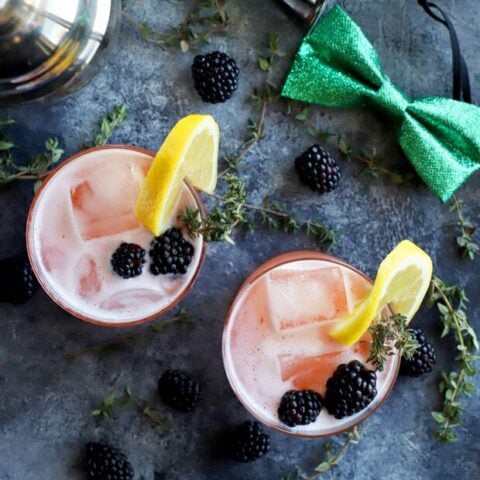 Blackberry Thyme Irish Whiskey Sour
Additional Time:
30 minutes
The combination of Irish whiskey, blackberry thyme simple syrup, lemon juice and bitters come together to take the classic recipe to the next level!
Ingredients
BLACKBERRY THYME SIMPLE SYRUP
1/2 cup water
1/2 cup granulated sugar
1/2 cup blackberries, halved
2 sprigs thyme
WHISKEY SOUR
4 oz Irish Whiskey
2 oz freshly squeezed lemon juice
2 oz Blackberry Thyme Simple Syrup
4 dashes aromatic bitters
1 fresh egg white
Lemon slice and fresh blackberries
Instructions
In a small saucepan, combine all ingredients for the simple syrup. Bring to a boil over medium-high heat. Once sugar has dissolved, remove from heat. Cover and steep for 15 minutes. Strain and let syrup cool in a medium bowl to room temperature, about 15 minutes.
Add all ingredients into a shaker filled halfway with ice. Shake well until chilled thoroughly, about 20 seconds.
Strain into two double old-fashioned glasses filled with ice.
Garnish each with a lemon wheel, thyme sprig and blackberries.
Recommended Products
As an Amazon Associate and member of other affiliate programs, I earn from qualifying purchases.