Individual Pavlovas
Pavlova was one of my favorite desserts growing up. Both my mom and grandma made it perfectly (I was very spoiled) and it was something I would look forward to in the summer.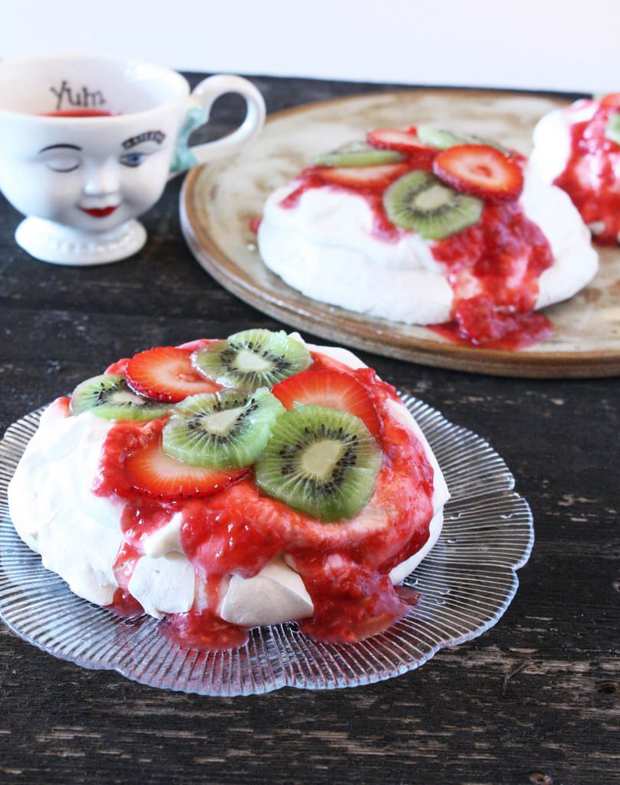 The light, fluffy meringue is hard on the outside, soft and luscious on the inside. When you top it with fresh whipped cream, raspberry sauce, and fruit it all comes together in a light, cool, cream dessert that is SO much better than the traditional fruit tart you generally see at picnics. 
The big thing I remember about the pavlovas I had as a child was how messy it would get and how difficult it could be to cut a slice that didn't either break or lose half the topping. I decided to take the traditional pavlova and make smaller versions so you get a whole individual pavlova all to yourself (you could probably share it with one other person but who wants to do that??).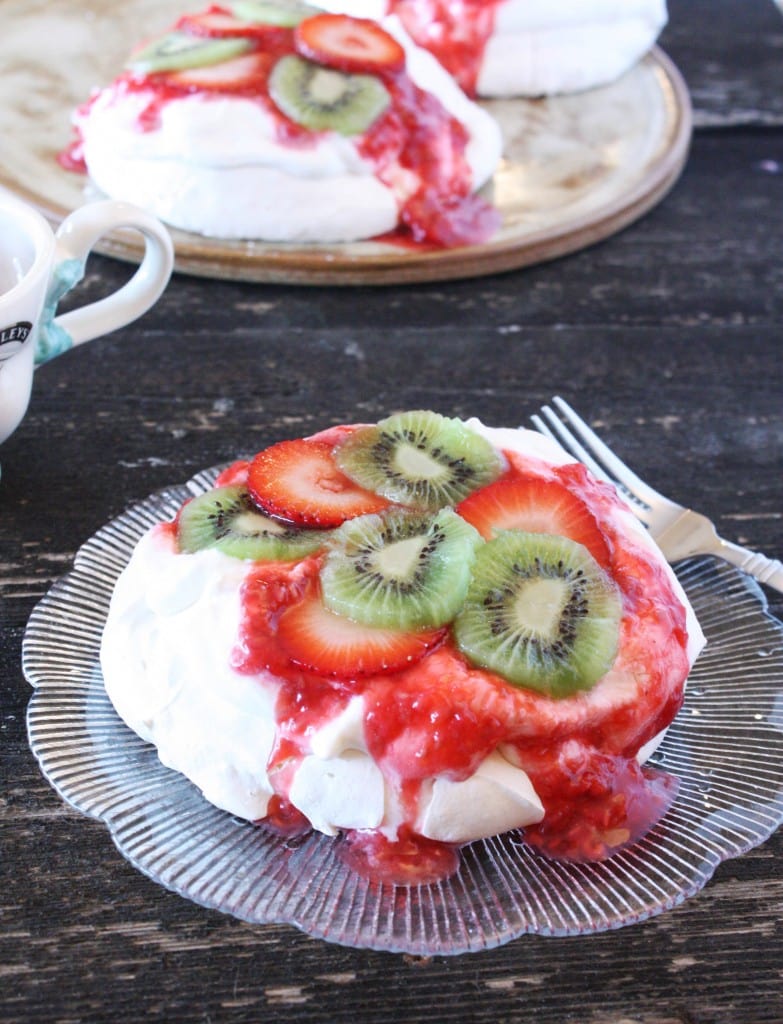 Now I have not been very successful with meringue in general in the past but I thought I could channel my grandma's spirit in the kitchen and hopefully that would give me some luck.
My grandma must have been looking over me while I was making these pavlovas because the meringue came out beautifully. It could have also been this guide to peaks that I found and followed very closely… If you are not 100% familiar with soft peaks vs firm peaks vs stiff peaks, I highly recommend this guide. It was easy to follow and helped me figure exactly when to stop my mixer.
It's literally impossible not to let out a groan while you are eating this masterpiece of a dessert.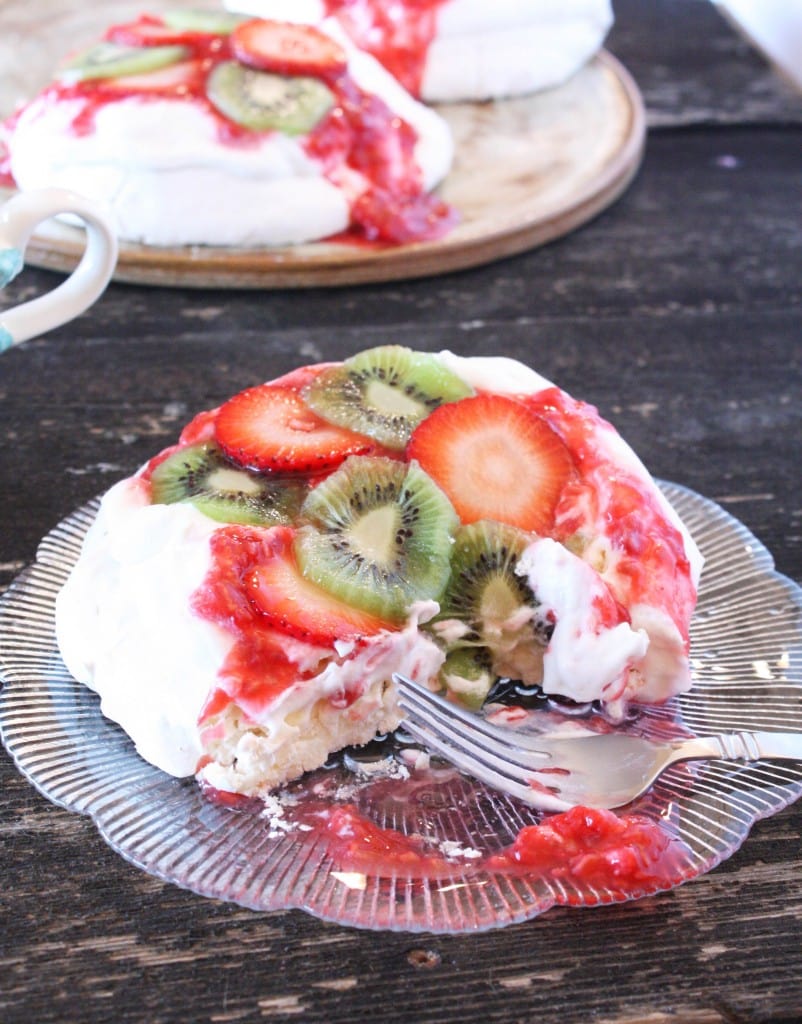 It is every bit as magical as it was when I was just a little first grader trying it for the first time.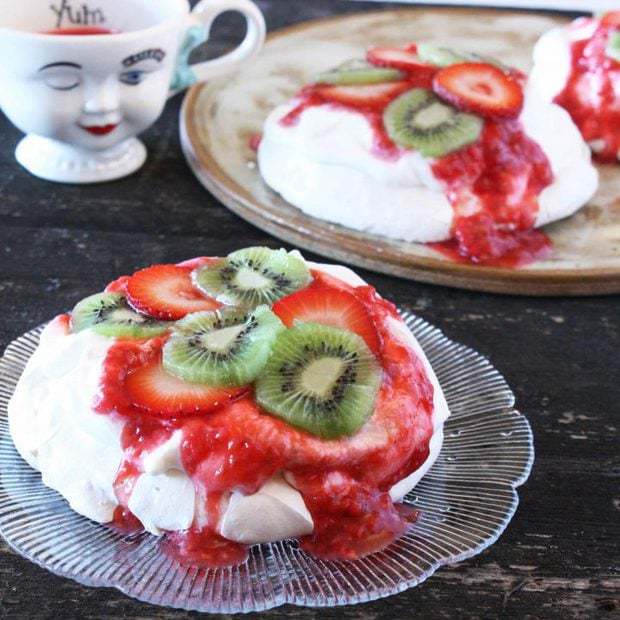 Individual Pavlovas
Yield: 4 individual pavlovas
Prep Time: 15 minutes
Cook Time: 1 hour 30 minutes
Additional Time: 15 minutes
Total Time: 2 hours
A tradition in my family that I will always cherish.
Ingredients
4 egg whites (room temperature)
1/8 tsp salt
1 cup sugar
1 tbsp cornstarch
4 kiwi, thinly sliced
1 cup strawberries, thinly sliced
1 1/2 cups whipping cream (I made mine by whipping up 1 cup heavy cream in a blender until it formed soft peaks)
Raspberry Sauce
1 tbsp cornstarch
1/2 cup sugar
1/2 cup water
2 tsp lemon juice
2 cups crushed raspberries
Instructions
Preheat the oven to 400 degrees. To make the pavlova, begin by beating egg whites and salt until soft peaks form. Gradually add sugar and cornstarch until the mixture reaches stiff peaks.
Grease a baking sheet (or use a Silpat). Pile the mixture into 4 separate piles on the baking sheet (try to space them out as evenly as you can). Shape each into a circle and don't spread it too thin (my circles were about 1 inch high). Place in preheated oven and immediately reduce the heat to 250 degrees. Bake until lightly browned and dry to the touch - about 1 hour and 15 minutes. Cool.
To make the raspberry sauce, combine all ingredients in a medium saucepan over medium heat. Cook until the sauce boils and thickens. Then remove from heat, cover, and chill completely.
Top you pavlovas with whipped cream, raspberry sauce, and sliced fruit. Serve immediately.