Mastering Global Cooking – Chinese: Egg Rolls
Stay-cations are highly underrated in my opinion.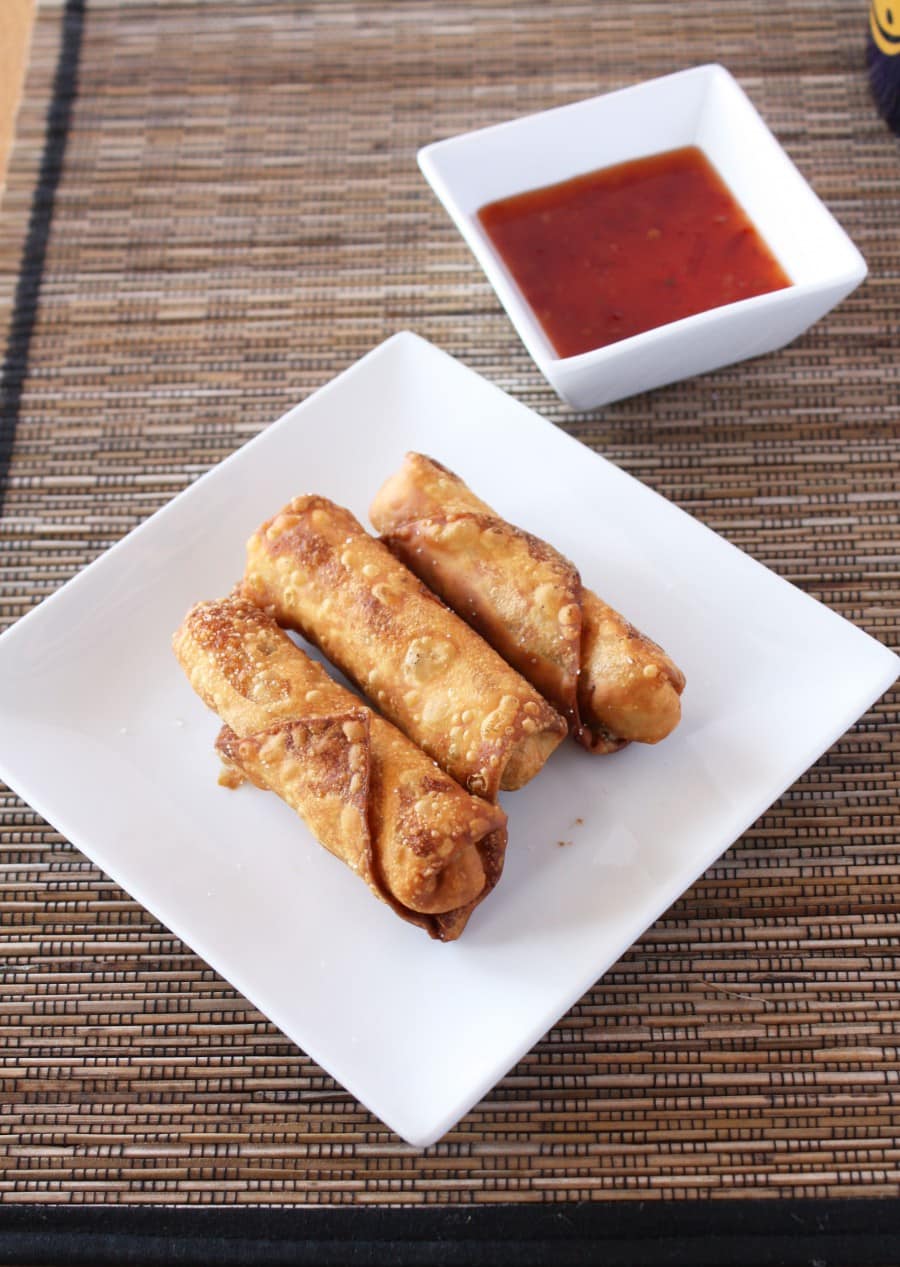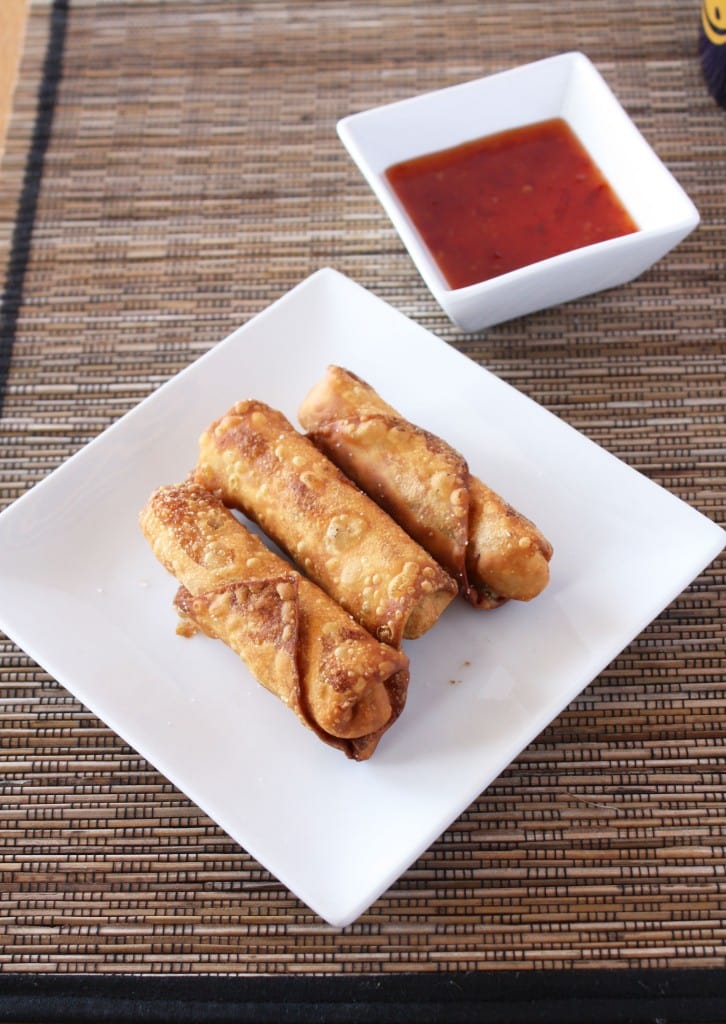 Our surprise stay-cation this past weekend was actually one of the best I've ever had. We really didn't leave the house, with the exception of date night at Session Kitchen (which, if you are in Denver, you HAVE to try it – the lamb collar blew. my. mind). This weekend was the perfect amount of laziness mixed with a little cooking and puppy playtime. Plus I caught up on Game of Thrones quickly, just in time for the new season in April! 
I actually made these egg rolls a couple weeks ago and froze them because I ran out of time before my whirlwind week in Vegas. They not only lasted, they tasted fresh after frying them! And they are SO much better than any frozen brand you could buy in the store. I am definitely going to start making batches of these and freezing them for future use.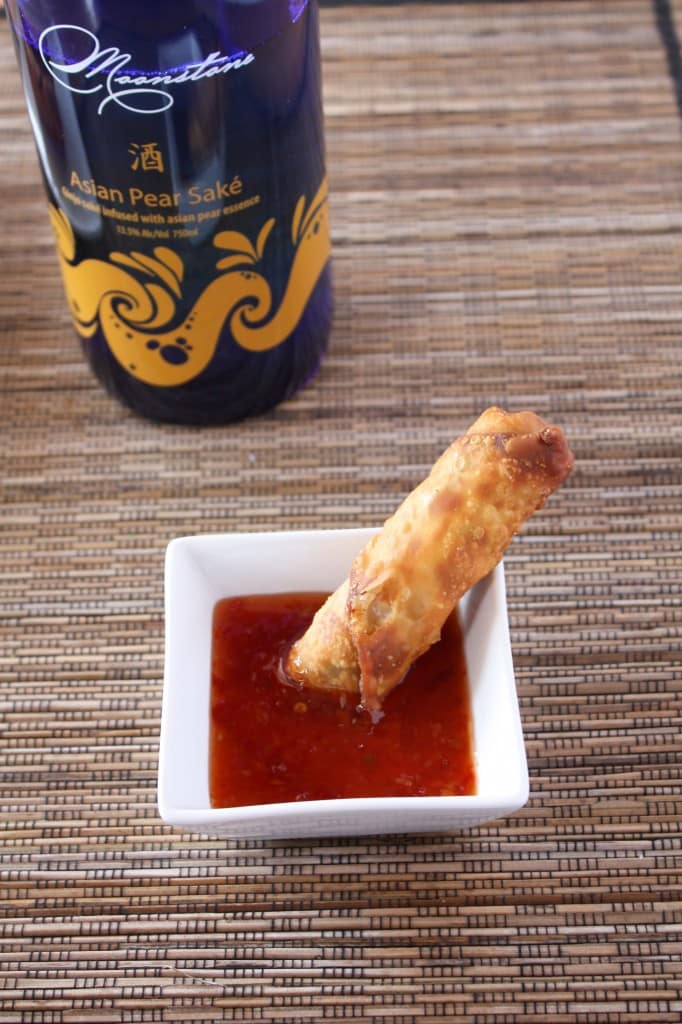 Can you say late night snack? Yesssssss, I would totally sneak out of bed at midnight to fry some of these up and devour them.
I know that the idea of making egg rolls from scratch is a bit daunting. I was really intimidated when I first tried to make them. The only difficult part is the actually rolling of the egg roll. I will say it takes the first two or three before you really get in a groove. Once you've gotten past the first handful, you will feel like a pro and you will finish up the rest in a snap.
If you are anything like me and have a forbidden love affair with anything fried, these egg rolls will be your undoing. You will find yourself frying a few. Then a few more. Then a few more…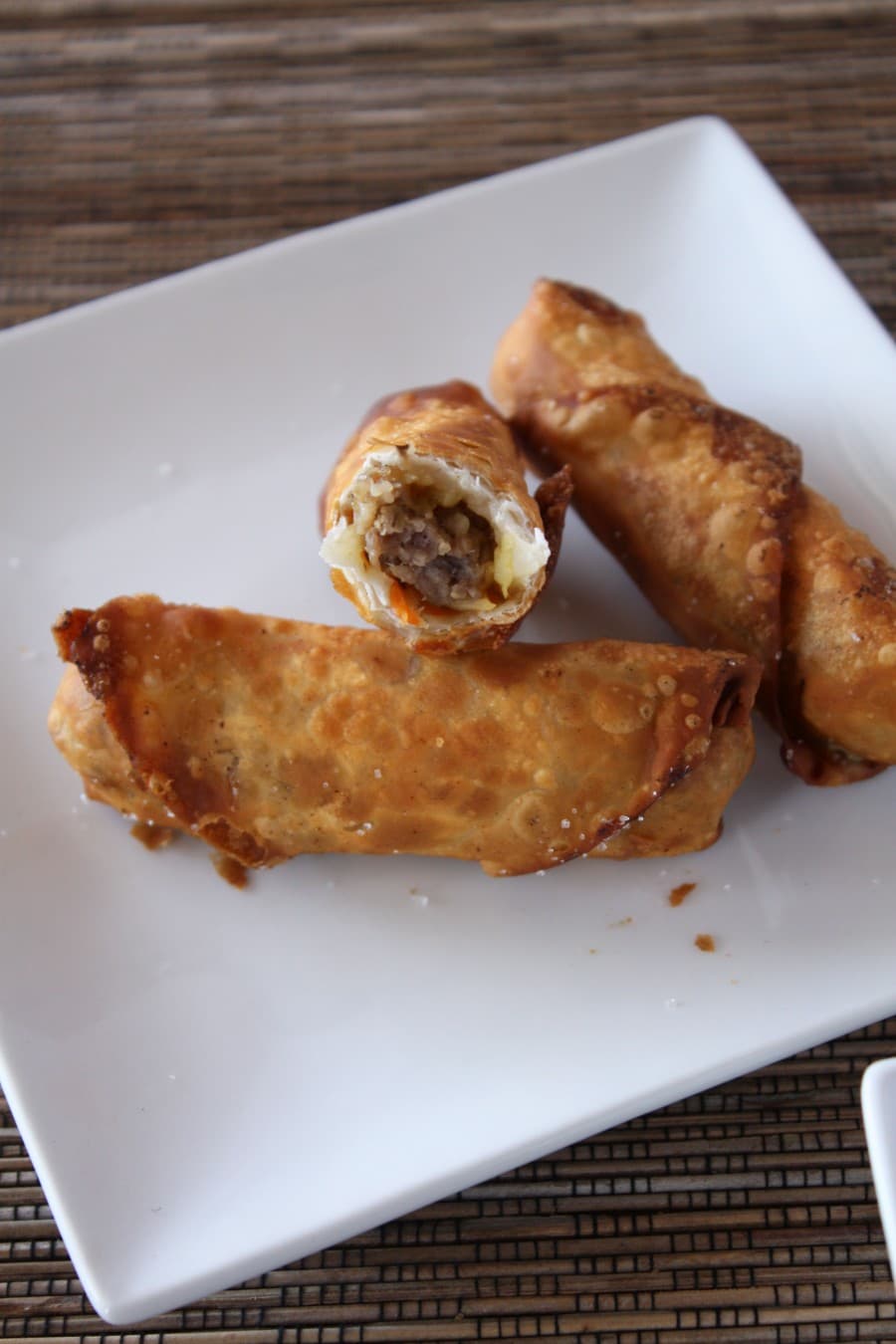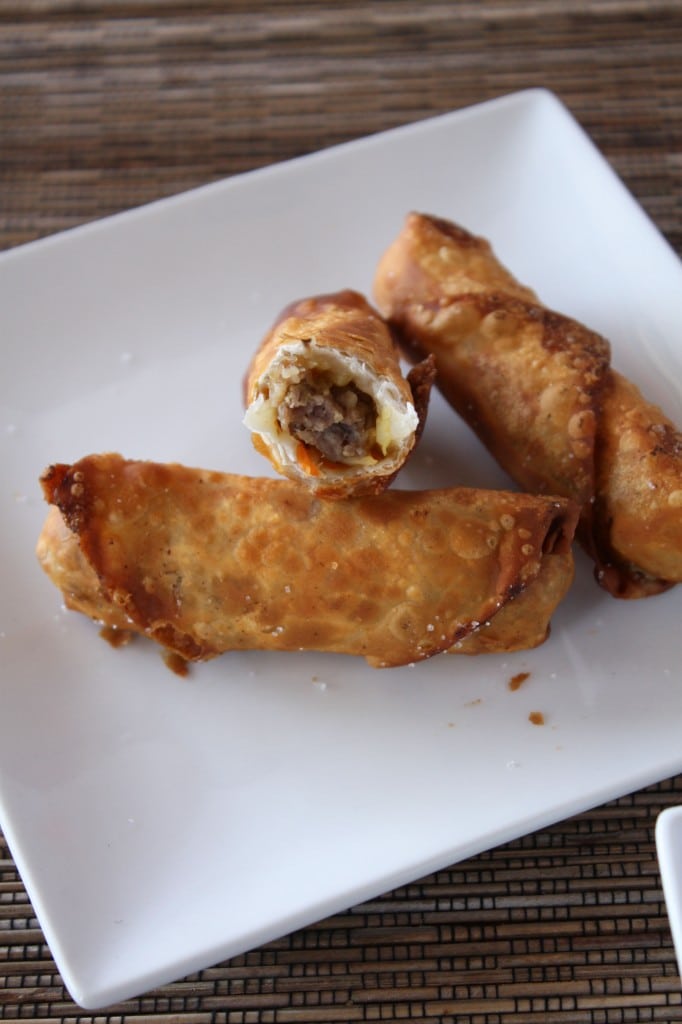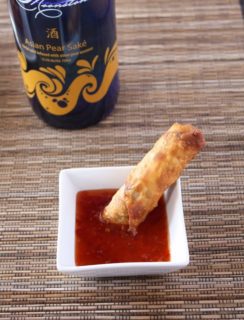 Egg Rolls
Yield: 50 egg rolls
Prep Time: 20 minutes
Cook Time: 30 minutes
Total Time: 5 hours 5 minutes
Traditional Chinese egg rolls made from scratch! Easy to make and will last in your freezer for a few weeks.
Ingredients:
50 egg roll wrappers (about 2 packages), thawed
1 Tbsp cornstarch
¼ cup of cool water
Oil, for frying
Pork
1 pound ground pork
1 Tbsp soy sauce
1 tsp cornstarch
1/4 tsp sugar
black pepper
Vegetables
2 to 3 cloves garlic, minced
½ head of cabbage
3 carrots, peeled
1 tsp grated fresh ginger
10 fresh shiitake mushrooms, stems discarded
1 Tbsp cooking oil
1 Tbsp Chinese rice wine
1 Tbsp soy sauce
1/4 tsp sugar
1/2 tsp salt
1 tsp sesame oil
Salt and pepper
Sweet chile sauce for dipping
Directions:
Combine 1 Tbsp cornstarch and 1/4 cup cool water in a small bowl. Stir to combine and set aside. You will use this mixture later to seal the egg rolls.
Combine the pork ingredients together in a medium bowl. Allow the pork to marinate for at least 10 minutes. While the pork is marinating, shred the cabbage and carrots using a food processor or by hand. Add mushrooms to the food processor and pulse a couple times to get a fine dice. If you do not have a food processor, you can also finely slice the mushrooms by hand.
Over high heat, heat a wok or a large sauté pan. Add 1 Tbsp cooking oil and swirl the pan to coat it completely. Add the marinated pork to the pan and stir-fry until the pork is no longer pink, approximately 3 minutes. Turn heat down to medium-low and move the meat to one side of the pan. Add the garlic, cabbage, carrots, ginger, and mushrooms to the empty side of the pan. Stir-fry the vegetables for about a minute until they are softened. Then add the rice wine, soy sauce, sugar, sesame oil, and pepper. Continue to stir-fry for another minute.
Remove the filling from the pan and spread out on a plate to cool. Let cool for 15 minutes.
Using paper towels, blot the filling to get rid of the extra oil. Now it's time to wrap your egg rolls. A couple notes to keep in mind - don't use too much filling. Use about 1 Tbsp of filling per egg roll; these will come out more slender.
To wrap your egg roll, start with a clean, flat surface. Lay the wrapper so one of the corners is facing you (like a diamond). Add one Tbsp of the filling in the corner closest to you. Lift the bottom corner up and begin to roll away from you, making sure you tuck the corner under as you roll. Once you are halfway up the wrapper, fold in the left side and then the right side towards the center. Continue rolling away from you until only the final corner is ready to roll. Dip your fingers in the cornstarch and water mixture you made earlier and brush it over the final corner. Finish the roll, brush a little more of the cornstarch mixture along the seam, and place seam-side down. Make sure you roll the egg rolls VERY tightly. If they are too loose, they will fall apart when you fry them.
Once you have finished rolling your egg rolls, refrigerate for 4 hours. Once refrigerated, you are ready to either fry them or freeze them (they can stay frozen for up to 3-4 weeks!).
To fry the egg rolls, fill a pot with 2 inches of cooking oil. Heat the oil to 350 degrees. Gently add the egg rolls to the hot oil, frying no more than 5 at a time, turning occasionally. Fry until the egg rolls are golden brown, approximately 1 to 2 minutes. Place on paper towels to drain and cool. Sprinkle with kosher salt to finish. Note: if you are frying the egg rolls after freezing, add an additional minute to the frying time.
Serve with a side of sweet chile dipping sauce.