Please note this post contains affiliate links.
Boeuf Bourguignon Pot Pie is the classic French red wine stew you know and love, wrapped up in flaky golden puff pastry! The rich braised beef is cooked in the traditional way, but the pot pie element makes it a real show-stopping dinner for Sunday supper or any dinner party you have coming up. Though this recipe takes a bit of time, the decadence is well worth the effort. Trust me.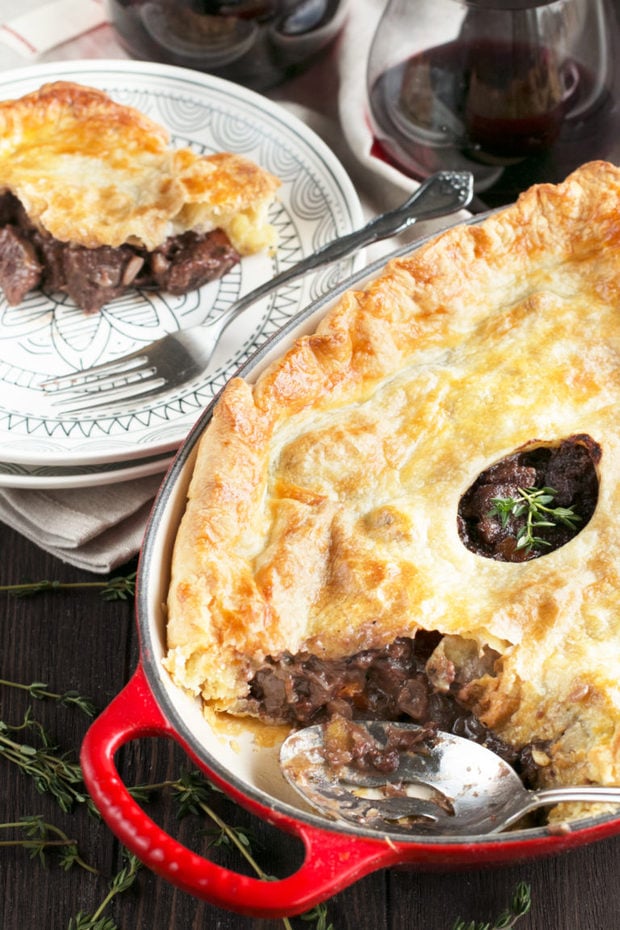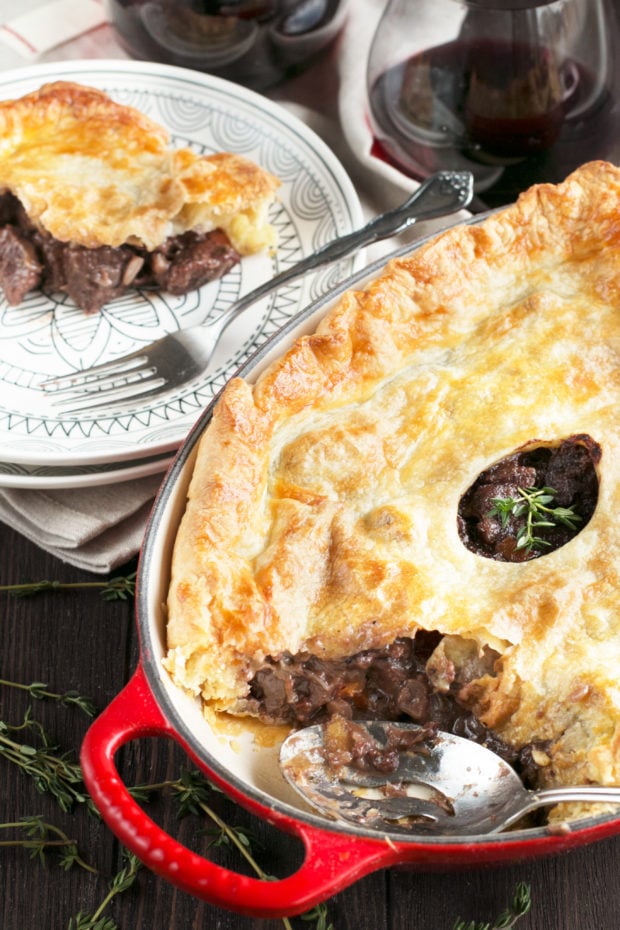 Please note that some of the links below are affiliate links. If you make a purchase through one of these links, I will receive a small commission.
If you've ever read Julie & Julia, you've probably fallen in love with the simple idea of Boeuf Bourguignon, even if you haven't tried your hand at making the traditional Julia Child recipe.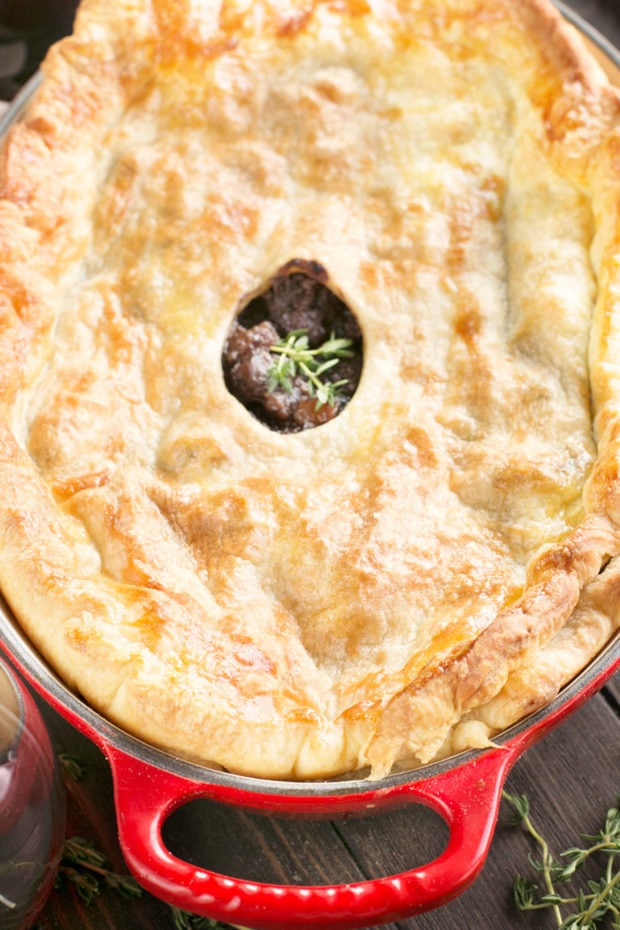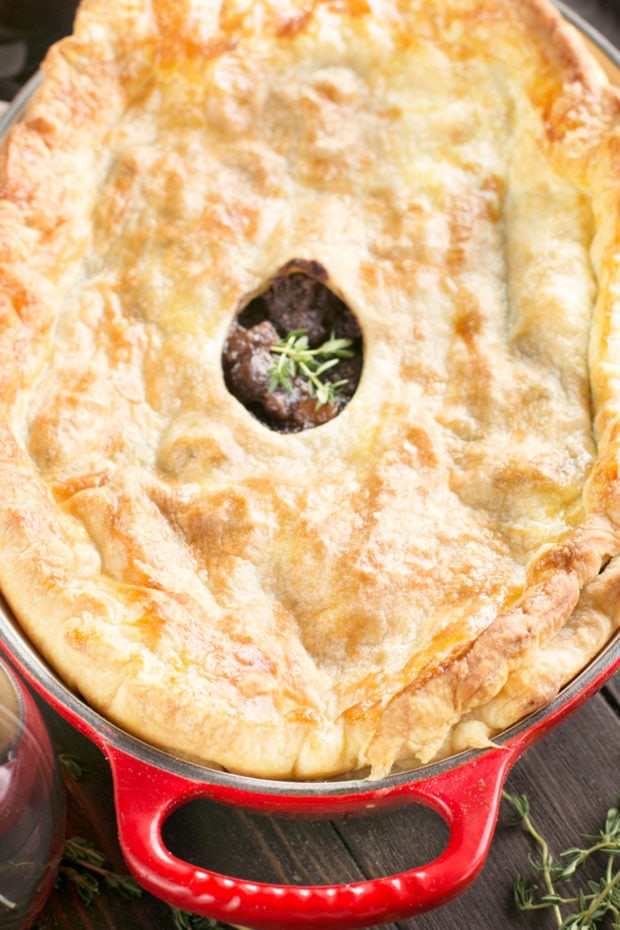 Rich and savory beef, braised in red wine with herbs and vegetables, until it's so tender that it falls apart in your mouth?
Ummmmm yea, that's something that I know none of you would be able to resist if a bowl of it happened to magically appear in front of you right now.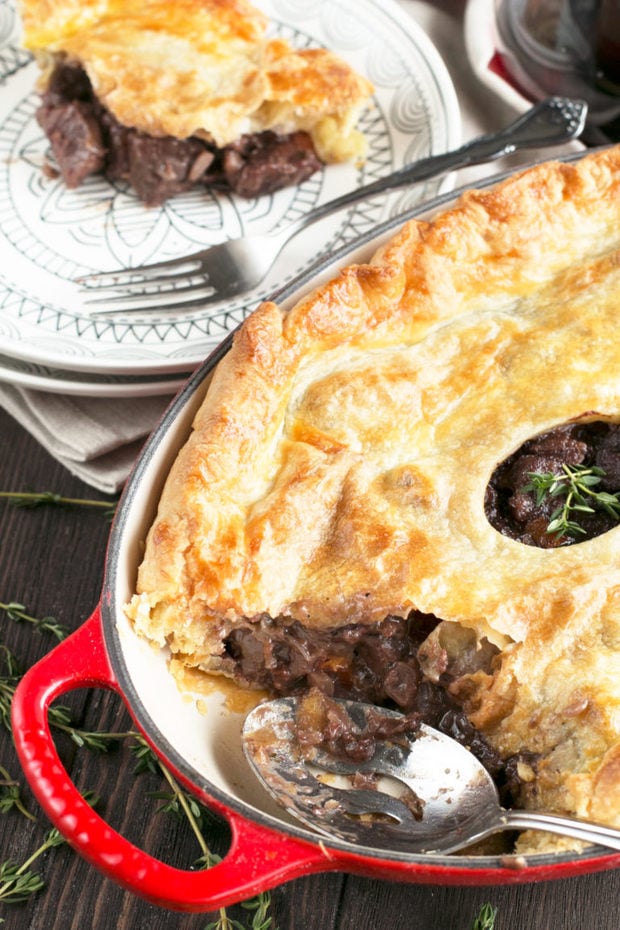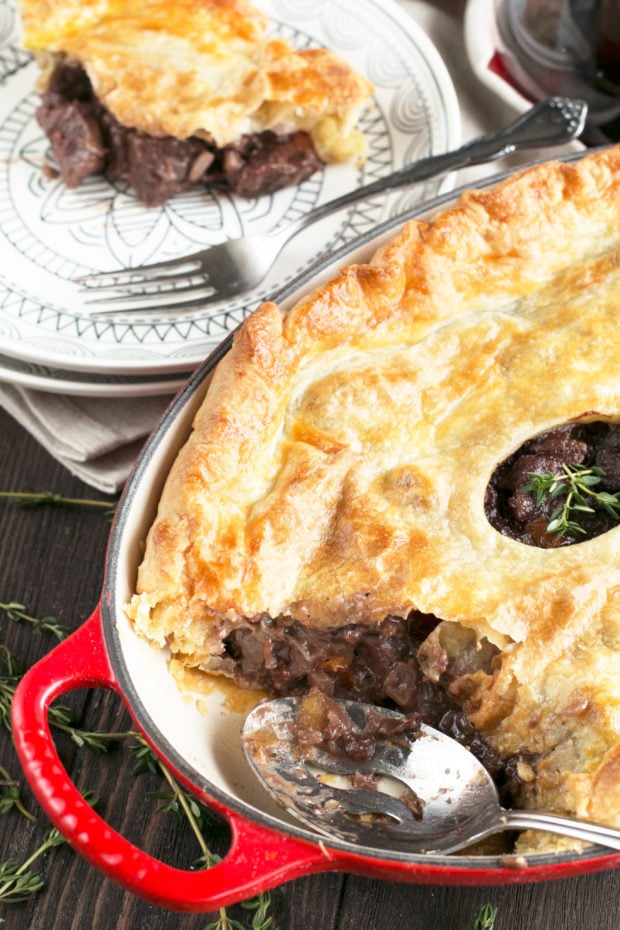 If you disagree, you may want to stop reading right now, because my ode to this meaty deliciousness is faaaaaar from over…
For all of you beef lovers out there, this is the dish you want to make when you need some good ol' fashioned French comfort food. It's the kind of dish that is perfect for a Sunday supper when you really want to treat your family (or heck, just treat yourself) to something truly special.
Now I will preface right here that this dish does take a bit of time to create. It's not a dish that comes together in less than 30 minutes, but there's a reason for that.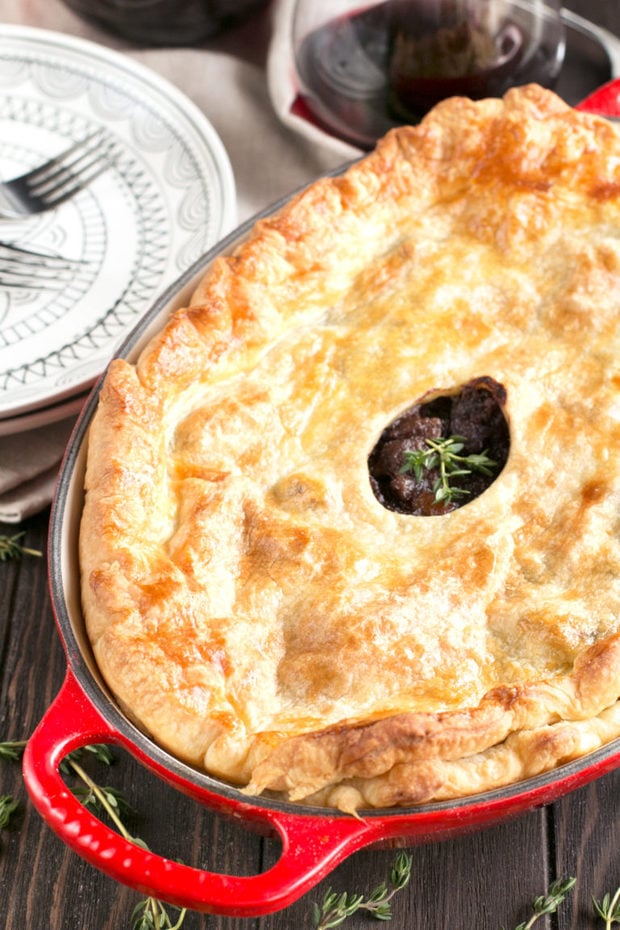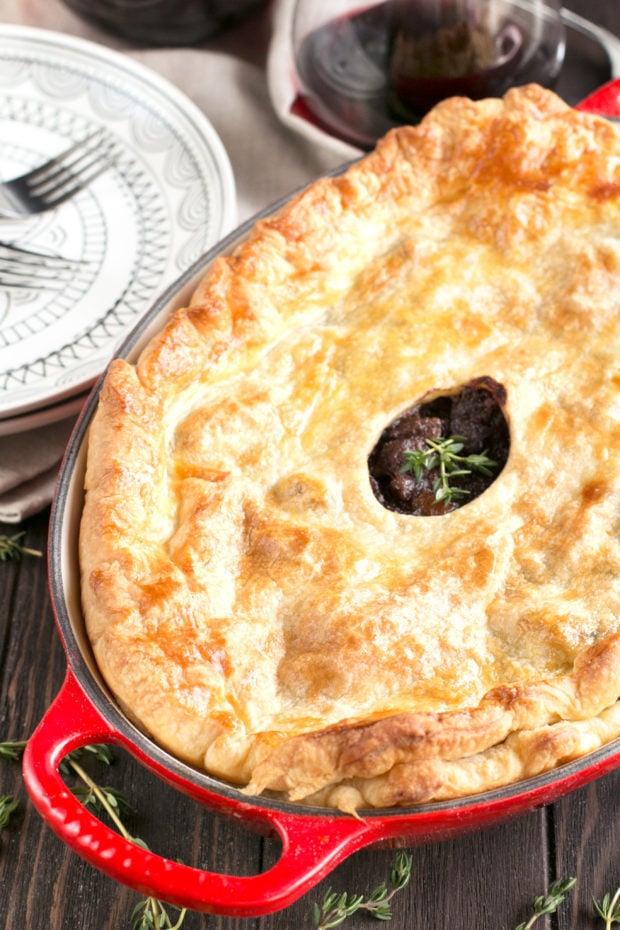 You really want to braise the meat in the stew well, so it's tender and melts in your mouth with every single bite. Plus, allowing the beef to become really tender also allows for the rich depth of flavors to develop as it's cooking in the oven.
It's a rich comfort food that, when wrapped in flaky puff pastry, becomes even more scrumptious.
So when you're ready to bust out the big guns for dinner, remember this bad boy. And also remember that the leftovers are AMAZING, so sneak a bit in a container separately so you can keep the indulgence going for lunch on Monday 😉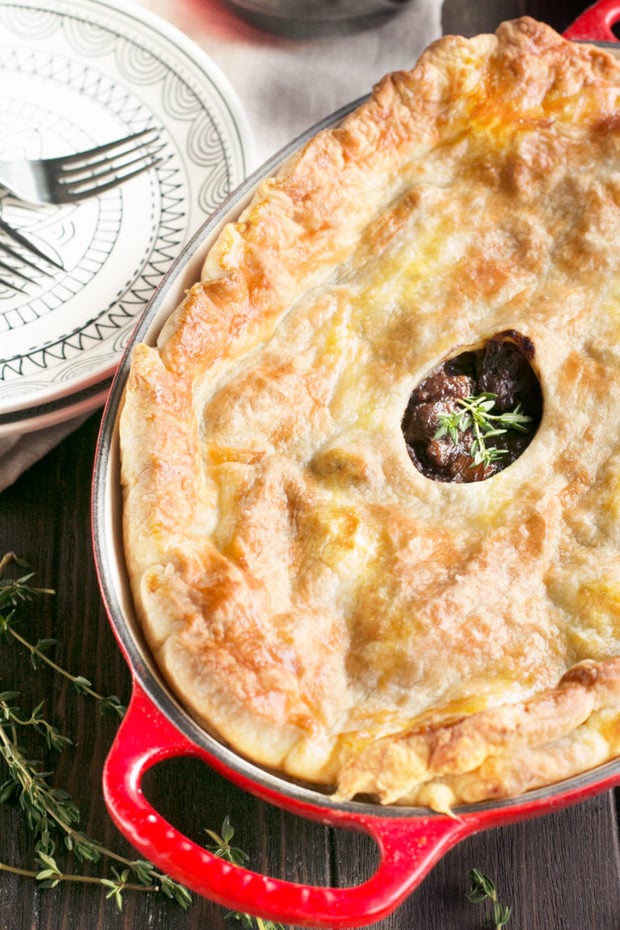 This Recipe's Must Haves
Pin this Boeuf Bourguignon Pot Pie recipe for later!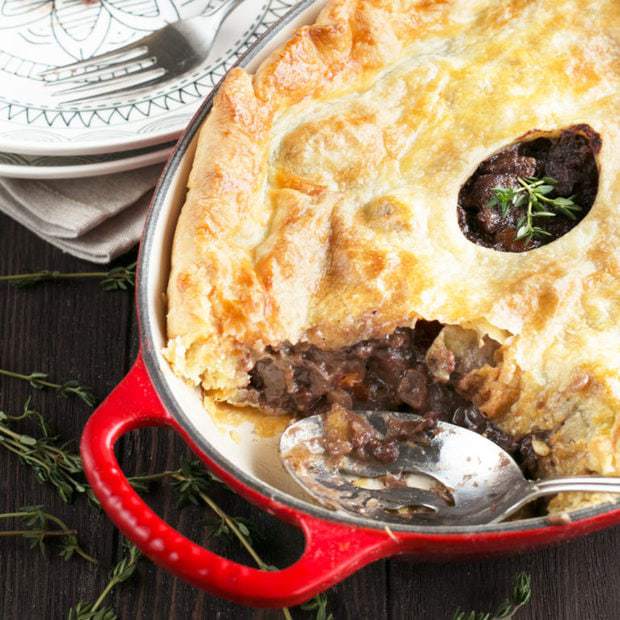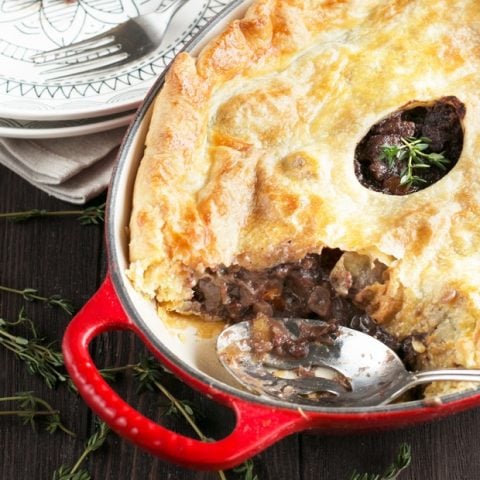 Boeuf Bourguignon Pot Pie
Cook Time:
2 hours
30 minutes
Total Time:
2 hours
40 minutes
All the flavors of rich and classic boeuf bourguignon, wrapped up in puff pastry for the ultimate way to indulge on a chilly evening.
Ingredients
3 Tbsp olive oil
½ cup + 1 Tbsp all-purpose flour
1/2 tsp salt
1/2 tsp black pepper
1½ lbs boneless beef chuck, cut into 2-inch pieces
4 slices bacon, cut into lardons
1 medium yellow onion, diced
1 medium carrot, peeled and diced
2 garlic cloves, minced
1/4 cup freshly chopped parsley
2 1/2 Tbsp brandy
1 tsp thyme leaves
1 cup chicken broth
2 cups red wine (I used cabernet sauvignon)
2 Tbsp unsalted butter
1 Tbsp all-purpose flour
2 sheets frozen puff pastry, thawed
1 egg, beaten
Instructions
Preheat oven to 400 degrees F.
Heat oil in a large heavy bottomed pot over medium-heat.
In a medium bowl, add flour, salt and pepper. Add beef and toss to coat the beef. Shake off excess flour off the beef. Working in three to four batches, add beef to the pot. Cook until browned, approximately 8 to 10 minutes per batch. Remove from pot and add to a plate. Set aside.
Add bacon to the same pot, cooking until brown and crisp. Add 1/4 cup water and cook, scraping up the browned bits. Add onion and carrot, cooking until they are softened, approximately 5 minutes. Stir in garlic and parsley, and return the beef to the pot.
Add thyme, brandy, broth, and red wine. Season with salt and pepper to taste. Bring mixture to a simmer. Stir in butter and flour until melted, making sure you break apart the flour well with a whisk.
Cover and braise in the oven, until beef is tender, approximately 1 1/2 hours.
When the stew is done, lightly roll out the puff pastry sheets to be about 4 inches larger than the baking dish you are using (I used a 2 1/4 QT oval dish). Transfer one sheet to the baking dish, lifting from the edges allowing the dough to slump down into the dish. Trim the edges to allow for approximately 1 inch overhang on all sides.
Fill dish with stew. In the other piece of puff pastry, cut a 11/2 to 2-inch circle in the center.
Drape pastry over the filling, again trimming the sides to leave 1-inch of pastry on all sides. Press edges together to seal well and tuck in the overhang. Crimp edges as desired, and brush all puff pastry with beaten egg.
Bake until the puff pastry is cooked through and golden brown, approximately 30 to 35 minutes. Let cool 5 to 10 minutes before serving warm.