OMG you guys, dessert fries are a thing. And they are AMAZING.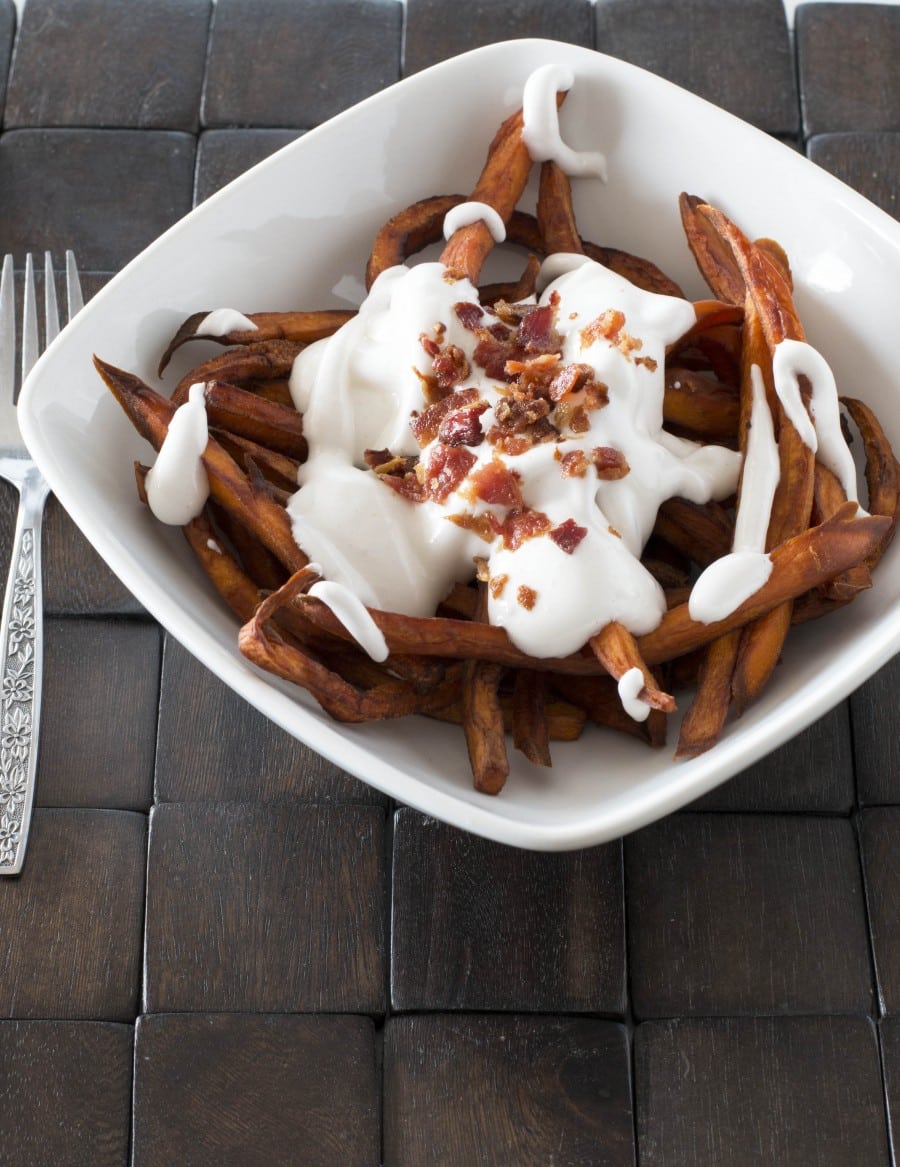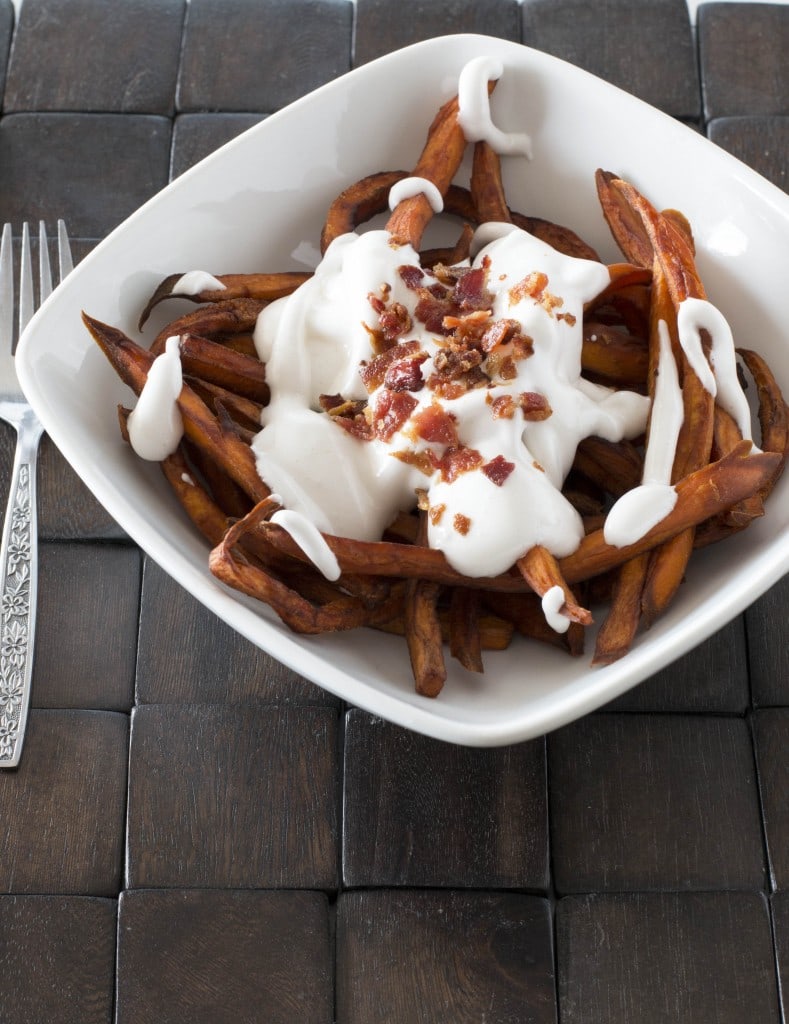 Right now you might be tempted to run away because the idea of dessert fries is just way too out there. Bear with me, because these fries are one of the best things I have ever experienced.
And no, I am not trying to taut my awesomeness.
Well, maybe just a little… These fries are THAT good.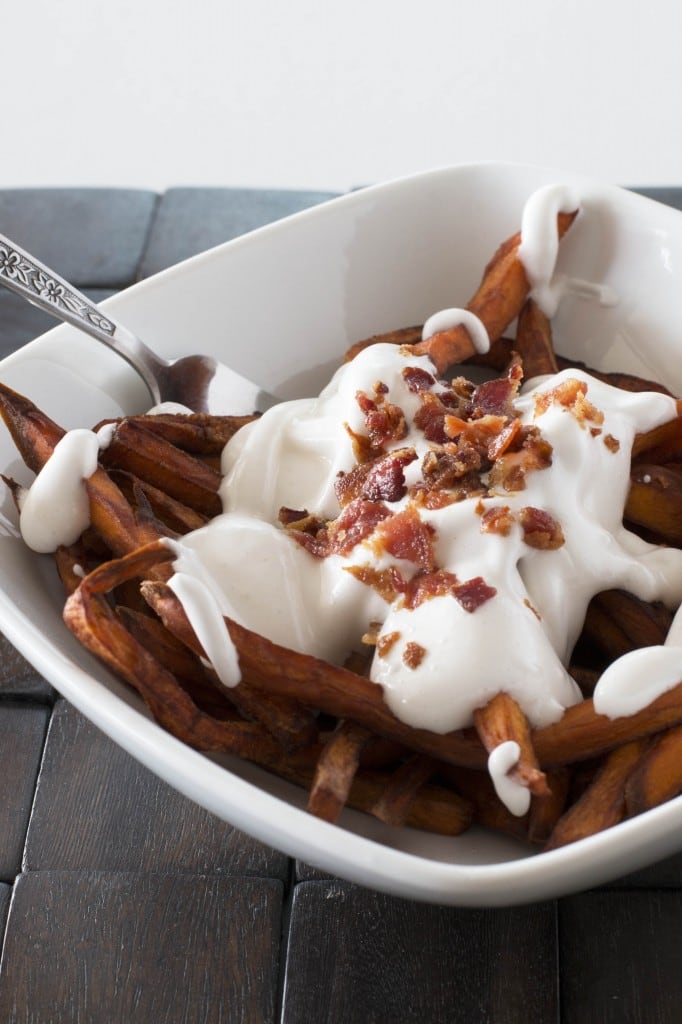 I love using sweet potato fries in something sweet. Usually I am covering them with ketchup and some sort of spicy salt mixture. This time I just decided to go a little nuts and top them with a marshmallow sauce and maple glazed bacon bits. The bacon gives that little hint of savory to balance out the sweet and it is oh-so divine.
Oh speaking of divine, I am planning a trip to Europe which includes PARIS and I am just giddy with excitement. The entire trip is basically revolving around my food obsession and all those pastries, macarons, eclairs, chocolates, and BREAD are calling my name. It's going to be gastronomic bliss and I am coming home with an extra 20 lbs on my hips.
It'll be SO worth it.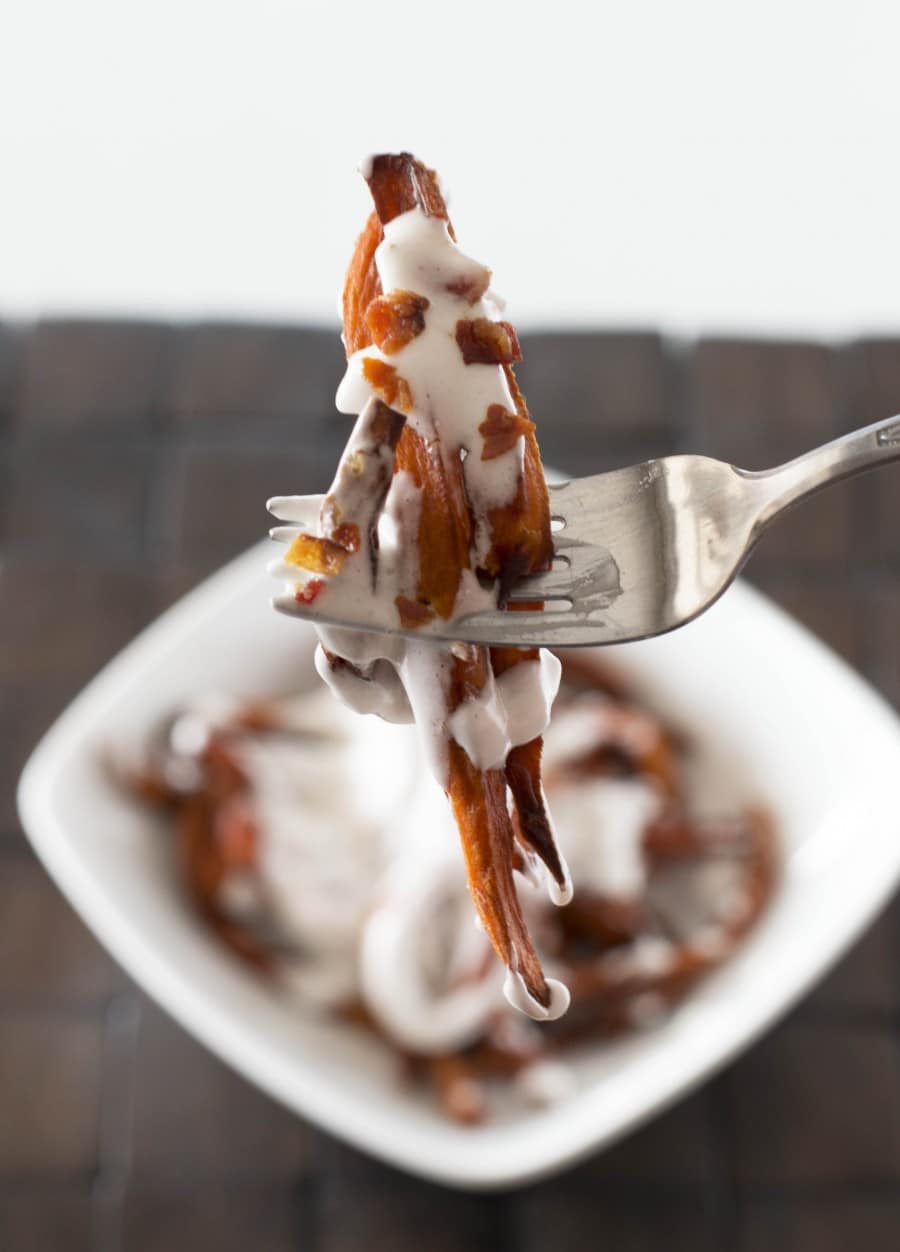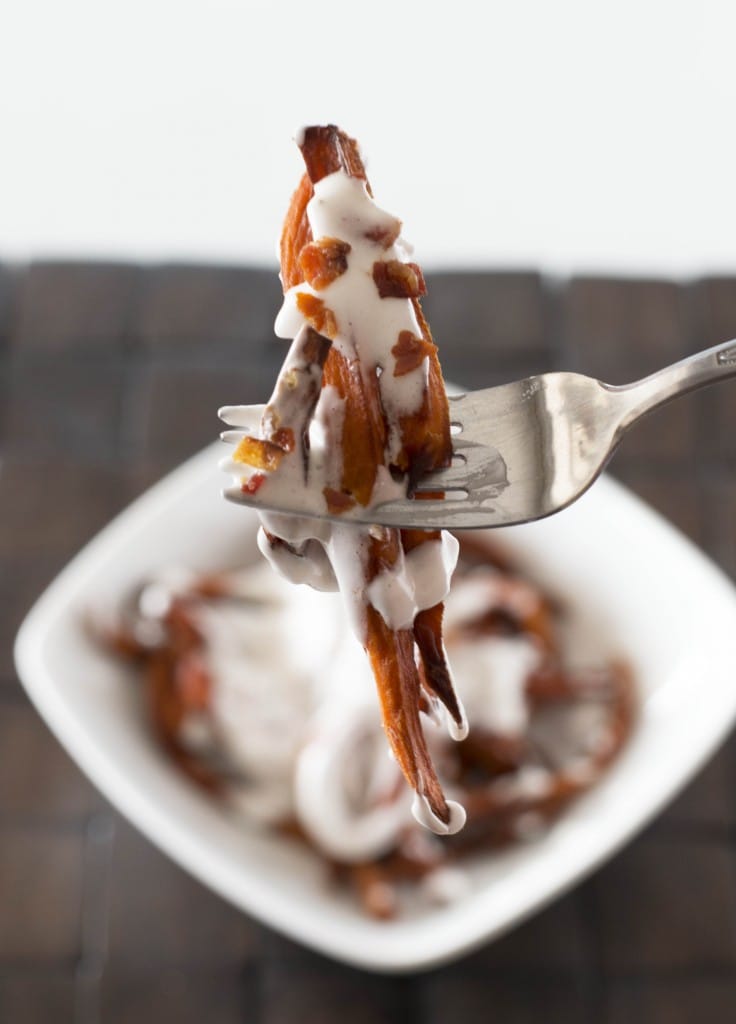 Just like digging into a bowl of sweet potato dessert fries. Every bite makes you more certain that it's worth every single calorie.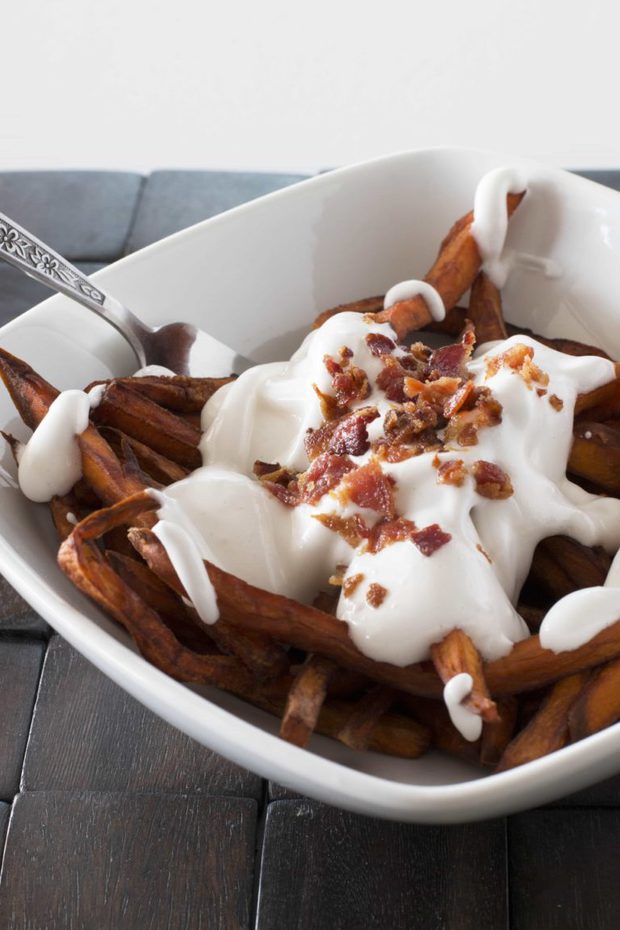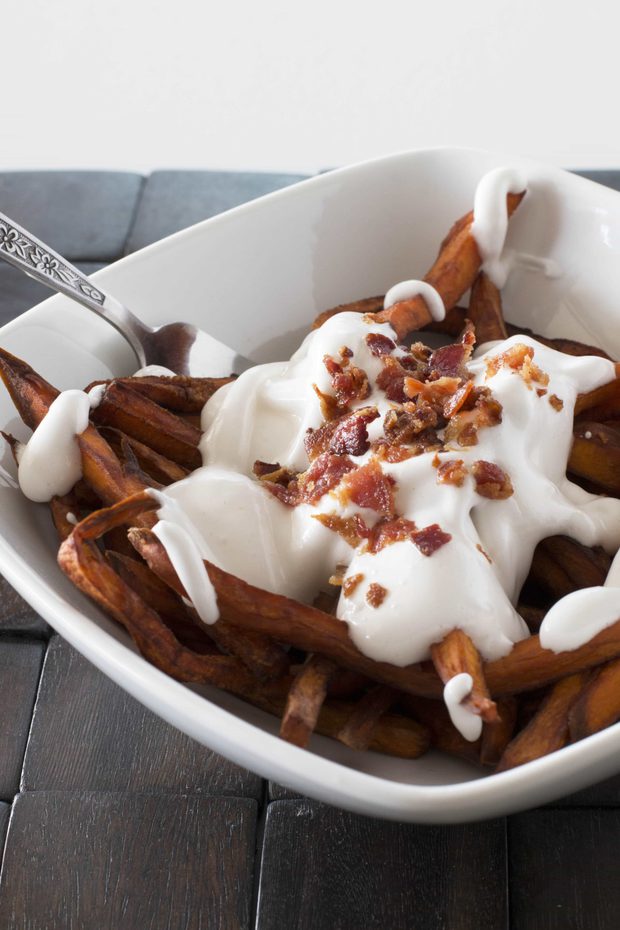 Dessert Sweet Potato Fries
Total Time:
1 hour
5 minutes
Who doesn't love fries for dessert?
Ingredients
Fries
1 large sweet potato, peeled and cut into fries
Canola Oil
Kosher Salt
5 slices bacon
1 Tbsp brown sugar
Marshmallow Sauce
2 large egg whites
1/4 tsp cream of tartar
3/4 cup light corn syrup
1/2 cup sugar
1/4 cup water
2 tsp vanilla extract
Instructions
Preheat oven to 400 degrees. Line a large rimmed baking sheet with aluminum foil and place a wire rack on top. Add bacon slices to the wire rack and cook for about 15 minutes. Remove bacon from oven, sprinkle evenly with brown sugar, and return to the oven for an additional 5-10 minutes or until the bacon is crispy. Remove from oven and cool. Once completely cool, crumble bacon into tiny pieces and set aside.
To make the marshmallow sauce, add the egg whites to the bowl of a stand mixer. Beat with a whisk attachment for approximately one minute until the egg whites are frothy. Add the cream of tartar, increase speed to high and beat until stiff peaks form, approximately 2 minutes.
Add corn syrup, sugar, water, and vanilla to a medium heavy saucepan. Heat the mixture over high heat and stir with a rubber spatula until the sugar dissolves. Bring mixture to a boil (do not stir!) and cook until the mixture is a light amber color. Immediately remove from heat.
Start the mixer on low speed and slowly pour the hot syrup into the egg whites. Continue beating until the sauce is smooth and glossy, approximately 2 minutes. Set aside.
Heat 3-4 inches of canola oil in a large heavy saucepan over medium-high heat until the oil reaches 325 degrees. Cook sweet potato fries in small batches for 3-4 minutes. Remove to a baking sheet lined with paper towels to drain. Repeat until all fries have been cooked.
Increase the heat so the oil reaches 375 degrees. Fry the sweet potatoes fries a second time in small batches until golden brown (approximately 4-5 minutes). Remove to the lined baking sheet and sprinkle with kosher salt.
Divide the golden brown fries into two bowls. Add a large scoop of marshmallow sauce on top of each pile of fries and finish with the crumbled bacon. Serve immediately and dig in!