Cornbread Waffle Grilled Cheese Sandwich with Tomato Basil Soup is all the comforting deliciousness I am craving right now. Warm, buttery cornbread waffles stuffed with melted cheese and served up with the creamiest, most flavorful tomato soup will bring a smile to anyone's face (and tummy!).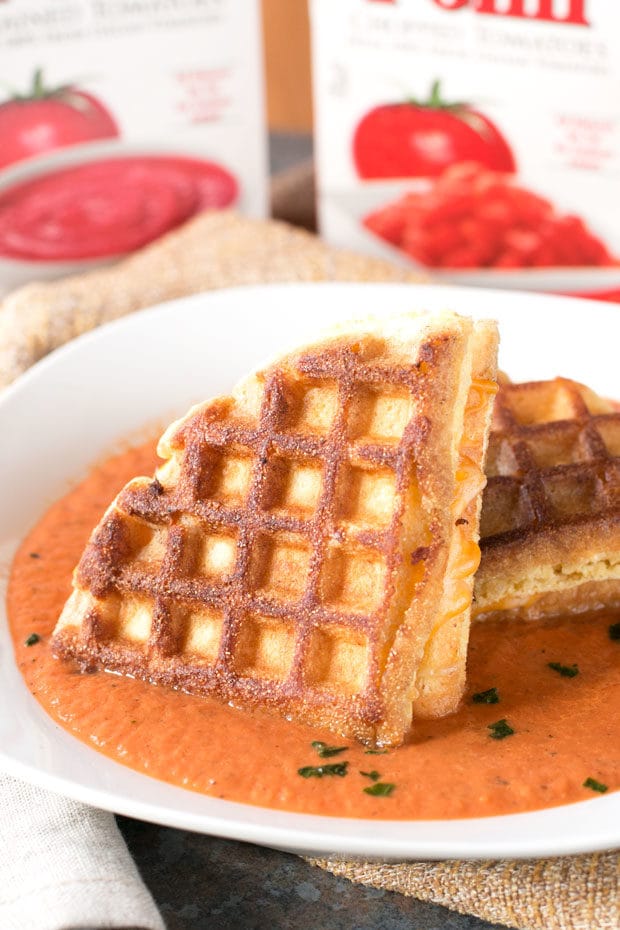 It's getting pretty dang chilly here in Denver. The temperatures have dropped, I can see my breath and the moment I step outside I can feel the cold in my chest. Fall came and went, and now winter has arrived.
That means it's time for me to gorge myself on allllll the comfort food I can stuff into my face.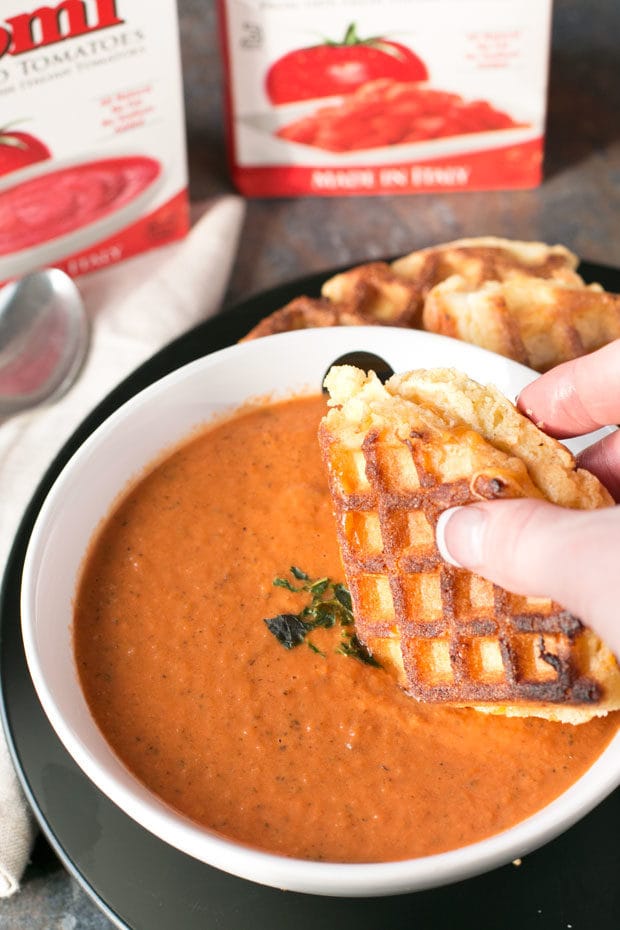 Whenever I think about a warm grilled cheese sandwich with a side of tomato soup, a wave of comfort washes over me.
Fortunately I feel like I've finally outgrown the canned soup that I used to solely rely on to get me through the cheap meals I would slam down in my early college days. After being in Italy for as long as I was, I grew to seriously appreciate tomatoes. The tomatoes out there were just so deep and full of incredible flavor.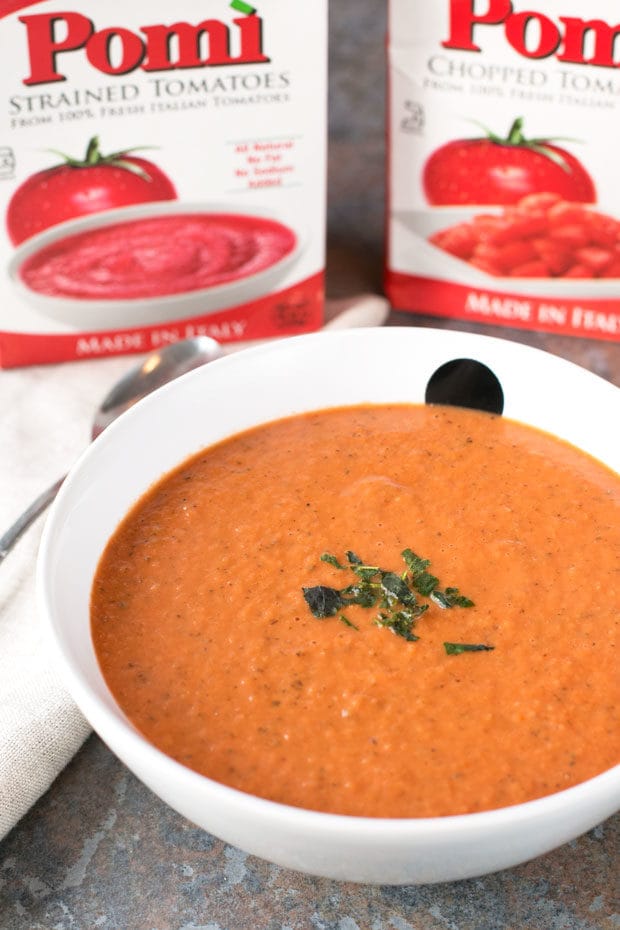 That's honestly why I seek out products like Pomì tomatoes to use in my kitchen. They only use the highest quality of Italian tomatoes and seriously, you can actually taste the difference. It makes this creamy tomato and basil soup the most delicious, rich soup to indulge in with a thick and cheese cornbread waffle grilled cheese.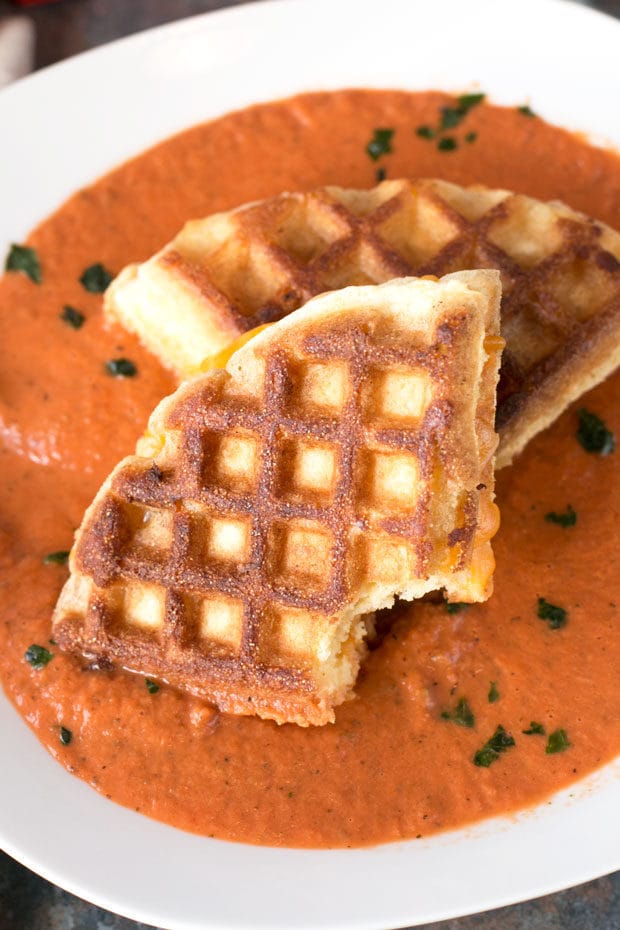 The melted cheese gets in all the nooks and crannies of the sandwich and the rich, acidic tomatoes burst with flavor in every bite. That's why the soup recipe is so dang simple – you don't need a ton of spices to cover any tin can type taste from these tomatoes. It's nothing but rich, smooth deliciousness.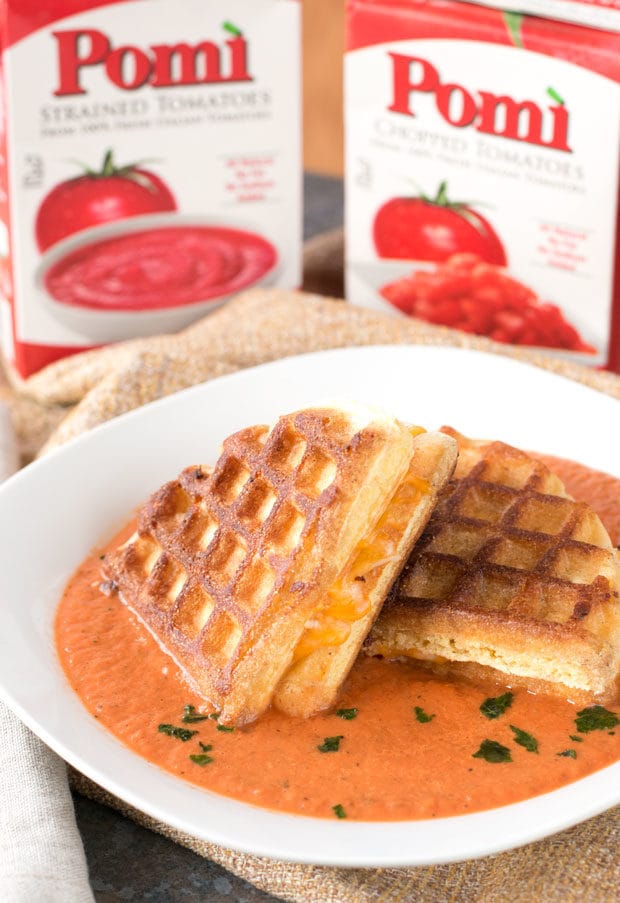 So be a grown up baller kid this week and treat the crew to a classic recipe for dinner!
If you want more incredible ways to use these ridiculously fresh and flavorful chopped and strained tomatoes from Pomì, you should check out Pomì's online cookbook! It's FREE and the recipes won't make you gain more holiday weight (ahem, more room for holiday cookies, ahem).


Disclosure: I received free product and compensation from Pomì as part of this post. As always, all opinions and recipe are my own. Thanks for supporting the brands that support Cake 'n Knife!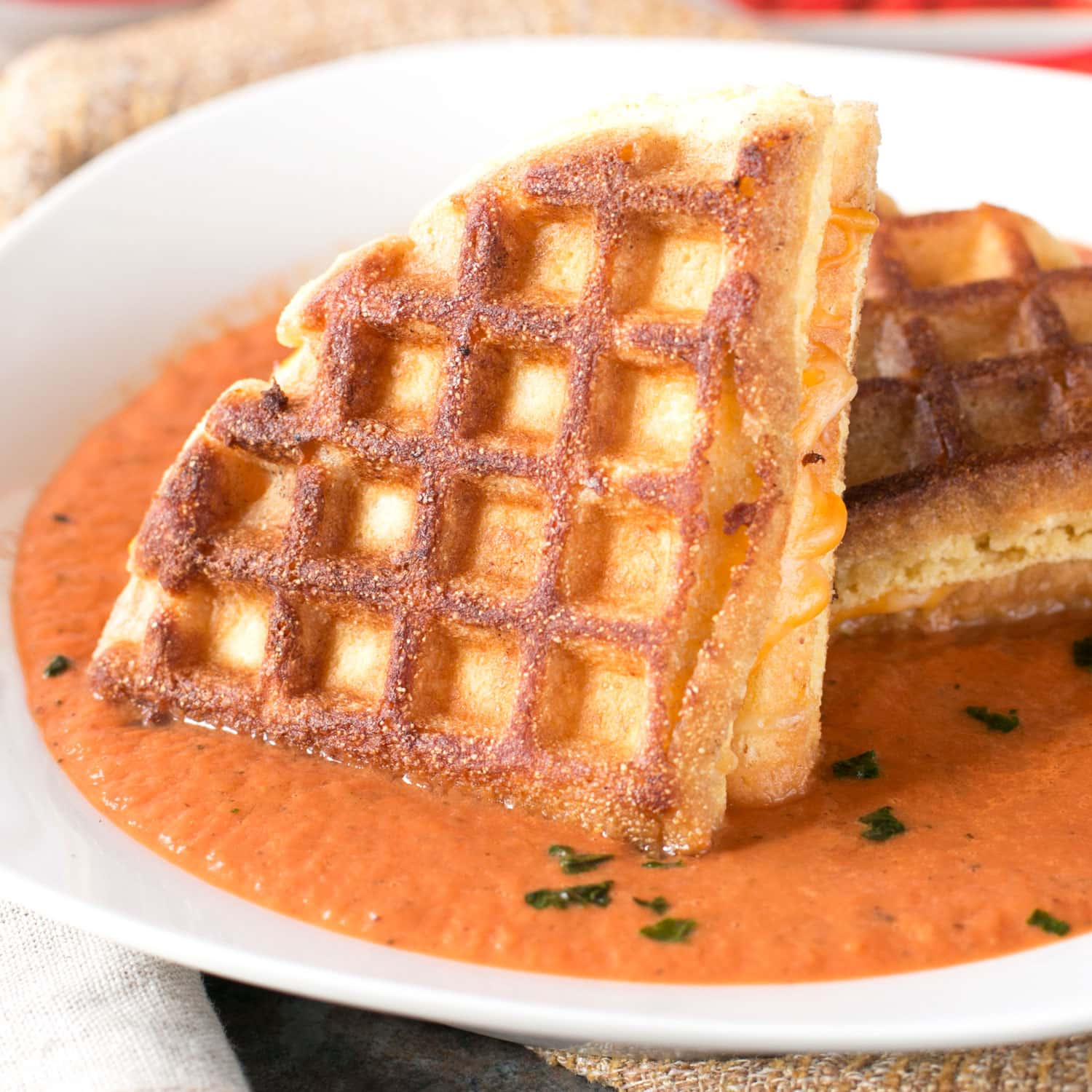 Cornbread Waffle Grilled Cheese Sandwich with Tomato Basil Soup
Cornbread, cheese and the best ever tomato soup makes this my ultimate comfort food.
Ingredients
1 3/4 cups flour
1 1/4 cups cornmeal
1 Tbsp baking powder
1 tsp sugar
1 tsp salt
2 cups milk
3 Tbsp vegetable oil
2 eggs
1 cup shredded cheddar cheese
1 cup shredded monterey jack cheese
SOUP
2 tsp olive oil
1/2 large onion, diced
2 Tbsp dried basil
1/2 Tbsp dried oregano
1/2 tsp garlic powder
1/4 tsp salt
1/4 tsp pepper
Pinch of red pepper flakes
1 (26.46 oz) Pomi Chopped Tomatoes container
1 cup Pomi Strained Tomatoes
1 cup chicken broth
1/3 cup heavy cream
Instructions
In a large saucepan, heat 2 tsp olive oil over medium-high heat. When hot, add onion and cook until browned, approximately 3 to 5 minutes. Add basil, oregano, garlic powder, salt, pepper, red pepper flakes, Pomi chopped tomatoes, Pomi strained tomatoes and chicken broth. Bring to a boil, then reduce to a simmer over medium-low heat. Simmer for 20 minutes.
Remove from heat and add to a blender. Puree until smooth. Add heavy cream and combine on low. Keep warm.
In a medium bowl, whisk together flour, cornmeal, baking powder, sugar and salt for the cornbread waffles. Add milk, vegetable oil and eggs, stirring until smooth.
Grease a waffle iron with cooking spray. Add 1/2 cup to 3/4 cup to your waffle iron, cooking until golden brown and cooked through. Once you've created at least 4 waffles, make the grilled cheese!
Add 1/2 cup of each type of cheese between two cornbread waffles to create a sandwich. Cook in an oiled skillet over medium-high heat until golden brown and the cheese is melted, approximately 2 to 3 minutes per side. Cut into quarters. Repeat with the second set of waffles.
Serve one bowl of soup with two quarters of each cornbread grilled cheese. Garnish with fresh chopped basil as desired.
Pin this Cornbread Waffle Grilled Cheese Sandwich with Tomato Basil Soup recipe for later!