Apple Cinnamon Hard Cider Cocktail
Apple Cinnamon Hard Cider Cocktails are my favorite thing to come home to in the fall. The chilled twist on a hot spiked cider is intensely flavorful and can be drank well into the holidays.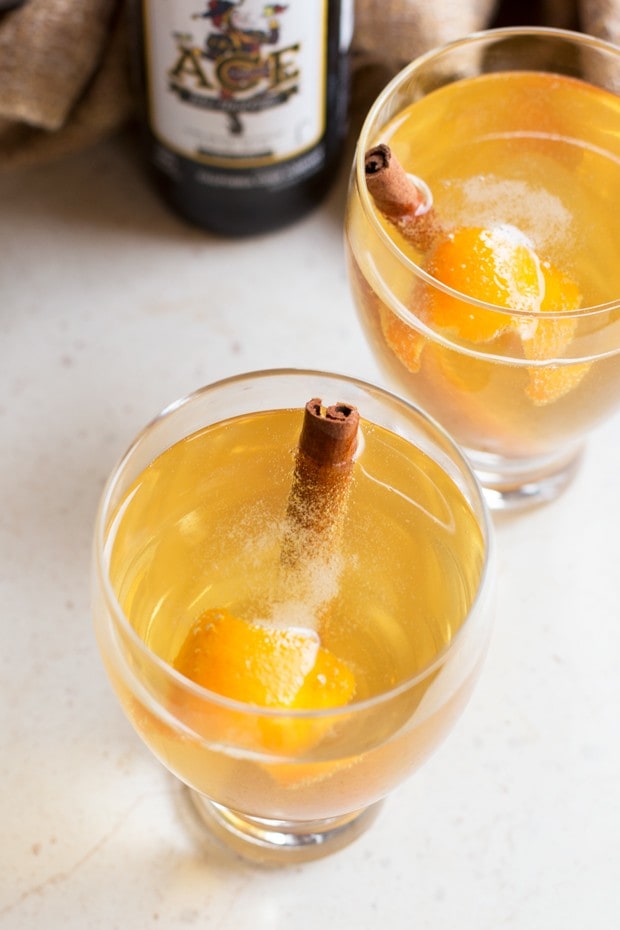 You know when you really nail a recipe? I'm talking, strutting around the kitchen because yea, I just made that awesome thing and it tastes freaking badass. That's what yesterday was for me. It was one of those days where cooking (FINALLY) was going well and I was on a roll. The height of this ridiculously lucky streak in the kitchen was this apple cinnamon hard cider cocktail.
I love hard cider. It's kind of become an obsession since I went to Ireland. I have a soft spot in my heart for a warm mug of spiked cider, but a chilled cold cider always hits the spot for me. So why not merge the two, I thought to myself…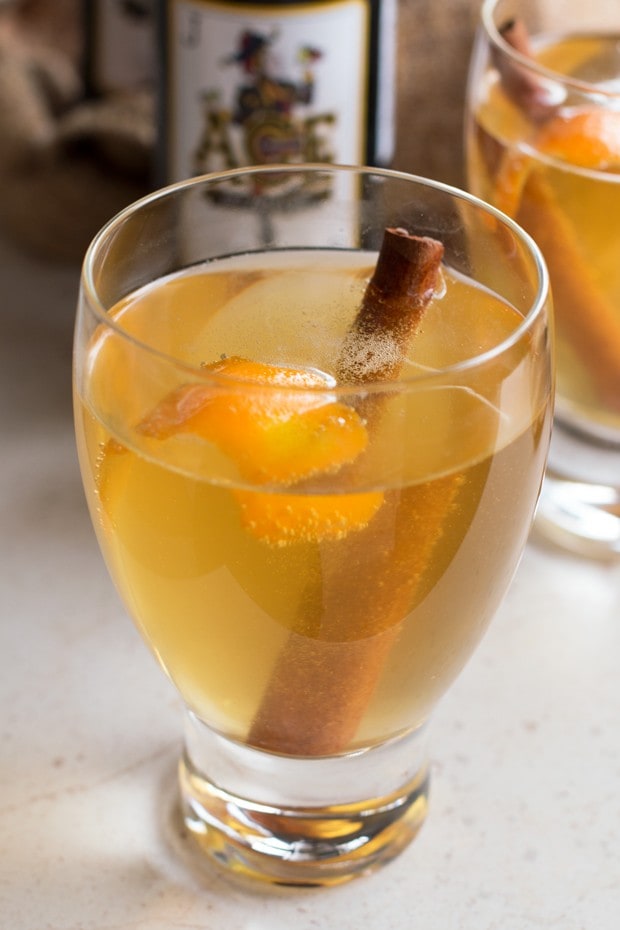 Ok that was technically the start of the conversation in my head which eventually led to a friend and I scouring the liquor store for inspiration. Just like that, there it was. A gorgeous bottle of apple infused whiskey… Forget your Fireball and hard cider cocktails folks, this cocktail is a million times better than that will ever be.
The magic of this cocktail is the quick infusion of classic mulling spice flavors into the apple whiskey, making it taste like the classic warm apple cider. Let that rest for a bit and top with the chilled hard cider – good lord you've never tasted anything so great. You'll melt right into your seat, it's that amazing.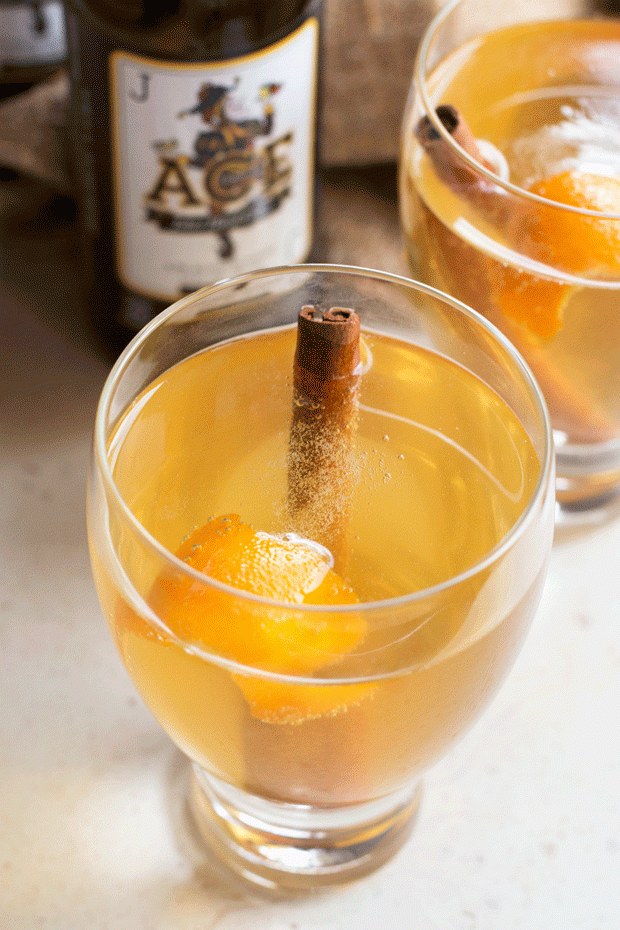 Now please say a prayer for me while I attempt to make the most ridiculous cake I've ever tried to make today. I'm a little extremely nervous about having another baking disaster… Here's hoping the winning streak keeps going, at least through today.
If it doesn't, rest assured I'll be crying on the kitchen floor, covered in flour, downing a couple of these bad boys to lift my spirits.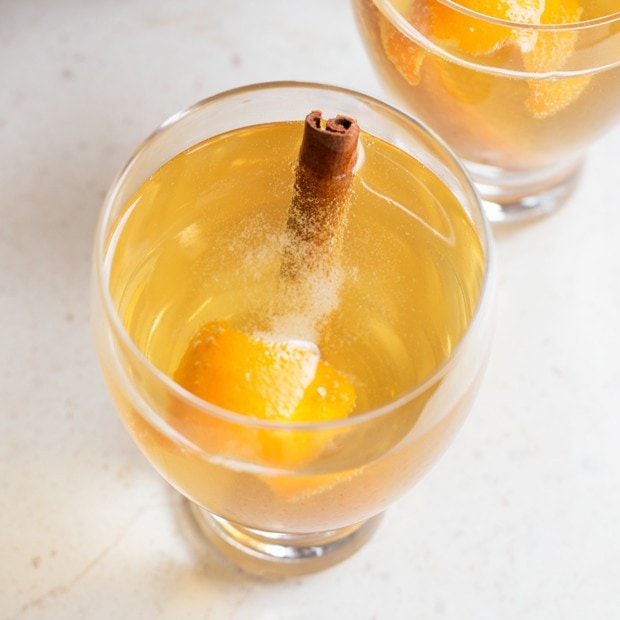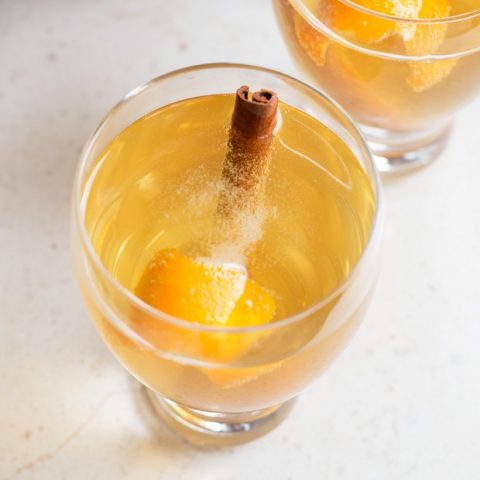 Apple Cinnamon Hard Cider Cocktail
This cocktail puts a chilled twist on the classic warmed cider, perfect for fall!
Ingredients
1 cup apple whiskey (Leopold Bros. all the way here)
2 cinnamon sticks
2 star anise
8 allspice berries
1 3-inch piece of orange peel
Dry hard cider
Instructions
In a small saucepan over medium heat, combine apple whiskey, cinnamon sticks, star anise, allspice berries and orange peel. Bring to a simmer and cook for approximately 5 minutes. Remove from heat, pour everything into a mason jar and seal tightly. Allow to cool completely.
To make the cocktail, add 1 1/2 oz of the infused apple whiskey to a glass and top with 10oz dry hard cider. Garnish with a cinnamon stick and small piece of orange peel.