The time has come for our Harry Potter nursery reveal! Our goal was to create a cozy little sanctuary for Baby Boy, with little magical touches. Read more below!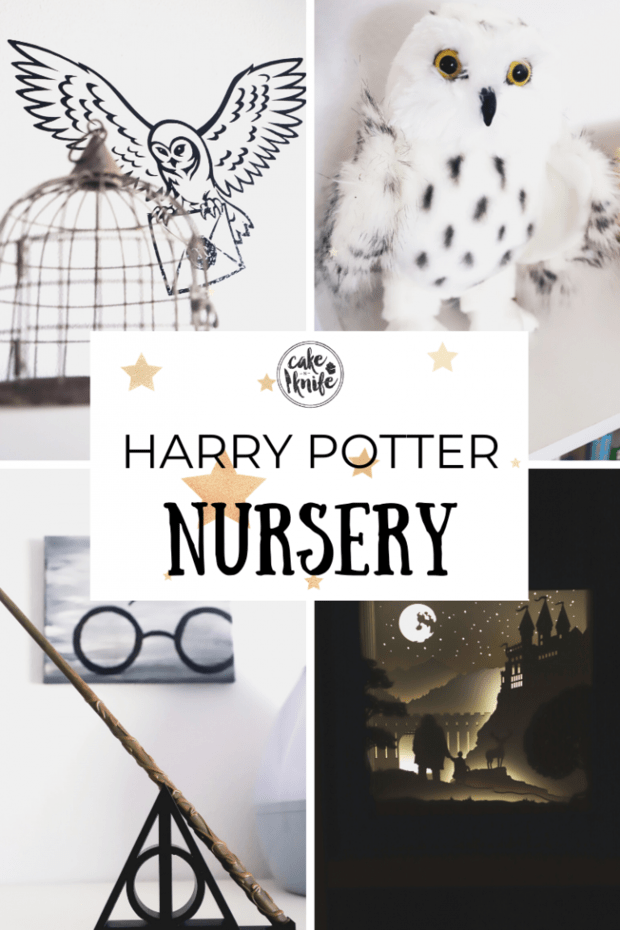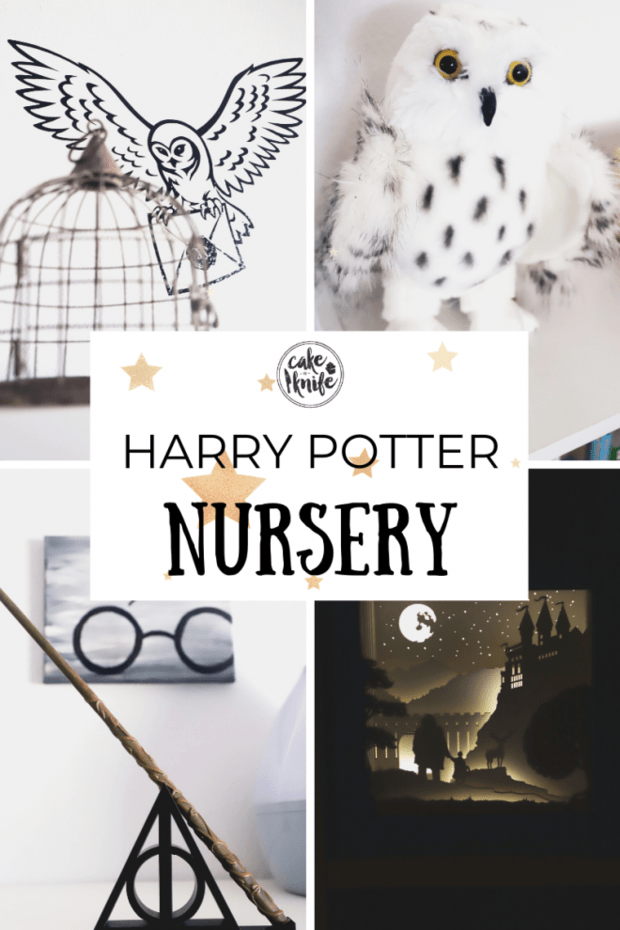 Instead of your Weekly Slice this week, I'm revealing our Harry Potter nursery!
Note: this post contains affiliate links.
We've been working on the nursery for a while, and it's taken until now to get all the final touches in to reveal the details to you all 🙂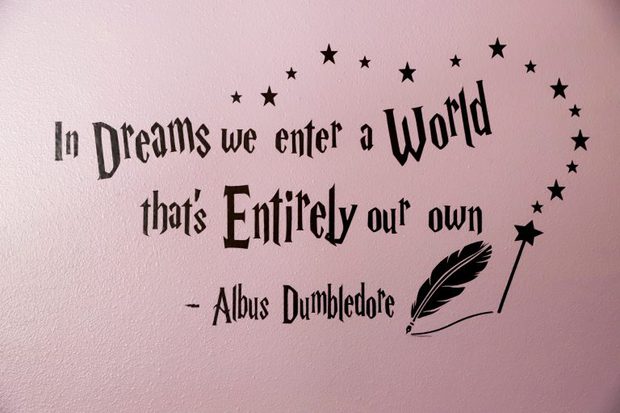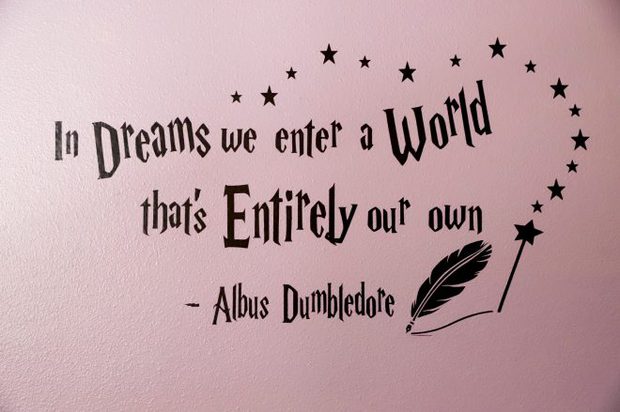 The goal of the nursery for me was to create a little sanctuary. This year has been so freaking stressful already. As I continue to swell, I wanted a spot in the house that wasn't associated with work or to-do's or any other active responsibility.
Just a little corner of the house where I could cuddle up. A place to think magical thoughts about our little boy who will be here in just over 6 weeks.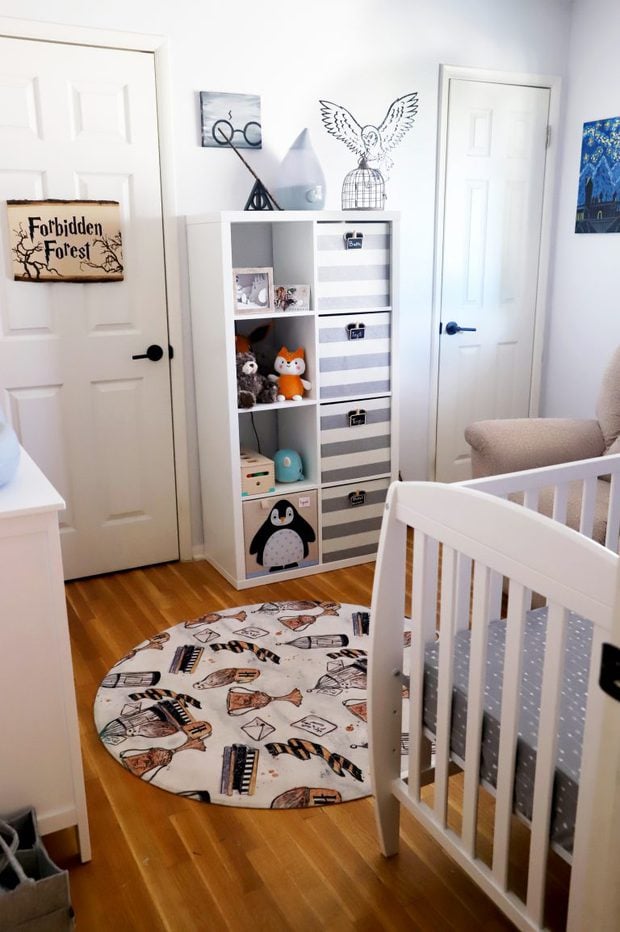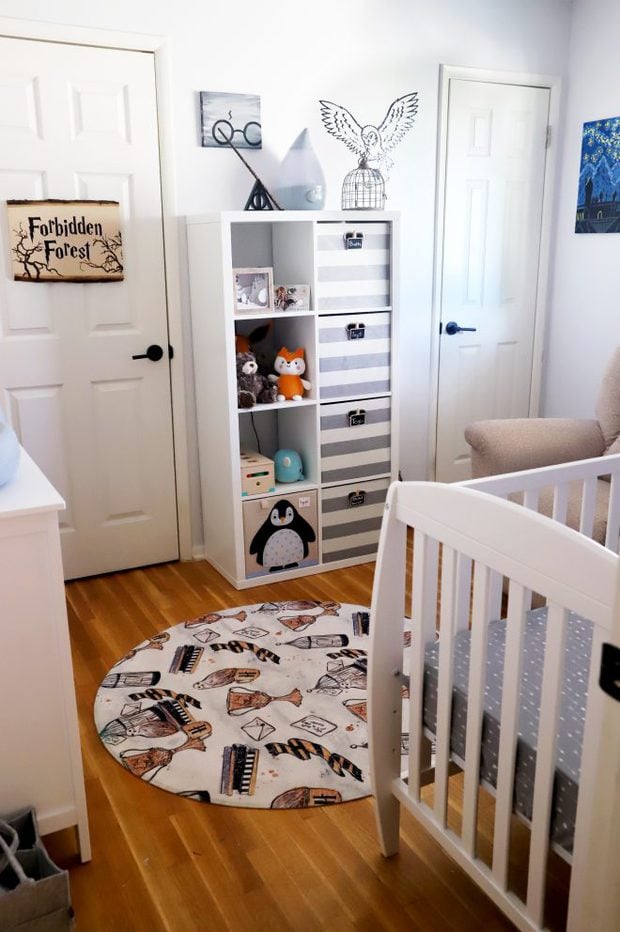 Of course, the Harry Potter nursery had to have plenty of Harry Potter elements! I went for smaller details from simple black decals to art to quotes from Dumbledore.
So let's take a tour, shall we?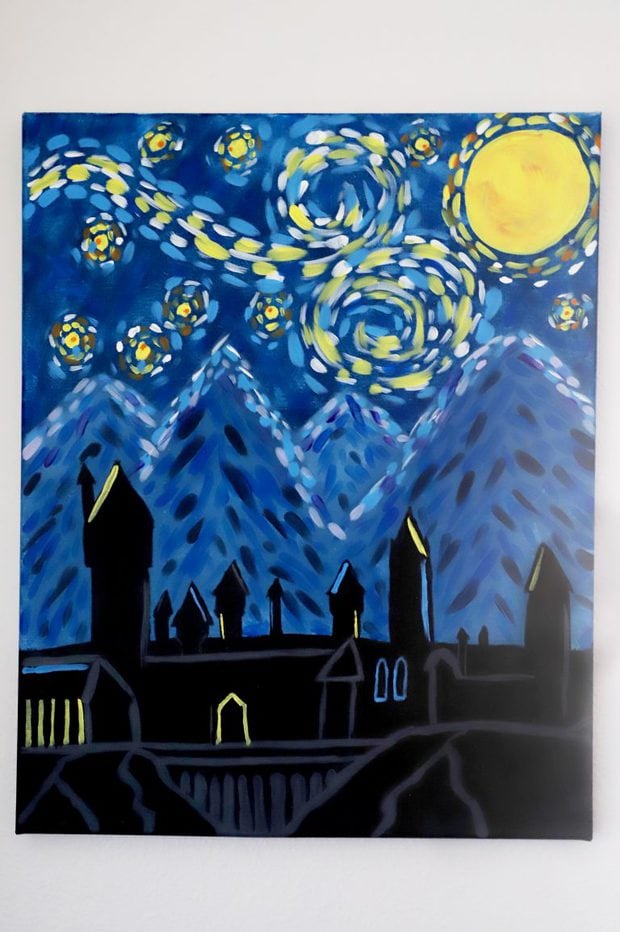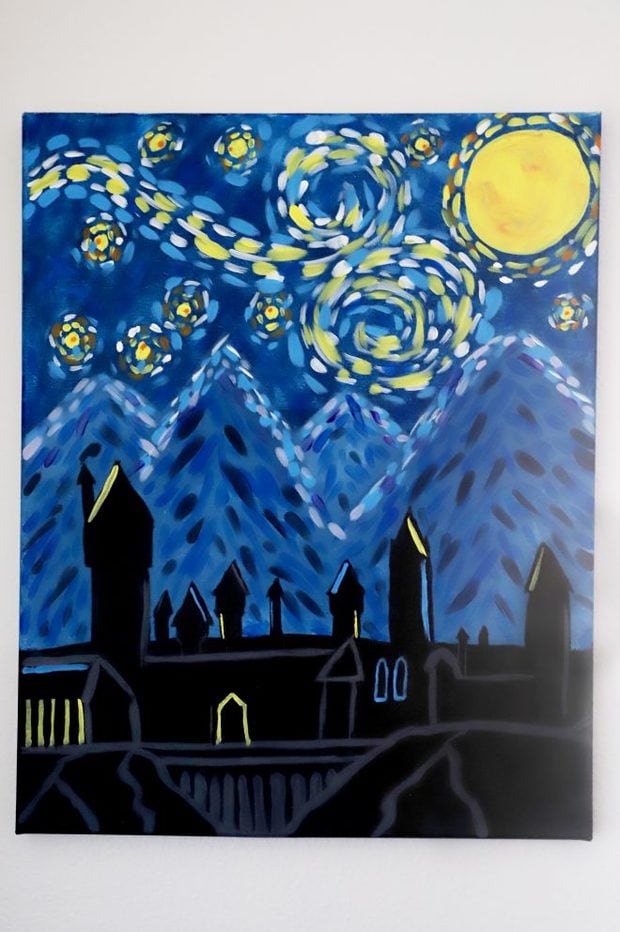 Harry Potter Decor
I tried to reign in my urge to completely cover the walls in a Harry Potter wallpaper for the sake of my sanity (and the Man's lol). Therefore, I turned to decals! I've never used decals before, but they are pretty dang easy. While the quote did take a moment for my mom and I to get on the wall, it was worth the effort to skip wallpaper or fancy stencils! Here are links to the Dumbledore quote wall decal we put over the crib and the owl wall decal we put over the shelves.
Of course, there has to be a stuffed white owl in honor of Hedwig!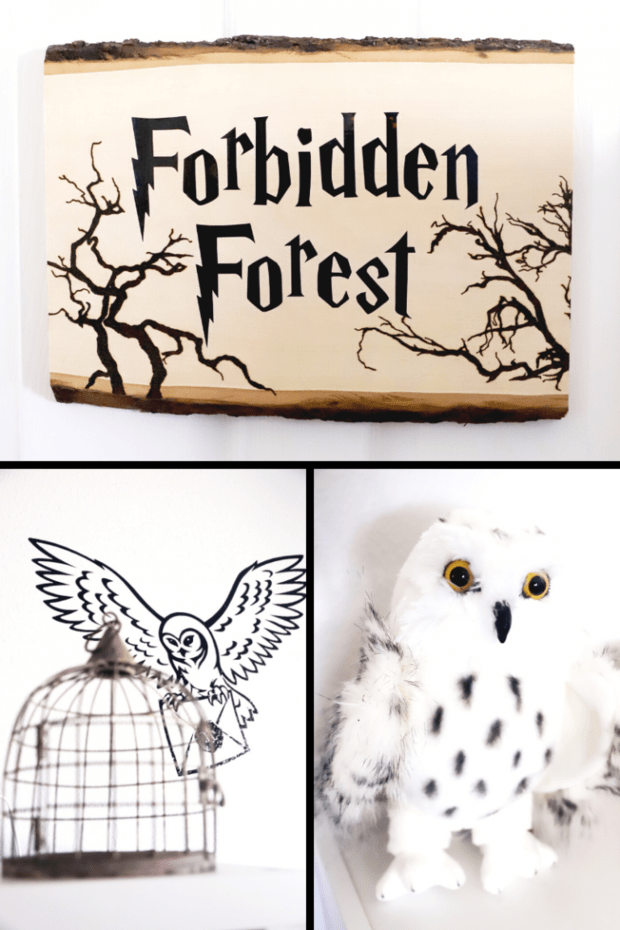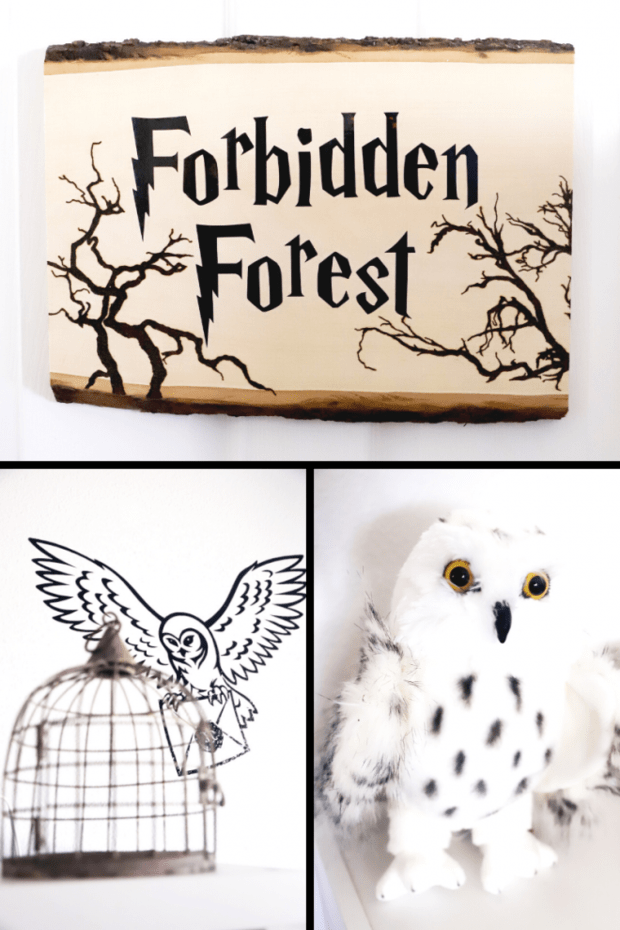 The wand stand you see holding my Hermoine wand is unfortunately no longer available… but here's a similar one.
One of my favorite elements in the room is the Hogwarts School Rug. We didn't want a giant rug so this one is the perfect size (we got the 4′ option) and it's non-slip (I still put non-slip sticking pads underneath, just in case).
The rest of the decor I went with star theme for the simpler things like this star laundry basket and the star paper lantern (something I picked up in Asheville years ago on a trip, sorry no link for that one!).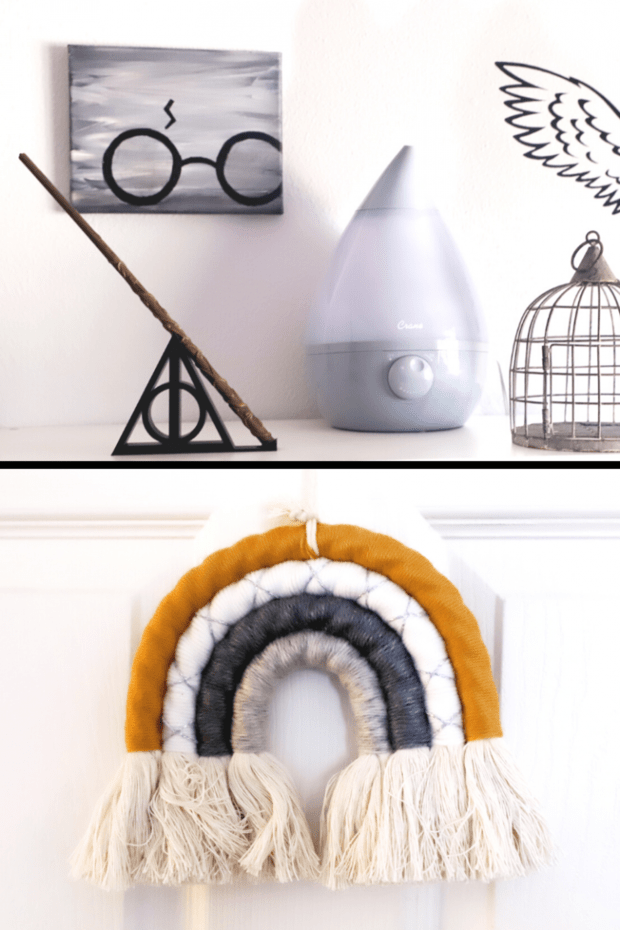 I created the Dumbledore quote prints myself in Photoshop, but I'm sure you could easily do it in Canva for free! Printed them out and put them in these gray wood frames.
The wooden box is something my very dear friend wood burned for us for the baby shower, and I LOVE IT. How gorgeous are those details?!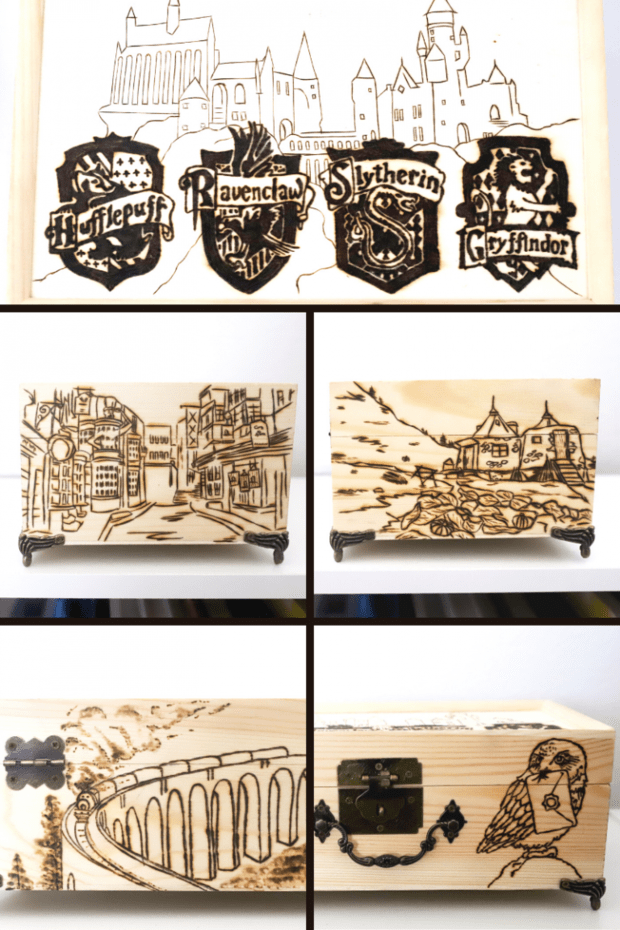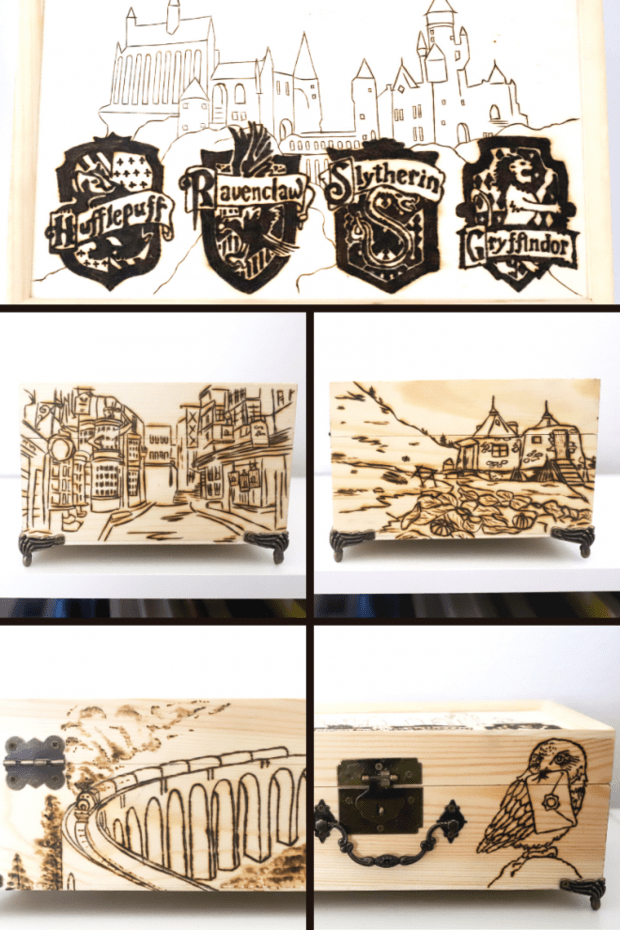 I painted the art on the walls myself! Certainly am no professional, but I'm happy with how the two pieces came out 🙂
Organization
The thing I really poured myself into? ORGANIZATION. I am hyper-organized in general, so the idea of having a beautifully organized nursery was a must in my mind (especially since we are a little limited on space in the room). I went through SO MANY articles, seeing how other moms did it, what worked, and what didn't work. The system I ended up with is basic but I feel so good about it (lol yes, I realize how nerdy that makes me sound!).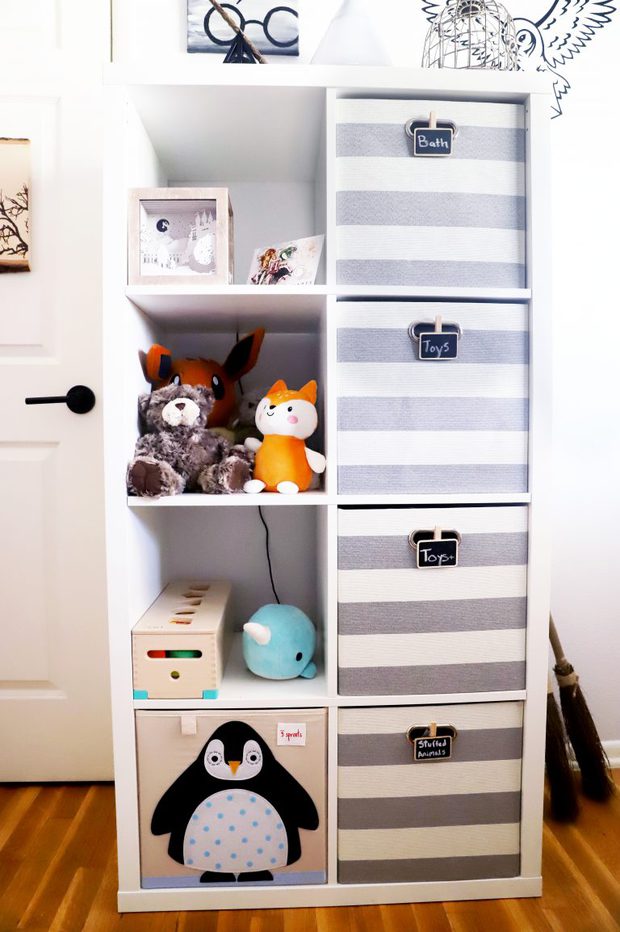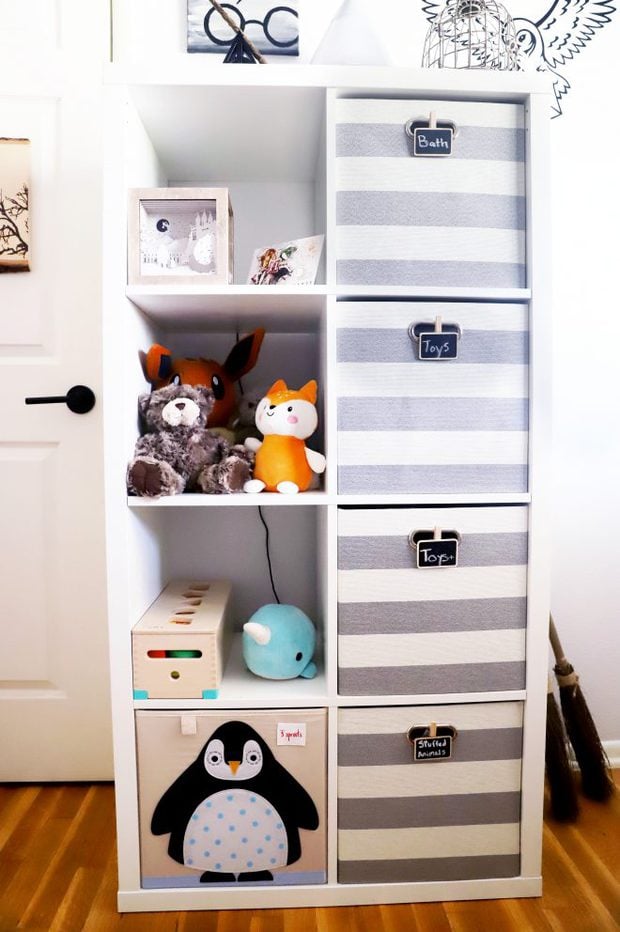 I decided to use these striped storage bins for extra storage for wipes and diapers, as well as storing toys, bath things, and stuffed animals. The chalkboard clip labels I chose were specifically for these bins, but they ended up working for all the bins I chose! I love that they can be changed out as Baby grows, depending on what we need to store at various ages.
In the closet, I used these white plastic bins (SUPER affordable!) for things like shoes, lotions, feeding items, and towels. Then I wanted to throw in some magical decor with these star fabric bins, so I used these to sort out baby clothes through the first couple of years. Again, it'll be nice to change up the label for the bins as he grows!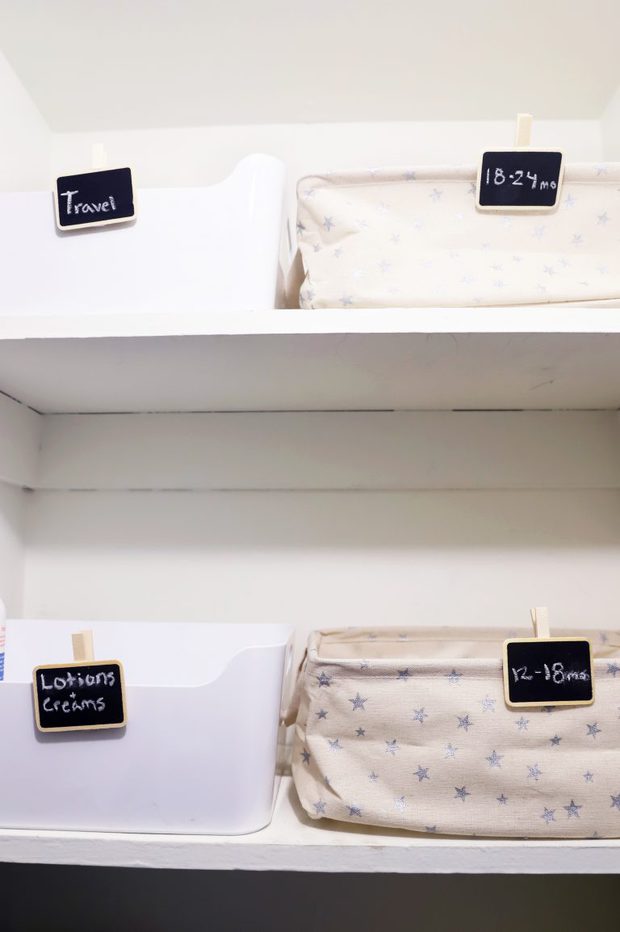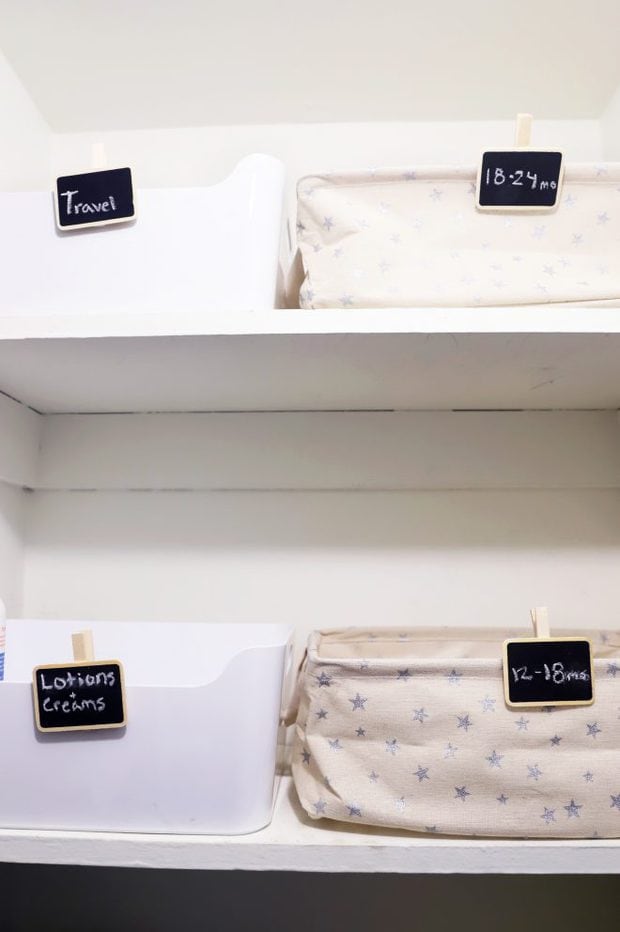 For the dresser, I just used a set of drawer organizers! I'm sure some of you will ask so here's how I organized things within the dresser:
Top Drawer – diapers, wipes, lotions, tethers, pacifiers, diaper cream, healthcare kit, nail kit
Middle Drawer – clothes including pjs, onesies, leggings, socks, and hats
Bottom Drawer – swaddles, blankets, burp cloths, sheets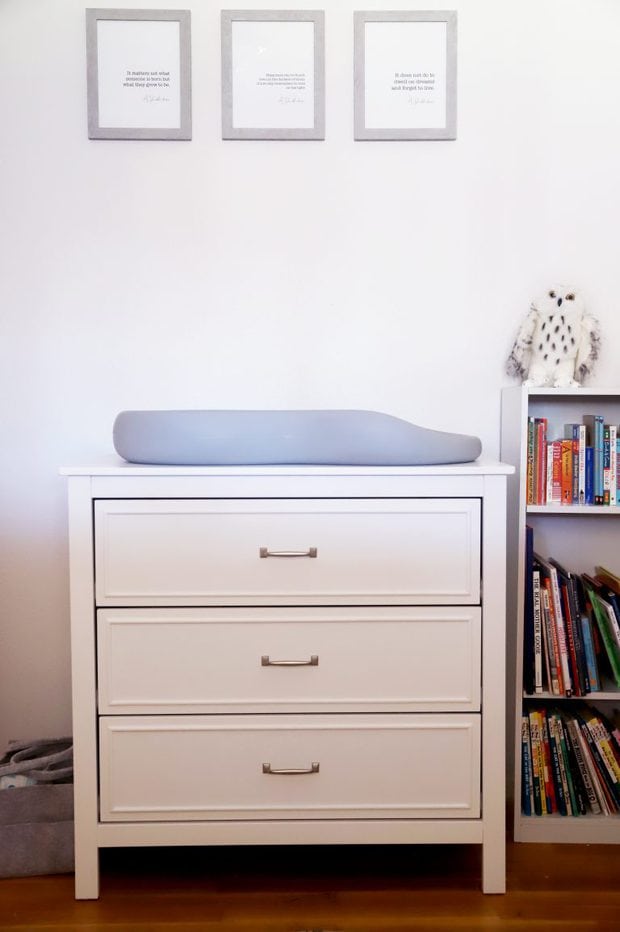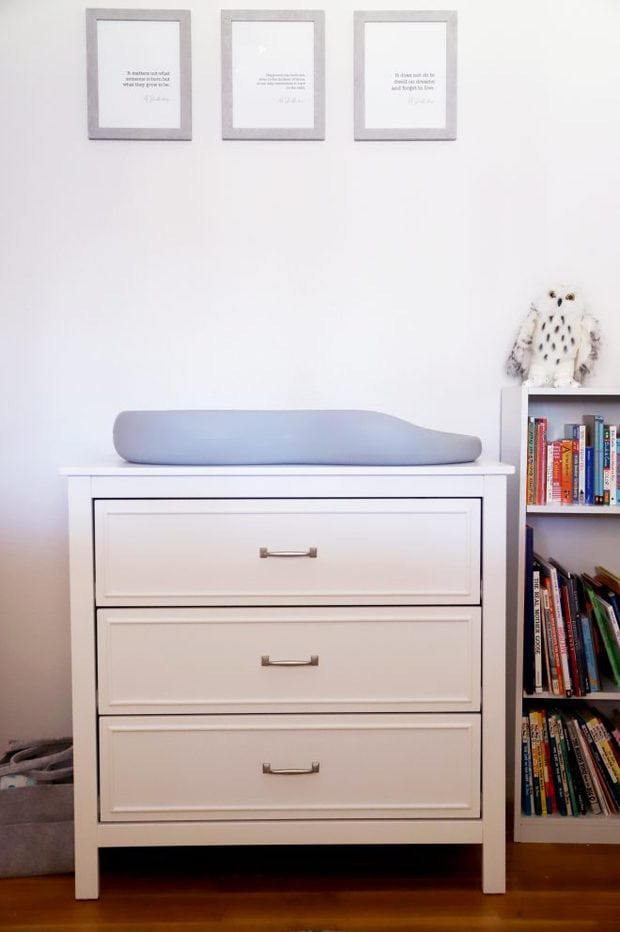 Nursery Essentials
The most important thing every mom I spoke to said was a really good chair. While there are a ton of beautiful gliders and rockers out there, comfort is key and that's why we invested in the La-Z-Boy Jasper Power Rocking Recliner. Worth. Every. Penny. I've already logged hours in it with the big blanket I talk about in my third trimester must-haves, because it's the most comfortable seat in the house, lol. I know we will be even more grateful for it when Baby is here!
To the side of the chair, I have a little side table for somewhere to set a drink or snack.
The humidifier you see came highly recommended and I like that they have a couple different colors so it doesn't stick out like a sore thumb with your decor.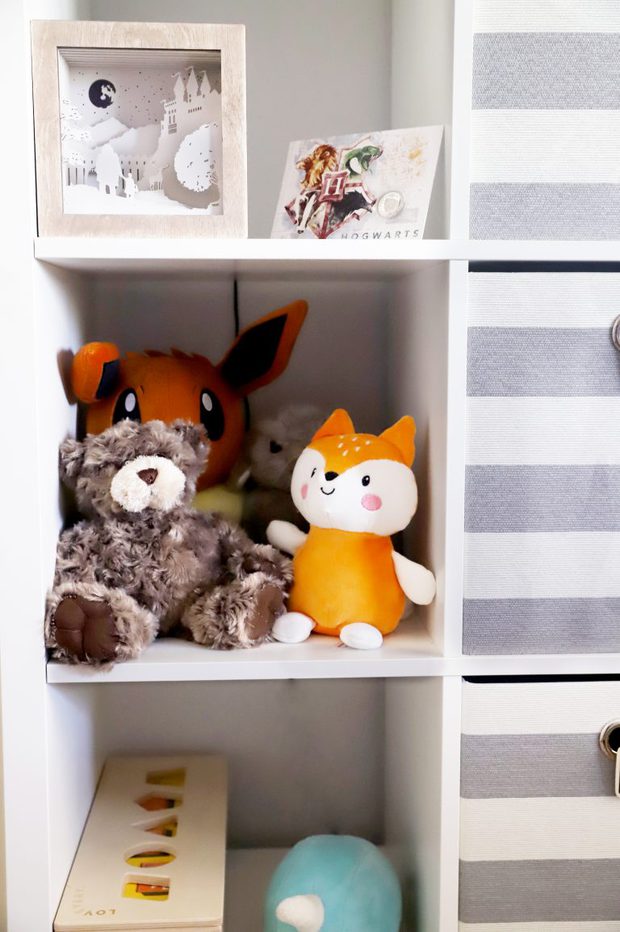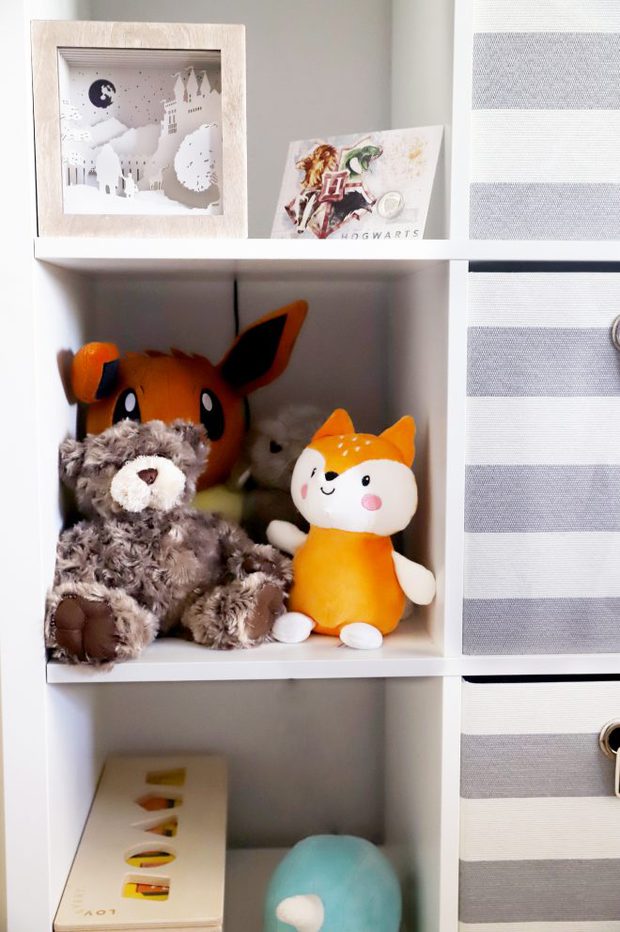 Our changing table is the Keekaroo peanut changer! So many friends recommended it, and I LOVE that it doesn't have fabric to constantly clean. MUCH easier!
This is the crib I chose – I wanted simple white with a little bit of a funky shape. I love the curved ends! Also, if you need a crib mattress, most reviews put this one at the top of the list.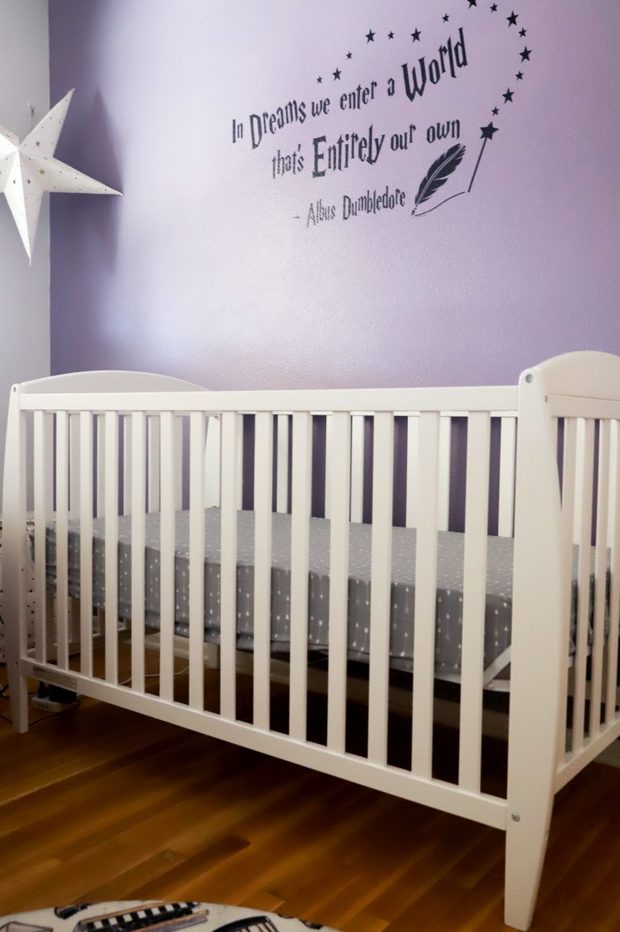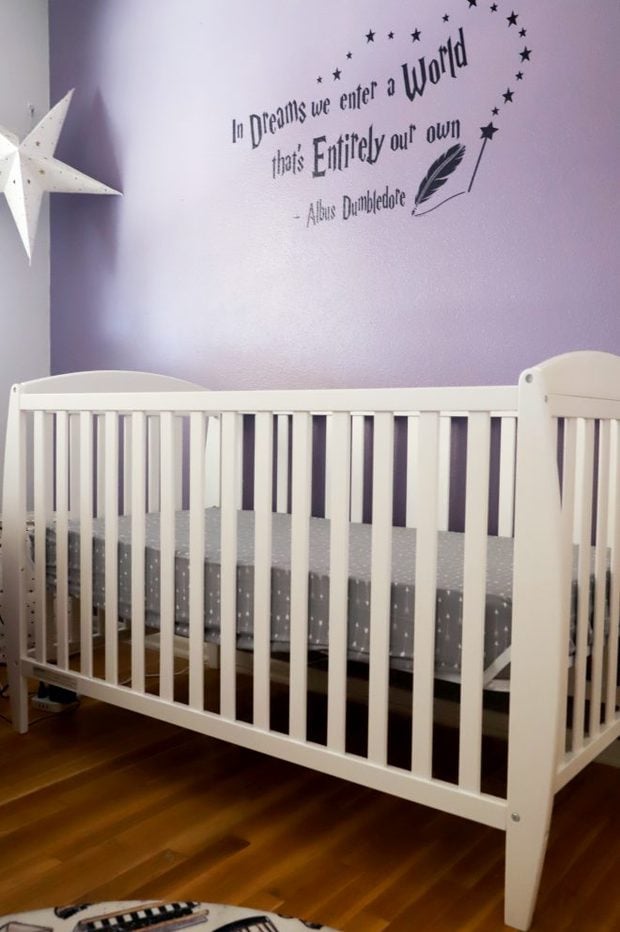 That's the tour!
Now it's all about counting the weeks until this little guy gets on out! 6 weeks feels like a really long time… At least tomorrow is Thanksgiving and I can stuff my face with all the foods I want!