Please note this post contains affiliate links.
Spooky Halloween Meringue Swirls are a tasty dessert that gets everyone in the spirit of the creepy holiday! They are easy-to-make and perfectly sweet, with just the right chew inside each petite swirl.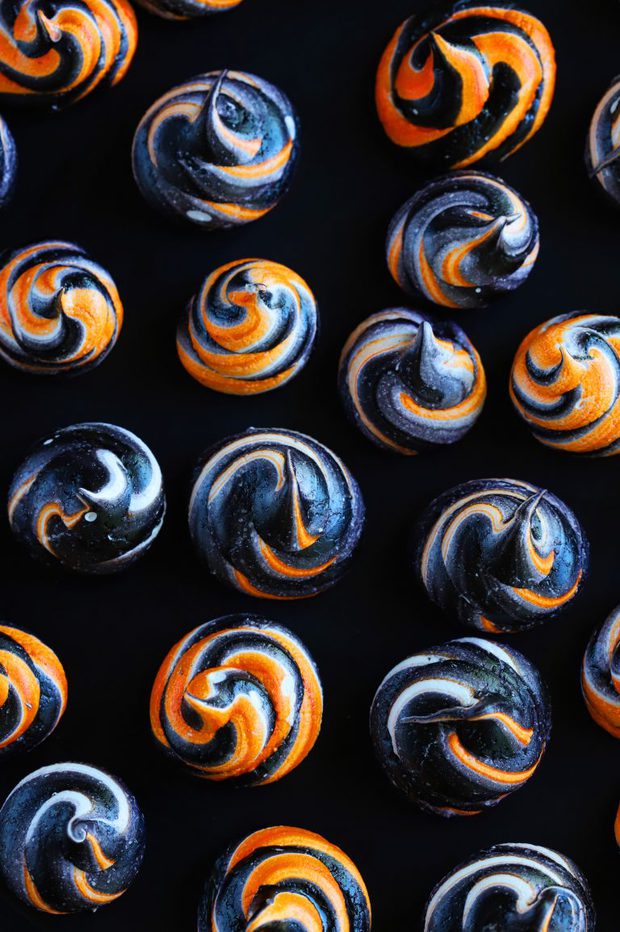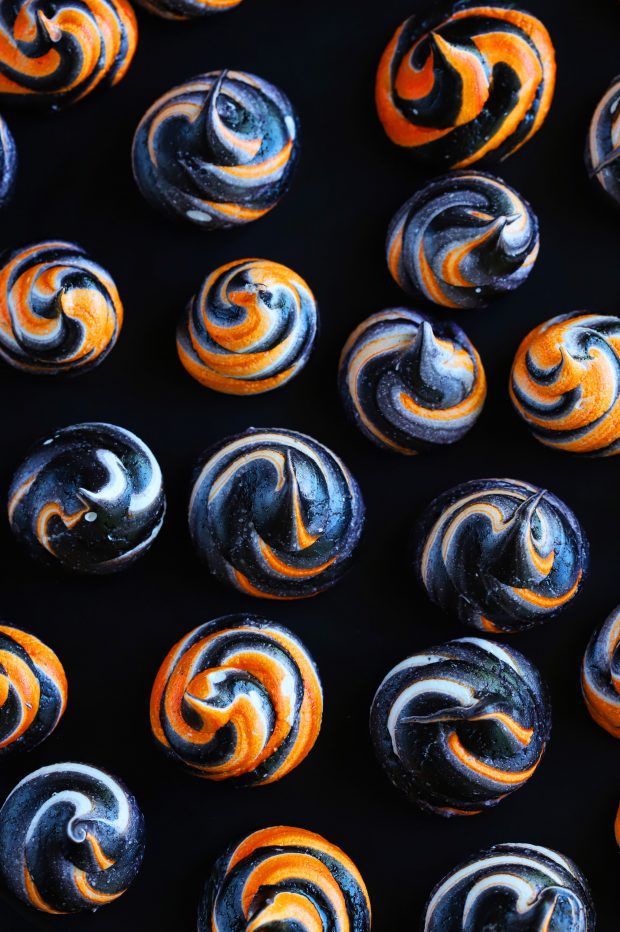 I DID A CRAFTY THING!!
The last time I did a crafty thing for Halloween was last year when I made peanut butter spiderweb cookies.
It was honestly one of the first times I've really attempted something crafty in the kitchen, and it was definitely one of the only times it turned out looking awesome (if I do say so myself).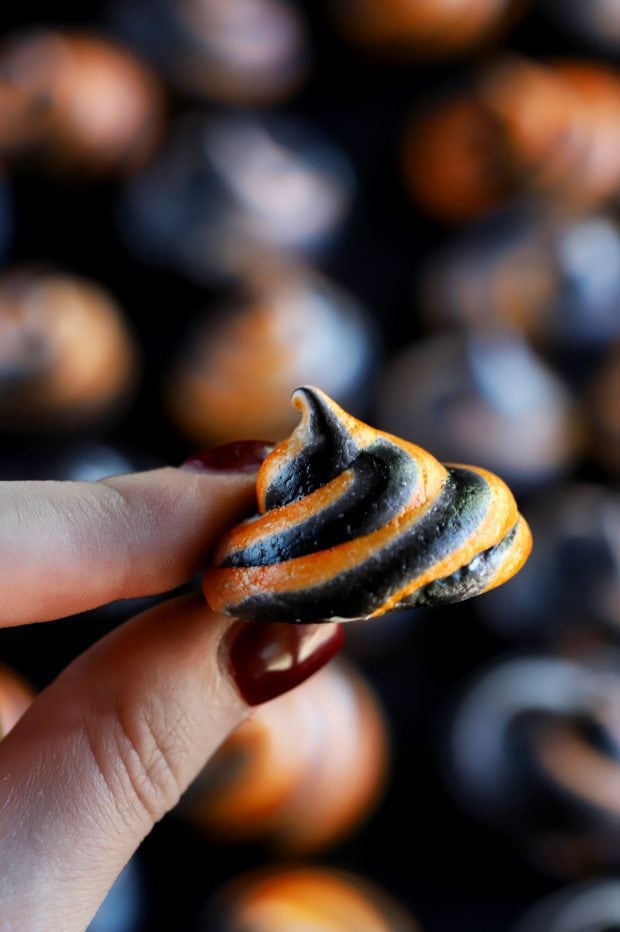 This year, I thought I would continue the craftiness surrounding Halloween with another stupid simple recipe.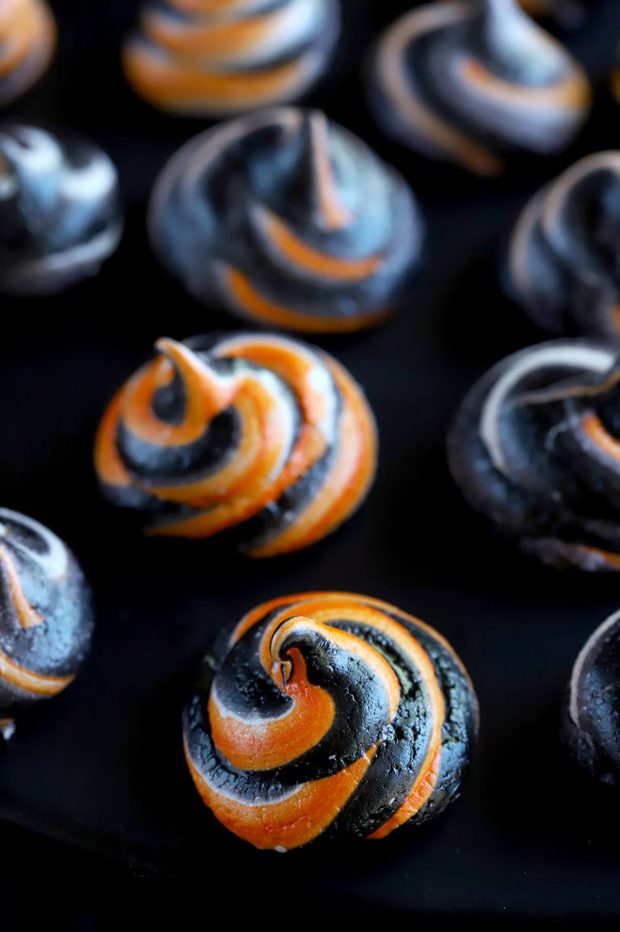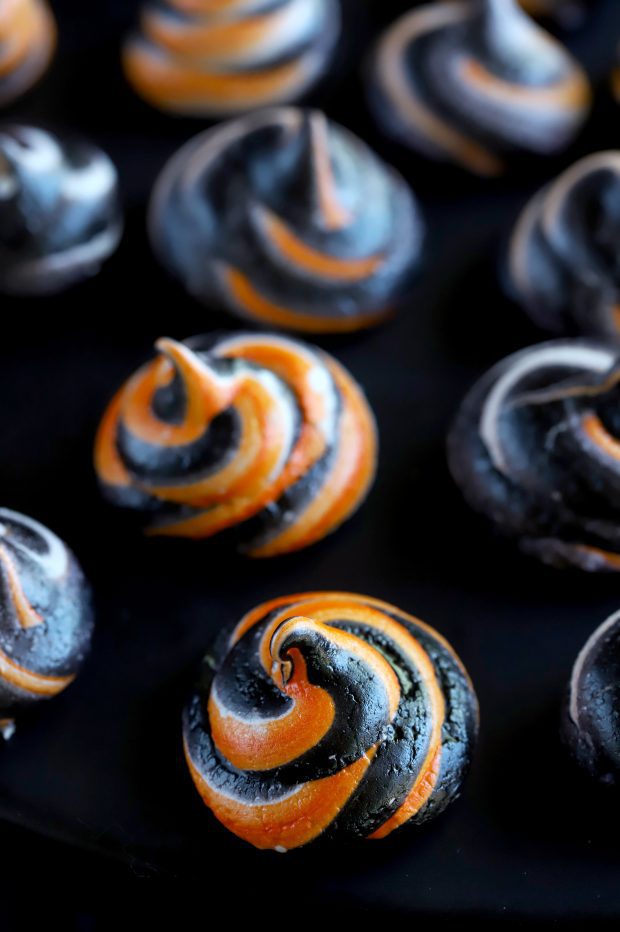 TA-DA!!!
Aren't these black and orange meringue swirls so much fun?!?
I am in love with how these turned out. One thing I never knew is how well meringue holds its color! That is, until I tried this recipe and I am so glad that I did! I thought there was going to be some sort of magic trick to get it to stay bright and vivid, but there's not.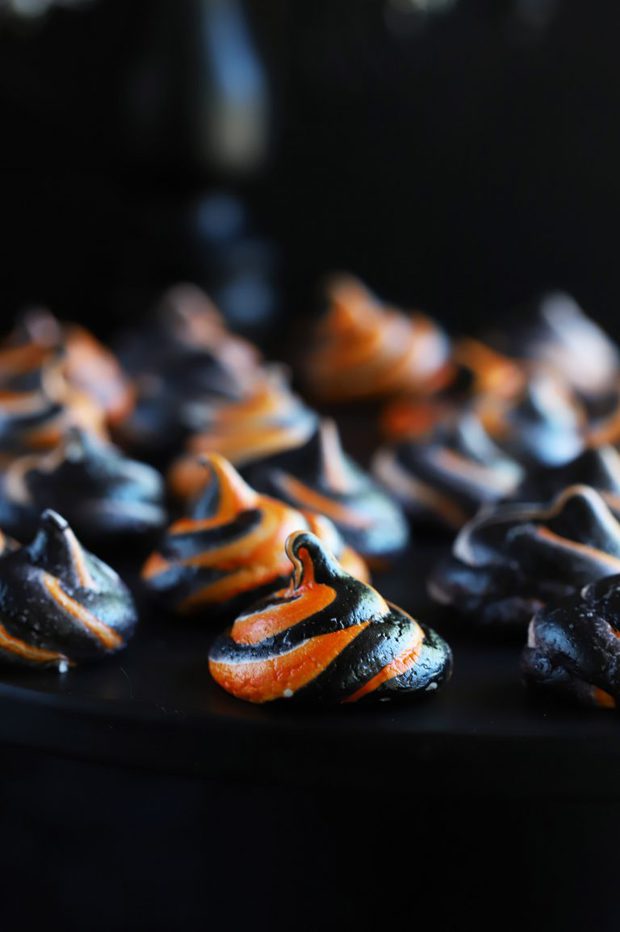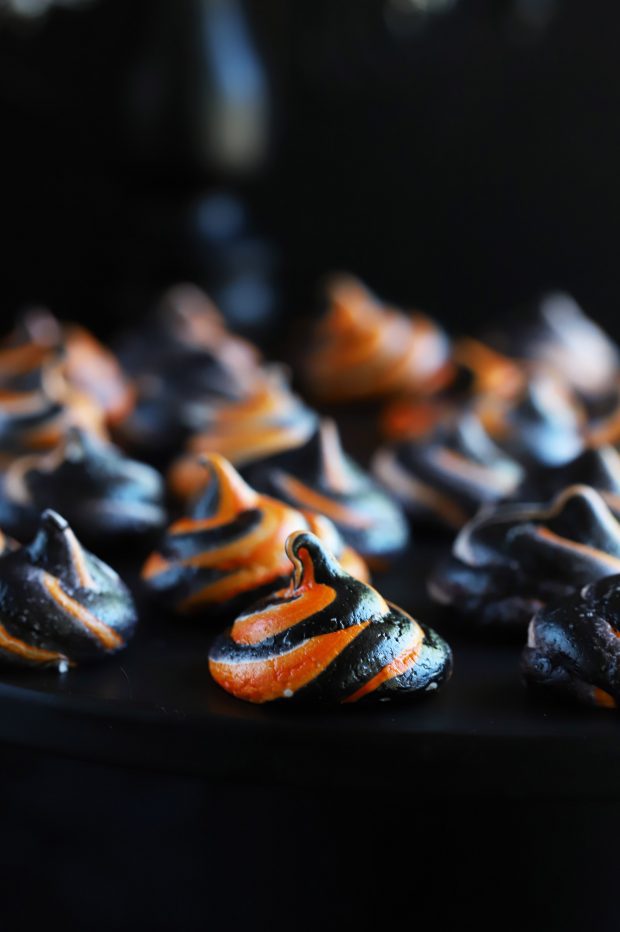 All you need is some gel food coloring in orange and black to make these swirls come to life.
Honestly, I think this might have to be a holiday tradition that I pull out year round for any event. Christmas? Use green and red. Hannukah? Use some blue and gold. New Year's Eve? Black and gold or black and silver, obviously. The list can go on and on and on.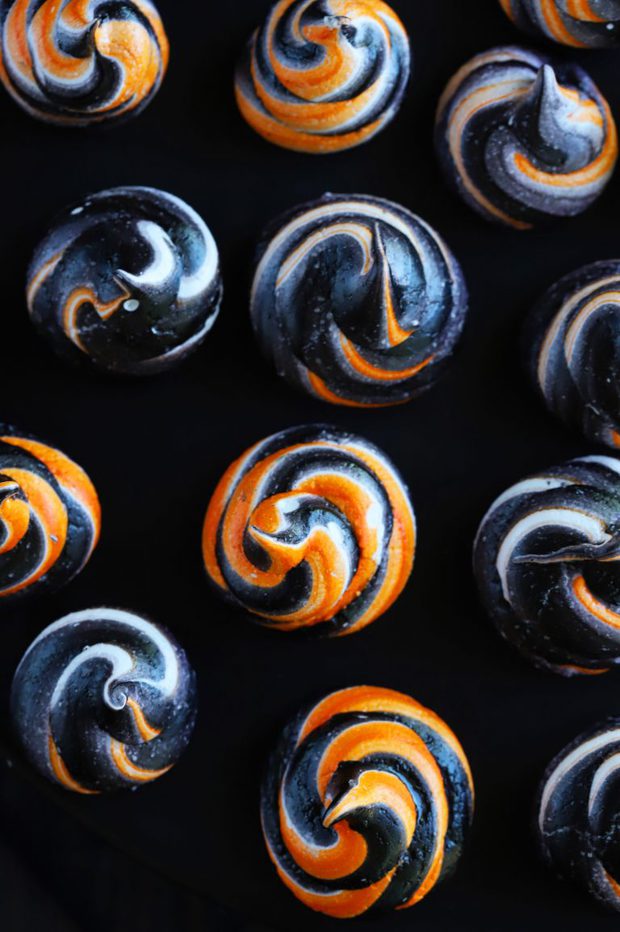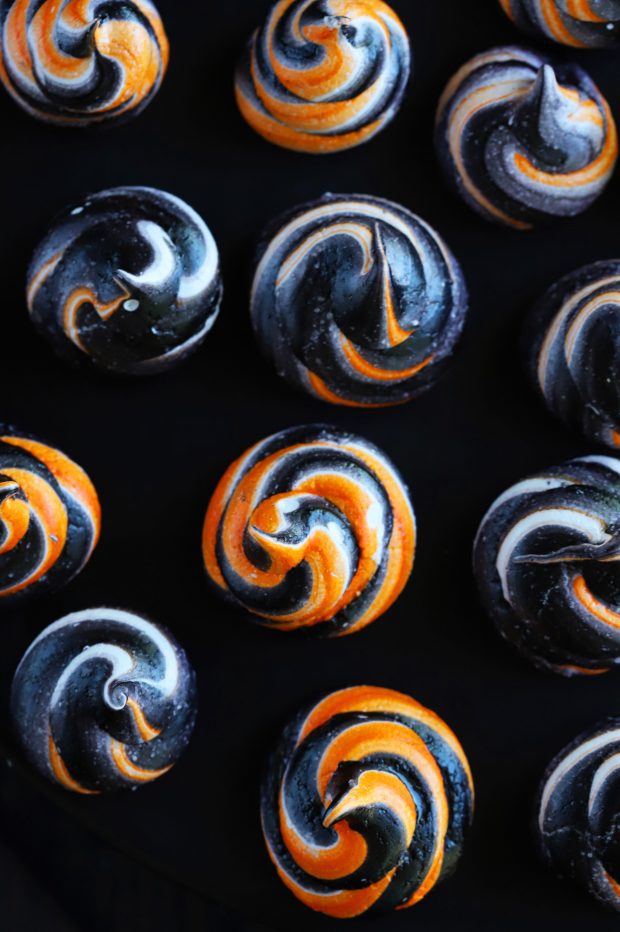 I know that meringue can be a little intimidating, but if you just follow the short recipe and bake it low and slow, they will come out perfectly every single time.
Meringue was one of those things that I always associated with my grandmother, who LOVED pavlova.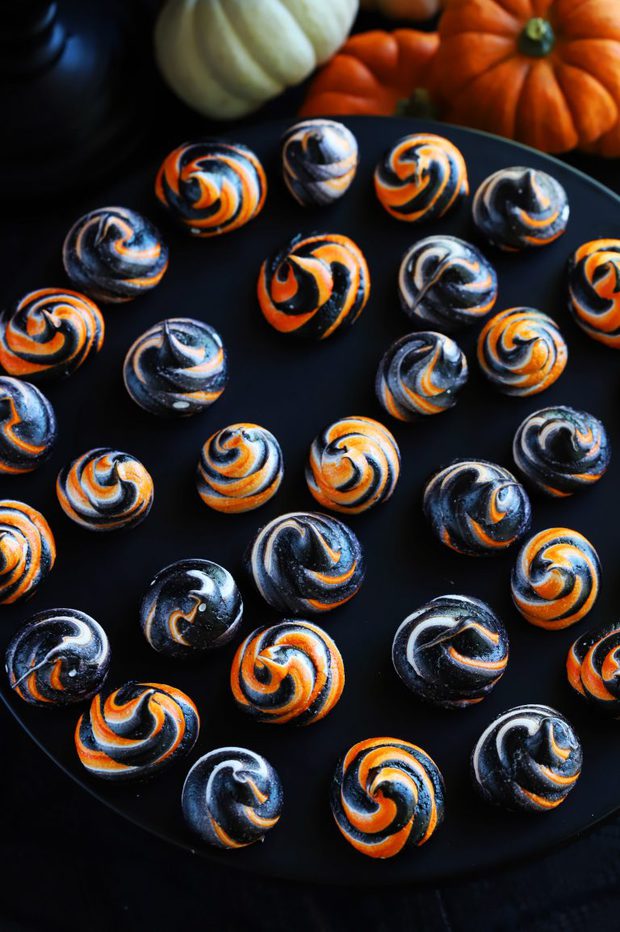 She would go giddy for it, and even though I never got a chance to make little meringues with her, I made meringue for pavlova with her and it was always a blast. I would of course just want to lick all the raw meringue off the beater, and she of course would tell me not to because, you know, health issues and such.
I still snuck my licks in and I never had a problem 😉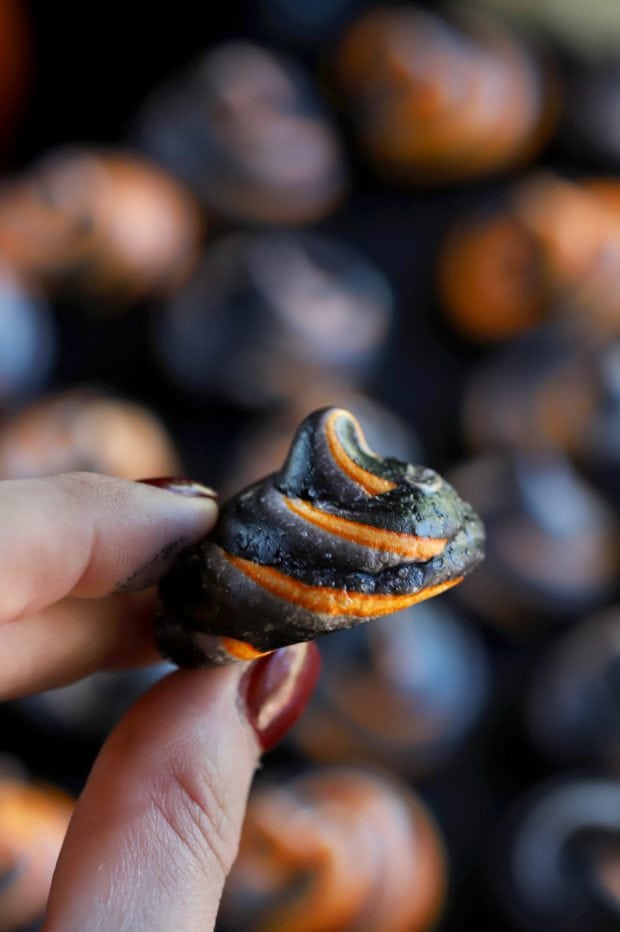 These meringue swirls are a delightfully easy treat to bring to Halloween parties, or to whip out at the last minute to finish up the night of greeting trick-or-treaters on the right foot.
Plus it's a recipe that the whole family can get in on helping you make! Just be careful with the black food coloring… It tends to stick around on your hands.
Not that I know from personal experience or anything… LOL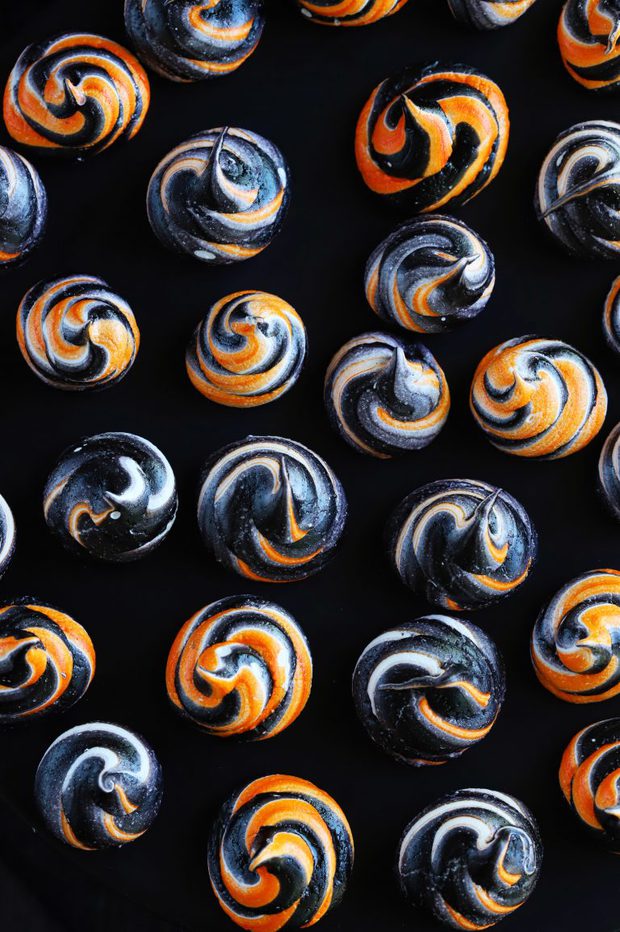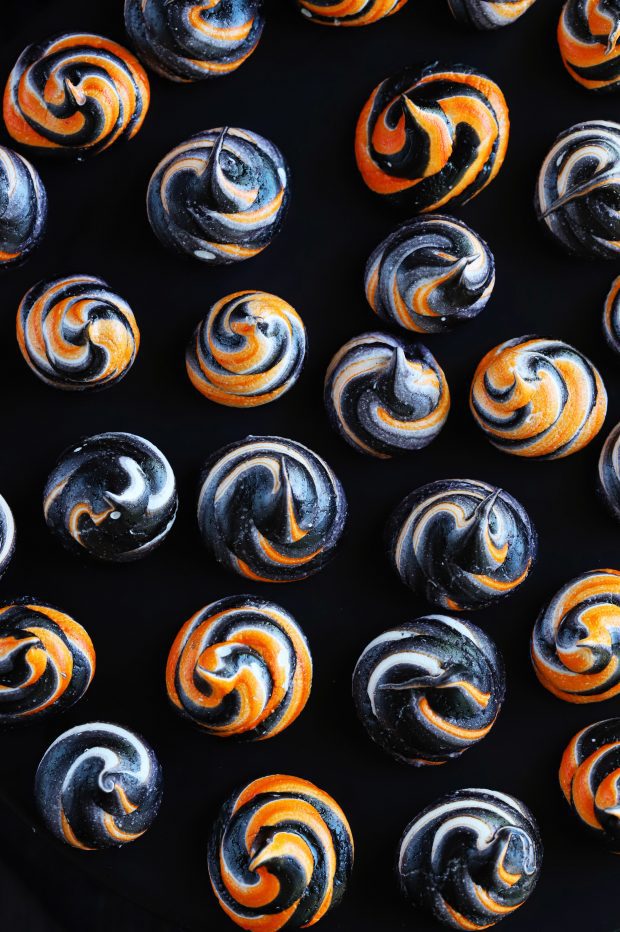 This Recipe's Must-Haves
To make these perfect swirls, you'll need a set of disposable decorating bags! Don't worry about a frosting tip or anything though, you just need the bags to make it happen.
I LOVE my kitchen shears
for my kitchen utensil jar. They are extra sharp and come in handy every single day.
For the orange and black gel food coloring, you can get them both (and more!) in this gel food coloring kit
. I used a paintbrush to paint the sides of the piping bags to get the color swirl, just FYI.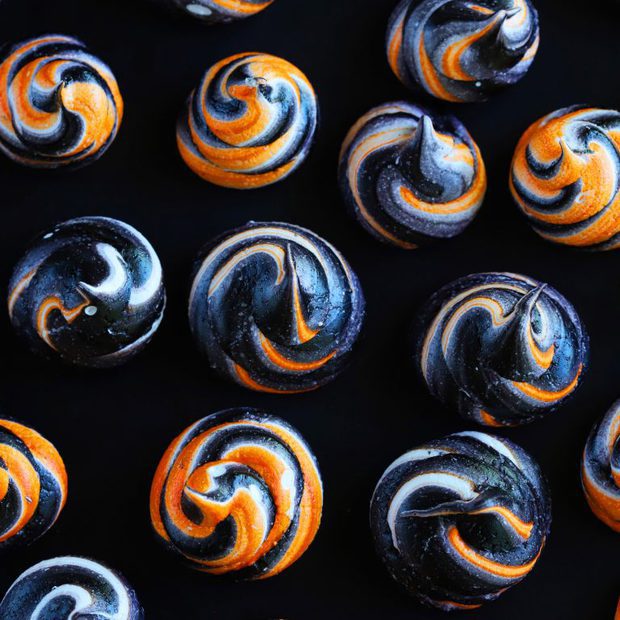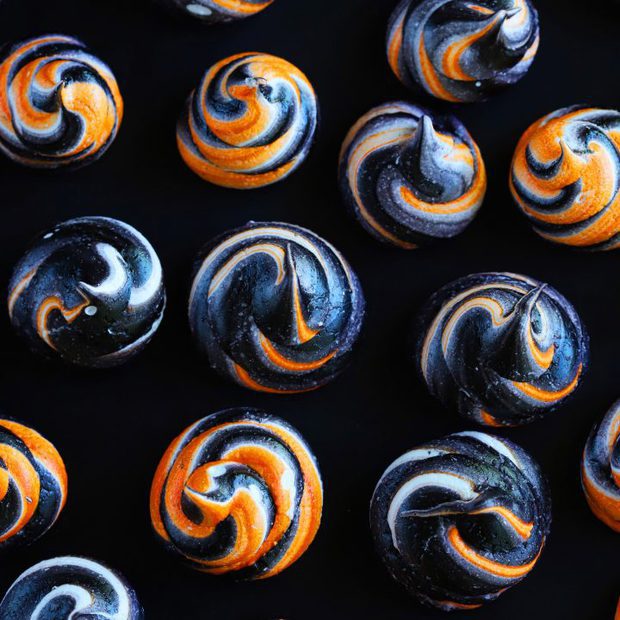 Spooky Halloween Meringue Swirls
Yield:
Makes 3 to 4 dozen
Total Time:
1 hour
15 minutes
Colorful swirled meringues are hard on the outside, but nice and chewy on the instead. They are an easy, fun, and festive Halloween treat!
Ingredients
3 large egg whites
1/2 teaspoon cream of tartar
3/4 cup sugar
2 tsp orange gel food coloring
2 tsp black gel food coloring
Instructions
Preheat oven to 200 degrees F. Line two baking sheets with parchment paper. Set aside.
Add egg whites and cream of tartar to the bowl of a stand mixer fitted with the whisk attachment. Beat on medium speed until frothy.
Beat in sugar and increase mixer speed to high. Beat until stiff peaks form, about 5 minutes.
Add a pastry bag to the inside of a pint glass and fold edges over the rim of the glass, with the tip hanging down into the glass.
One two sides of inside of the pastry bag, paint thick lines of orange gel food coloring across from each other. Repeat this on the other two sides with the black gel food coloring.
Transfer egg white mixture to the pastry bag. Twist off the top of the bag and cut the tip off to leave a 1/2-inch opening. Pipe an amount onto a paper towel until you see the color start to come through.
Pipe small 1-inch swirls on the prepared baking sheets. Note that these won't spread much so you can space them pretty closely together.
Bake for 1 hour in the center of the oven until the outsides are dry. Transfer to cooling rack to cool completely. Serve.


Notes
If you are not serving them right away, be sure to carefully store them in airtight containers.
Recommended Products
As an Amazon Associate and member of other affiliate programs, I earn from qualifying purchases.