Roasted Potatoes with Pancetta and Fresh Herbs
I think I have stumbled upon the best roasted potatoes EVER.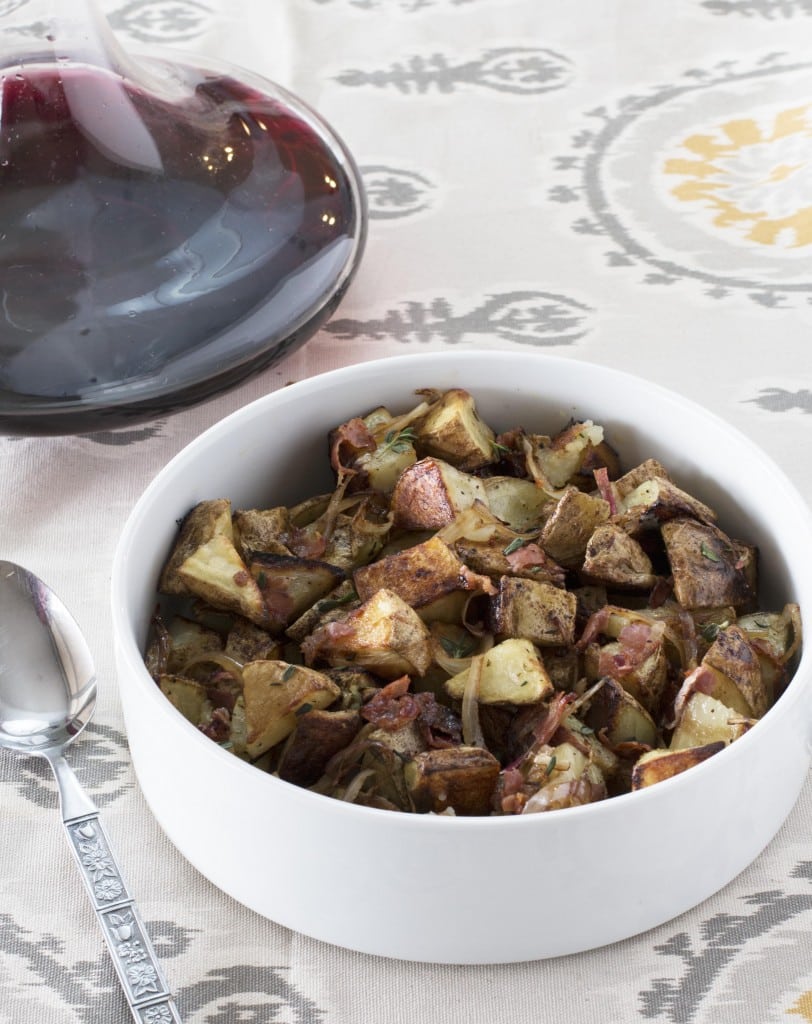 The first thing I said after one bite was "OMG this is how I am making potatoes from now until I die." Seriously, they are just so unbelievably delicious. The crispy pancetta, shallots cooked in pancetta fat (OH YEA), and fresh herbs just keep you going back for bite after bite after bite. 
Photographing these potatoes was near impossible. I almost couldn't help myself from stuffing my face with the entire bowl and being left with no photos at all!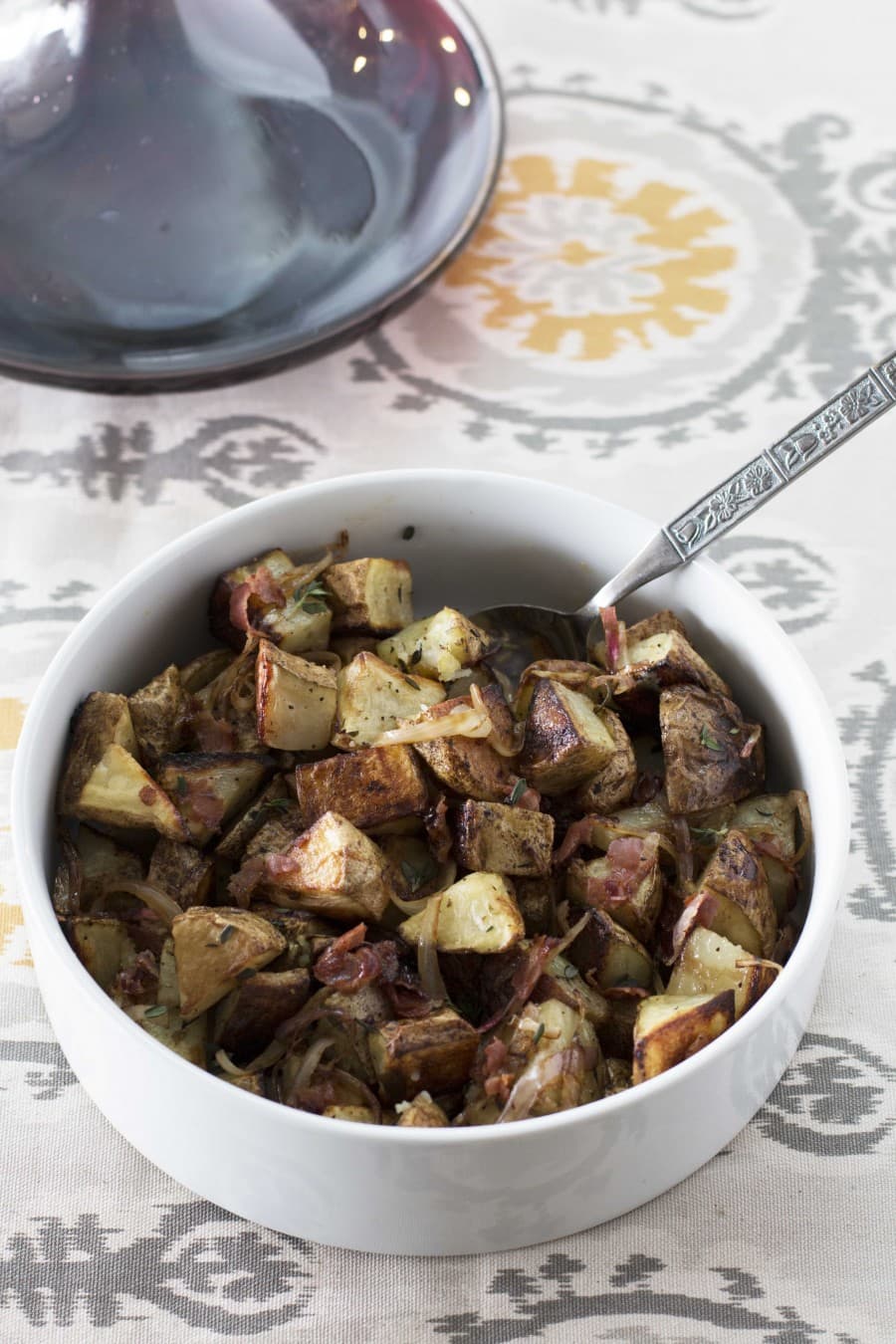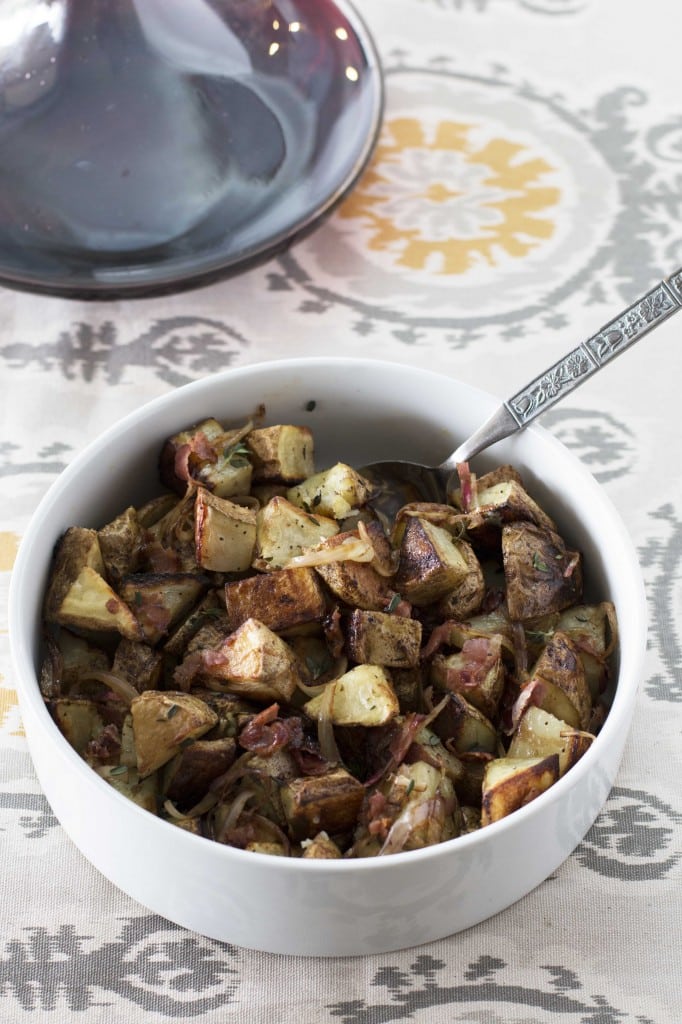 Thank goodness I have some self-restraint… Just a little… And now my tummy is growling just thinking about them…
To completely change the subject, I have attempted to take up running again. Boy oh boy are my knees not happy with me. Does anyone else run and notice a crazy increase in their appetite? I feel like I am starving half the time, and it's not like I am on some drastic diet. What the heck is happening to me??
*rant over*
Sorry I just had to get that out. Maybe it's just the lingering memory of these potatoes that is making me voracious at this particular moment…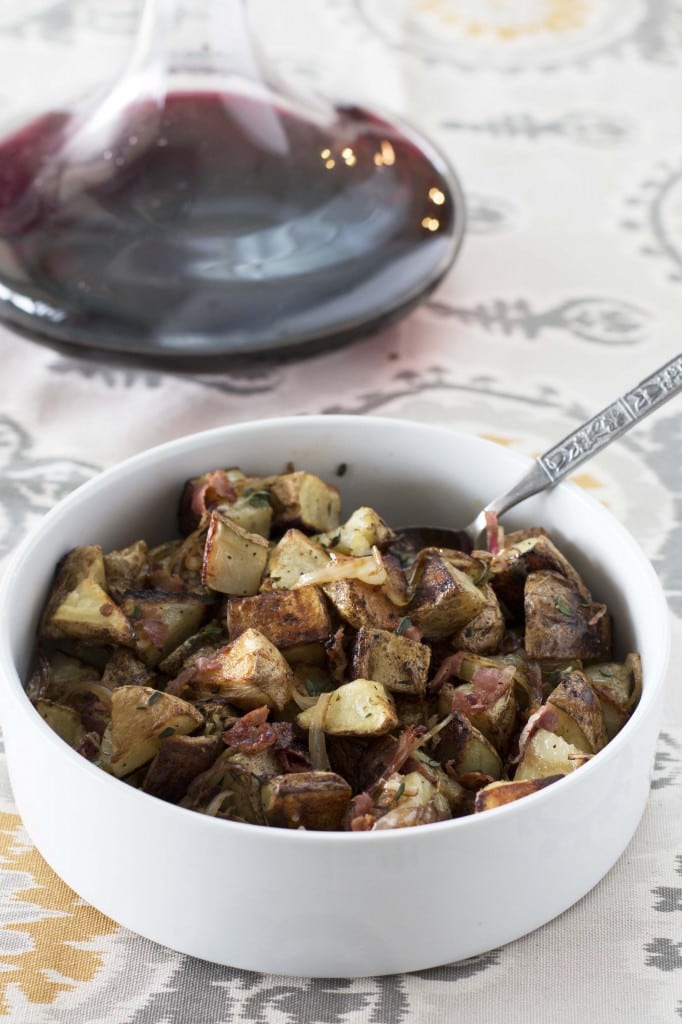 All you need to know is, if you are ever planning to come over and request roasted potatoes, this is how I am making them from now until FOREVER. I mean can you even imagine how wonderful it would be to sit down to a steak and these potatoes??
GAH, I can't even handle it. All I can say is just, YUM.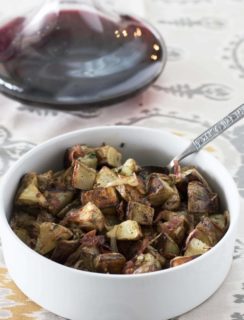 Roasted Potatoes with Pancetta and Fresh Herbs
Yield: Serves 4 to 6
Prep Time: 5 minutes
Cook Time: 45 minutes
Total Time: 50 minutes
The BEST roasted potatoes you will ever make. Win your guests over every time with these!
Ingredients:
3 russet potatoes, scrubbed and cubed
2 sprigs rosemary
3 sprigs thyme
1 Tbsp fresh oregano leaves
1/4 cup olive oil
1 Tbsp balsamic
1 tsp salt
1 tsp pepper
6-7 round slices of pancetta
1 shallot, sliced into thin strips
Directions:
Preheat the oven to 400 degrees.
Add cubed potatoes to a large bowl and add the oregano, olive oil, balsamic vinegar, salt, and pepper. Stir the potatoes in the bowl (best to do this with your hands) so all the potatoes are evenly coated with the olive oil/balsamic and herbs. Spread the potatoes out in an even layer on a rimmed baking sheet which has been lined with a silpat or sprayed with cooking spray. Add the sprigs of rosemary and thyme to the potatoes and back for 15 minutes. Remove from the oven, stir the mixture, and return to the oven to cook for an additional 20 minutes, or until fork tender.
While the potatoes are cooking, cook the pancetta in a large sauté pan over medium-high heat. Cook until crisp and remove to a plate lined with paper towel to drain. Add the shallots to the large sauté pan with the pancetta fat and cook over medium heat until golden brown. Remove from heat and set aside.
Once the pancetta is cool enough, crumble into small pieces with your hands.
When the potatoes are cooked through, remove from the oven and remove the springs of rosemary and thyme. Add potatoes to a large serving bowl and stir in the cooked shallots and crispy pancetta. Season with additional salt and pepper to taste. Serve warm.