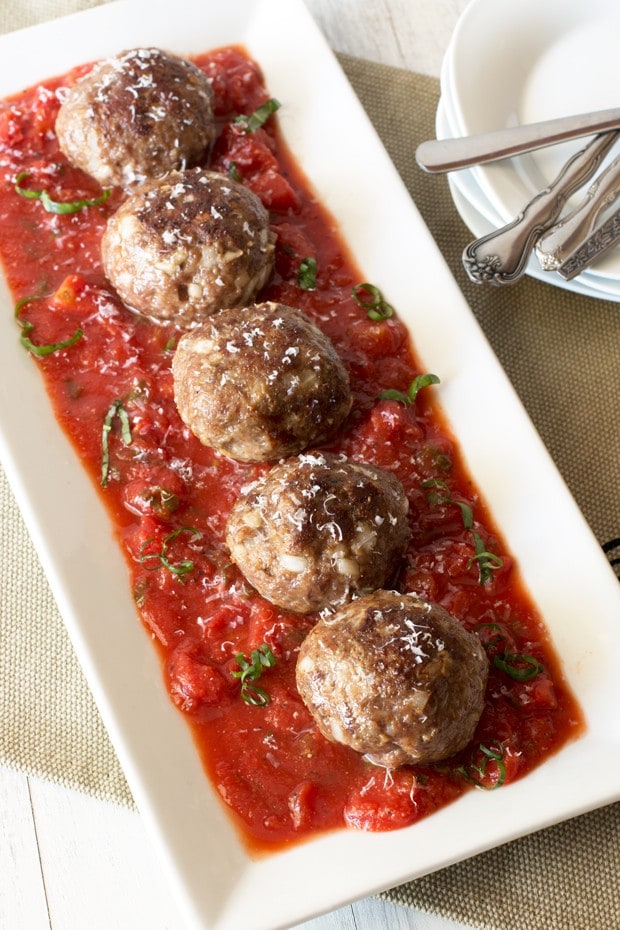 Let's talk about melt-in-your-mouth goodness, shall we? Because that's exactly what these three cheese stuffed meatballs are. Beautiful, cheese-stuffed, melt-in-your-mouth gotta-have-them meatballs.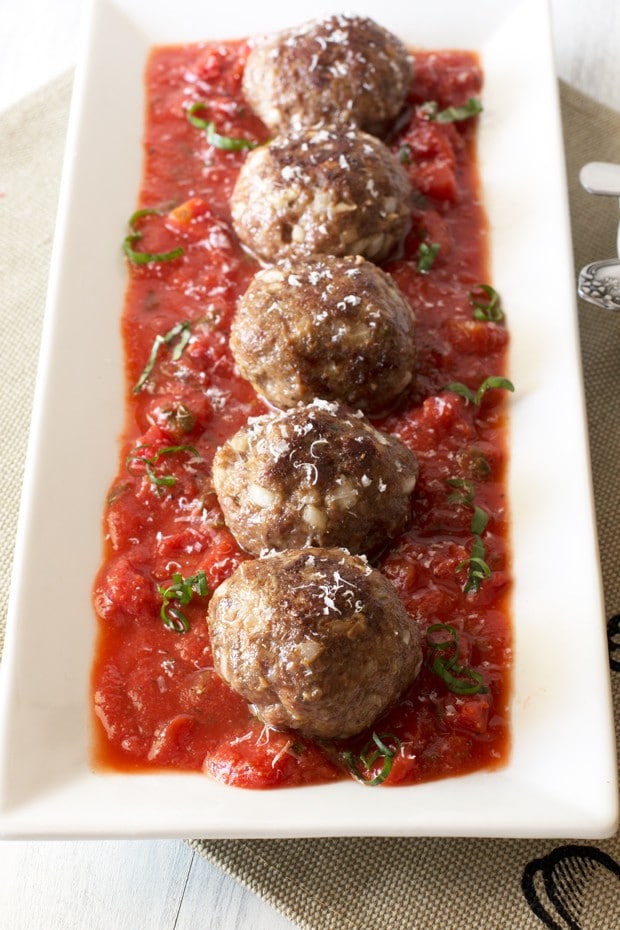 All I can say is that I am back in the saddle again with being in the kitchen and after making these gorgeous things, I seriously couldn't feel better! I might be jetting off on another short trip today, but knowing that I can come home and make more of these will keep me warm the whole time.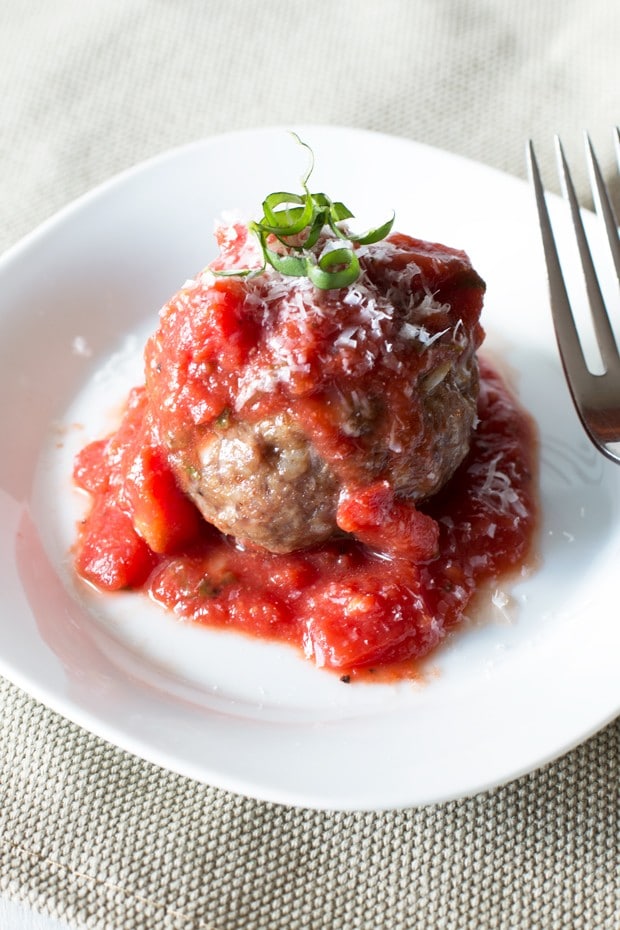 When you make these, don't skip browning the meatballs before you bake them the rest of the way through. The browning step locks in all those flavors and gives you the added bonus of a little bit of crunchy texture on the outside. It makes the meatballs taste ten times as good, so no shortcuts!
Dig your fork in and watch all that gooey cheese begin to bubble out, like a fountain of liquid gold…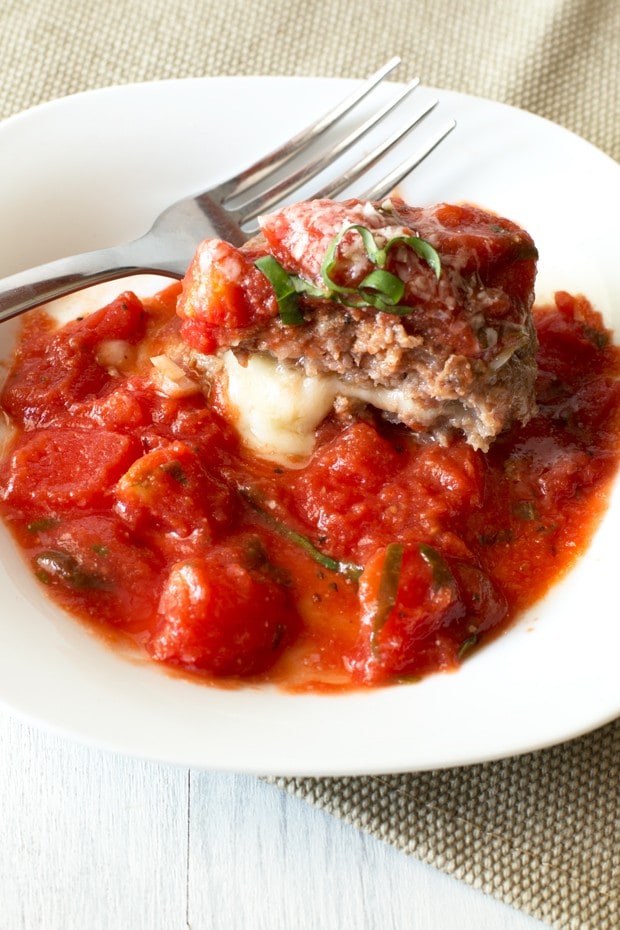 These can be served individually as appetizers with extra sauce and fresh herbs, or add a few to a pile of spaghetti for an over-the-top spaghetti and meatballs meal. However you eat them, just make sure it's immediately after they come out of the oven so you get the satisfaction of three oozing cheeses. 🙂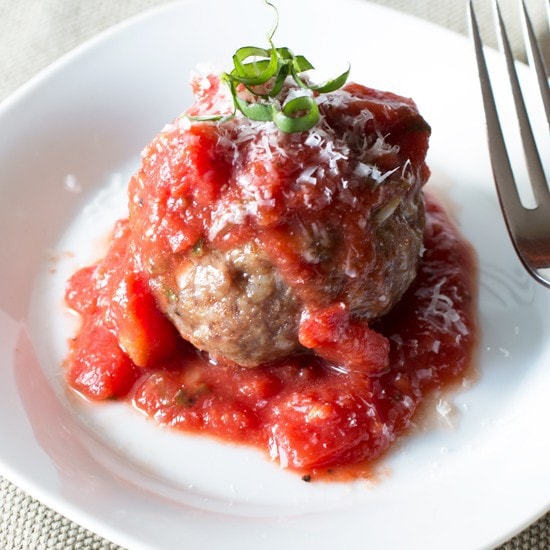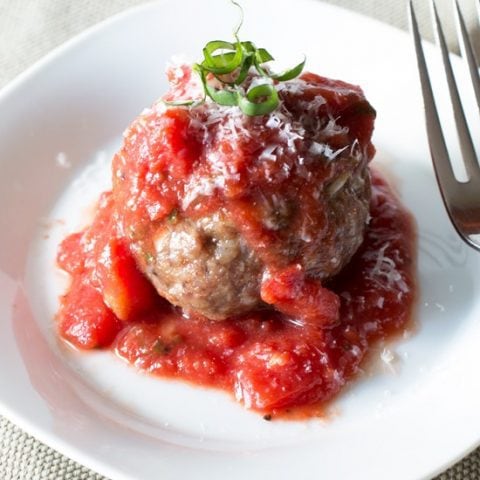 Three Cheese Stuffed Meatballs with Tomato Basil Sauce
Yield:
15 large meatballs
Luscious and rich meatballs stuffed with three different gooey cheeses and topped with a quick tomato basil sauce, fresh herbs and more cheese.
Ingredients
Meatballs
1 lb ground beef
1 lb ground pork
2 tsp dried oregano leaves
1/4 white onion, chopped
2/3 cup breadcrumbs
2 eggs
1 tsp salt
1/2 tsp pepper
1/3 cup freshly grated parmesan
1 cup shredded provolone
1 cup shredded mozzarella
Sauce
1 14oz can diced tomatoes
1 8oz can tomato puree or 8oz of your favorite marinara sauce
1 Tbsp fresh chopped basil
1 tsp fresh chopped oregano
1 tsp garlic powder
1/2 tsp salt
1/2 tsp pepper
Instructions
Preheat the oven to 375 degrees. Line a large baking dish with foil and grease with cooking spray.
In a large bowl, combine ground beef, ground pork, oregano, onion, breadcrumbs, eggs, salt and pepper. Bring the mixture together with your hands until well-combined.
In a small bowl, stir together the parmesan, provolone and mozzarella cheeses. Use your hand to press together 1 Tbsp of the cheeses into a small ball. Repeat with the remaining cheese until you have 15 small cheese balls.
Form a large ball with the meat mixture and flatten it into a disk in your hand. Place one small ball of cheese in the center and wrap the meat around it, making sure to tightly seal in the cheese. Place seam side down in the baking dish. Repeat with the remaining meat and cheese balls.
In a large skillet, heat 1 Tbsp olive oil. Sear the meatballs on all sides, then place back into the lined baking dish.
Bake for 15 to 20 minutes, until the meatballs are cooked through.
While the meatballs are baking, combine all ingredients for the sauce in a medium sauce pan. Bring the mixture to a simmer and cook until the meatballs are done.
Serve meatballs with sauce and extra fresh basil and grated parmesan cheese. You may also serve the meatballs with pasta if you wish.