Who doesn't love peanut butter and jelly?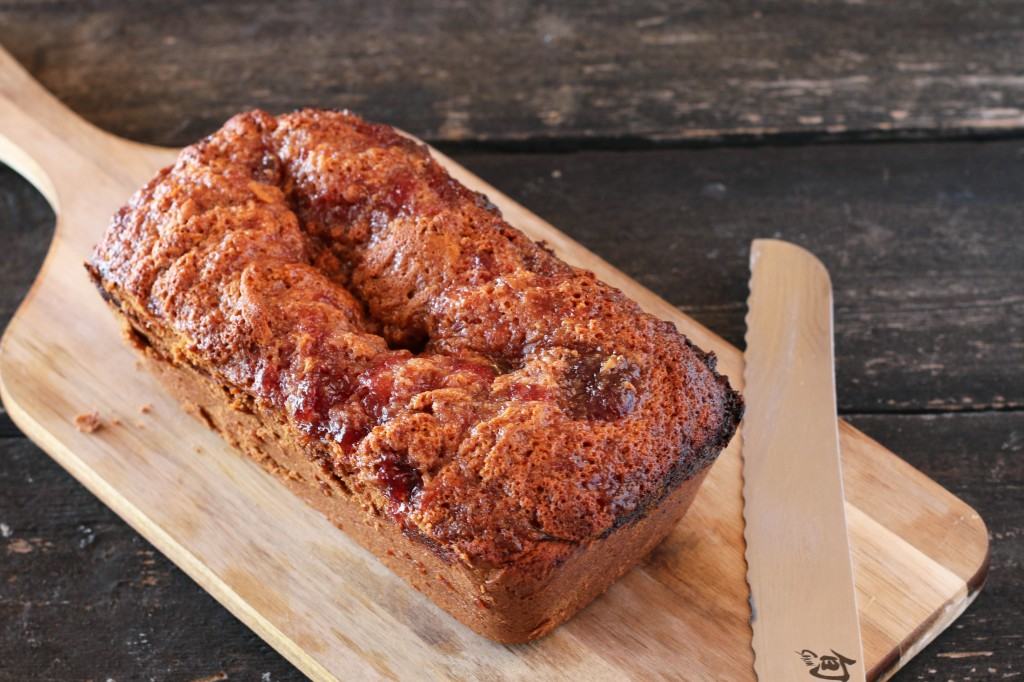 No matter who you are, at some point in your childhood, you probably had a peanut butter and jelly sandwich. Like mac & cheese, it's one of those staples that reminds me of being a kid. I think PB&J sandwiches were the first thing I ever learned to make all by myself!
This PB&J bread really is the best way to start the day – or to snack on whenever you are hungry, which if you are anything like me, seems to be all the time… But seriously, it's just so moist and just dense enough to be fantastically filling but not too over-indulgent. This bread is a new favorite of mine, and the fact that it takes minimal effort to make means that it has become a staple in our home.
My laziness might be hitting an all-time high… The other day it took me well over an hour to get the energy to do the two dishes sitting in our sink. Dishes are probably my least favorite thing to do but usually I have no problem getting them done. Maybe it's the fact that spring has not officially sprung here in Denver… Or maybe I am getting too old and realizing how much I would rather sleep than do dishes…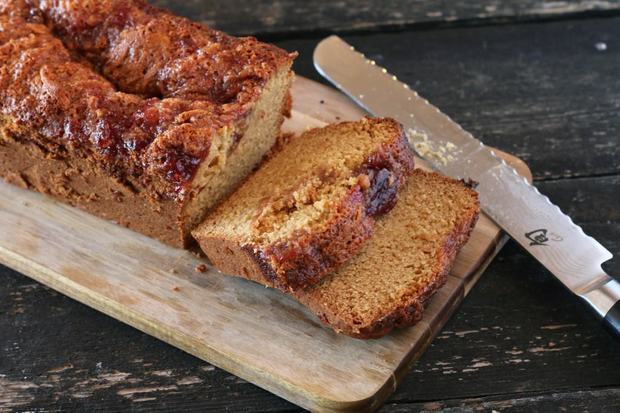 At least this bread is perfect for my laziness. You just mix everything together, pour it in a pan, and bake it. Just like that you're done.
I shall now make another loaf and continue my laziness by binge-watching the first seven seasons of 24. Don't you dare judge me… 😉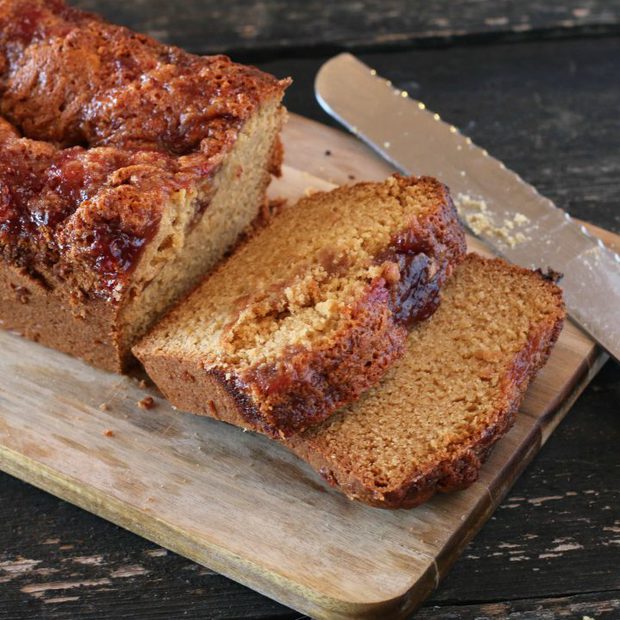 PB&J Bread
My favorite way to start the morning! A giant slice of this moist PB&J bread with a glass of milk will take you back to your favorite childhood memories.
Ingredients
2 cups all-purpose flour
1 1/2 tsp baking powder
1/2 tsp salt
1/2 cup sugar
1/2 cup brown sugar
1/4 cup vegetable oil
1 cup creamy peanut butter
1 egg
1 1/2 tsp vanilla extract
3/4 cup milk
1 cup strawberry jelly (you can also use grape or raspberry!)
Instructions
Preheat oven to 350 degrees. Spray a loaf pan with non-stick cooking spray.
Combine the all-purpose flour, baking powder, and salt in a medium bowl.
Beat the sugar, brown sugar, vegetable oil, and peanut butter in the bowl of a stand mixer until smooth. Add the egg and vanilla and mix until they are just incorporated.
Mix in half of the flour mixture, then add the milk and beat until combined. Add in the rest of the flour mixture and beat until the flour is incorporated. Pour the bread batter into the greased loaf pan.
Add drops of the jam to the top of the batter in the pan. Then take a knife and swirl the jelly on top (this will make a yummy jelly topping!). Bake in the oven for 50 minutes or until toothpick comes out clean.