Coconut Shrimp Curry
You know that point after the holidays are over where you realize just how much you ate and you dive deep into a hole of guilt and self-loathing?
Well you could say I am at the bottom of that hole desperately trying to claw my way back out.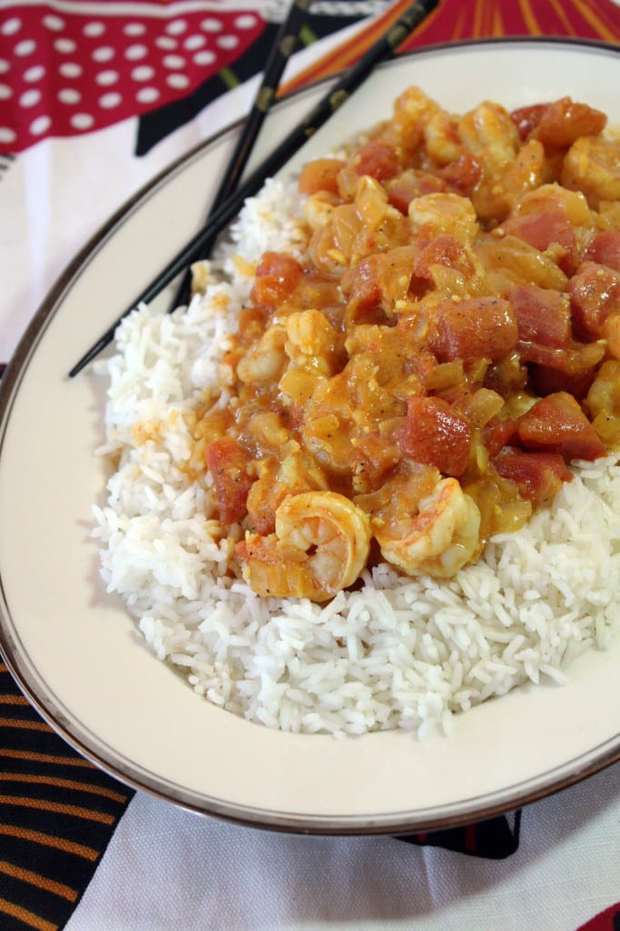 There comes a point when the thought of cookies, candy, and fried foods makes your stomach cringe. I am waaaaaaaay beyond that point right now. I always become unbelievably lazy during the holidays and I tend to stop cooking. Probably because I am so worn out from endless baking and cleaning, the thought of putting effort into the food I eat is more than I can handle.
I am paying for that laziness now.
I have never been more motivated to follow my resolutions of working out and cooking lighter, fresher food.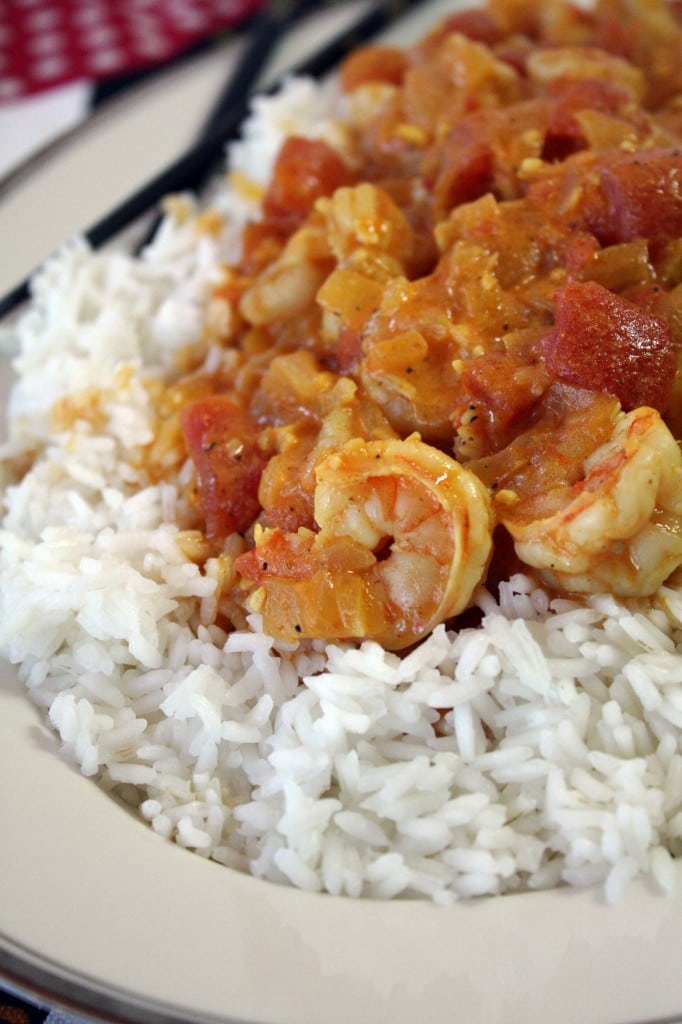 Bring on the shrimp. Light, crisp, beautiful shrimp in a ridiculously flavorful sauce that does NOT include butter or chocolate.
FINALLY. Fresh, GOOD food.
This is my first successful curry and I am attributing this new success to the coconut milk. I am pretty new to using coconut milk in my cooking and after using it in this curry, I am completely sold. I am going to have to start stocking my pantry with this stuff. Because who doesn't want to have the ability to randomly whip up an amazing curry when they feel like it? My thoughts exactly.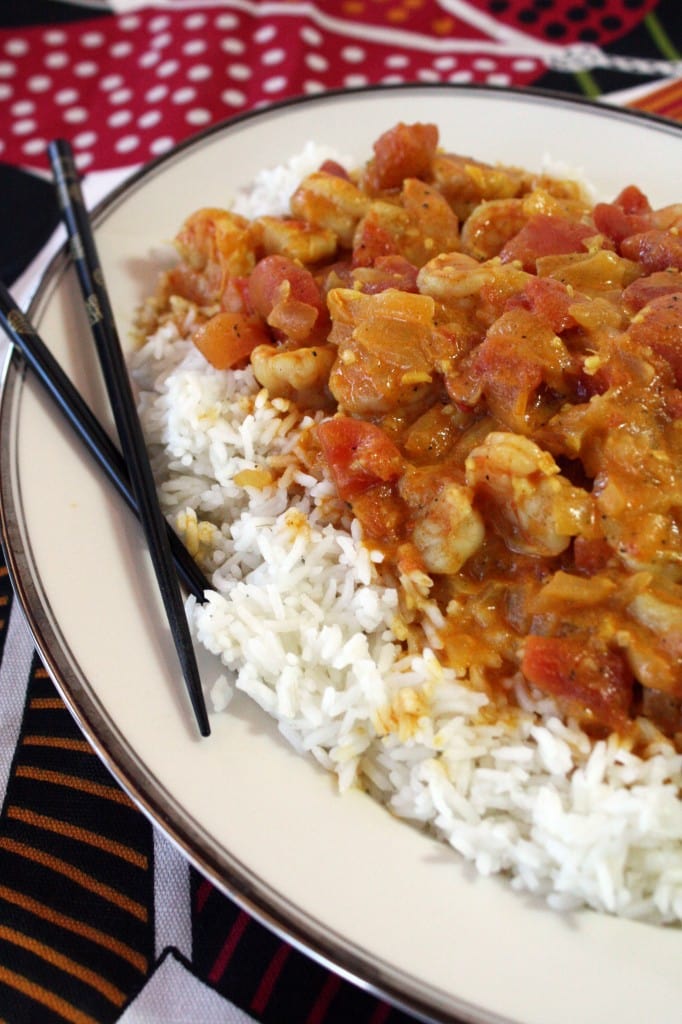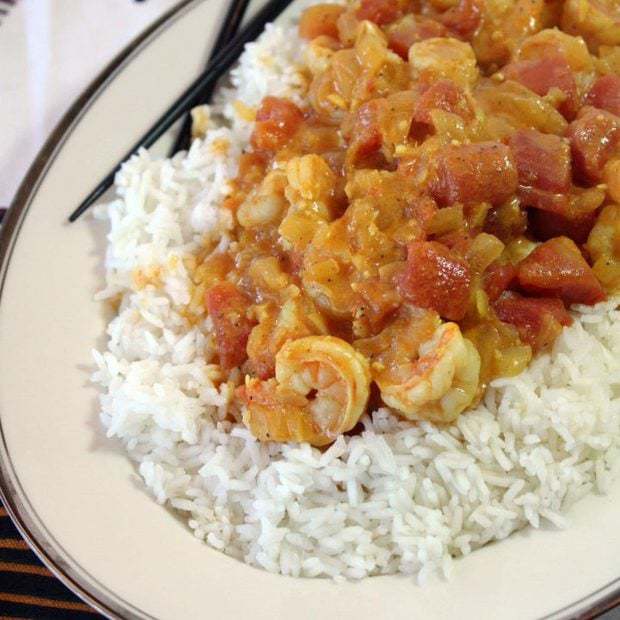 Coconut Shrimp Curry
Yield: Serves 4
Prep Time: 5 minutes
Cook Time: 15 minutes
Additional Time: 15 minutes
Total Time: 35 minutes
This shrimp curry is packed with flavor and is easy to make.
Ingredients
Shrimp
1/4 tsp salt
1/4 tsp freshly ground black pepper
1/7 tsp cayenne pepper
2 Tbsp lemon juice
1 lb extra-large shrimp, peeled and deveined
Sauce
1 Tbsp vegetable oil
1/2 onion, chopped
3 garlic cloves, minced
1 Tbsp minced fresh ginger
1/2 tsp freshly ground black pepper
1 tsp salt or to taste
1/2 tsp turmeric
2 tsp ground cumin
1 tsp curry powder
1 14.5 oz can diced tomatoes, juiced reserved
1 can coconut milk
Cooked rice for serving
Instructions
In a small bowl toss the shrimp with the marinade ingredients. Cover and refrigerate for 15 minutes.
In a medium saucepan over medium, heat vegetable oil. Stir in onion and cook for 2 to 3 minutes. Add ginger, garlic, pepper, salt, coriander, turmeric and curry powder and stir to combine. Cook until the onion is translucent, approximately 2 minutes. Stir in tomatoes with their juices and cook for another minute. Stir in coconut milk and bring to a boil, cooking for 5 minutes.
Stir shrimp into the sauce along with the marinade liquid and cook for another 5 minutes or until the shrimp is pink and cooked.
Serve warm over rice.