Please note this post contains affiliate links.
This is the first time I have ever cooked or even tried rhubarb.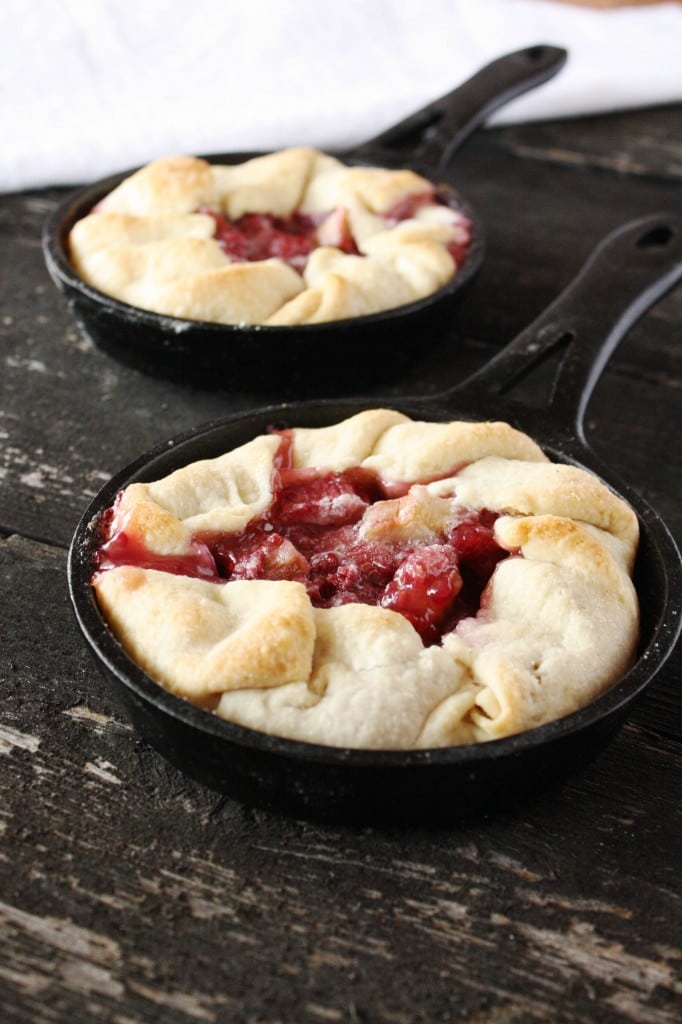 For some reason, rhubarb always intimidated me. I didn't know what to do with it. It was this red celery-like food that everyone raved about. I could never wrap my head around the fact that it was a sweet food used in desserts and such.
Finally (after my hubby pointing out how I should use rhubarb for weeks with every trip to the grocery store), I succumbed to its allure.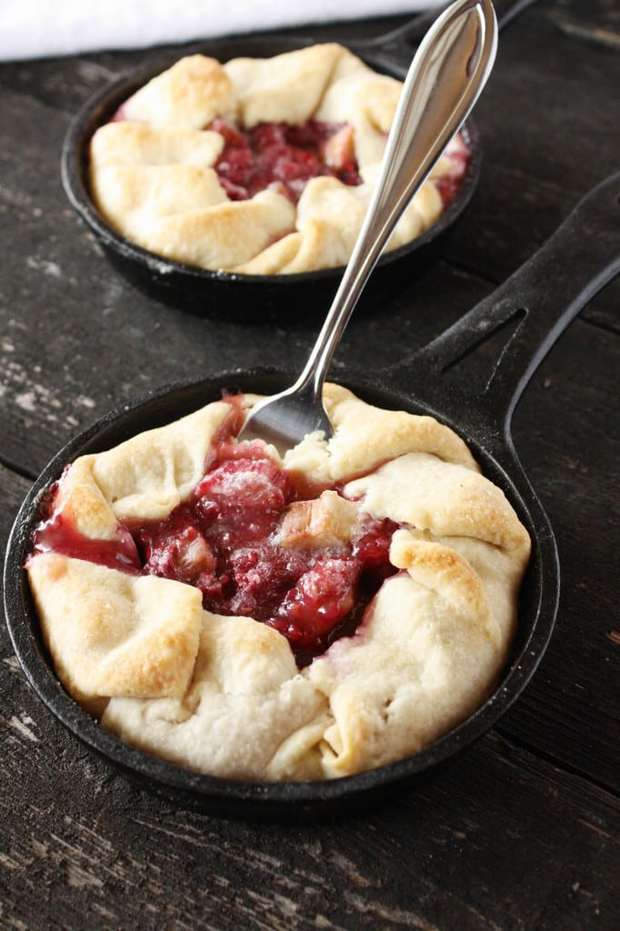 Why did no one tell me what I was missing?!?!
Ok maybe I have been told before about how good it is, but why did no one strap me to a chair and force-feed me some rhubarb pie?? Now I am completely enamored with the stuff.
The rhubarb-raspberry combination is the perfect pairing of sweet and tangy. And the mini cast iron skillet kept the dough so flaky – there is no soggy crust to be seen here (a true miracle if you ask me!).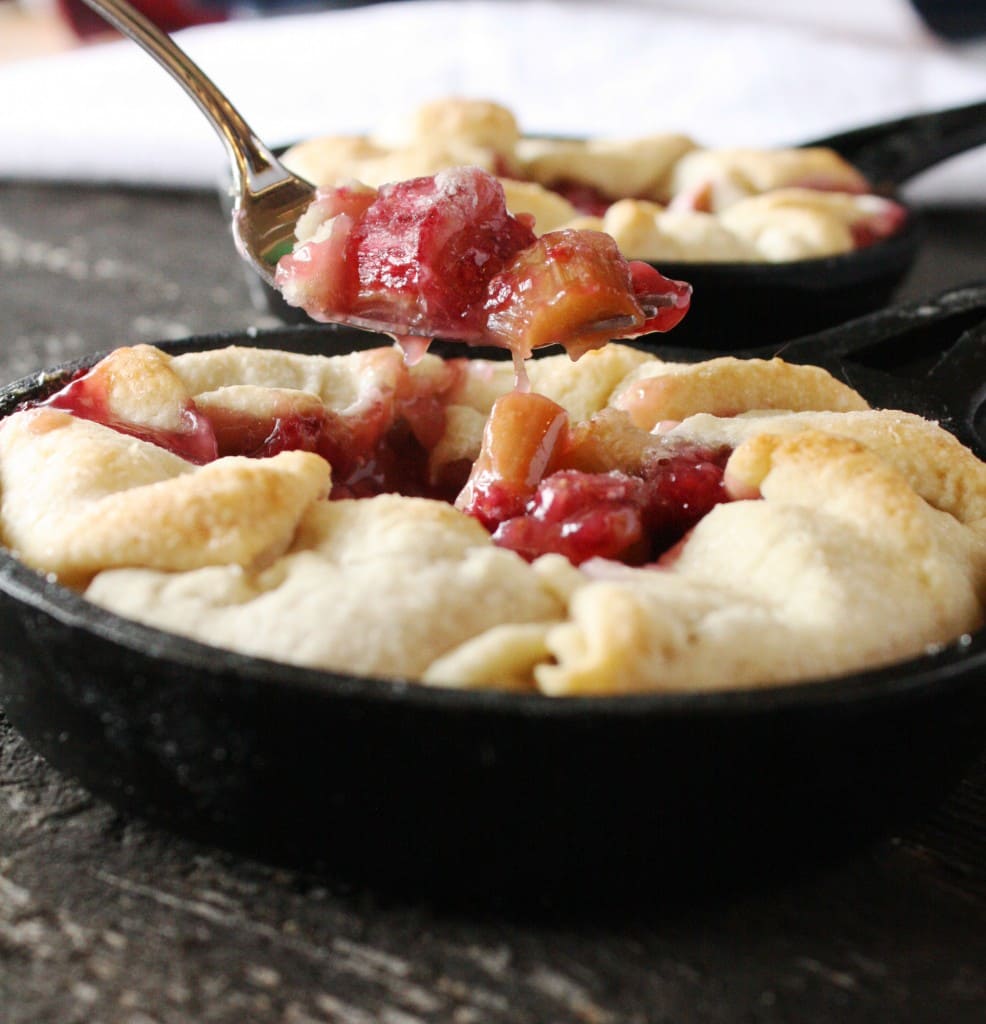 After you finish stuffing your face, will you please tell me what other foods I have been missing out on? I am relying on you to fuel my cooking enlightenment.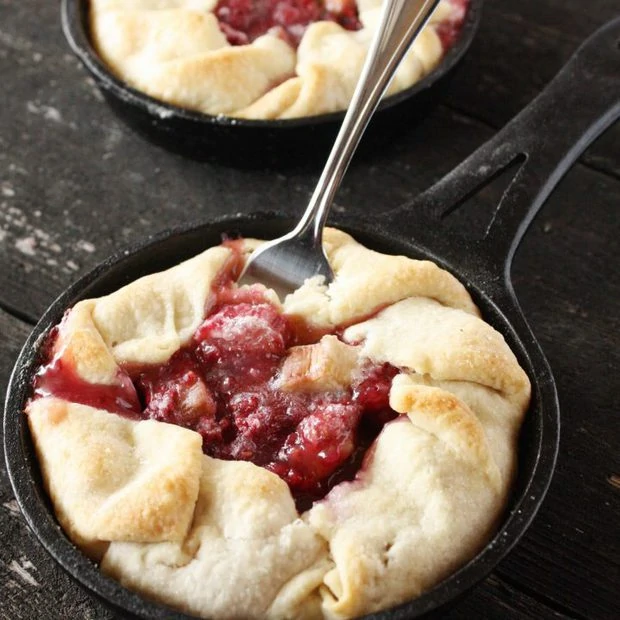 Raspberry Rhubarb Mini Tarts
Additional Time:
25 minutes
Total Time:
1 hour
10 minutes
Individual-sized summer berry tarts with a sweet, crisp tart shell.
Ingredients
Crust
2 cups flour
1/4 tsp salt
2 1/2 Tbsp sugar
14 Tbsp unsalted butter, cold
3-4 Tbsp cold water
Filling
1 1/2 lbs rhubarb, cut into 1/4 inch pieces
1 package of raspberries (6 oz)
1/2 cup flour
2 cups sugar + extra for finishing
2 Tbsp melted butter
Instructions
Preheat oven to 400 degrees.
In the bowl of a food processor, combine the flour, salt, and 1 Tbsp of the sugar for the crust. Add 14 Tbsp cold butter and pulse until the mixture resembles a coarse meal. Pulse in cold water, 1 Tbsp at a time, until the dough comes together and is still a little crumbly. Turn the dough out onto a lightly floured surface and knead gently. Shape into a disk, wrap in plastic, and refrigerate for 20 minutes.
Combine rhubarb, raspberries, 1/2 cup flour, and 2 cups sugar in a bowl; set aside.
Divide dough into 6 pieces and roll each disc out into an 8" circle. Place each circle of dough in a mini cast iron skillet, pressing the dough into the pan and letting the excess dough hang over the edges.
Lightly flour the dough on the bottom of each mini cast iron skillet. Add enough of the rhubarb raspberry filling until it reaches slightly over the top of each skillet. Fold the edges of the pastry shells over the rhubarb filling, leaving tarts open at the center. Gently brush the pastry with melted butter and sprinkle with extra sugar.
Bake for 30 minutes, until golden brown. Allow to cool slightly on cooling racks before serving.