I am in love with this meal.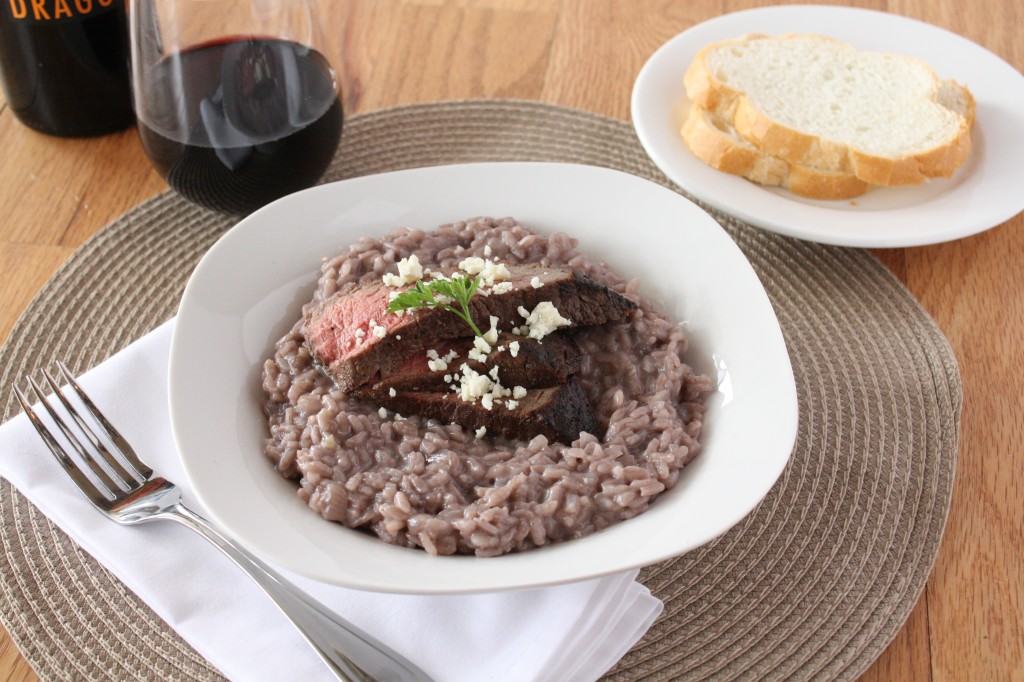 Beyond in love with it. Words cannot describe how happy this risotto makes me.
I don't know if you've noticed, but I have been on a red meat kick for some time now. I was looking back through my recipes in the last couple months and steak seems to be making a prominent appearance.
This is especially humorous to me since I used to dislike steak in all forms.
Please refrain from grabbing your pitchforks and torches. I have reformed and am now obviously making up for lost time when it comes to red meat. I eat it a lot, like A LOT (something my hubby probably rejoices about on a daily basis).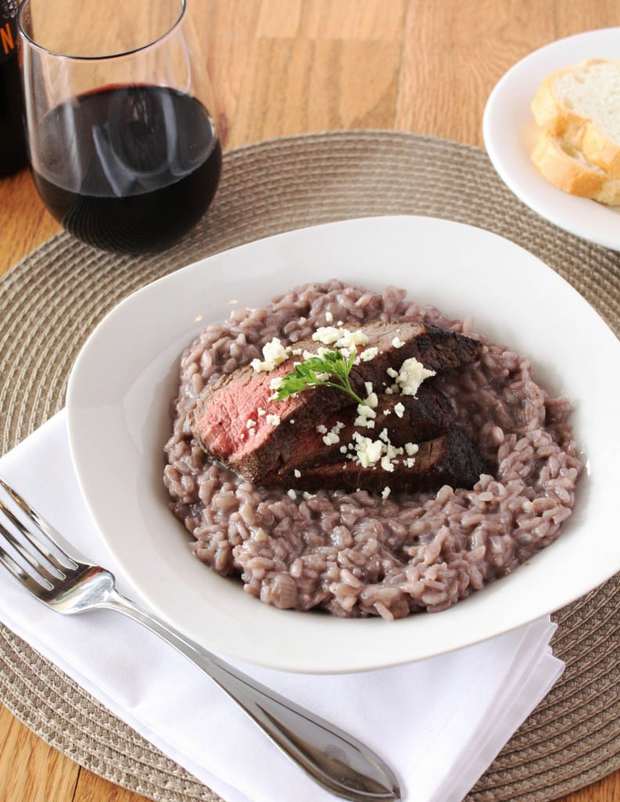 Pairing steak with this risotto is one of the best things I have ever done. I could live off this for the rest of my life and be completely thrilled every single day.
Speaking of things I could live off of for the rest of my life, can I just tell you how happy I am that the farmer's markets are now open? Because OMG. I discovered the most heavenly fresh goat cheese this weekend. I am trying not to devour it all in one day, but it is proving to be a challenge. A real test of will power.
Just like me trying not to eat ALL of this risotto. That definitely did not happen. It was gone almost immediately.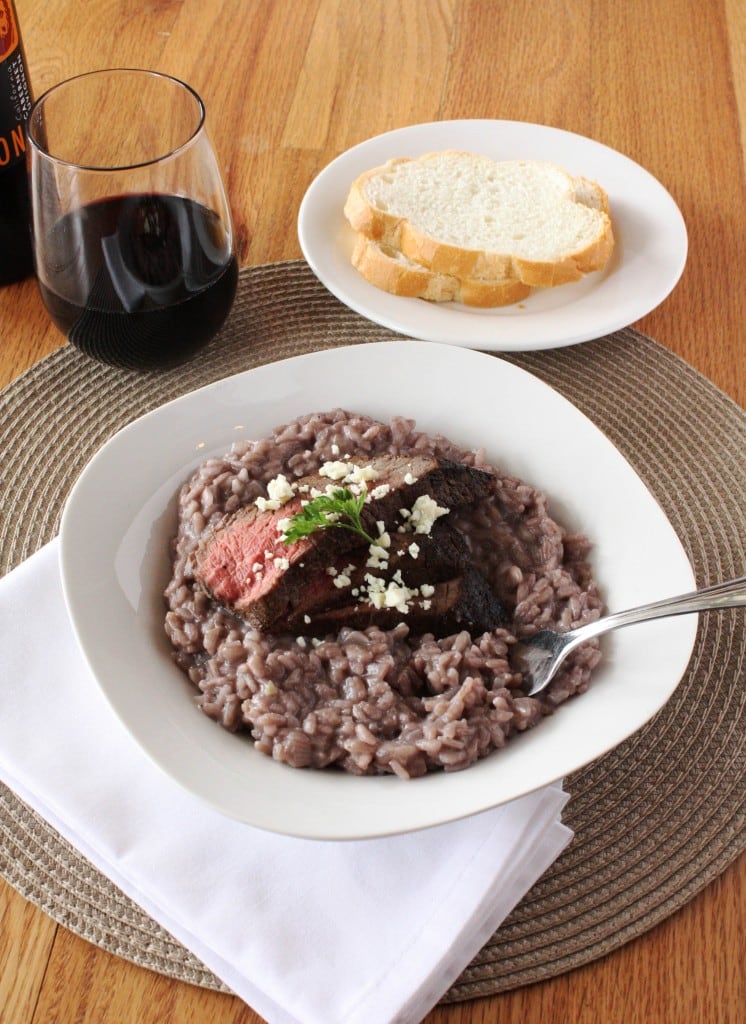 I can never hold out when it comes to good food; I am sure you know this by now.
That cheese doesn't stand a chance.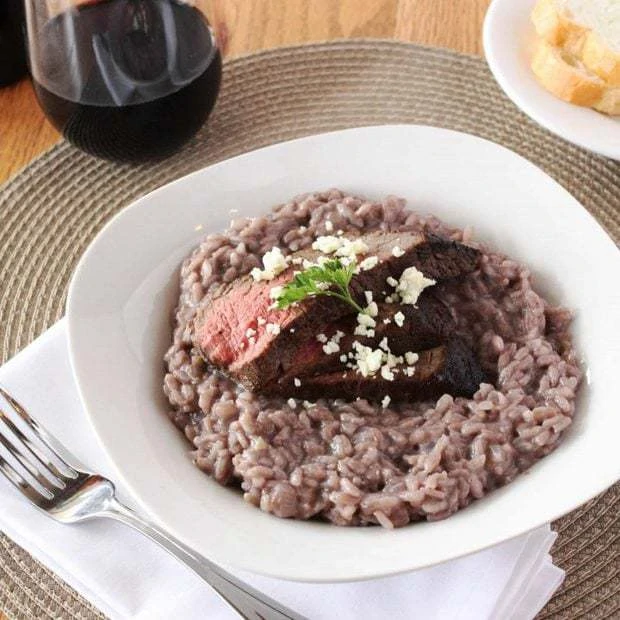 Red Wine Risotto with Steak and Blue Cheese
Additional Time:
5 minutes
This rich, creamy risotto is one of my all-time favorite comfort foods.
Ingredients
5 cups beef stock
1 Tbsp olive oil
1 small white onion, minced
1 cup arborio rice
1/2 cup red wine (I used a cabernet sauvignon)
1/4 cup blue cheese + extra for garnish
10 oz sirloin steak
Salt and pepper
Instructions
In a medium saucepan, bring the stock to a simmer; cover and keep warm over low heat.
In a large saucepan, heat olive oil over medium heat. Add the onion and cook until softened and browned, about 5 minutes. Stir in the rice and toast for 2 minutes. Add the wine and simmer until almost evaporated. Pour in approxiamtely 1 cup of the hot stock. Cook, stirring constantly, until the stock has been absorbed, about 5 minutes. Repeat this process, adding 1 cup of stock at a time and stirring until the rice is tender. You may not need all the stock so test the rice between each addition. It should take approximately 25 to 35 minutes total. Stir in the blue cheese and season with salt and pepper.
While you are working on your risotto, heat a grill pan over medium-high heat. Season steak with salt and pepper. Once the grill pan is hot, add the steak and sear on all sides. Continue to cook until medium rare or medium (depending on your preference), about 7-10 minutes. Transfer to cutting board or plate, cover with foil and allow to rest.
Thinly slice steak and fan out a few slices over bowls of red wine risotto. Garnish with blue cheese and enjoy with the rest of the bottle of red wine.
Notes
Timing tip: I started my steak after I added the third cup of chicken stock to the risotto. By the time the risotto was done, my steak had rested and was ready to go!