Orange Dark Chocolate Chip Scones
Orange Dark Chocolate Chip Scones is just like eating one of those dark chocolate oranges you get at Christmas, but for breakfast and full of carbs. Hungry yet?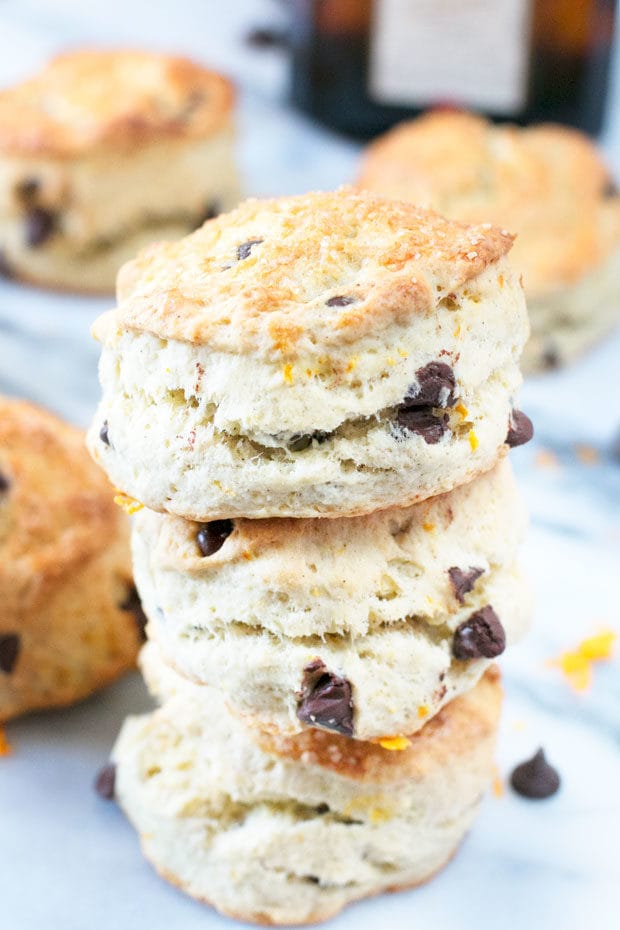 So I think I've just discovered the best scone combination in the history of ever.
If you've already experienced an orange dark chocolate chip scone, please don't tell me. Let me live in my bliss of thinking that it hasn't been done before, mmkay?
I really wanted to make a scone that was a blend of bright summer and fall for the end of August. It's already bouncing between 60 degree and 90 degree temps here in Denver so I know that fall is well on its way. Fall happens to be one of my favorite seasons (and no, I swear it's not only because my birthday is in October…) and even though I'm not a crazy pumpkin spice latte fan girl, I am a fan of all the fall and winter flavors. Oranges are one of those iconic fruits for me that signify both summer and fall/winter.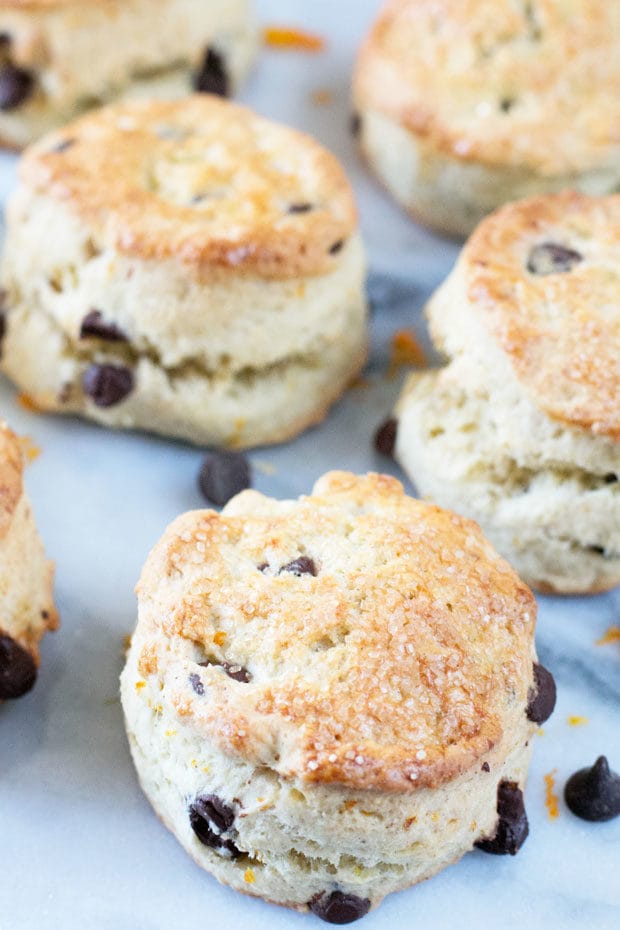 For the summer, I think of my grandma Adele who lived in Florida and grew oranges in her backyard. For winter, I think of my grandma Alice who would shove an orange in all of our stockings at Christmas every year. We would moan and groan, but it would be the first thing we'd actually eat on Christmas mornings.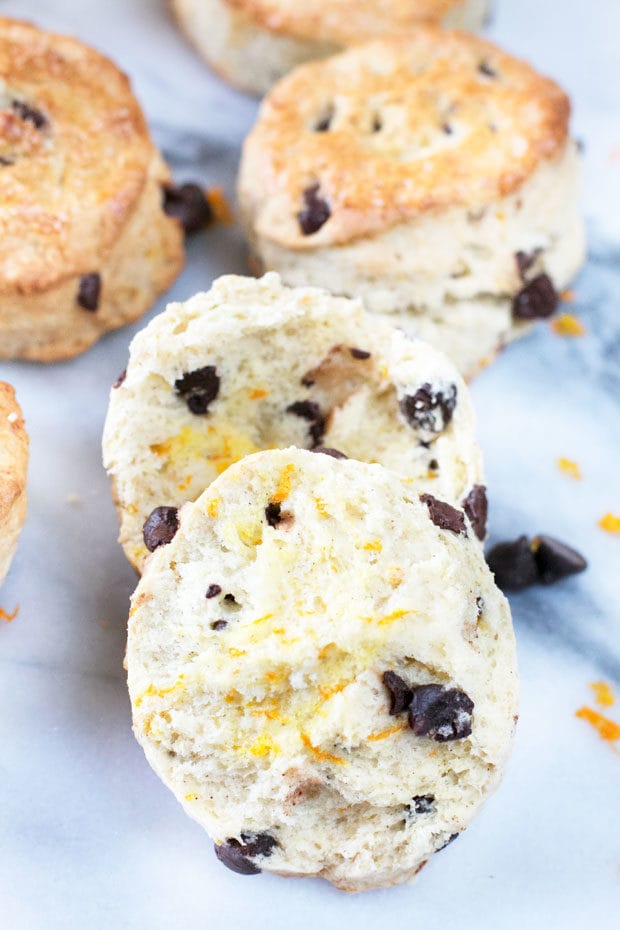 And then there's me, right smack dab in the middle of fall and wanting the best of both worlds. So I threw a heavy amount of orange zest into these scones along with star anise and Cointreau to bring out the bright fruit notes, but also the subtle more sultry flavors you like when the temps cool.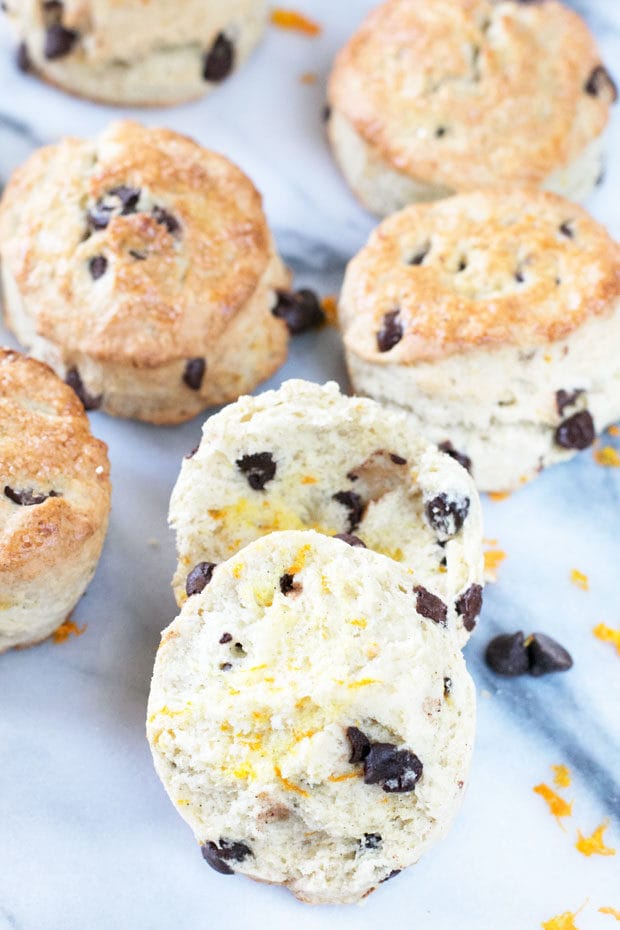 Essentially this is the perfect scone for Colorado at this time of year. The dark chocolate just makes it taste like a freaking candy bar, and I'm 100% ok with starting my day off that way. Aren't you?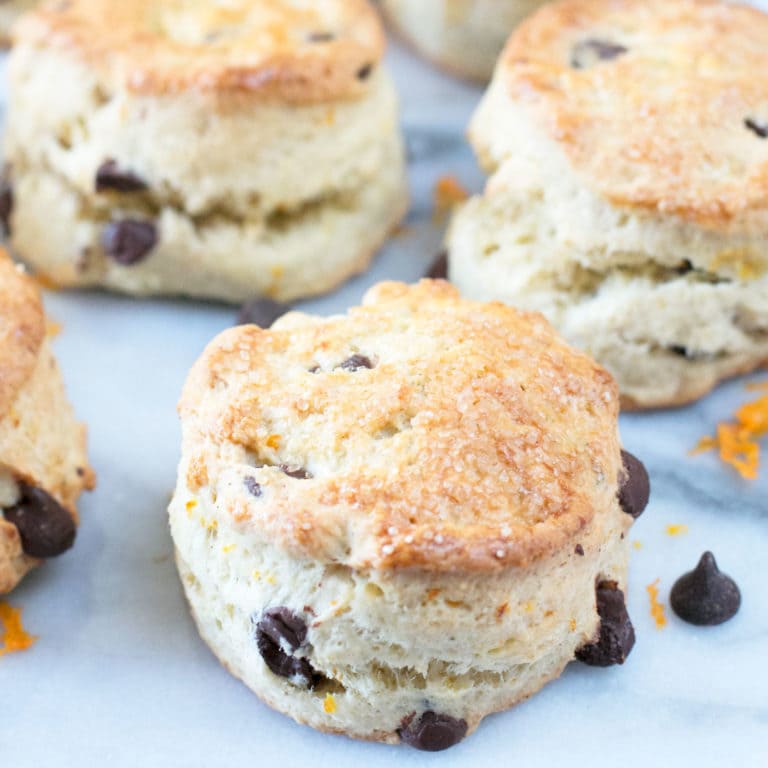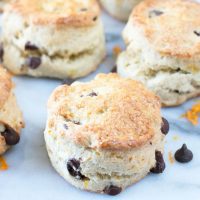 Orange Dark Chocolate Chip Scones
Yield: Makes 1 dozen

Prep Time: 10 minutes

Cook Time: 15 minutes

Total Time: 25 minutes

It's like eating one of those dark chocolate oranges, but for breakfast.
Ingredients
2 cups all-purpose flour 2 1/4 tsp baking powder 1 1/2 Tbsp sugar 1/2 tsp salt 1/4 cup cold butter 2 large eggs, beaten 1/3 cup heavy cream 2 tsp Cointreau 1 tsp ground star anise 2 tsp fresh orange zest 1 cup dark chocolate chips Turbinado sugar
Instructions
Preheat oven to 450 degrees.
Sift together flour, baking powder, sugar and salt into a large bowl. Using two knives, cut in the butter until it's the size of small peas. You can also use your hands but if you do, be very careful not to overmix.
Reserve 2 Tbsp of the beaten eggs in a small bowl. Add the heavy cream add the majority of the eggs and beat until combined.
Make a well in the dry ingredients. Pour the egg and heavy cream mixture into the center. Add Cointreau, star anise and orange zest to the center as well. Mix together slowly. Once the dough appears moistened, gently fold in the dark chocolate chips. Combine in a few strokes and handle as little as possible. Turn out onto a lightly floured work surface. Pat the dough until it is approximately 3/4 inch thick. Using a biscuit cutter, cut into large circles (I made 1 1/2" to 2" circles). Combine the scraps, pat them out again and cut out any remaining biscuits. Place on an ungreased baking sheet. Brush with the reserved beaten egg. Sprinkle with turbinado sugar.
Bake for 13-15 minutes, until the tops are golden brown. Serve immediately.