Grapefruit Gin Fizz is a simple twist on the classic gin fizz cocktail that'll brighten up these cold, damp and dreary days. Isn't it time you stepped up your cocktail game a bit?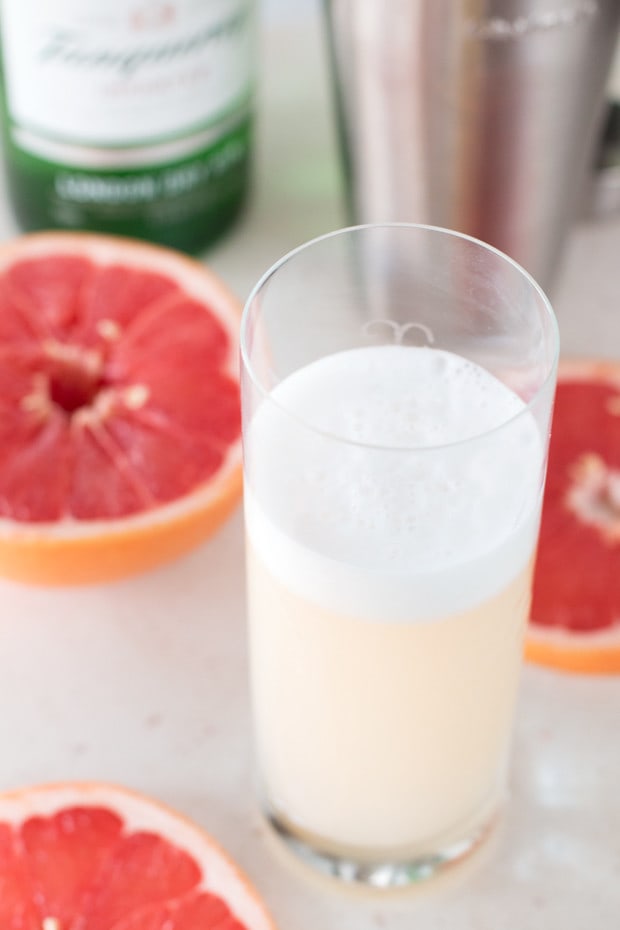 I need a little brightness in my life right now guys. I feel like I've been fighting off a cold FOREVER. Every morning I wake up thinking, this is the day that it'll be completely gone and I can finally get back to reality. Then nope, there's a little tickle in the throat or I have to sneeze. The worst feeling in the world is knowing you are over the cold, but those couple of symptoms linger excruciatingly long enough to make everyone around you think you have the plague.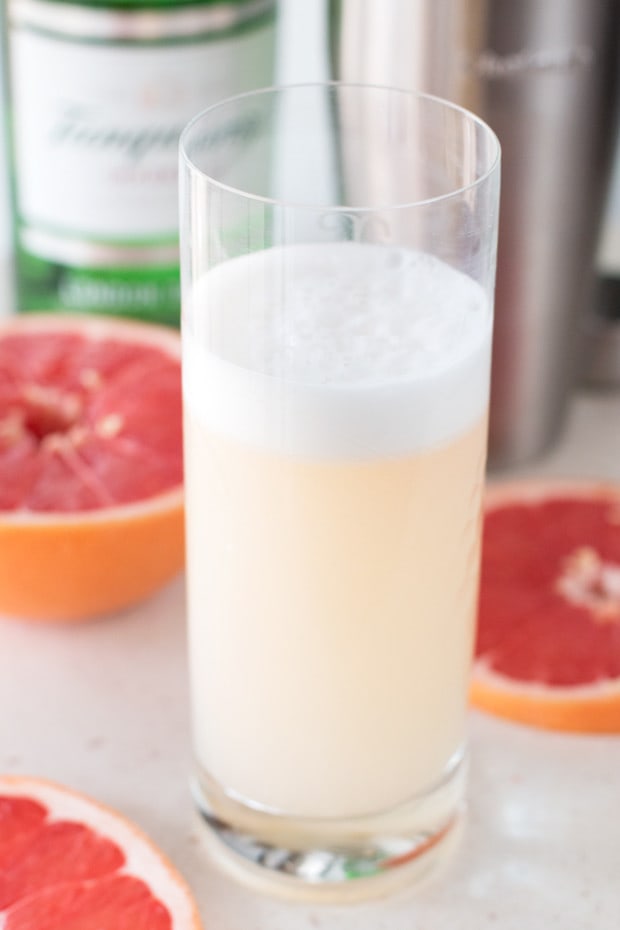 I swear I'm better!
I felt SO good yesterday, I went to the gym. I was so excited to get back into a routine and then I got on the elliptical, thinking to myself, I'll take it easy on the first day back. Two seconds later I start coughing and the entire gym is glaring at me like I am purposefully trying to infect them. So I ran awkwardly jog-walked out of there, praying no one will remember my face. #strugglesreal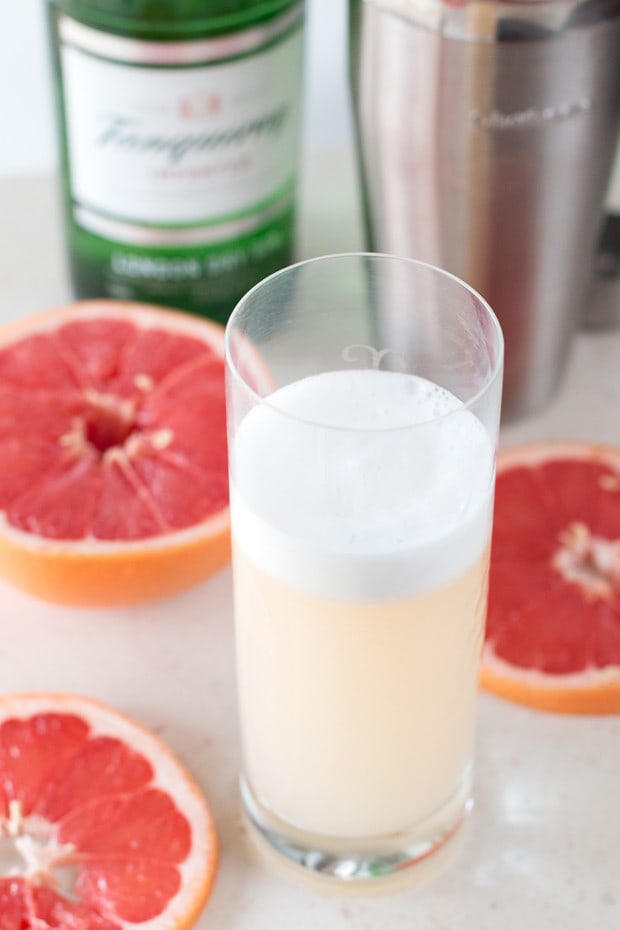 Since I can somehow feel great but have the cough that will not die, I will be hiding in my house with this grapefruit gin fizz for the next few days. Thankfully this cocktail has all the brightness I could ever need to cheer me up. The grapefruit and gin pairing is so on the money here. I dare say it's outpaces the classic gin fizz cocktail with plain ol' lemon juice by leaps and bounds.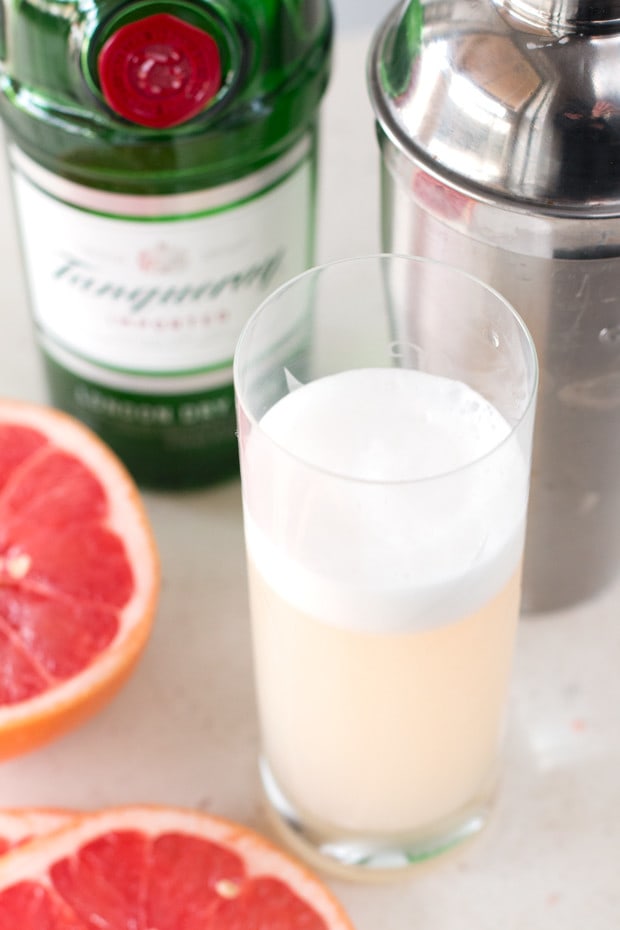 Perhaps gin is the magical elixir I need to finally get back to the real world. I'm determined to put it to the test, so I'll see you on the other side. 😉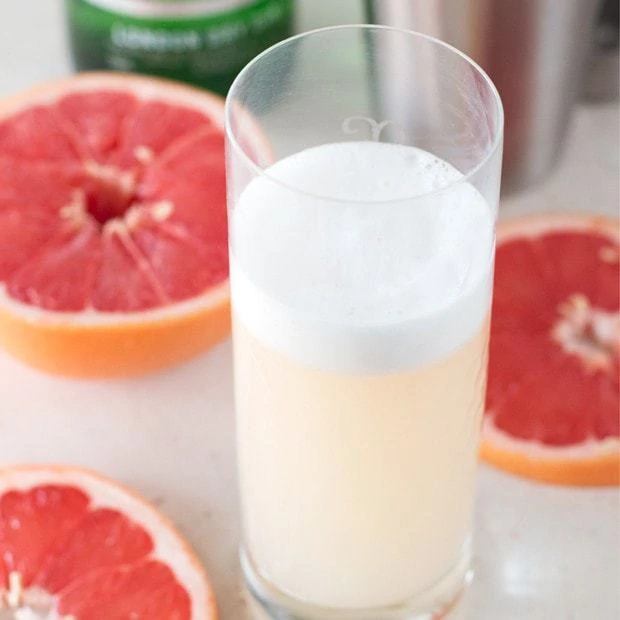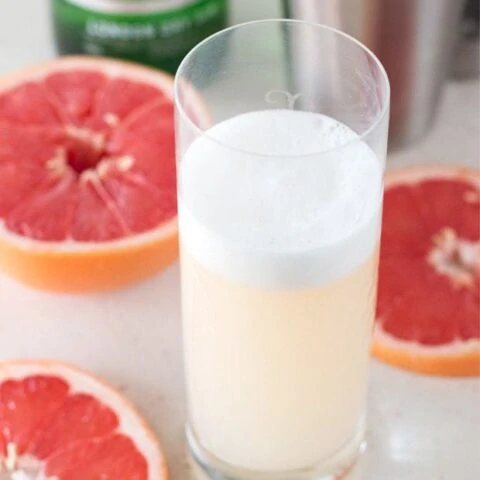 Grapefruit Gin Fizz
Subbing out grapefruit juice for the traditional lemon juice takes this classic cocktail to all new heights of flavor.
Ingredients
1 oz club soda
2 oz gin
1 oz freshly squeezed grapefruit juice
1/2 oz simple syrup
1 egg white
Instructions
In a Collins glass or highball glass, add the club soda and set aside.
Add the gin, grapefruit juice, simple syrup and egg white to an empty shaker. Shake well from at least 10 seconds. Remove the top of the shaker, add a handful of ice, and shake again very well. Strain into the Collins glass and serve.