Nutella Icebox Stacks are the EASIEST dessert in the entire world! Layers of whipped Nutella, raspberry compote and cookies make these little stacks of heaven. It's the perfect Valentine's Day dessert to surprise everyone with!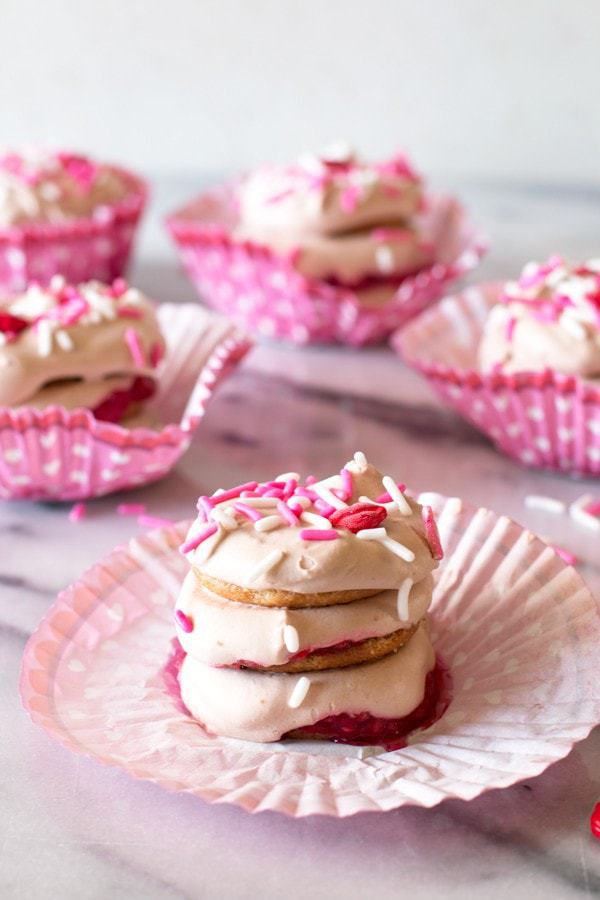 Please note that some of the links below are affiliate links. If you make a purchase through one of these links, I will receive a small commission.
If you need a last minute dessert recipe for Valentine's Day tomorrow, I've got you covered!
These icebox stacks come together in mere minutes and freeze overnight, so you can wake up tomorrow morning with an indulgent layered dessert that is sure to impress anyone.
The layers of flavor in these perfectly portioned individual stacks is so heavenly, you'll end up finding any excuse to make these, even when Valentine's Day is long gone. I mean, it's NUTELLA whip layered with raspberry compote and Nilla Wafers (my three favorite things combined in one bite).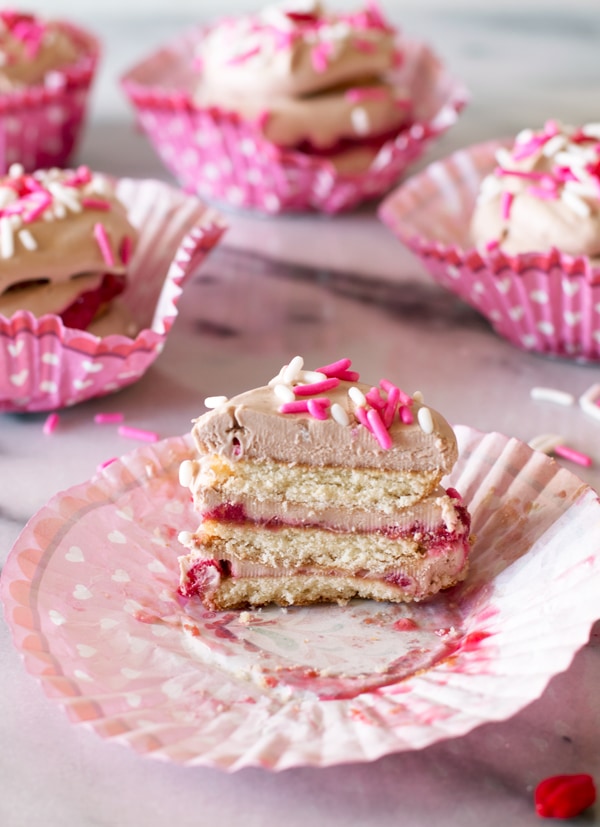 I'm not gonna lie, I am kind of stoked for this week to end. It's been… well it's bee a rough week of losing images, late nights and long days, too much standing in heels, networking until I barely had a voice and trying not to completely melt down in front of strangers in the middle of downtown Denver…
Despite alllllll of the insanity, no matter what is happening, cooking has been calming me down.
With every bite of a treat such as these Nutella icebox stacks, I am reminded that, at least in the kitchen, the world doesn't have to be so complicated. And while I'll be sharing this Valentine's Day with my loved ones, know that I will be thinking of you as well.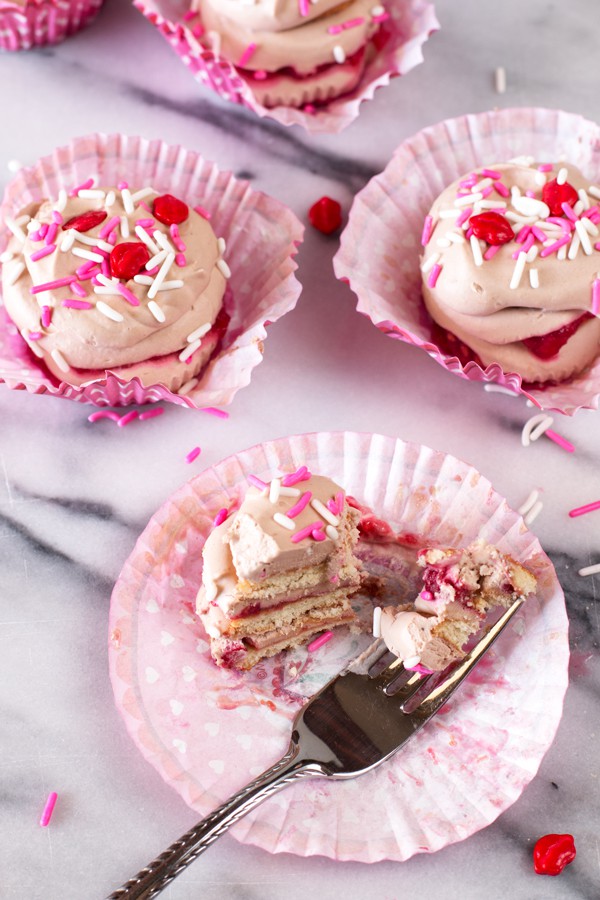 Seriously, without you all – my readers, my blogging buddies, my community – I would have shut down completely and lost my mind.
You keep me sane and my heart overflows for each and every one of you.
Join me in digging into something indulgent! Happy Valentine's Day!
This Recipe's Must Haves
Pin this Nutella Icebox Stacks recipe for later!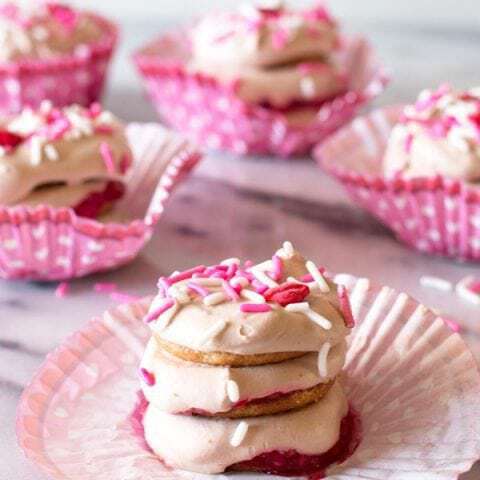 Nutella Icebox Stacks
Additional Time:
20 minutes
Layers of Nilla wafers, Nutella whip, and raspberry compote make up these divine, individually portioned icebox stacks.
Ingredients
Raspberry Compote
1 pint raspberries
1/4 cup sugar
1 Tbsp lemon juice
1/4 tsp cornstarch
Nutella Whip
2 cups heavy cream
2 Tbsp powdered sugar
1 tsp vanilla extract
5 Tbsp Nutella
Instructions
In a small saucepan, combine raspberries, 1/4 cup sugar, lemon juice and cornstarch over medium-high heat. Simmer for approximately 10 minutes, breaking the raspberries apart with a wooden spoon. Remove from heat, stir to break up any remaining whole raspberries, and cool completely.
In a large bowl, whisk 2 cups heavy cream until it just starts to thicken. Add in powdered sugar, vanilla extract, and Nutella. Continue to whisk until the mixture forms soft peaks.
Line a 12-cup muffin tin with cupcake liners. To create each stack, begin with a Nilla Wafer in the bottom of the liner. Add approximately 1 tsp of the raspberry compote on top of the wafer. Then add approximately 1 Tbsp of the Nutella whip on top of the compote. Continue layering with another wafer, 1 tsp raspberry compote and 1 Tbsp Nutella whip. Finish with an additional wafer and top with 1 Tbsp Nutella whip. Top with sprinkles and repeat with the remaining stacks.
Freeze the stacks overnight. Serve cold.