Nacho Spicy Bloody Mary is the spicy, sultry combination of heat, vodka, and NACHOS. Yes, with this glass of heavenly rich Bloody Mary, you get your very own individual serving of nachos right on top. Perfect for brunch, tailgating, and happy hour, you're about to experience a whole new level of Bloody Mary deliciousness!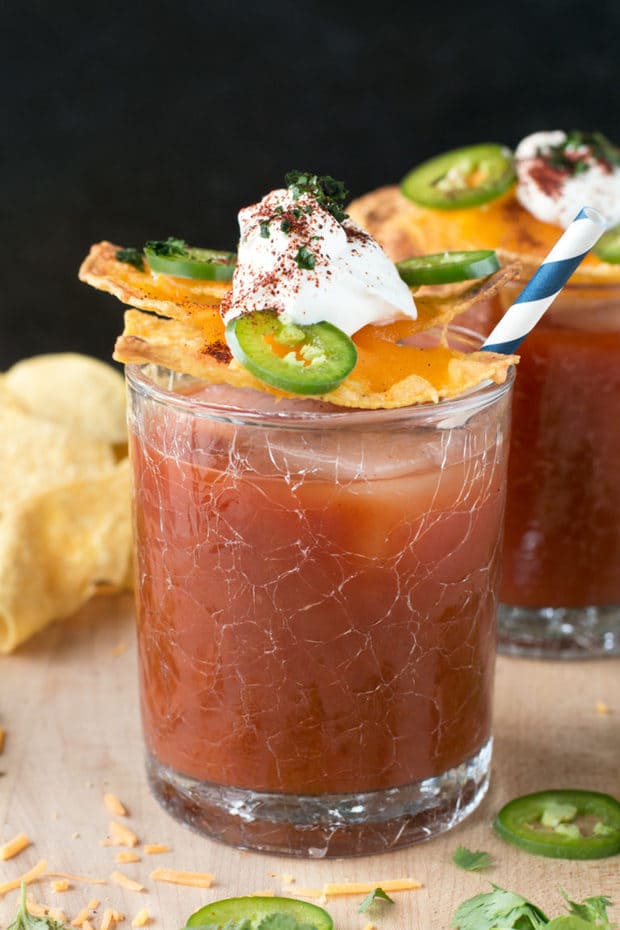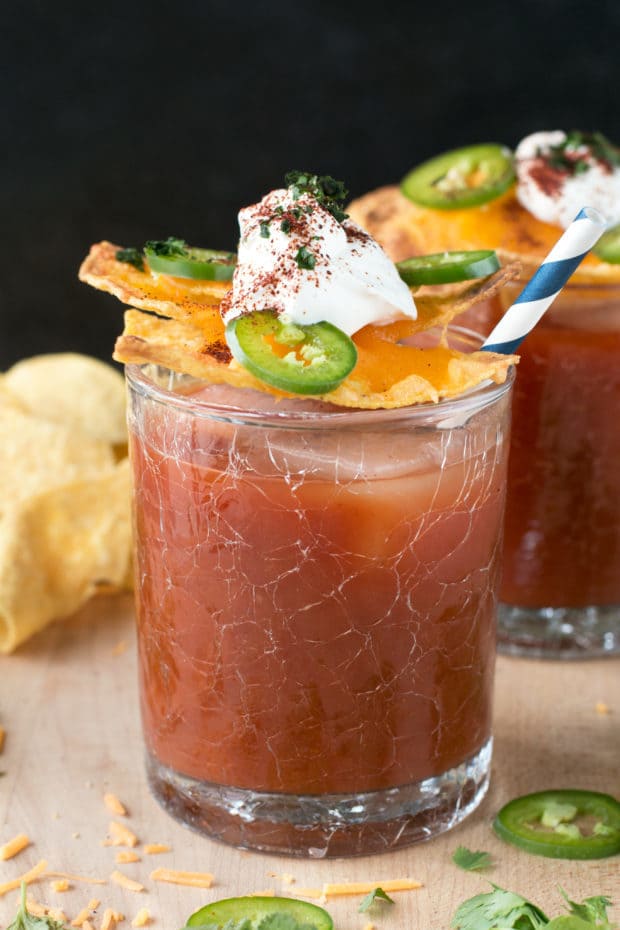 Please note that some of the links below are affiliate links. If you make a purchase through one of these links, I will receive a small commission. Thank you for supporting Cake 'n Knife!
So, I pretty much made you the best Bloody Mary I've ever made with your own individual snack right on top to accompany it.
I'll wait for you to pick your jaws up off of the floor…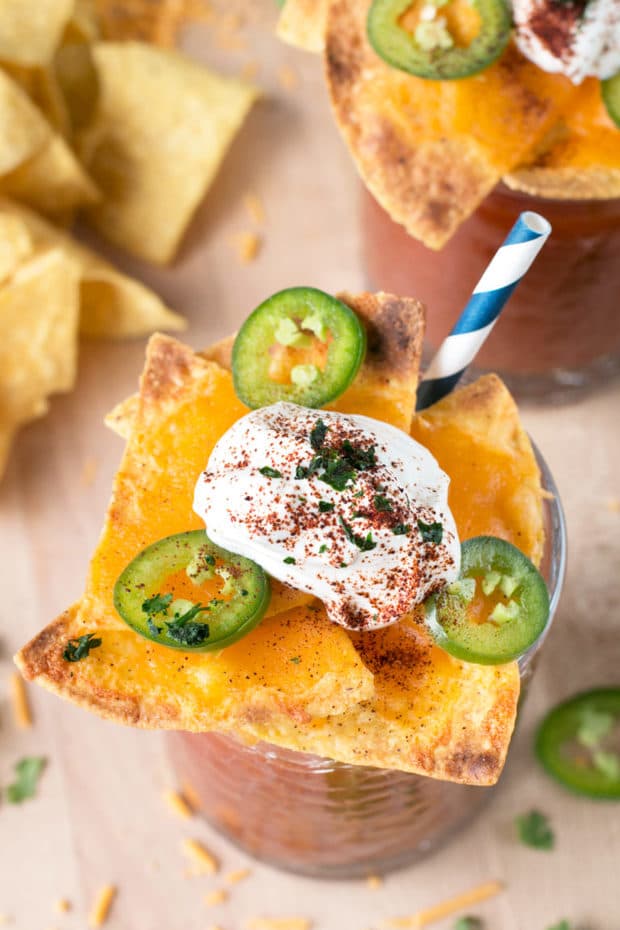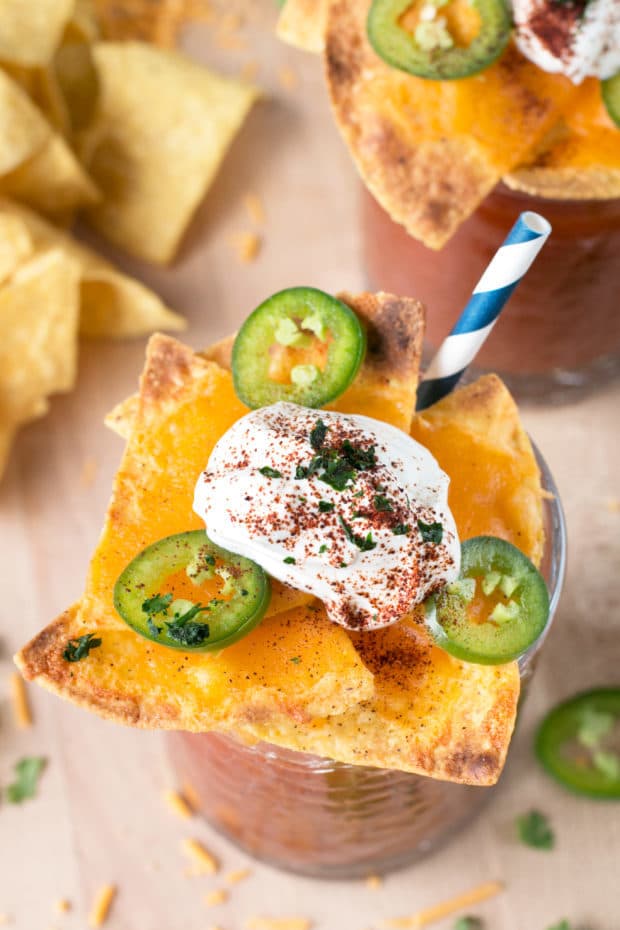 When I was in Prague, I went to this AMAZING cocktail bar called AnonymouS Shrink's Office (which I'll spill more about once I post all the details of Prague!) and they served up one of the best Bloody Mary's I've ever tasted, in one of the most unique bars in the city.
The Bloody Mary was rich and decadent, and it came with the BEST garnish ever.
No, it wasn't one of those insane ones with burgers or doughnuts or whatever the heck people are piling on top of Bloody Mary's all around the world. Instead it was a perfectly portioned amount of tortilla chips with cheese on top.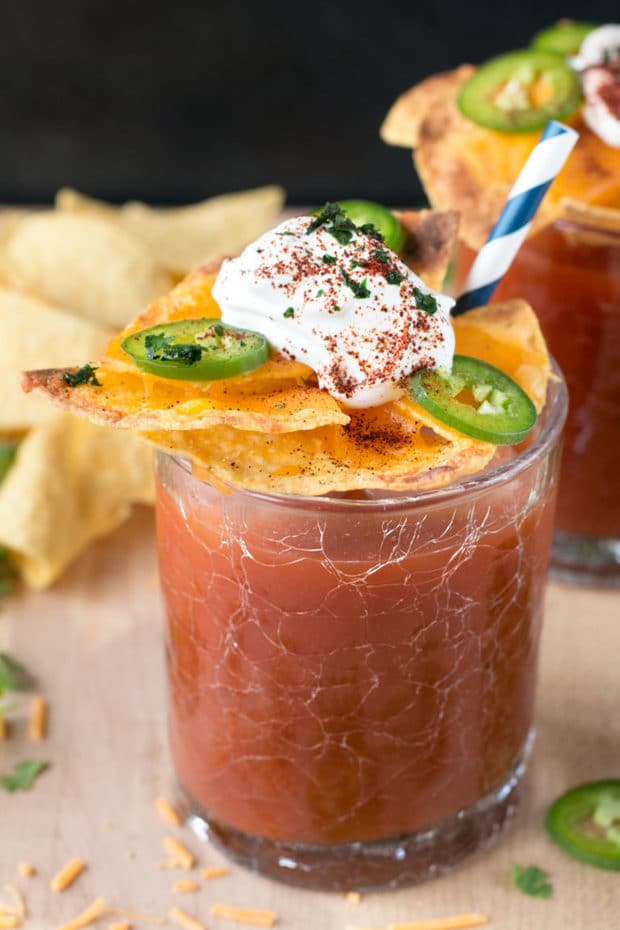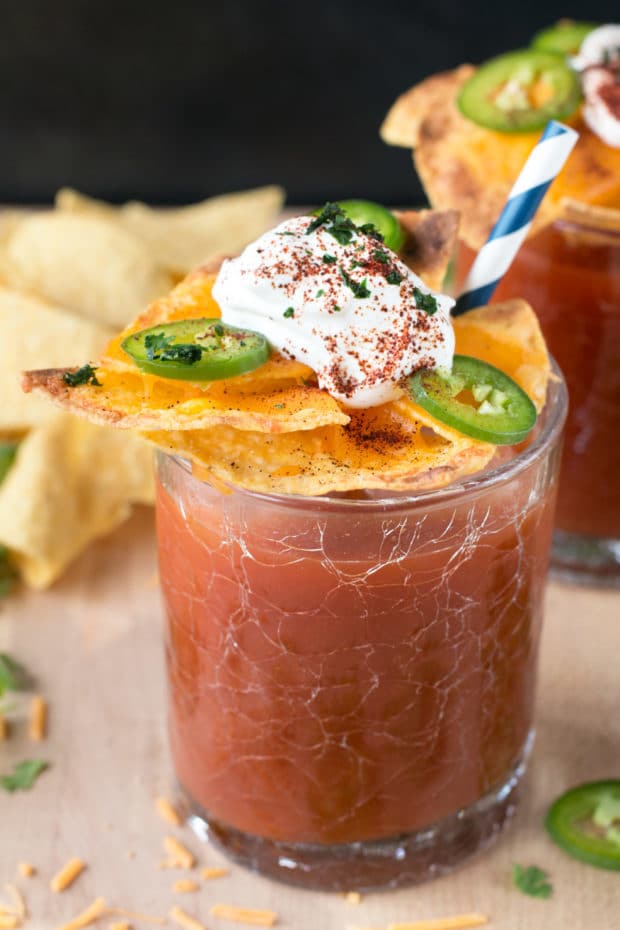 It seemed a little strange to me when it was sat down in front of me, but I'm never one to turn away a great drink and nachos soooooo I dove in.
The salty crunchy chips and melted cheese with each sip of the Bloody Mary completely enhanced the cocktail. It added a whole new level of flavor that nothing else behind the bar could have added.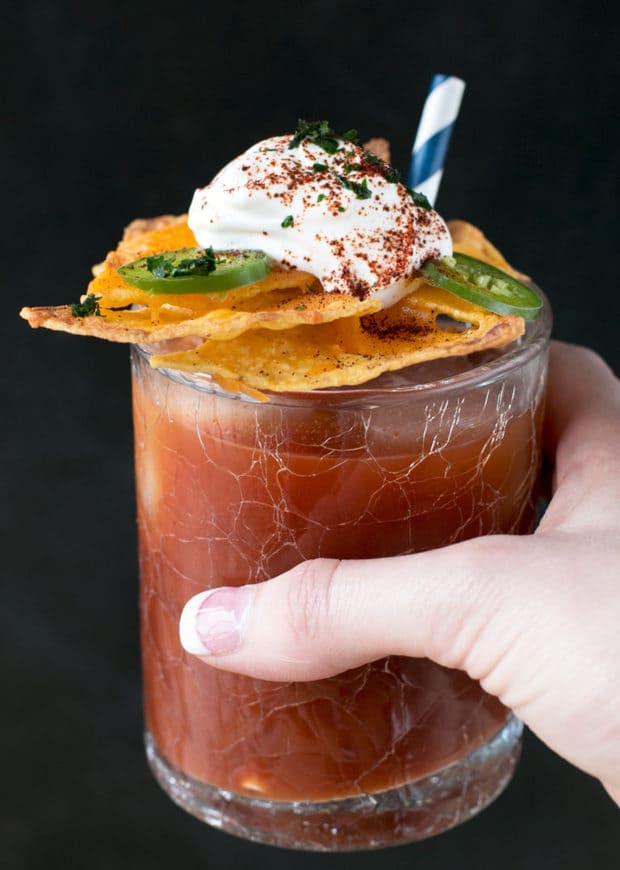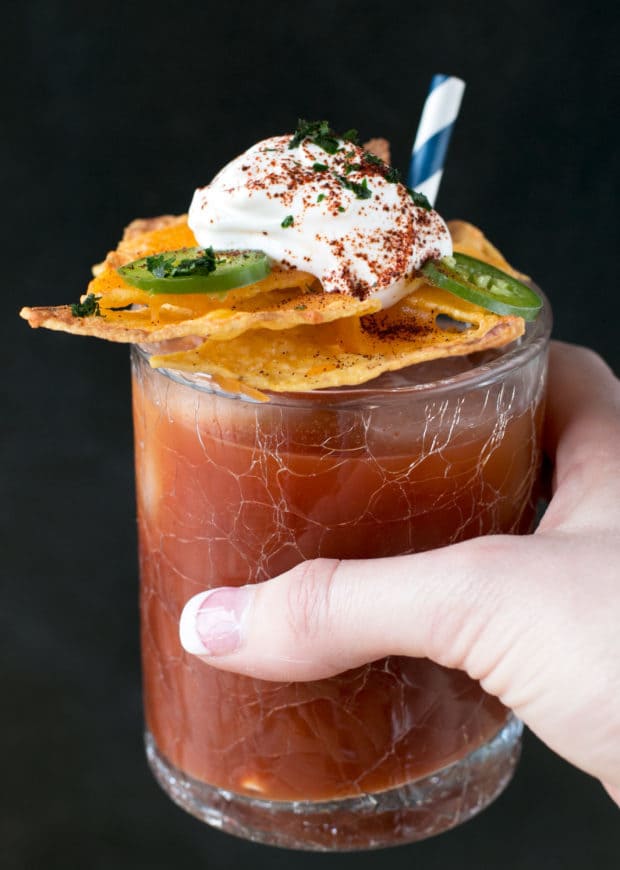 I thought about that cocktail for the rest of the time we were in Europe and kept making notes about how I would make changes to it to make it even more my speed (i.e. a little more spice, a little more cheese…).
So here it is… A little bit of the Prague cocktail scene is now stateside!
You won't believe how many layers of flavor and texture are in this cocktail. The rich homemade Bloody Mary mix is sultry, spicy, and full of complex flavors. I love to use chile vodka in this Bloody Mary for an extra spicy kick but you can also use regular vodka OR if you like smoky heat, use mezcal instead.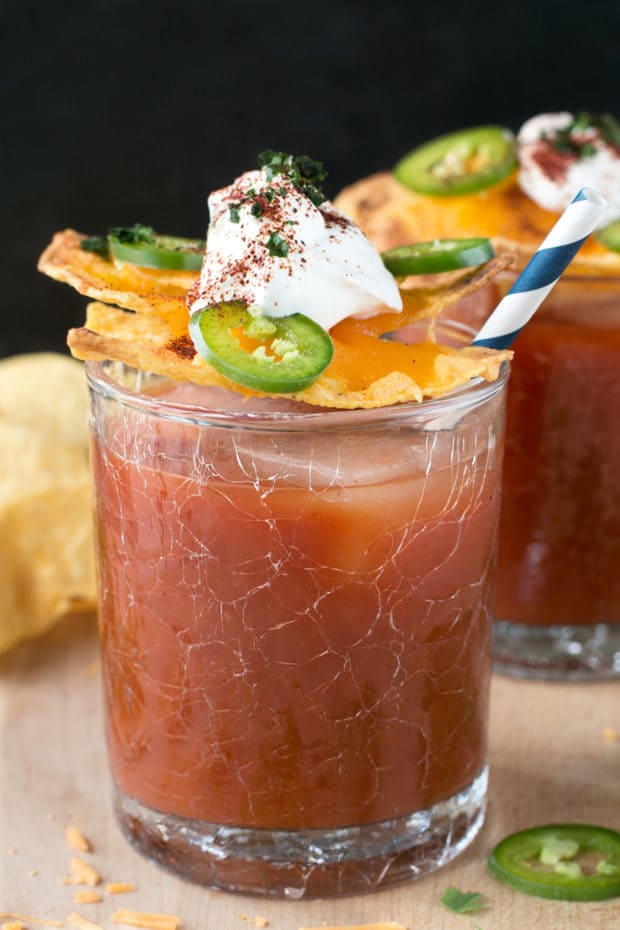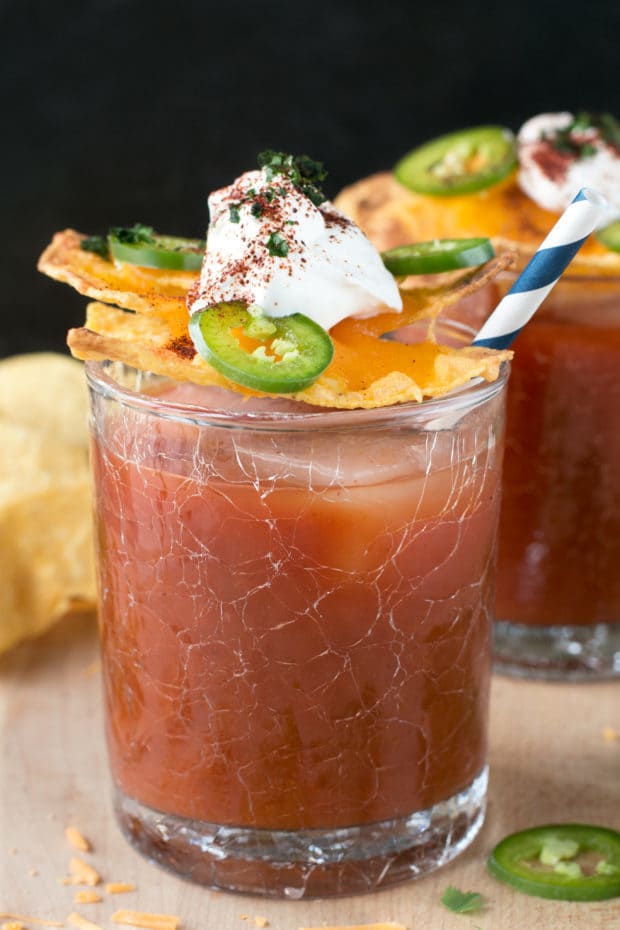 The loaded nachos on top provide an added texture and flavor element that no liquid could bring to make this combination of tastes.
Whether you are serving this up for a knockout brunch, tailgating before a morning game, or simply getting a happy hour fix with a snack on the side, everyone and anyone who loves Bloody Marys is going to FLIP over this drink.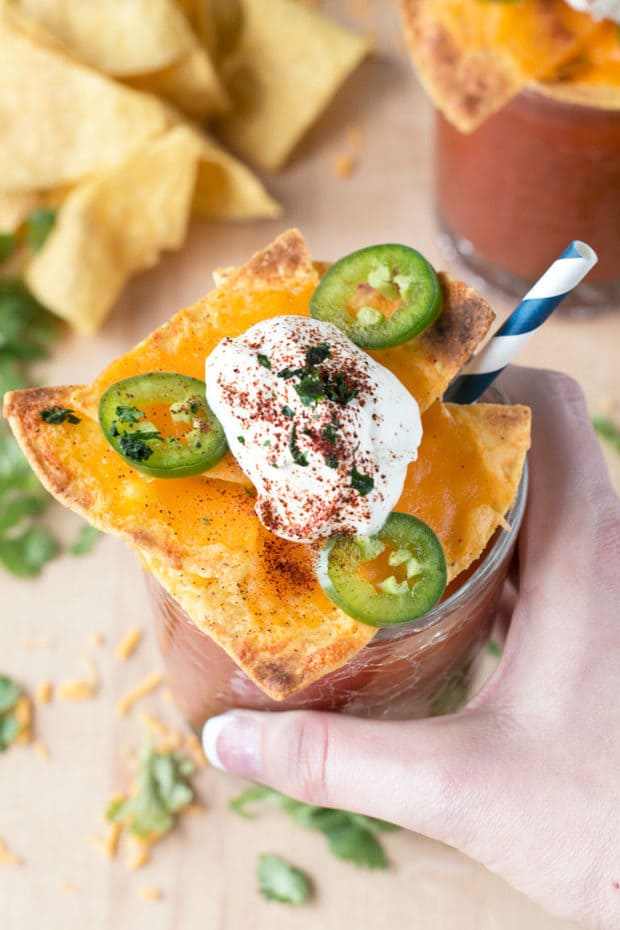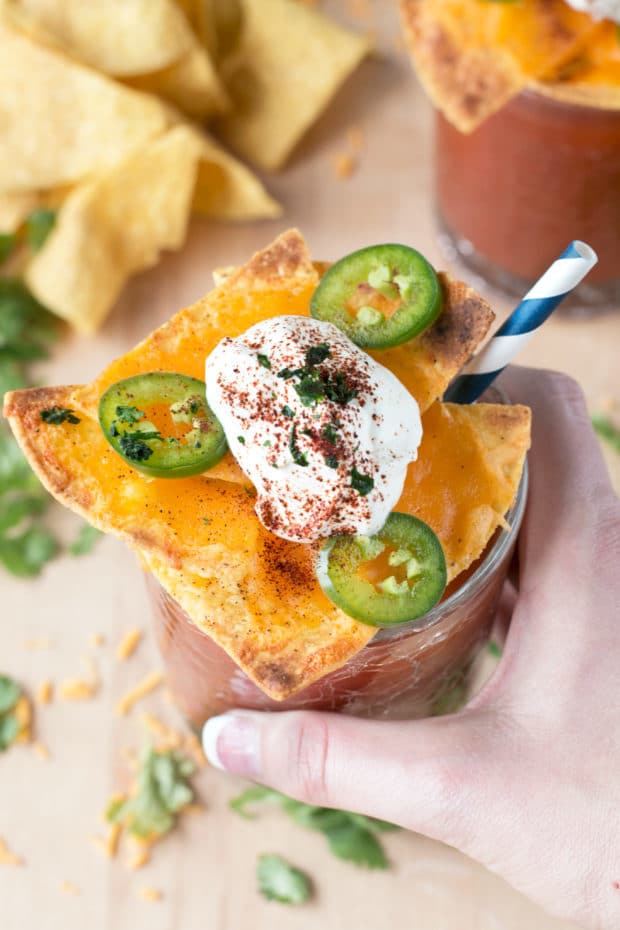 Cheers, my friends!
This Recipe's Must Haves
Pin this Nacho Spicy Bloody Mary recipe for later!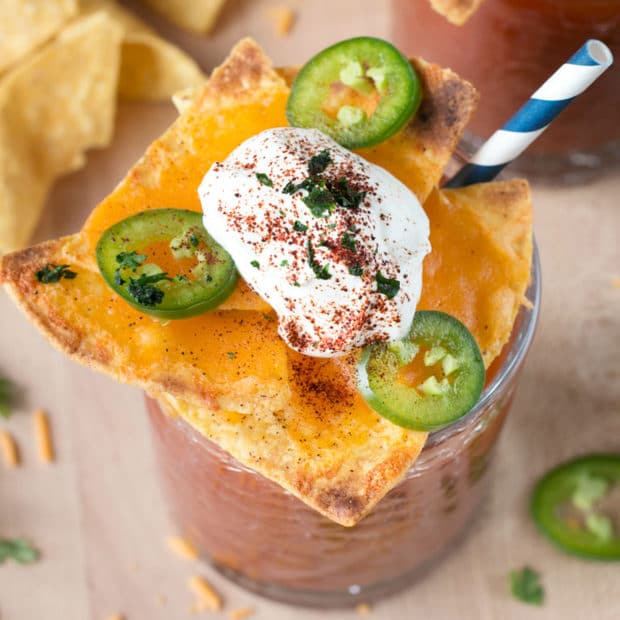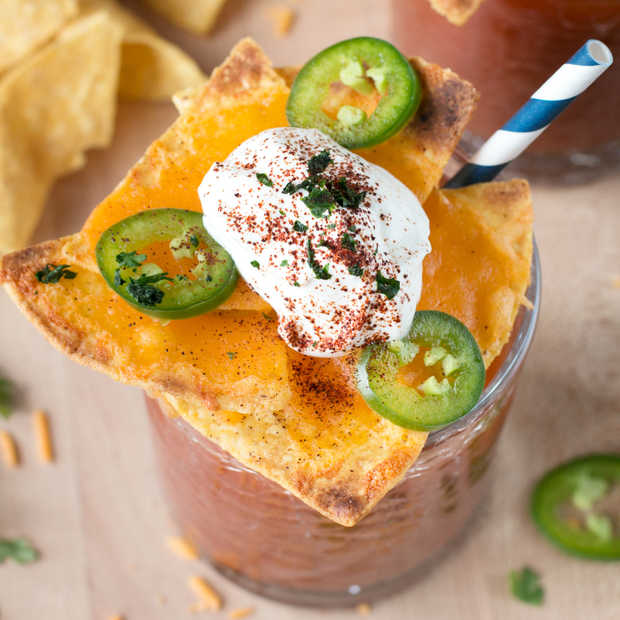 Nacho Spicy Bloody Mary
Yield:
Serves 1 cocktail + extra mix!
What's better than a Bloody Mary? A Nacho Spicy Bloody Mary served up with a serving of your very own nachos on top!
Ingredients
Spicy Bloody Mary Mix
24 oz tomato juice
1 1/2 Tbsp Worcestershire sauce
1 1/2 tsp chipotle powder
2 tsp smoked paprika
1/2 tsp garlic powder
3 tsp Cholula
2 tsp salt
2 oz vodka (you can also use a spicy vodka here if you love heat!)
Toppings
1 cup corn tortilla chips
1/2 cup shredded sharp cheddar cheese
Garnish: sliced jalapeños, sour cream, freshly chopped cilantro
Instructions
In a large pitcher, stir together tomato juice, Worcestershire sauce, chipotle powder, smoked paprika, garlic powder, Cholula, and salt. Refrigerate mix until ready to serve.
On a lined baking sheet, add tortilla chips in small piles of approximately 4 to 5 chips. Try to make the piles an even layer and make sure they are wider than the mouth of the cocktail glasses you would like to use.
Top the chip piles with 1-2 Tbsp of shredded cheese.
Place pan under the broiler set to high for approximately 1 to 2 minutes, until cheese is melted. Set aside.
When ready to make the cocktail, add vodka to a cocktail glass filled with ice. Top with Spicy Bloody Mary Mix and stir to combine.
Top with tortilla chips piles. Garnish with a small dollop of sour cream, sliced jalapeños and a sprinkle of freshly cilantro. Serve.
Notes
If you love a more smoky flavor for your Bloody Mary, substitute vodka for mezcal!