My Ultimate Bloody Mary is the only bloody mary I ever need to drink. With a bunch of pickled fixings and a paprika-cayenne seasoned salt, it's just the pick-me-up your brunch needs.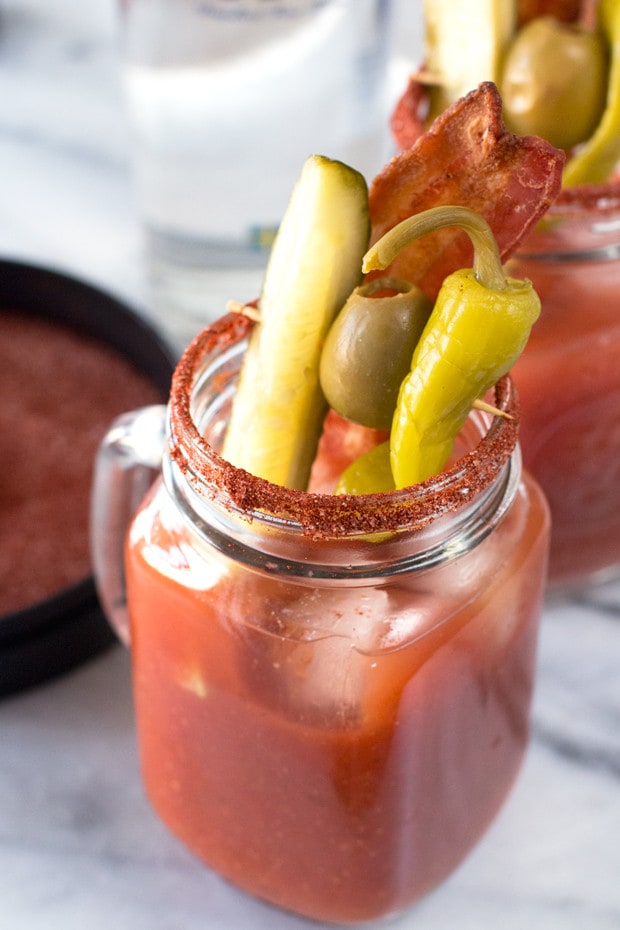 You guys, I've officially become a Bloody Mary fan. It took me only about 29 years to get there, but I am finally here. I am ashamed to say it took this long, but I had a serious hate for the drink a little while back. I think it was because I snuck a sip of my mom's early on in life and it made me want to die. I did NOT like tomatoes back then. Even after I worked through my tomato hatred, the Bloody Mary was still a big fat no-no.
Then I gave one a chance a few months back. Hello my new favorite brunch drink. Step aside mimosas, I am down with the tomatoes, hot sauce and pickles now.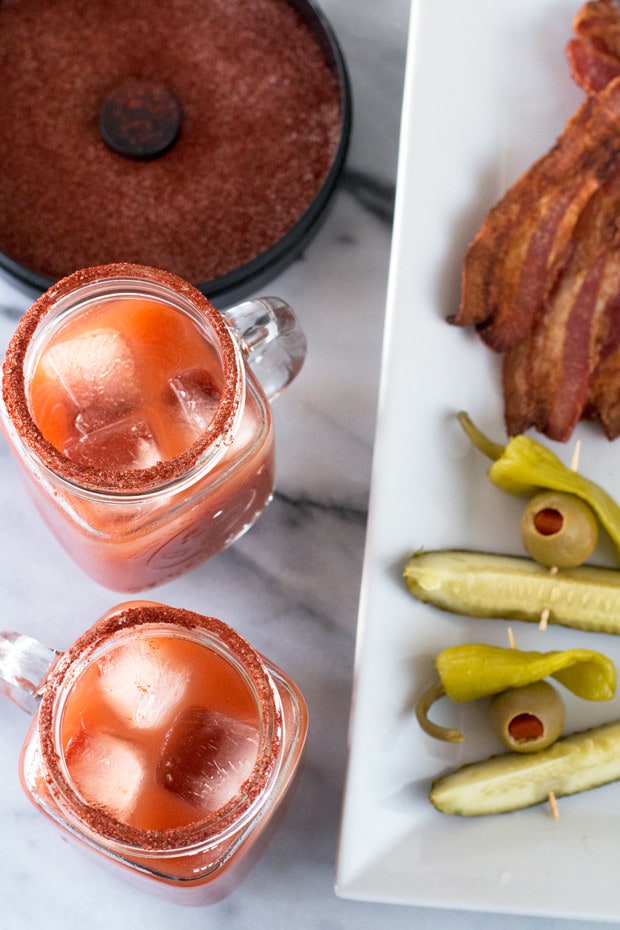 A Bloody Mary is a simple enough cocktail to make with all the amazing mixes out there, but for me, what really makes a great drink is the little things. I mean you all saw my Maple Bacon Manhattan. Garnish is kind of a thing for me now.
Probably because I've drank enough plain cocktails in bars and clubs to last a lifetime. Now I gotta shake things up. Totally normal, right? This happens to everyone!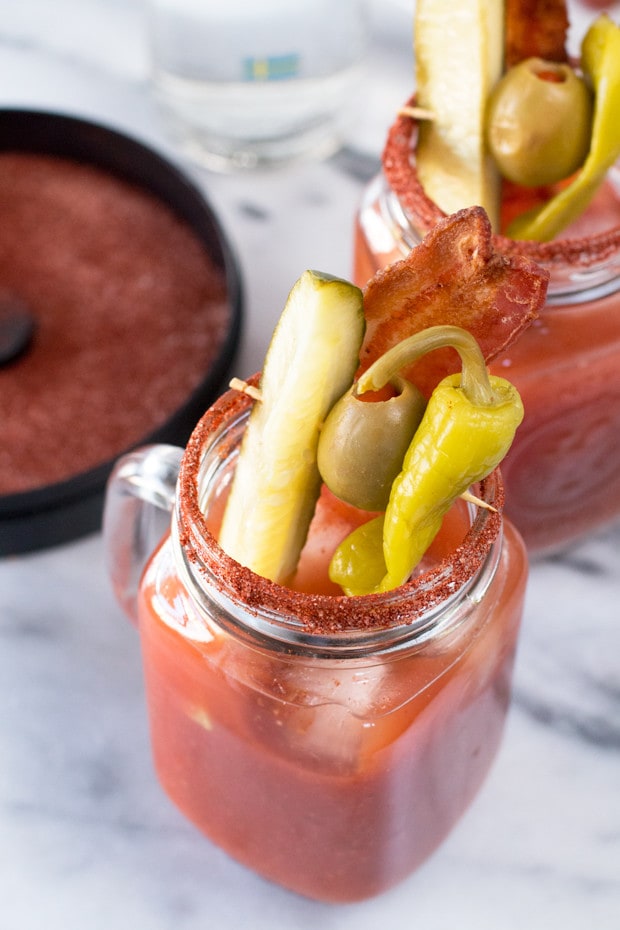 Just pretend with me for a second, ok?
The seasoned salt rim on this bad boy is where you get just the right extra punch of spicy, smoky flavor. Add in those pickles and a thick ol' slice of bacon and it's essentially brunch in a glass for me. Devour those eggs and toast everyone else, my meal is right here. Who's with me?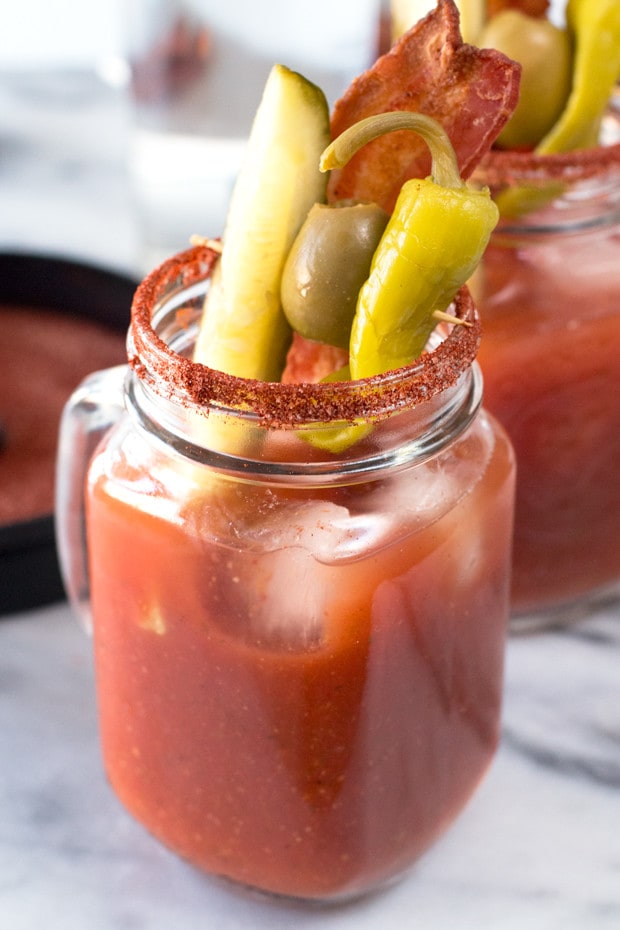 P.S. Keep an eye out next week for something REALLY exciting coming your way… I've got a surprise for youuuuuuuu.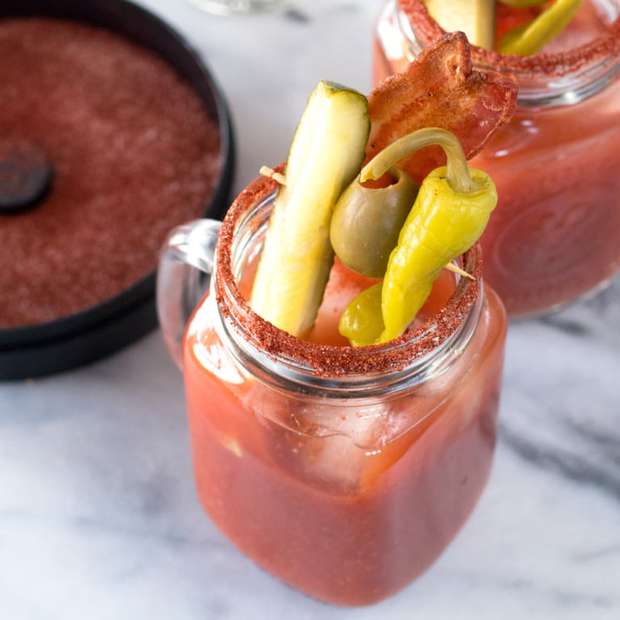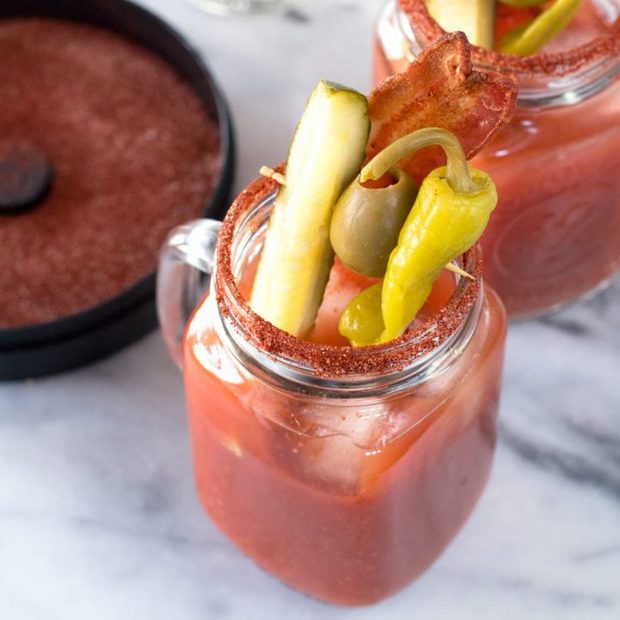 My Ultimate Bloody Mary
With all the pickle fixings and a paprika-cayenne seasoned salt, this is the best bloody mary out there.
Ingredients
1 Tbsp kosher salt
1 Tbsp smoked paprika
Pinch cayenne
2 oz vodka
7 oz GOOD bloody mary mix
1 to 2 dashes Tabasco
Pickled pepperoncino
Pickle spear
1 slice thick-cut bacon, cooked
Jalapeño-stuffed olive
Ice
Instructions
In a small bowl, mix together salt, paprika and cayenne. Use the seasoned salt to rim the edge of an empty glass. Fill the glass with ice and set aside.
In a shaker filled with ice, combine vodka bloody may mix and tabasco. Shake for 10 seconds and pour the liquid into the glass.
Garnish with all the fixings and enjoy!
Notes
I love to use The Real Dill's Bloody Mary Mix. You can order it online or get it locally in Colorado, if you happen to live here. Another great one is Ripe Pure Squeezed San Marzano Bloody Mary Mix that can be found at Whole Foods.