Cherry Glazed Chocolate Donut Holes are just what you need to wake up to tomorrow morning. They are crispy on the outside but moist and dense on the inside, with a cherry glaze that brings a subtle sweetness and tangy flavor!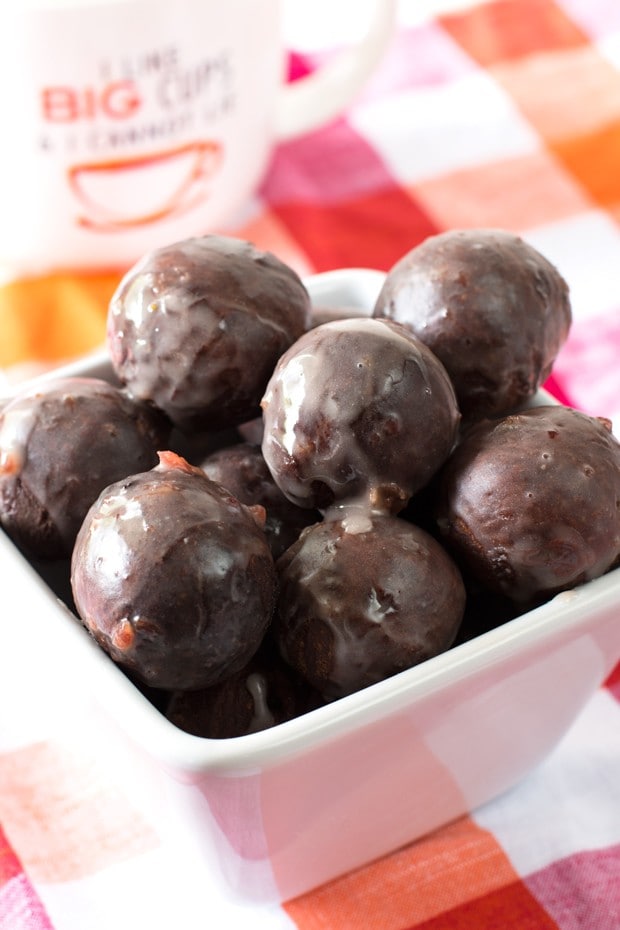 Well good morning gorgeous! Who wants some poppable donut holes for breakfast this morning?
My sweet tooth is insatiable in the morning. I would choose cherry glazed chocolate donut holes over biscuits and gravy time and time again. Something about that sugar kick just gets my day started on the right foot; so much more preferable than savory breakfasts, amIright?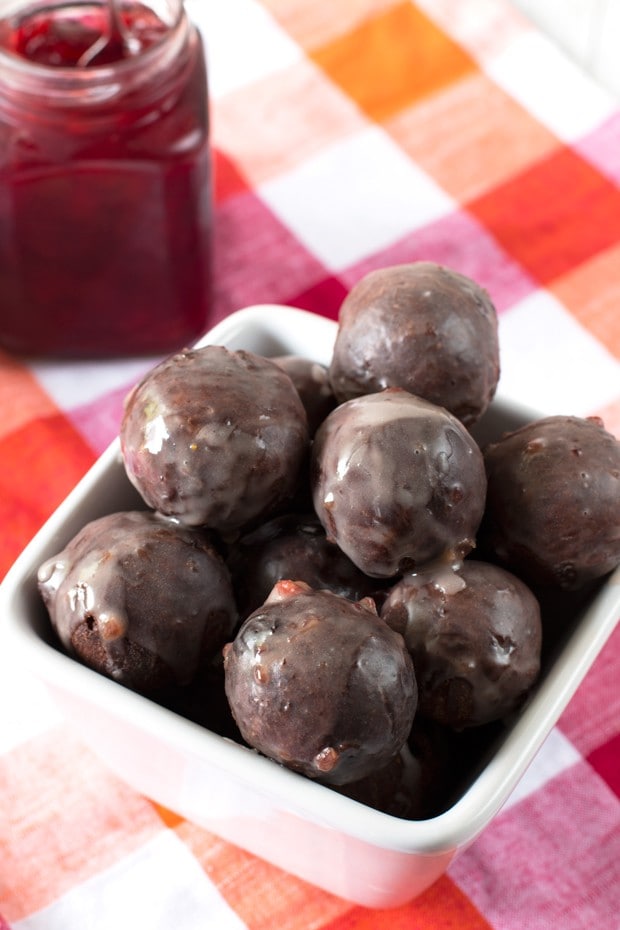 Please note that some of the links below are affiliate links. If you make a purchase through one of these links, I will receive a small commission.
These donut holes are crispy on the outside but moist and dense on the inside, giving you all the texture and flavor you want in every bite. The cherry glaze for me is the best addition, bringing a subtle sweetness and tangy flavor to cut through the dense cake-like donut holes.
Can you believe it's already May and Mother's Day is right around the corner? The years seem to be flying by even faster as I get older and I wish I could slow it down just a little!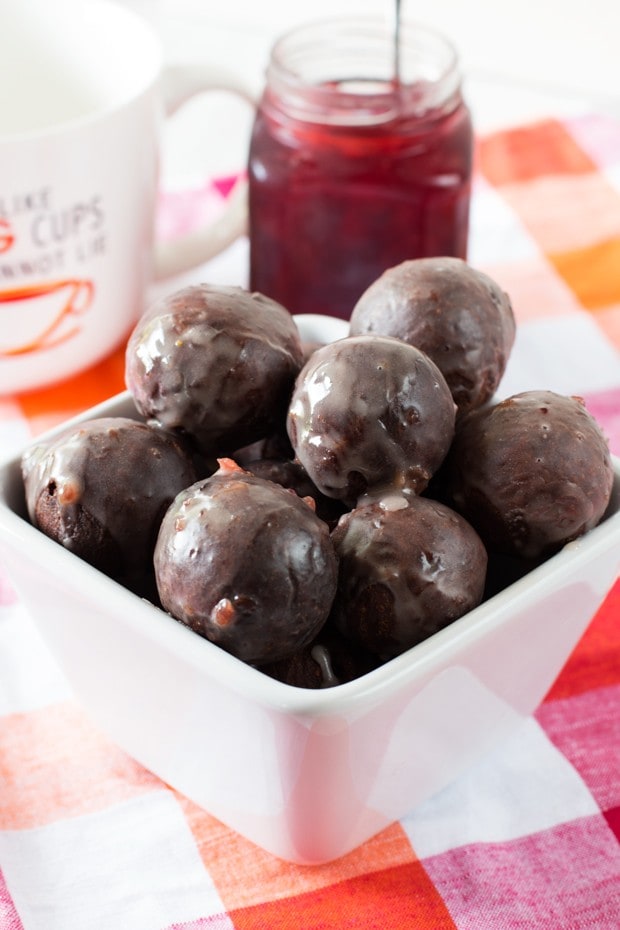 So take a minute to slow down this weekend, whip up a batch of these donut holes, celebrate moms everywhere and enjoy a lengthy morning breakfast/brunch. Don't forget the mimosas!
This Recipe's Must Haves
Pin this Cherry Glazed Chocolate Donut Holes recipe for later!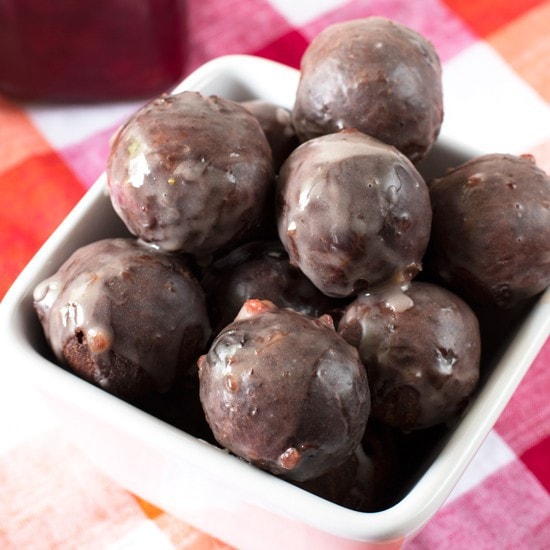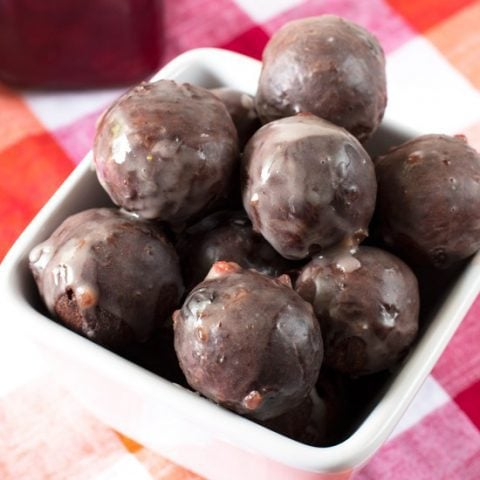 Cherry Glazed Chocolate Donut Holes
Total Time:
1 hour
35 minutes
Sweet and tart cherry glaze covering rich, chocolate donut holes.
Ingredients
Chocolate Donut Holes
2 1/2 cups all-purpose flour
3/4 cup cocoa powder
1/3 cup granulated sugar
1 Tbsp baking powder
1/8 tsp salt
1 1/2 cups milk
2 Tbsp heavy cream
1 large egg, lightly beaten
5 Tbsp unsalted butter, melted and cooled
1 1/2 tsp vanilla extract
Oil for frying
Cherry Glaze
1 1/4 cups confectioners' sugar
3 Tbsp cherry jam
4 to 5 tablespoons whole milk
2 1/2 teaspoons vanilla extract
Instructions
Whisk together flour, cocoa powder, sugar, baking powder, and salt in a large bowl.
In a medium bowl, whisk together milk, heavy cream, egg, butter, and vanilla. Pour the wet mixture into the dry ingredient mixture and stir together until just combined. Cover with plastic wrap and set in the refrigerator for 1 hour to rest.
Turn the chilled dough out onto a floured surface. Roll out until it's approximately 1/2" thick. Using a biscuit cutter or cookie cutter, cut small circles into the dough, approximately 1" to 1 1/2" in diameter. Gather the scrapes, roll out again and cut additional holes until all the dough has been cut.
In a large saucepan over medium heat, heat approximately 2 to 3" deep of oil until it reaches 375 degrees. Fry the donut holes 4 to 5 at a time for approximately 2 to 3 minutes, until puffed and golden. Remove to a paper towel lined plate to drain. Repeat with remaining dough.
Whisk together the confectioners' sugar, cherry jam, 4 Tbsp milk and vanilla for glaze in a medium bowl until smooth. Whisk in more milk if necessary to reach desired consistency.
Line the donut holes on a baking rack set just inside a rimmed baking sheet that has been lined with parchment paper. Slowly pour the glaze over the donut holes, ensuring they are all covered well with the glaze. You may need to use a spoon to get the sides of the holes. Serve immediately or store in an airtight container.