So summer is coming to an end and I plan to take advantage of ALL the berries until it's time to switch over to apples and squash and other autumn foods.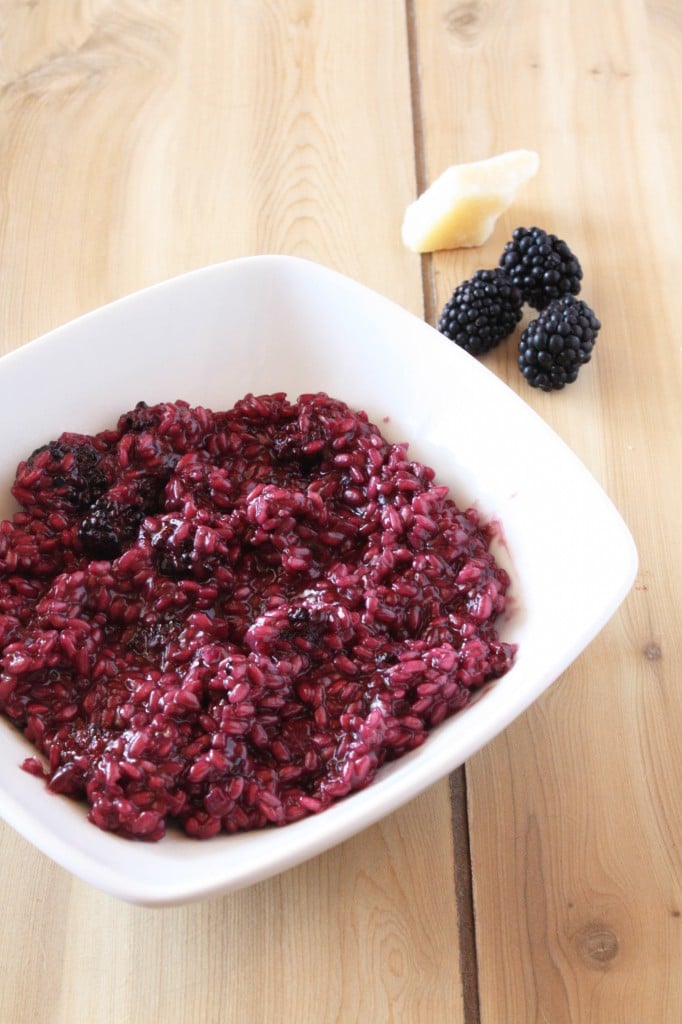 Right now you are probably thinking fruit in risotto?? Has this girl lost her mind?
I know, I know, it sounds completely nutty but it is absolutely divine. You really have to trust me on this one because it's so crazy that it TOTALLY works.
It's like balsamic vinegar and berries, or chocolate and bacon, or my hubby's favorite (by the way did I mention we just celebrated our 3 year anniversary?! Time flies!), peanut butter and bacon (which I am still not 100% convinced of but he loves it)!
And don't even try to argue with any of those combos (except for the peanut butter and bacon because that's still crazy to me), they are fabulous. Savory and sweet – seriously how can you go wrong? When you try them and your mind is blown, come on back and admit defeat.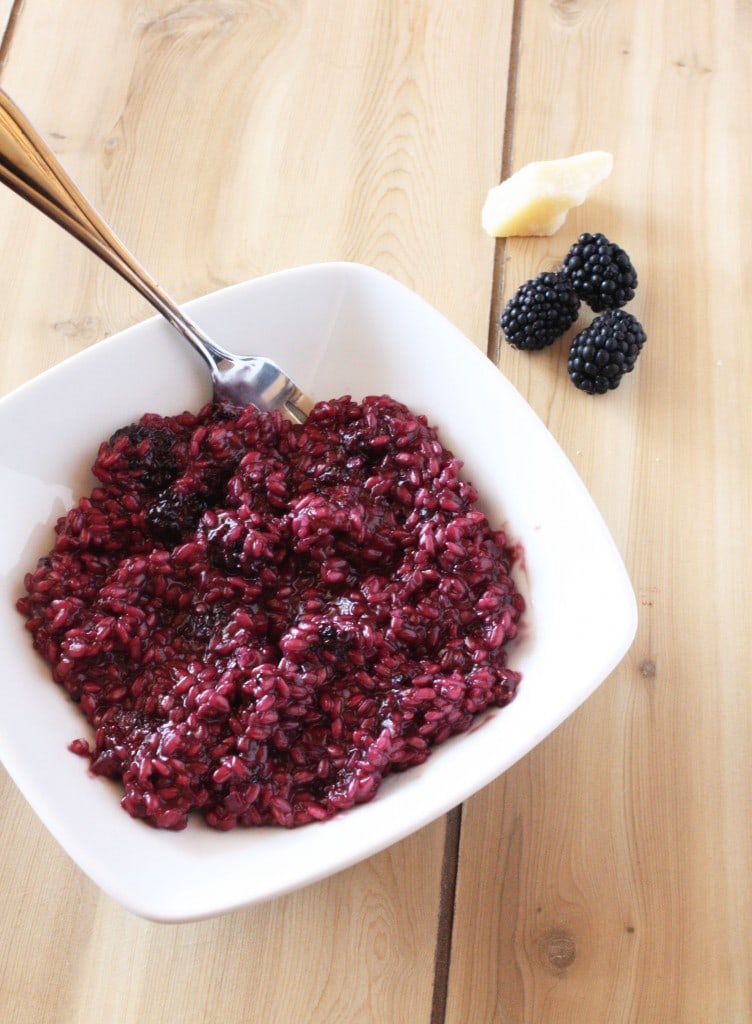 Mmmmmm….. And you all know how much I love risotto. I mean it's right up there with tostadas and cake.
This risotto has the perfect combination of sweet and salty. You get the sweetness from the blackberries that have been cooked down in wine right alongside the salty, savory beef broth and onion.
Every time I have been crazy in the past it has worked so there's no reason to doubt me know.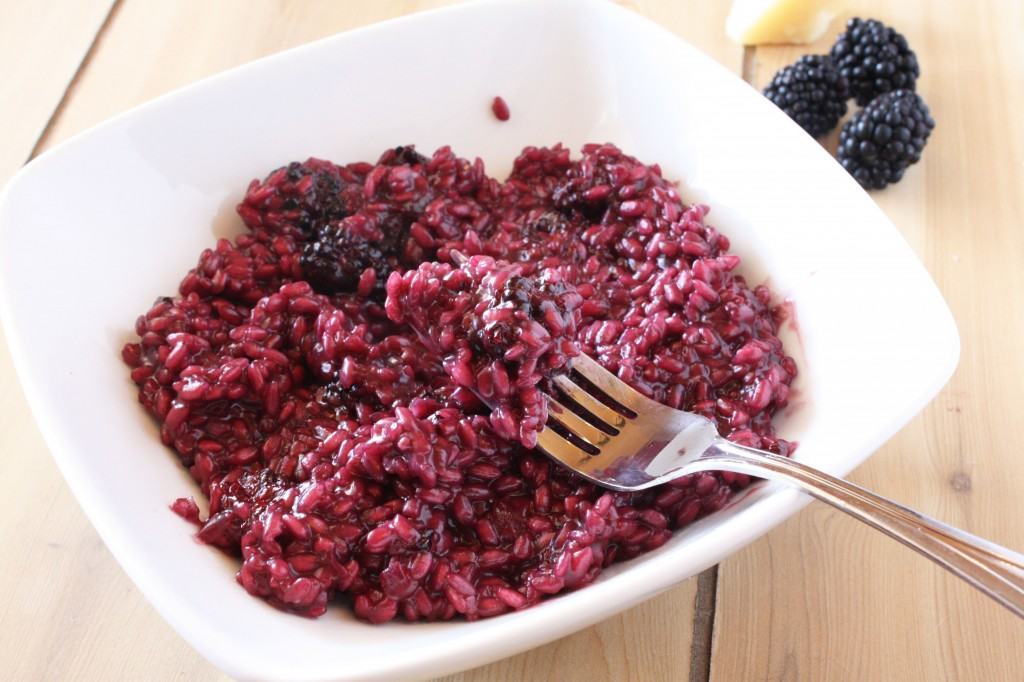 Make it. Devour it.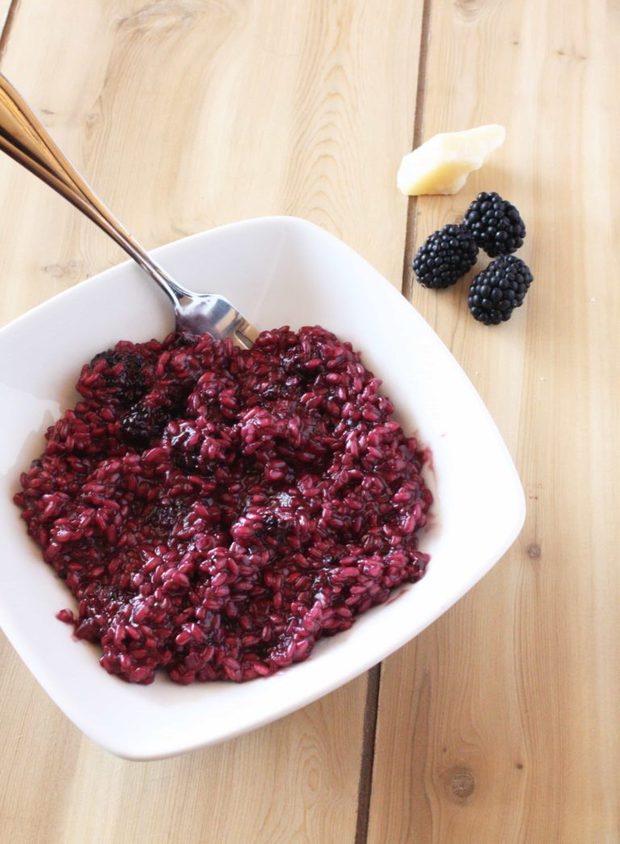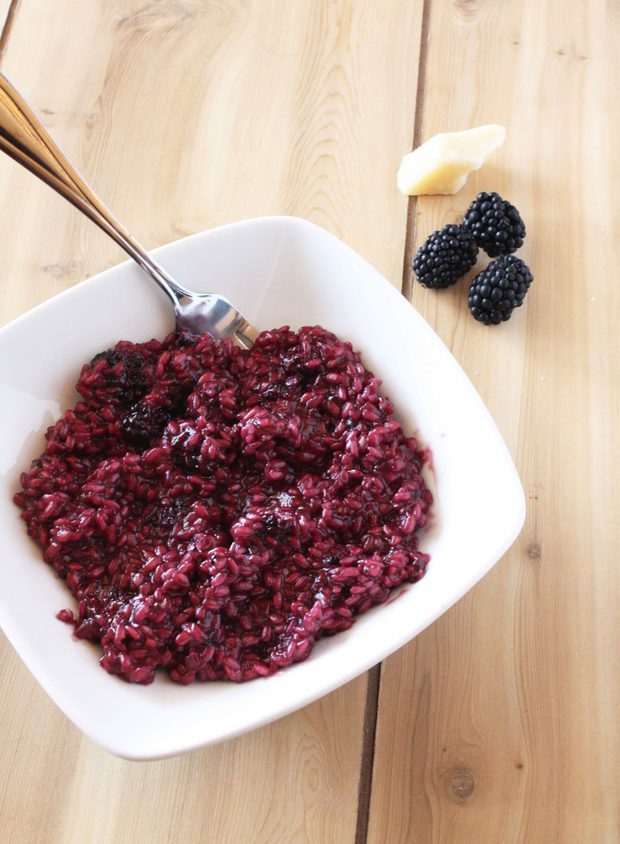 Blackberry Risotto
A sweet and savory risotto that pairs perfectly with chicken, lamb, and beef.
Ingredients
4 tablespoons butter
1/2 cup diced red onion
2 tablespoons minced garlic
2 cup arborio rice
1 cup Merlot
2 cups black berries
1/2 cup light brown sugar
2 cups beef stock
1/2 cup freshly grated parmesan cheese salt and pepper to taste
Instructions
Bring beef stock to a simmer in a saucepan. In a separate saute pan, melt butter over a medium high heat. Add the onion and garlic and cook stirring occasionally, for 5 minutes until softened.
Add the arborio rice and, stirring constantly, cook until the grains are coated in butter. Add Merlot, blackberries and brown sugar. Cook until the wine has been absorbed into the rice.
Add a ladleful of the hot beef stock and cook, stirring constantly, until it has been absorbed. Continue adding the stock a ladleful at a time making sure each addition has been absorbed in between. This will can take up to 18-20 minutes. Just remember to continue to stir your risotto with lots of love - I am 100% sure that this is the key to risotto success. When the rice is tender, season with salt and pepper and stir in grated parmesan cheese.
Notes
Note: You can serve this with steak, lamb, or even chicken. My favorite is with some leftover rotisserie chicken and it is ah-mazing.