Time to get back to some basics.
I never really thought about trying this recipe before but after I saw the recipe posted on Crepes of Wrath I thought I would give it a shot, just to see what the deal is.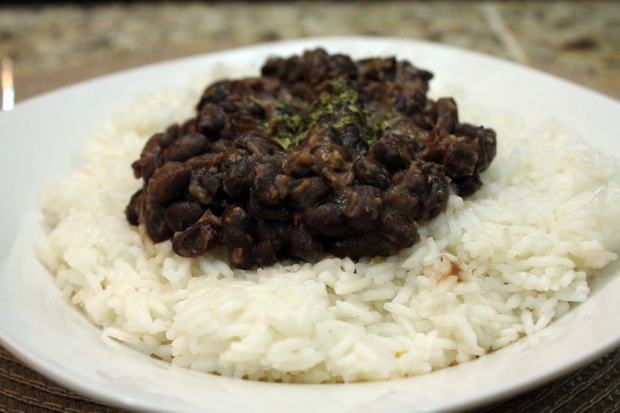 I have learned two things from this experience.
#1. Black beans and rice are actually really good and very filling.
#2. I can't cook without either burning something or creating massive mess. This time, it happened to be both.
Do you know how quickly bacon fat burns? FAST. Like, really fast. Impossibly fast.
This is my punishment for cooking bacon in the oven all my life and then deciding cooking it on the stove would be just as easy and less messy. WRONG. So, so tragically wrong.
Let's just say, the house was filled with smoke, the bacon was perfectly crispy, and the bacon fat was absolutely ruined in my first attempt. And all this happened within a time span of 5 minutes or less.
I know, I know. I am a complete mess.
I somehow was able to salvage the bacon so I got a little bit more fat off those pieces so I think the flavor still came out really well. I had one bowl and my hubby had 2+ bowls. If my hubby goes back for seconds, then I know I did something right.
Hopefully that made up for the insane panic that came from burning the bacon fat and almost burning down the kitchen…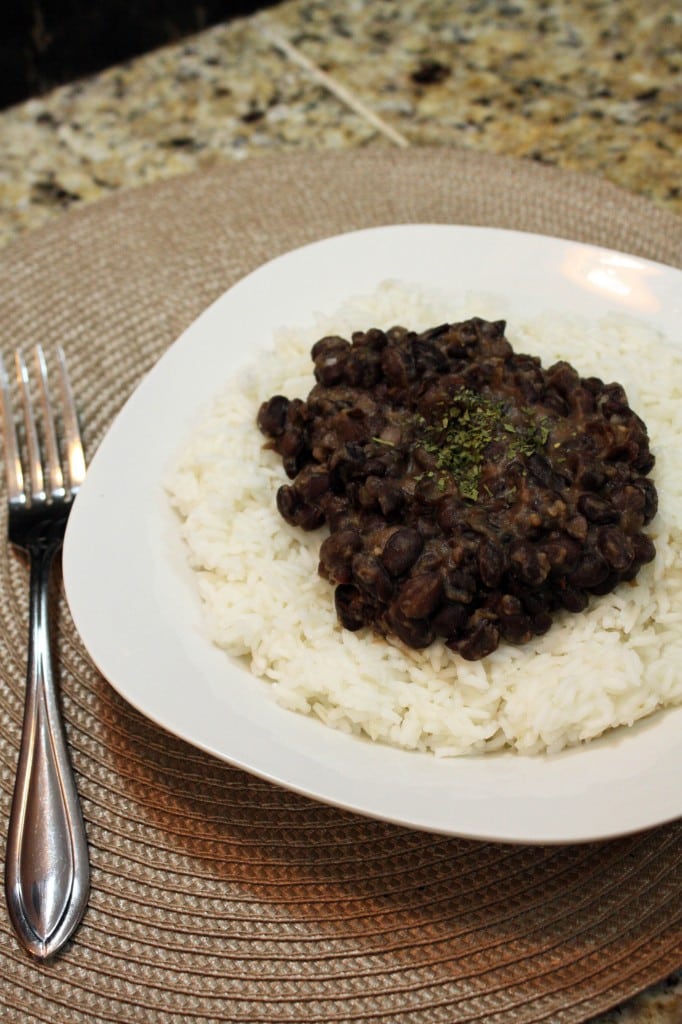 Black Beans & Rice
Cook Time:
1 hour
10 minutes
Total Time:
1 hour
15 minutes
It's the bacon fat that makes these black beans out of this world.
Ingredients
2 cans black beans, rinsed
1 Tbsp butter
6 slices bacon, chopped
1 shallot, finely minced
1 jalapeño pepper, finely minced
6 cloves garlic, finely minced
4 to 5 cups chicken or vegetable stock
1 tsp kosher salt
1/2 tsp ground cumin
1/2 tsp chile powder
1/4 tsp red pepper flakes
1/8 tsp black pepper
3-4 cups cooked rice
Instructions
In a large pan, melt 1 Tbsp of butter over medium-high heat. Add in chopped bacon and cook, stirring frequently, until crispy. Remove bacon with a slotted spoon and place on a paper towel lined plate to drain. Reserve 1 Tbsp of bacon fat and discard the rest. Add the reserved fat back to the pan and add in shallot and jalapeño. Cook over medium heat until softened, approximately 5 minutes. Stir in garlic and cook for an additional minute.
Stir in chicken stock, salt, cumin, chile powder, red pepper flakes and black pepper. Then add in the rinsed beans. Bring mixture to a boil, then reduce to a simmer and cover. Cook for 1 hour, stirring occasionally, until beans are tender.
When beans are tender, mash approximately half of them with a wooden spoon. Stir in the the non-smashed beans and season with salt and pepper to taste.
Serve over cooked rice.