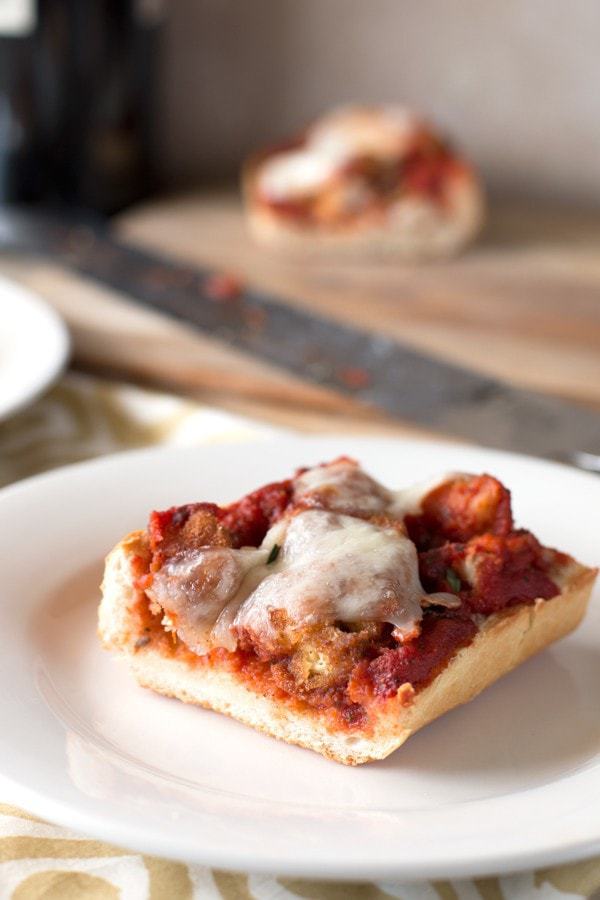 I think this is one of the best pizzas I've made in a really long time…
You wouldn't think I would head straight for pizza the week after epic amounts of feasting, but I can't help myself! Anytime I am celebrating I always feel myself being pulled back to anything Italian.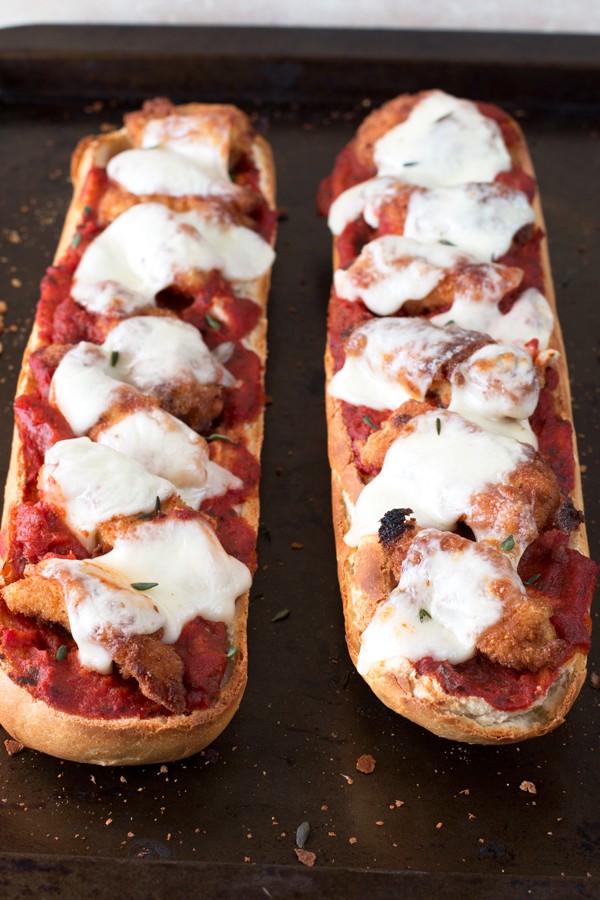 And what is more Italian than Chicken Parmesan?
That would be Chicken Parmesan on a pizza!!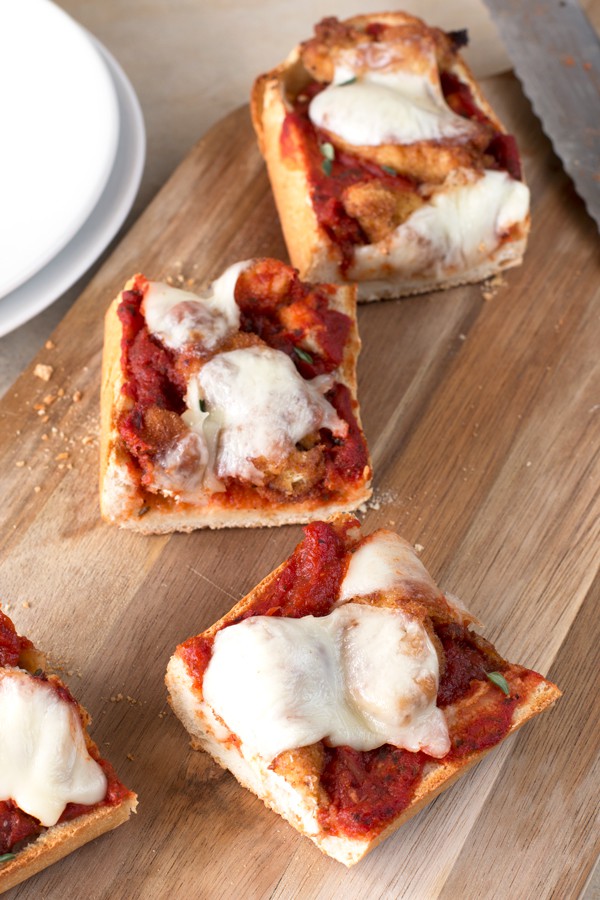 This french bread pizza is such a delicious way to get your Chicken Parmesan fix fast and easy. I have to tell you, even though you won't be laboring over a sauce for days, the simple addition of fresh herbs to a basic tomato sauce will make it taste like you did. Don't you just love when things that take less than 30 minutes taste like hours of hard work?
Whether you are whipping up a weeknight dinner for your family or a late night snack for your friends (or just yourself.. #letsbereal), this will hit the spot for any Italian craving you have.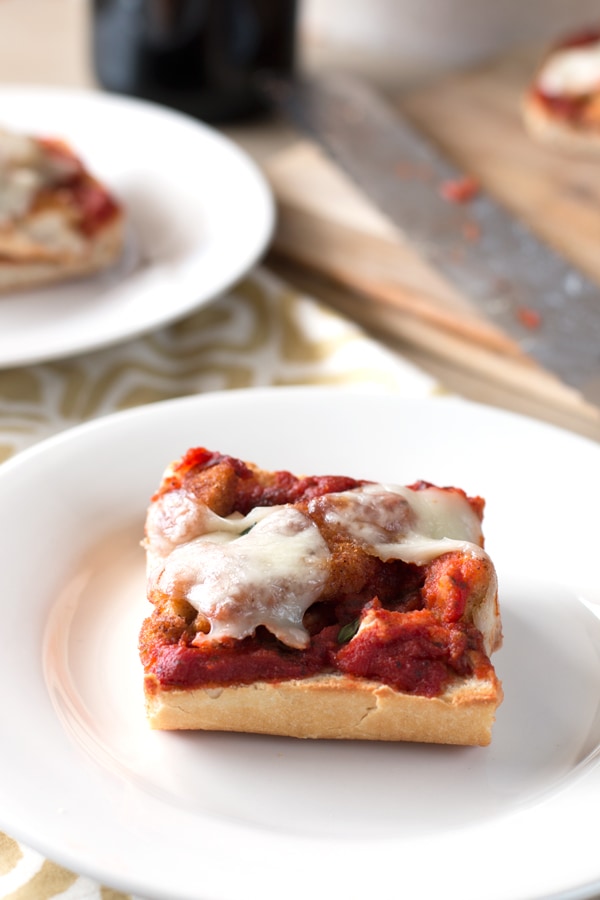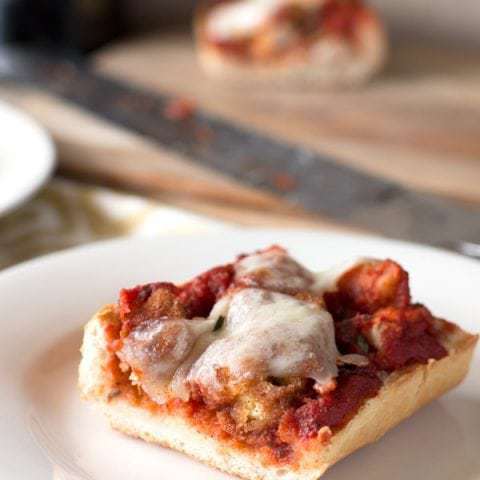 30 Minute Chicken Parmesan French Bread Pizza
A classic Italian dinner made quick and easy for those busy weeknights. It's sure to please the entire family!
Ingredients
2 cups tomato sauce (I used Prego Traditional)
1 Tbsp fresh oregano leaves, chopped
1 Tbsp fresh thyme leaves, chopped
1/2 tsp salt
1/2 tsp pepper
1 large skinless, boneless chicken breast
2 eggs, lightly beaten
1/2 cup all-purpose flour
1/2 cup breadcrumbs
1/4 cup olive oil
1 French baguette, cut in half lengthwise
1 8oz ball of fresh mozzarella, cut into thin rounds
Instructions
In a medium saucepan over medium-high heat, stir together the tomato sauce, fresh herbs, salt and pepper and bring to a boil. Reduce to medium heat, cover and allow to reduce by at least half, approximately 10 minutes, stirring occasionally. Once reduced, keep warm over low heat.
Pound out the chicken breast until it is thin, approximately 1/4"-1/2" thick. Cut the breast into long strips and then cut crosswise into approximately 1" long pieces. Set aside.
Add olive oil to a medium skillet over medium-high heat and heat until shimmering.
While the oil is heating, prep your dredging stations. Add the flour to the first bowl, beaten eggs to a second bowl, and breadcrumbs to a third bowl. Dredge the pieces of chicken in flour, then egg, then breadcrumbs, shaking off the excess before adding them to the hot oil.
Working in batches of 5-6 pieces, fry the breaded chicken pieces until cooked through and golden brown, approximately 1 minute per side. Remove to a plate lined with paper towel.
Turn your broiler to high. Add the French baguette halves to a baking sheet, cut side facing up. Toast under the broiler for approximately 45 seconds until browned. Remove from oven and assemble the pizzas.
Spread a thick layer of tomato sauce on each half of the baguette. Then divide the chicken pieces evenly between the two and top with slices of mozzarella cheese. Place the baking sheet back under the broiler and cook until the cheese has melted, approximately 45 seconds (keep a close eye on it!).
Remove from oven and cut into pieces (I ended up with 4-5 per half). Serve immediately.