Please note this post contains affiliate links.
Love setting your mouth on fire? Turn up the heat with crispy Hot Chicken with Homemade Quick Pickles! The juicy chicken is fried to perfection and brushed with a spicy oil that will bring any spicy food lover to their knees. Pair that with cool, crunchy quick pickles, and you've got a meal no one will forget!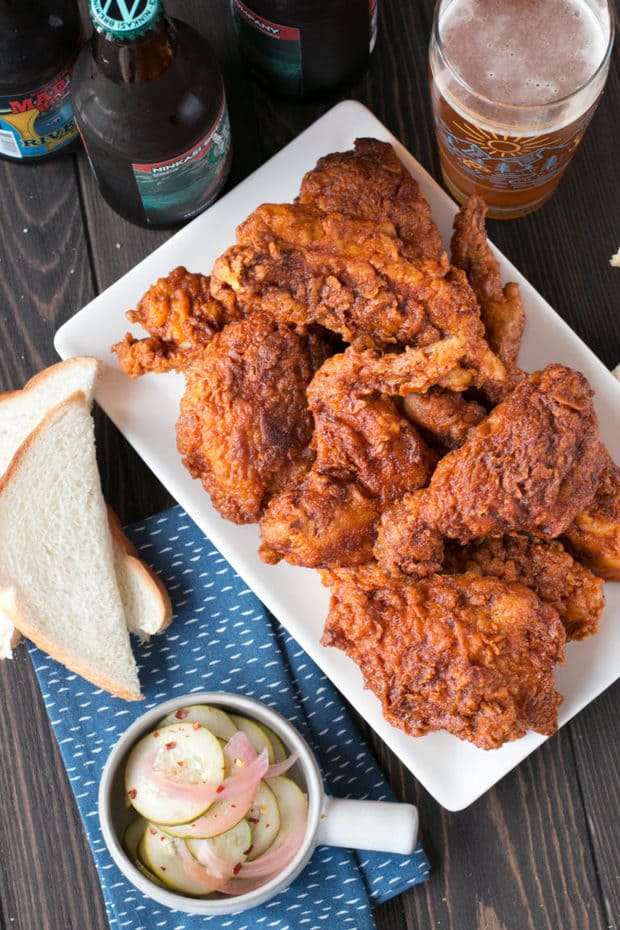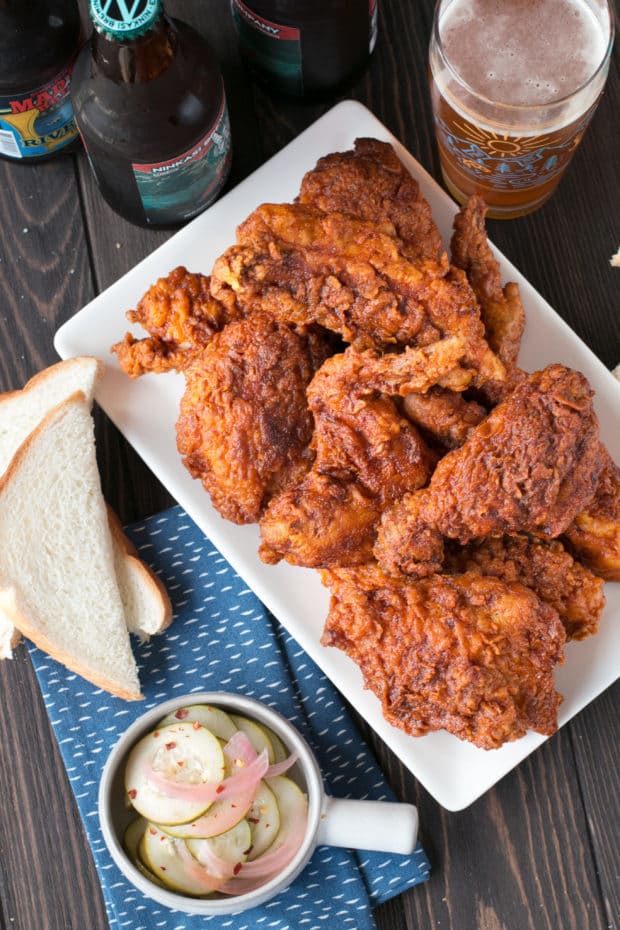 I have been DYING to share this recipe with you all ever since I made it…
Getting ahead in my schedule of cooking to ensure I had time to pack and move this week has been somewhat of a pain, because I can't immediately share all the deliciousness that's been coming out of my kitchen.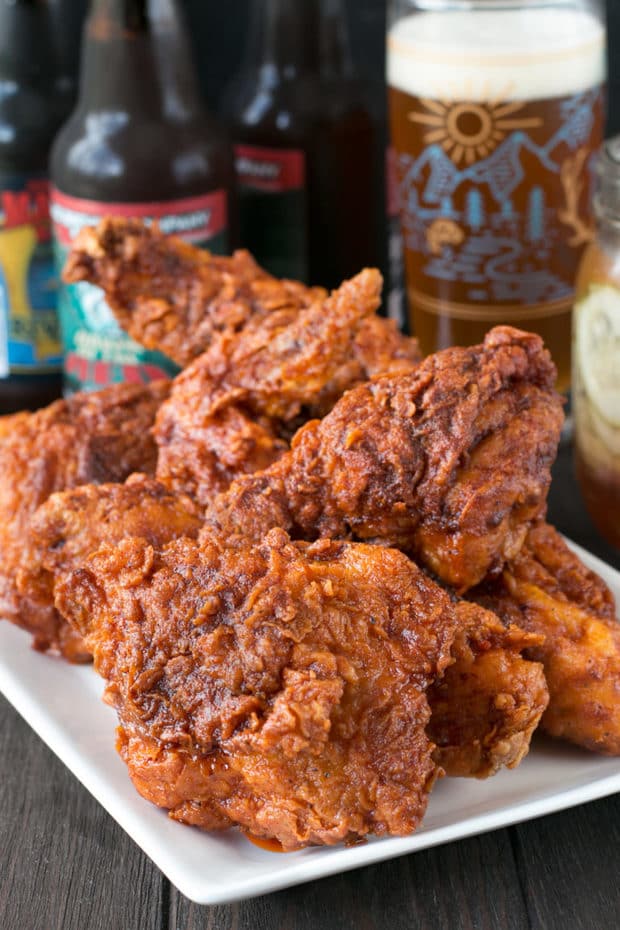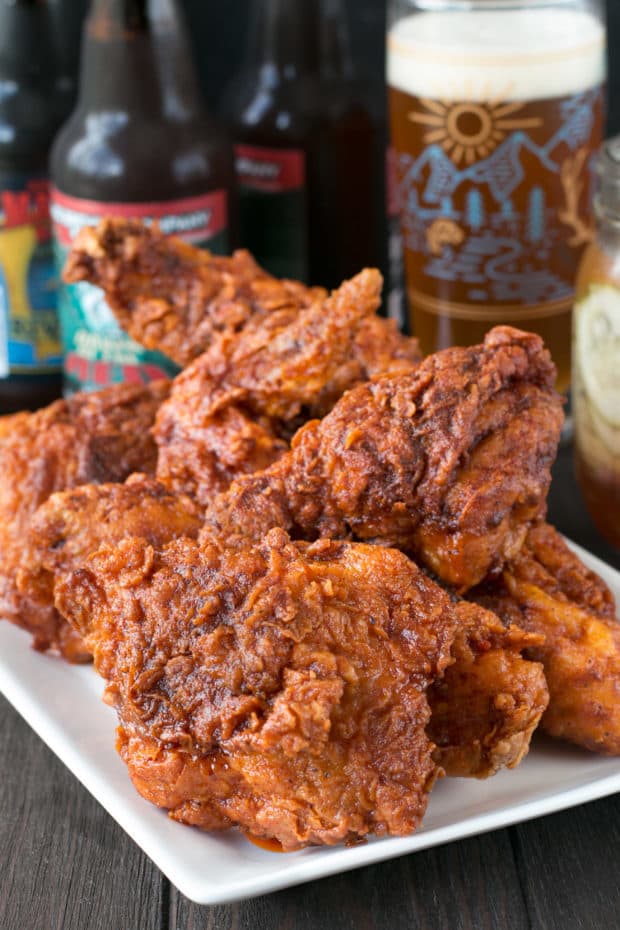 This chicken is the highlight of my life right now.
Before I dive into the recipe itself, have you ever heard of or indulged in hot chicken?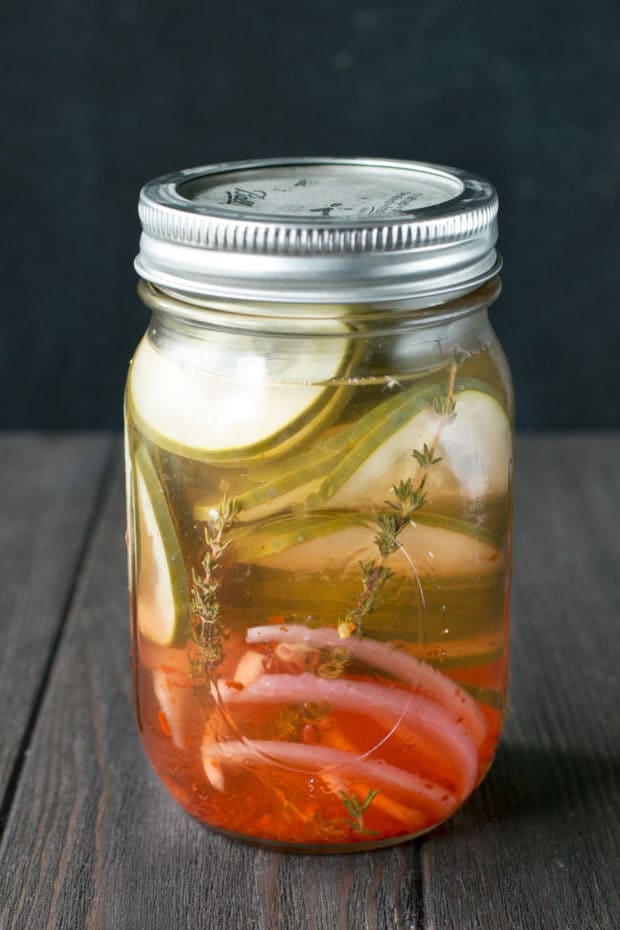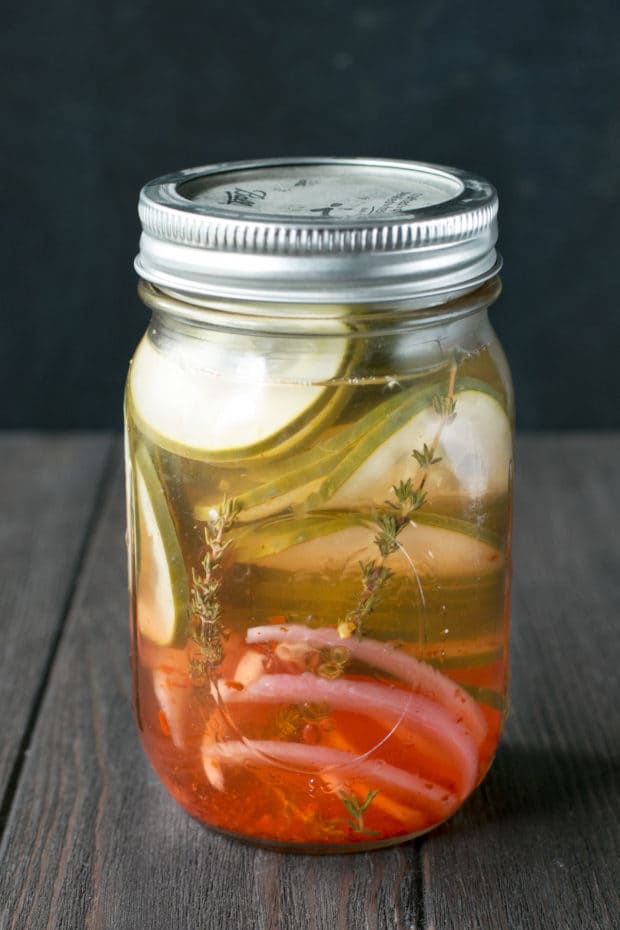 Please note that some of the links below are affiliate links. If you make a purchase through one of these links, I will receive a small commission. Thank you for supporting Cake 'n Knife!
If you've ever been to Nashville, I'm sure you've had a heaping helping served up to you with plenty of white bread and pickles to go along with it.
Hot chicken is essentially a spicy food lover's fried chicken. It's fiery fried chicken.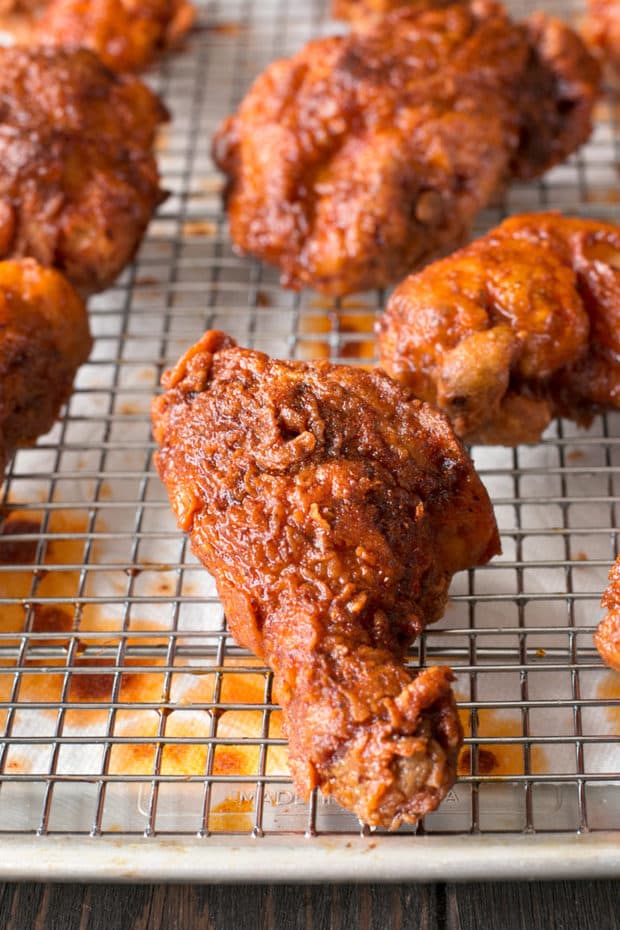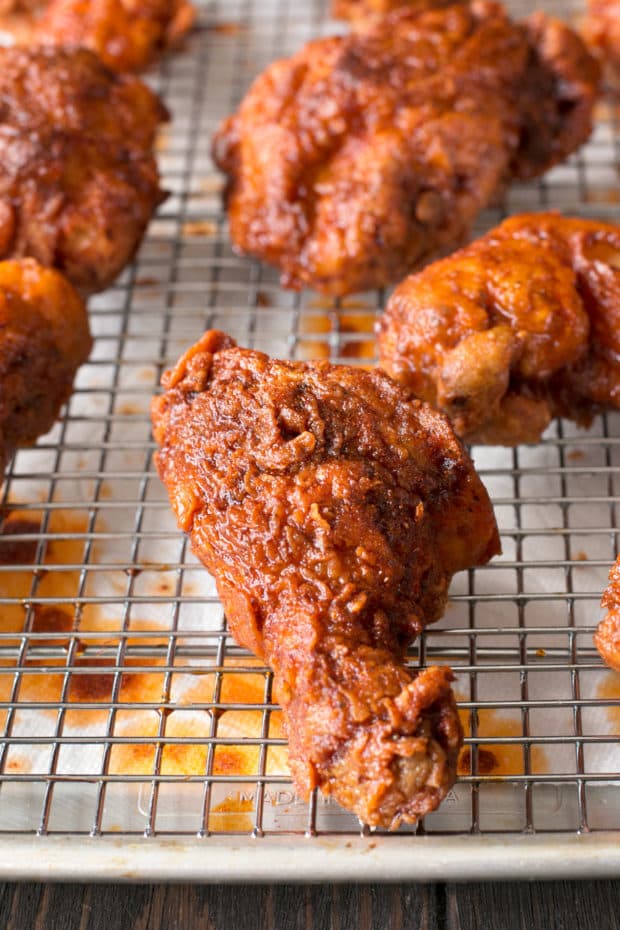 The heat, the crispy skin, the juicy chicken inside – it all comes together in a mouthful of "oh. my. gawd" goodness that once you try, you are forever ruined on regular fried chicken.
This hot chicken is a simple way to get your spicy fried chicken fix at home. In Nashville there are places that do it up all fancy by injecting their chicken meat with spicy sauces and such. But not all of us want to break out the injectors for dinner every week…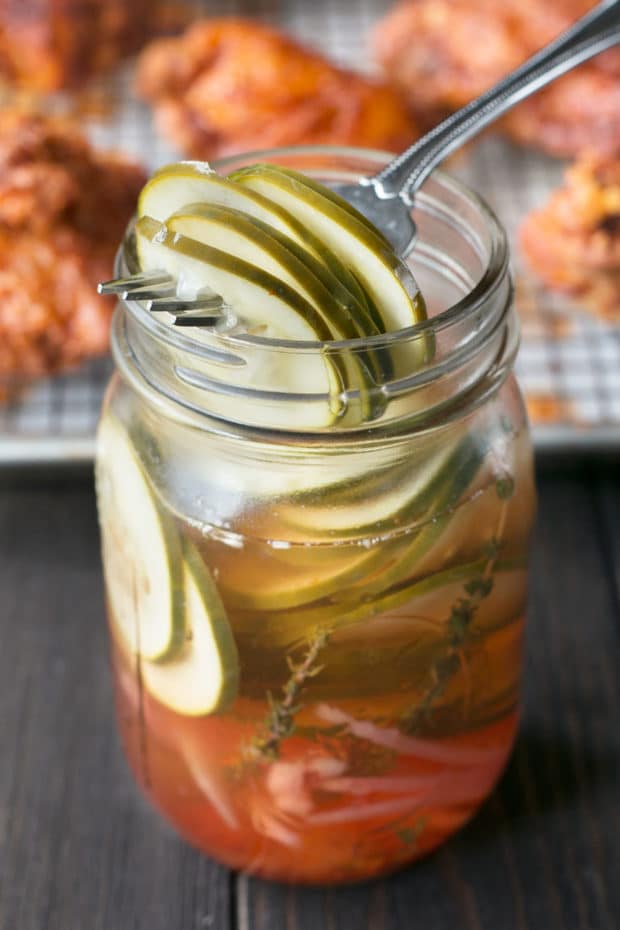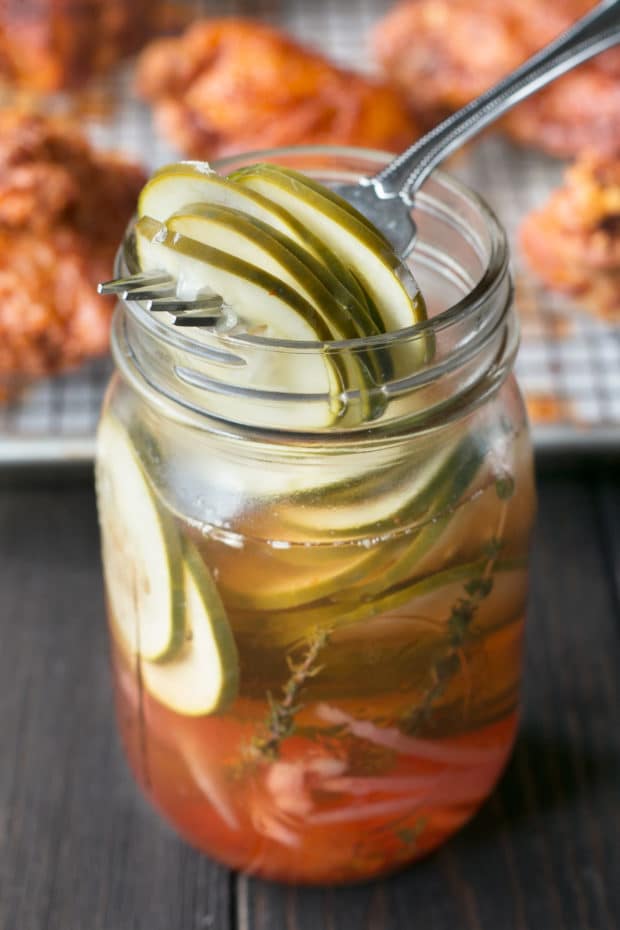 SO you turn to your hot sauce and your cayenne pepper. The flour mixture you dredge the chicken in is spicy. The buttermilk mixture you dredge the chicken in is spicy.
Then you top it all off with a stunning spicy oil…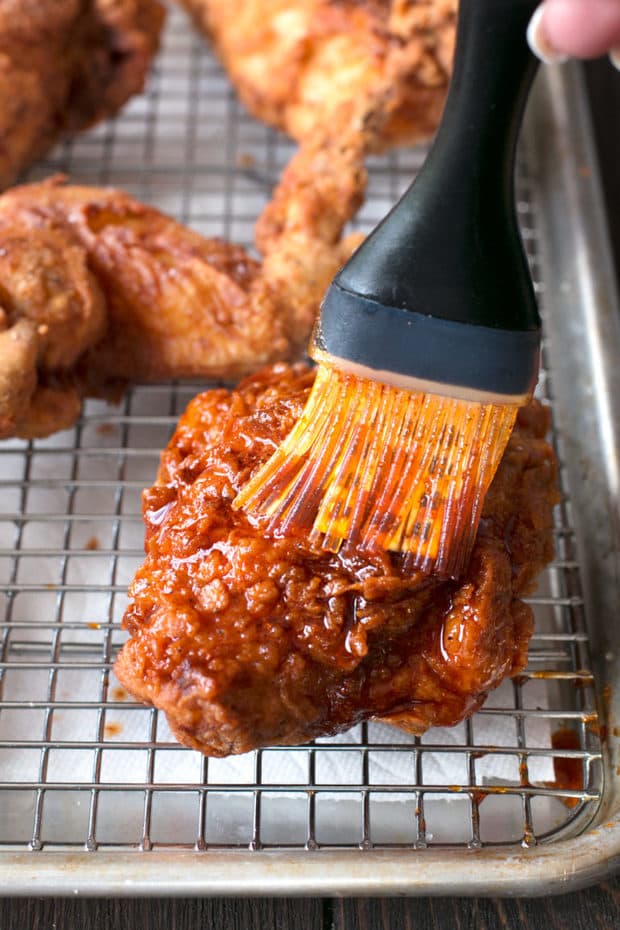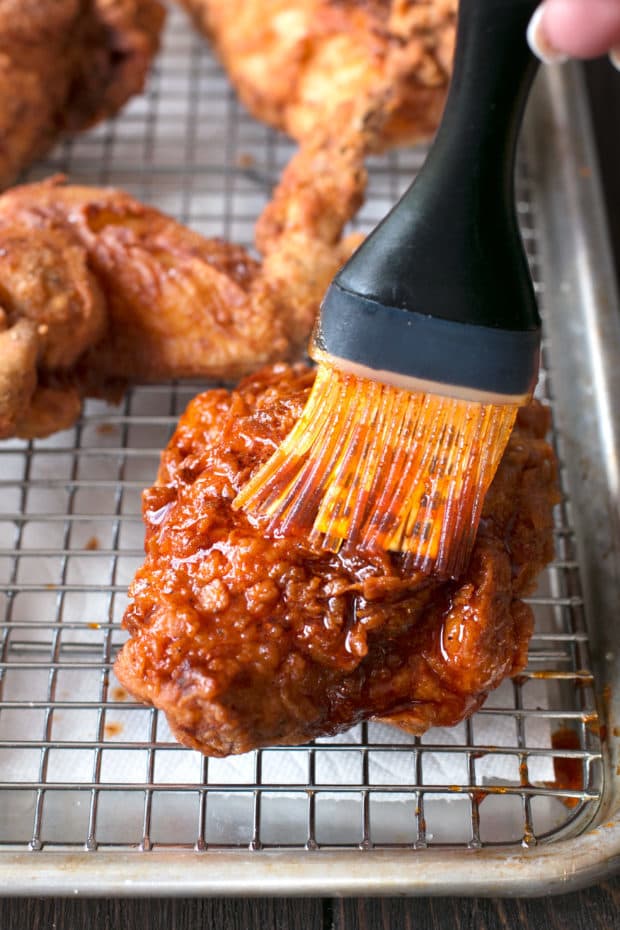 The spicy oil turns this: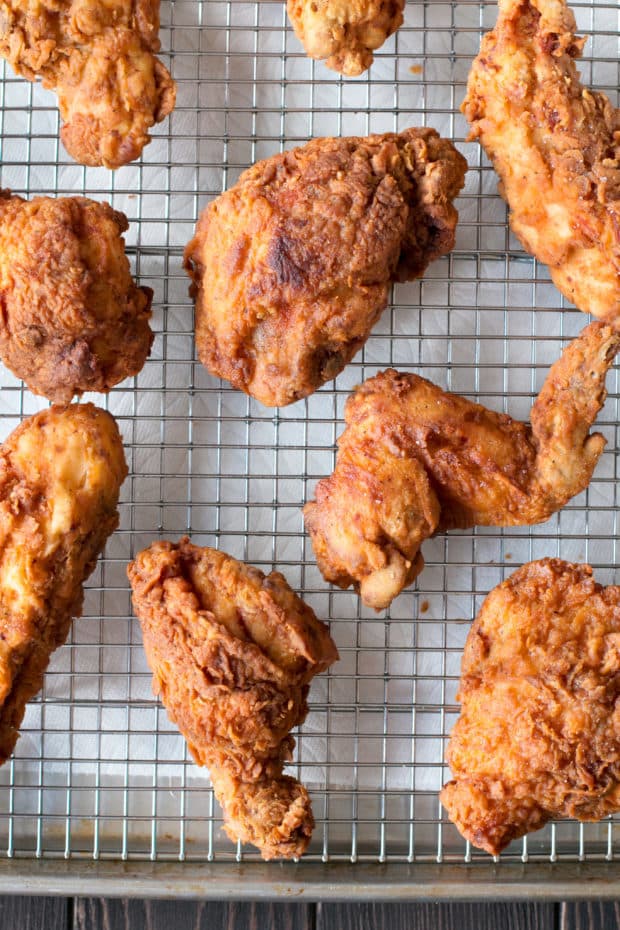 Into THIS:

Just soak in all that rich color for me for a second.
Is your mouth watering yet?
Now I know that frying chicken can be somewhat intimidating. However, I can assure you, it isn't as scary as it seems.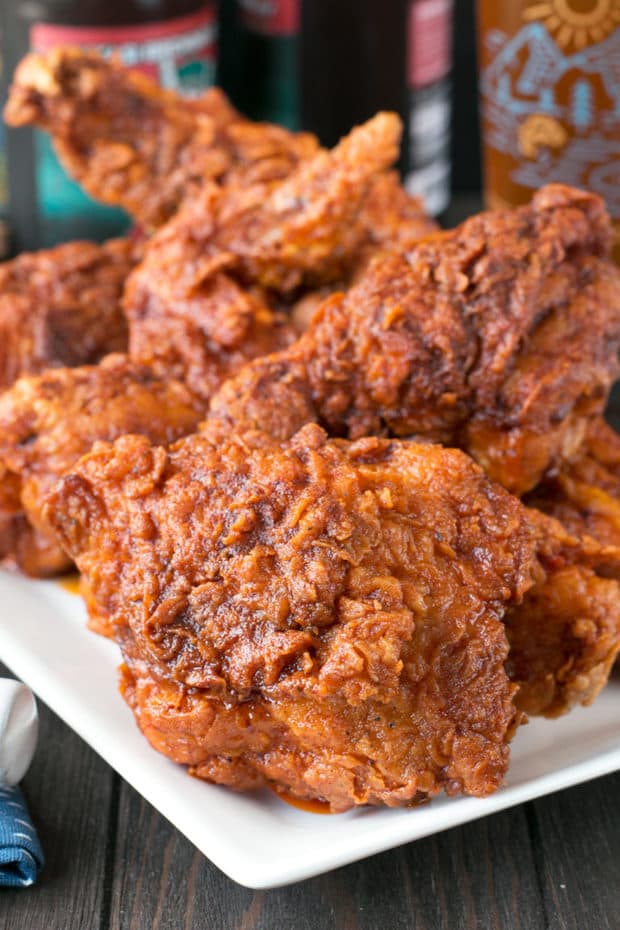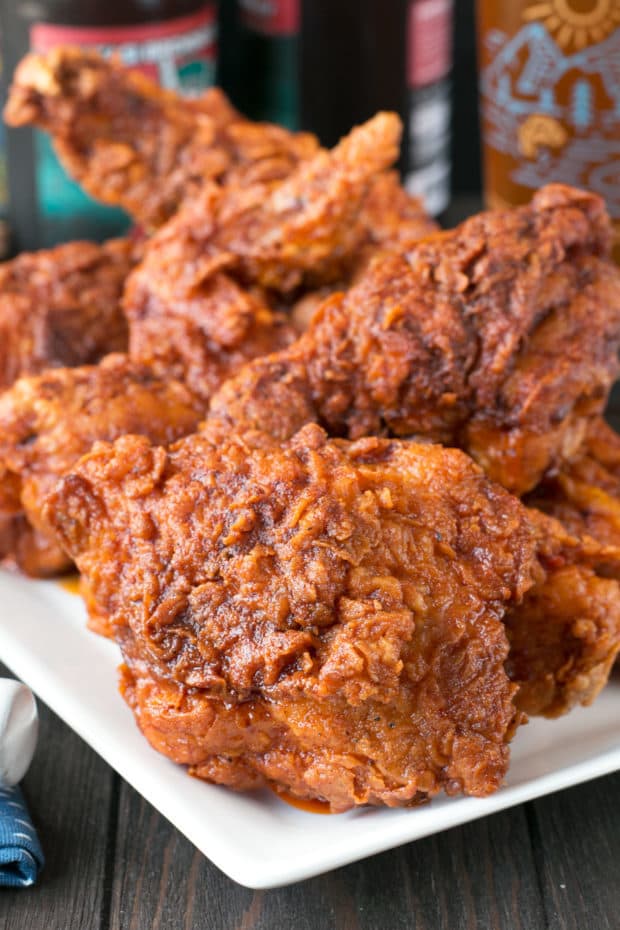 All you need to do is be prepared. Have everything set up from the dredging bowls to the Dutch oven before you start in on the process. The more you are prepared with your mise en place, the easier it will all be!
Just be sure to serve it up with white bread and those tasty pickles that are easier than a dump cake to make. It's the only way to enjoy the best hot chicken EVER.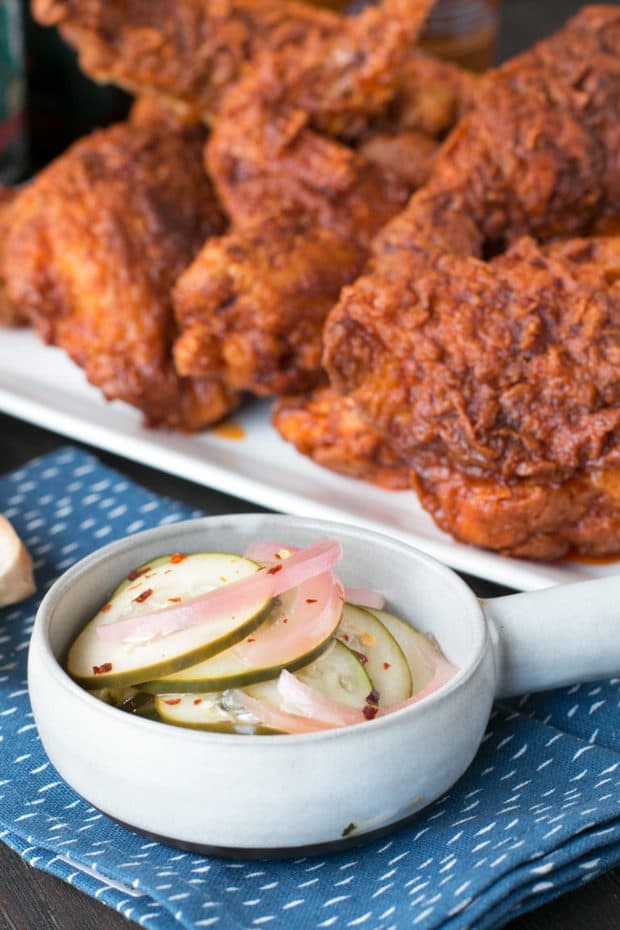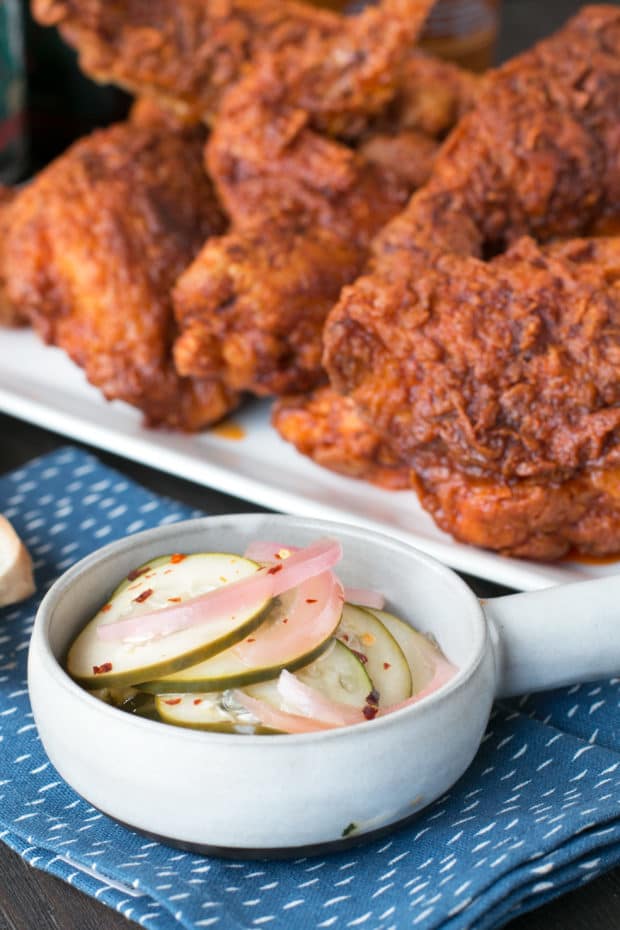 This Recipe's Must Haves
Pin this Hot Chicken with Homemade Quick Pickles recipe for later!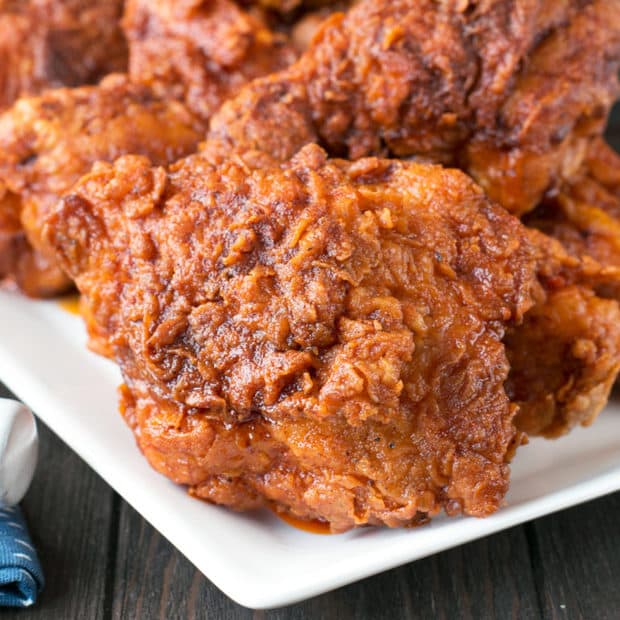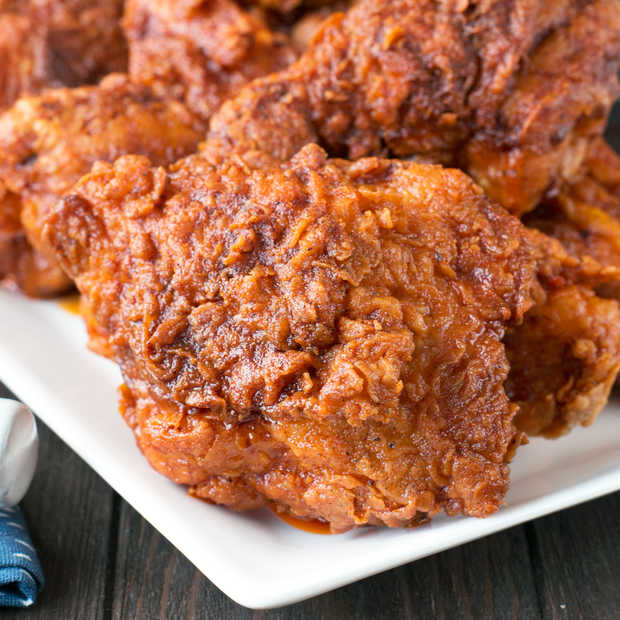 Hot Chicken with Homemade Quick Pickles
Crispy fried chicken is brushed with a spicy oil and served up with easy peasy homemade quick pickles for one of the best down-to-earth Southern-inspired dinners you can make!
Ingredients
Chicken
1 3½ to 4-lb chicken, cut into 10 pieces (breasts halved)
1 Tbsp freshly ground black pepper
1 Tbsp plus 3 tsp. kosher salt, divided
2 eggs
1 cup buttermilk
2 Tbsp Tabasco
2 cups all-purpose flour
1 tsp cayenne pepper
Vegetable oil for frying
Spicy Oil
1/2 cup vegetable oil
4 Tbsp cayenne pepper
1/2 Tbsp dark brown sugar
1/2 tsp chili powder
1 tsp garlic powder
1 tsp paprika
Pickles
2 large cucumbers, thinly sliced
2 sprigs fresh thyme
2 tsp black peppercorns
1 tsp crushed red pepper flakes
1/4 red onion, thinly sliced
2 cloves garlic, sliced
1 cup rice vinegar
1 cup water
1 Tbsp salt
1/2 Tbsp granulated sugar
OPTIONAL: Serve with white bread and any reserved spicy oil for the people that want to breathe FIRE
Instructions
Add thyme, peppercorns, red pepper flakes and red onion for the pickles to a large airtight jar or container.
Pack the cucumbers for the pickles into a mason jar or other airtight container, making sure there is a 1/2-inch of space at the top.
Combine vinegar, water, salt and sugar for the pickles in a small saucepan. Bring to a boil over high heat, stirring to dissolve the salt and sugar. Pour the brine over the vegetables, leaving 1/2 inch of room at the top.
Seal the container and let sit in the refrigerator to cool to room temperature. The longer you let them sit, the better the pickles will taste! Overnight is ideal.
In a large bowl, toss chicken with black pepper and 1 Tbsp salt. Cover with plastic wrap and chill at least 3 hours.
In a wide-mouthed bowl, whisk together eggs, buttermilk and hot sauce.
In a separate wide-mouthed bowl, whacked together flour, remaining salt and cayenne pepper.
Fill a large Dutch oven with enough vegetable oil to be 2 inches deep. Bring oil to 325 degrees over medium-high heat. Once the oil is ready, pat chicken dry with paper towels. Dredge each piece of chicken in the flour mixture, followed by the buttermilk mixture, letting the excess drip back into the bowl. Dredge once more in flour and place on a clean baking sheet.
Working in batches of 2 to 3 pieces of prepared chicken, fry chicken until skin is deep golden brown and the internal temperature reaches 160 to 165 degrees. Remove to a wire rack set inside a rimmed baking sheet lined with paper towels. Sprinkle with a light seasoning of salt.
In a small bowl, whisk together ingredients for spicy oil. Brush fried chicken with the spicy oil.
Serve with pickles, white bread and any additional spicy oil you have left (for those of you who love it HOT!).