Food Bloggers Against Hunger: $4 Meal
Today, I along with many other food bloggers are joining together with Food Bloggers Against Hunger to raise awareness about hunger in the United States. Food Bloggers Against Hunger was created by The Giving Table in response to the documentary A Place at the Table and food bloggers across the country today will be donating their posts to raise awareness about hunger.
No child should go hungry. That's a simple fact. Unfortunately the truth is many children do go hungry – 1 in 4 children in the U.S. do not know where their next meal will come from. In addition to this, food stamp participants are only allocated $3 to $4 a day to survive. $3 to $4 A DAY.
With this in mind, to really show you what this translates to in terms of food, I went to my local supermarket with $4 in hand, intent on making a meal that could feed a family. When I got to the store, I was completely lost. I mean, I budget when I shop and I try to shop smart. Yet $4 for an entire meal that is not only filling but also somewhat healthy? That seemed almost impossible as soon as I started looking at food prices.
I started in the produce section and it was right then I realized how little $4 is when it comes to purchasing healthy foods. Fruits and vegetables that should be readily accessible to everyone, those food that children should be eating, is completely out of the price range. As I moved through the store, it is astonishingly clear just how much less expensive unhealthy processed foods are. Even with the difference in price, living on $3 to $4 a day is extremely difficult.
Taking on this challenge was exactly that – a challenge. My goal throughout my shopping trip was to focus on as many fresh flavors as I could while also including protein and nutrients that children and adults alike need.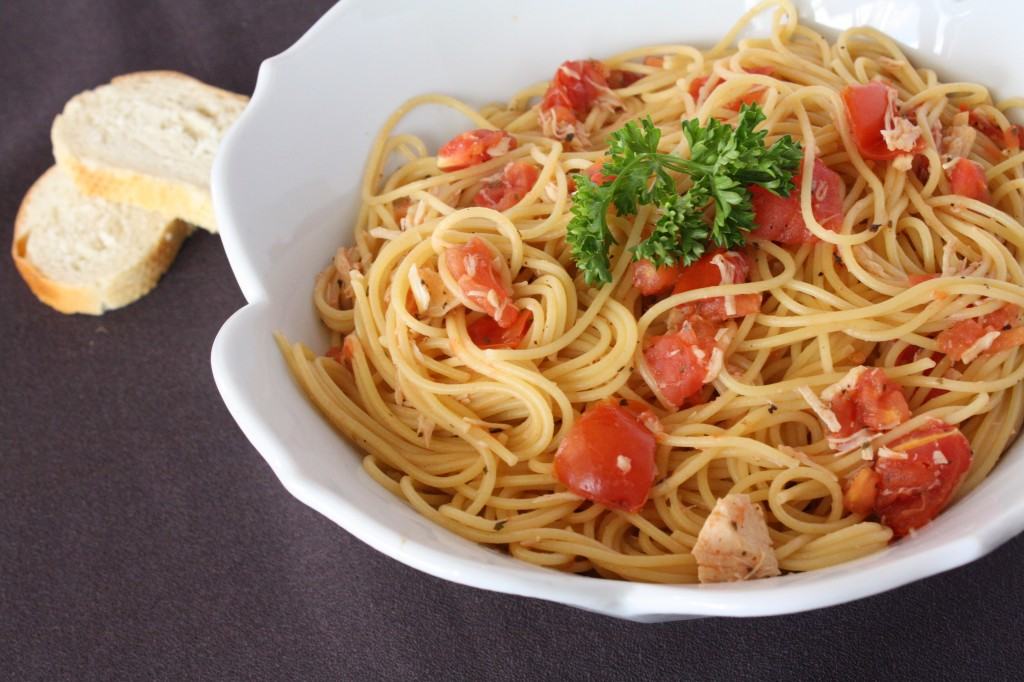 The recipe I came up with packs a punch of flavor without breaking the bank and using too many ingredients that wouldn't normally be found in the average kitchen.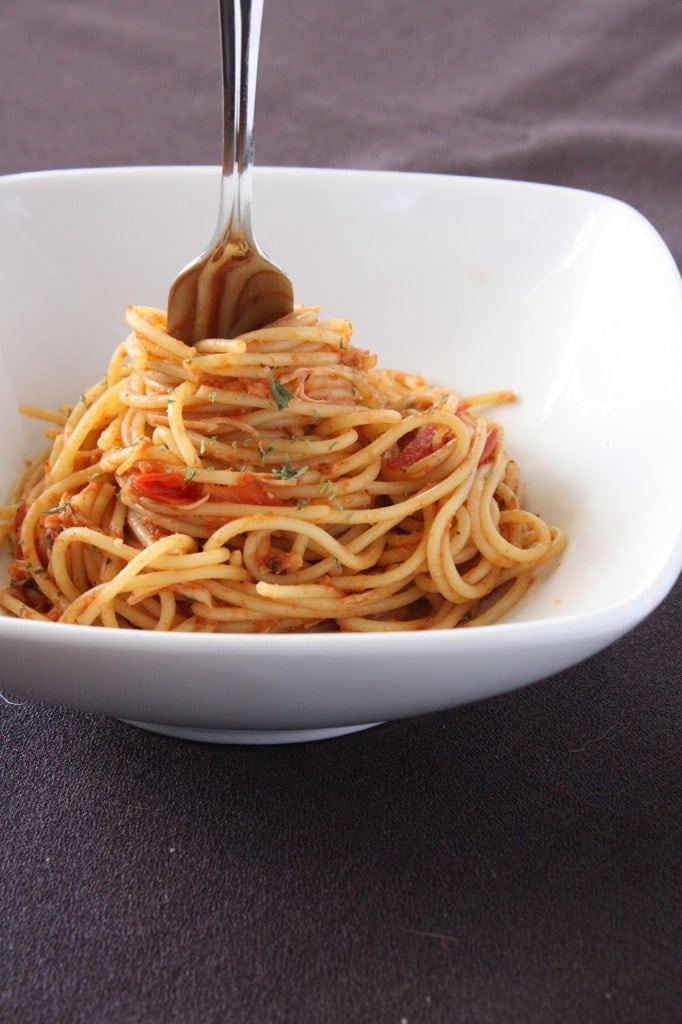 The truth of the matter is the $3 to $4 a day that individuals who live on food stamps usually receive was all spent on this ONE MEAL. It is not enough. It just isn't.
As citizens of the United States we have a responsibility to make changes to our nation's policies. Change has to happen. So take 30 seconds of your time today and make a difference. Send a letter to Congress by clicking here. Today we have the potential to send thousands of letters!
Because no child should go hungry.
$4 Spaghetti with Fresh Roasted Garlic Pomodoro Sauce
A filling meal that can be made with just $4.
Ingredients:
1 lb thin spaghetti
5 oz canned chicken in water, drained
3 Roma tomatoes, chopped
1 head of garlic
1 cube chicken bouillon
2 Tbsp tomato paste
1 Tbsp olive oil
1 Tbsp dried oregano
1/8 tsp red pepper flakes
1 Tbsp dried basil
Salt & pepper to taste
Directions:
To roast garlic, cut off the top of the head of the garlic, place in a foil packet, and roast in oven at 350 degrees for 30 minutes. Remove from oven and let cool for a couple minutes. Then squeeze out the roasted garlic onto a small plate and set aside.
Make one cup of chicken broth by dissolving the cube of chicken bouillon in one cup of boiling water. Add the cup of chicken broth to a large pot and add enough water to the broth to cook the spaghetti. Bring to a boil and cook spaghetti according to box. Drain and reserve 1 Tbsp of pasta water.
Combine 2 Tbsp with tomato paste and just enough water to create a pasta sauce consistency. Heat 1 Tbsp of olive oil in a large sauté pan over medium heat and add chopped tomatoes. Toss with oregano, red pepper flakes, basil, and salt and pepper to taste. Add chicken, roasted garlic, and the tomato sauce you made with the paste. Cook over low-medium heat until warmed through. Add drained spaghetti and 1 tbsp of reserved pasta water. Stir to combine and serve immediately.
If you would like to check out recipes made by other bloggers who participated in Food Bloggers Against Hunger today, click here.
I highly recommend that you take the time to watch the film A Place At The Table. The movie is incredibly informative and if you aren't aware of the hunger problem in this country, this film is the best way to bring yourself up to speed and really see what's going on.
To view the film via iTunes, click here. To view the film via Amazon, click here.
My deepest thanks to those who put together this event. It truly was an experience I will never forget.