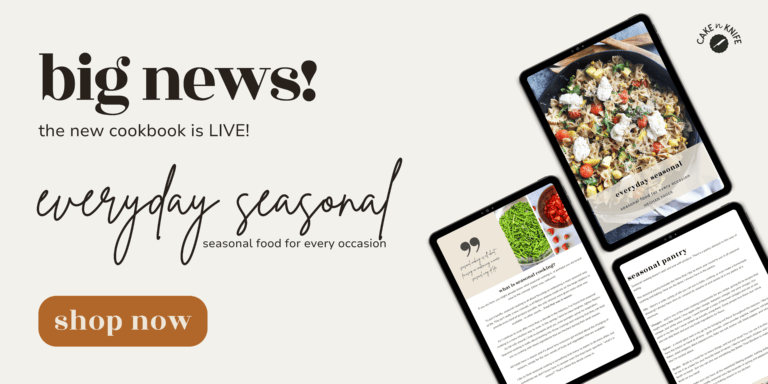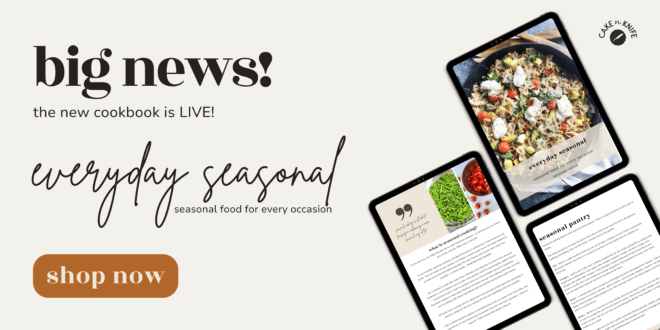 stress free seasonal cooking
make the most of your favorite seasonal flavors!
This digital cookbook bundle will teach you everything you need to know to incorporate seasonal cooking into your everyday life, without the stress of complicated techniques or processed foods.
Can you imagine a resource you can easily refer to each season?
Take the stress out of planning a dinner party or hosting a gathering by having the food decided and recipes in hand.
Know exactly which of your favorite fruits, vegetables, and herbs are in season RIGHT NOW.
Get the junk out of the pantry and stock the items that you really need.
Learn base recipes that use seasonal ingredients which you can swap out in other seasons.
Become confident in knowing what flavors go together in each season.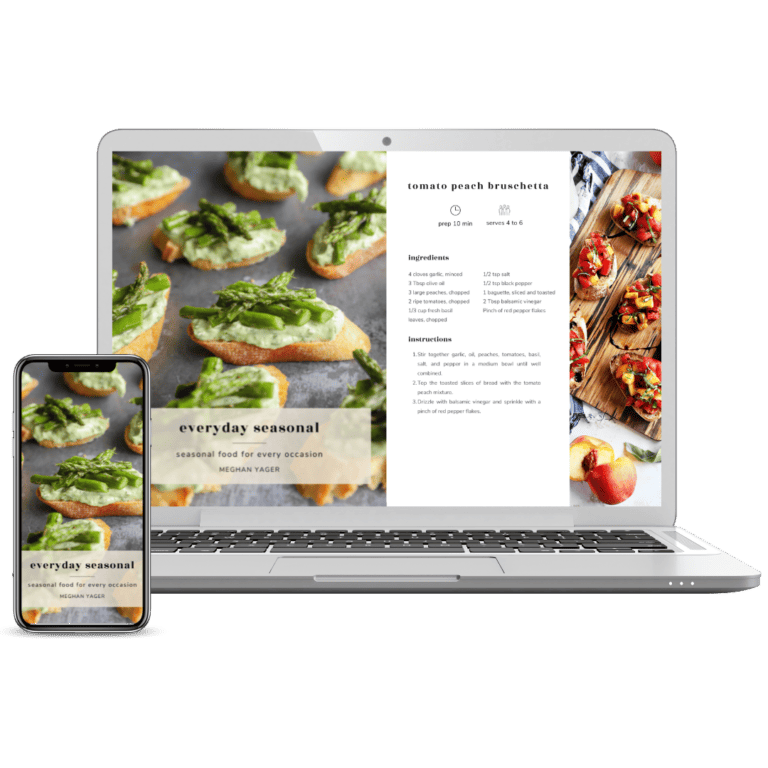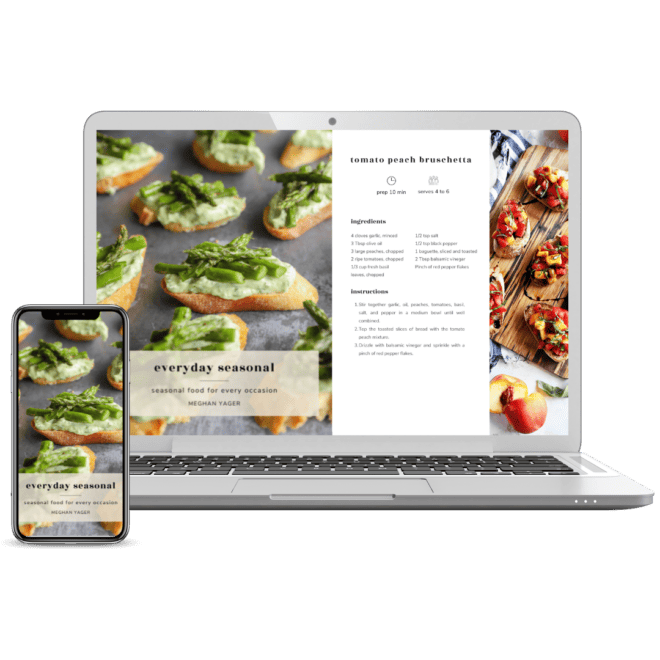 Remove the stress of wondering what's in season and what to cook for dinner, all in one book!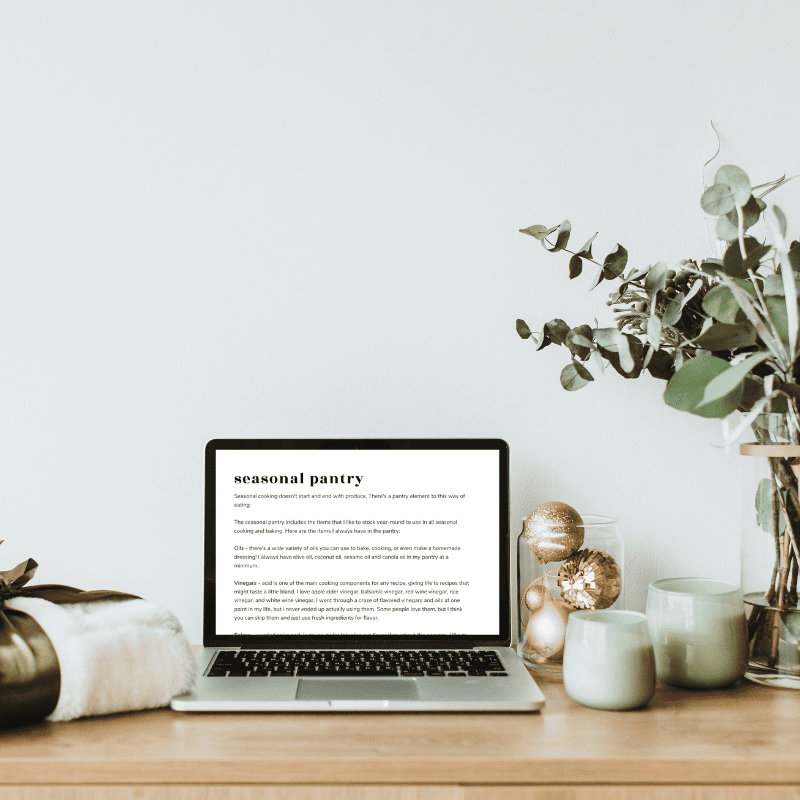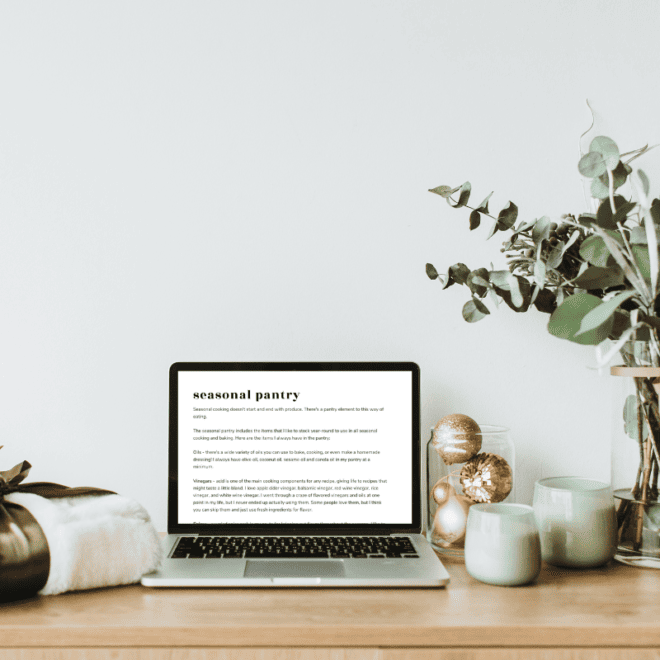 have you ever thought…
How do I know what's in season right now?
I want to host a dinner party, but I don't know where to start.
What dishes should I make for a party that are easy and delicious?
How can I become more confident in pairing seasonal flavors?


entertaining seasonally, without the stress
Once you know the seasonal flavors, it's time to invite people over! Not only are you learning all about seasonal cooking in this cookbook, you will also find recipes and menus (my secret weapons!) to make you a stellar host/hostess. With this book at your fingertips, you can feel confident hosting a dinner party or larger gathering, no matter what time of year it is.
Every season includes:
custom seasonal dinner menu for 4 people including cocktail, appetizer, main dish, and dessert
festive seasonal gathering menu to serve 8 people including a themed cocktail and small bites
all the recipes for the menus at your fingertips!
No more worrying about choosing the right seasonal dishes or trying to pair together a whole meal. The decisions have been made so all you have to do is buy the ingredients and make the recipes!


what people are saying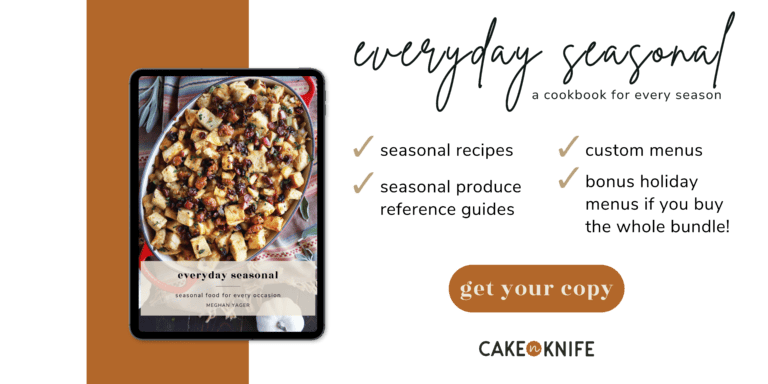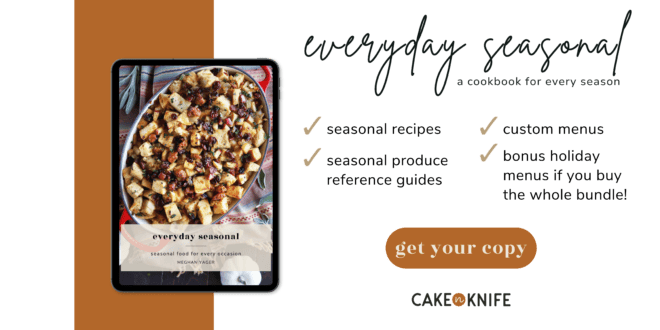 here's what you'll receive:
45 seasonal recipes that highlight in-season produce and are perfect for sharing with friends and family, any night of the week.
Seasonal produce lists to refer to year round, including a list of fresh herbs to pair with them.
Seasonal pantry guide to help you efficiently stock your pantry all year long, including a seasonal pantry organization and refresh routine.
BONUS MENUS for Thanksgiving and the Holiday season to host without the stress.
And much more!


Hi cooks! I'm Meghan, a food addict turned food blogger, and I'm here to show you just how easy it is to get started with seasonal cooking.
If you've ever wondered what's in season right now or how to decide what the heck to serve at a gathering, this is the cookbook you've been looking for!
To me, the one thing that makes gathering people together memorable and fun is… THE FOOD.
Whether you are cooking for your family on a weeknight, planning a dinner party, or hosting a party, I've got you covered with this cookbook. In Everyday Seasonal, you'll find the resources and recipes you need to make the most of every season's fresh produce.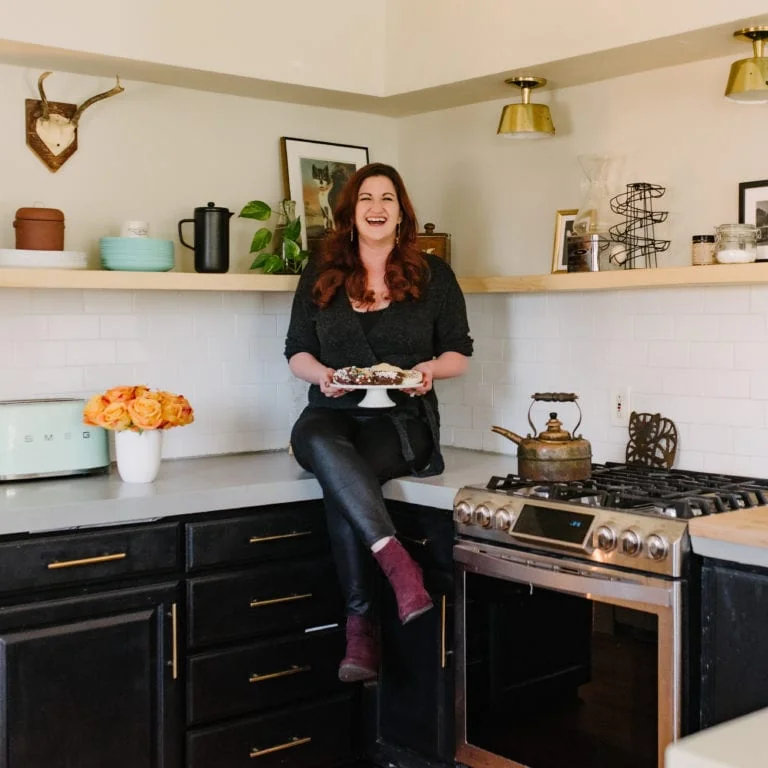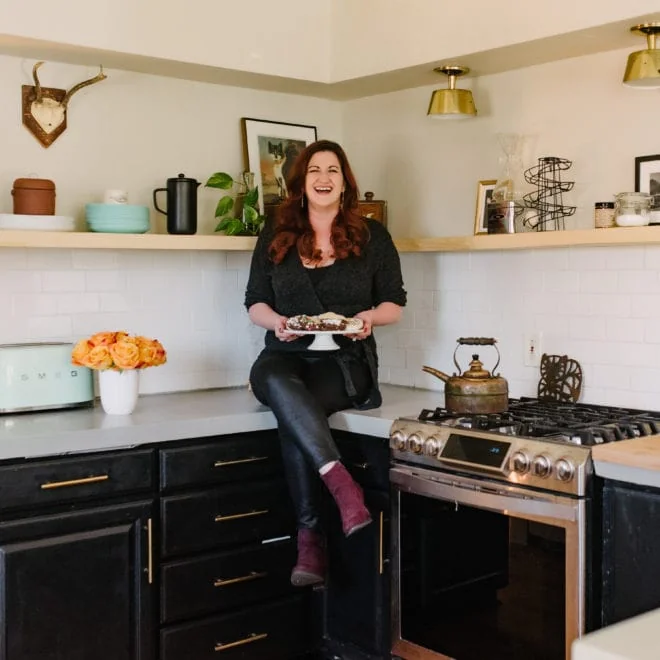 Are you ready to master seasonal cooking?