Please note this post contains affiliate links.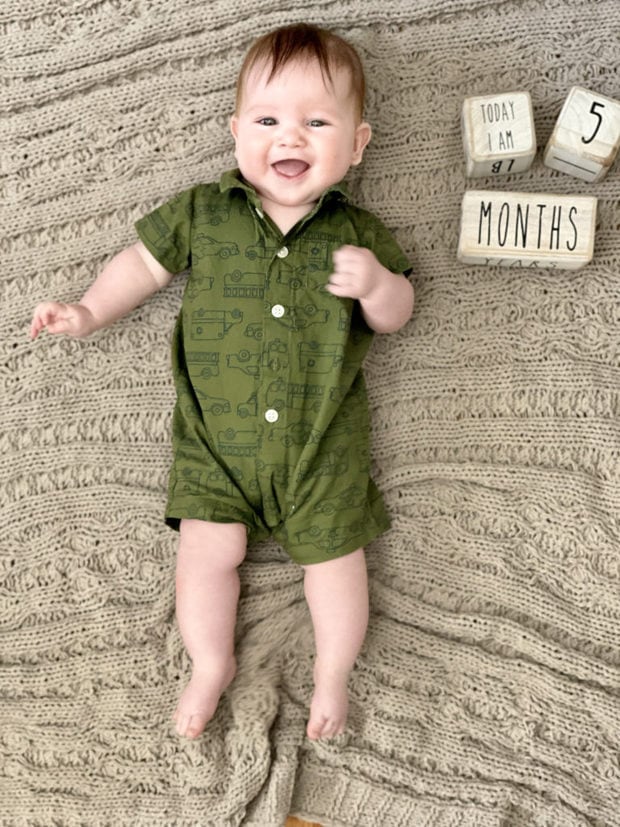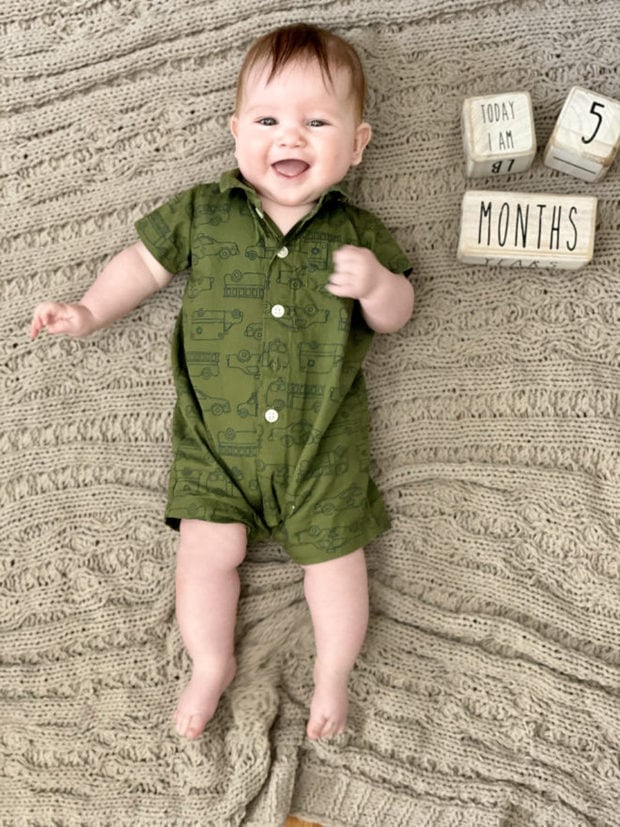 Babycakes is FIVE MONTHS OLD. How did this even happen?
It's crazy to me how quickly the time seems to be going by. And at the same time, time seems to just stand still some days LOL. Babycakes is going into a phase of teething and fussiness, plus he has been waking up wayyyy too early each day. Trying to get a good sleep schedule for him has been a challenge but I am hopeful we will have it soon?
Really I'm just SO excited to start introducing food! It's going to be such an adventure and I can't wait to see what he likes. We've been giving him tiny tastes of things and with that he seems to be getting more and more interested in the food we eat. Drop your guesses on what his first favorite food will be in the comments below! Or just tell me what your kid's favorite was because I'm always curious!
song of the week
Song of the Week is Don't Panic by Coldplay. We just got a new record player setup and I can FINALLY play my Garden State Soundtrack album. I'm flashing back to blasting that record all summer long in high school with my friends with the windows down… SO GOOD.
foodie things
we all need to make this cinnamon maple brown butter blackberry peach crisp this summer.
loving these colorful grilled rainbow veggie skewers!
peach overnight oats are going on my to-make list for breakfast next week.
lunch idea = grilled chicken caesar sandwiches!
fresh strawberry pie is a summer must for me. I'm pinning this for July 4th weekend!
this berry cheesecake dessert pizza is so much fun.
I'm ready to load up these small-batch honey butter biscuits with fresh whipped cream and strawberries… YUM.
spicy guacamole… YES PLEASE.
fun things
To-Do List for Your Baby's 15-Minute Nap. I feel like SO HARD right now.
For my fellow friends who love to laugh at stupid jokes, here's a bunch of dog jokes to help you get through the week.
Marvel Loki or Mythology Loki? I definitely failed this quiz lol Side note: I am SUPER excited for the new Loki movie!!
Principles of DIY Home Repair. hahahahahaaaaaaaaaa
inspirational things
Where your inner critic comes from and how to tame it. I reallllllly enjoyed reading this. Lots of lovely takeaways.
I only have one inspirational link this week LOL I have been diving into a hole of work, funny videos, Babycakes, puppies, and trying to get enough sleep so I'll have more next time hopefully!
grilling season must-haves!
Grilling season is officially here! I've been trying to grill more since it doesn't make the house hot AF. Here's some of my favorite tools to use when grilling!
Pizza stone – preheat it while the grill is heating up! Throw your pizza on it and it's like having your own pizza oven.
Tongs – I love these extra long tongs!
Grill brush – a must for every grill and this one works SO well.
Basket – perfect for grilling things that are small or tend to roll around like cherry tomatoes, etc.
Grill mats – alternative to the grilling basket, these are great to make a flat surface for smaller items or more delicate items like fish.
my favorite grilling recipes
Since we are already talking about grilling, let's talk about some recipes you should make this summer! Here's my current favorites and ones I keep coming back to week after week: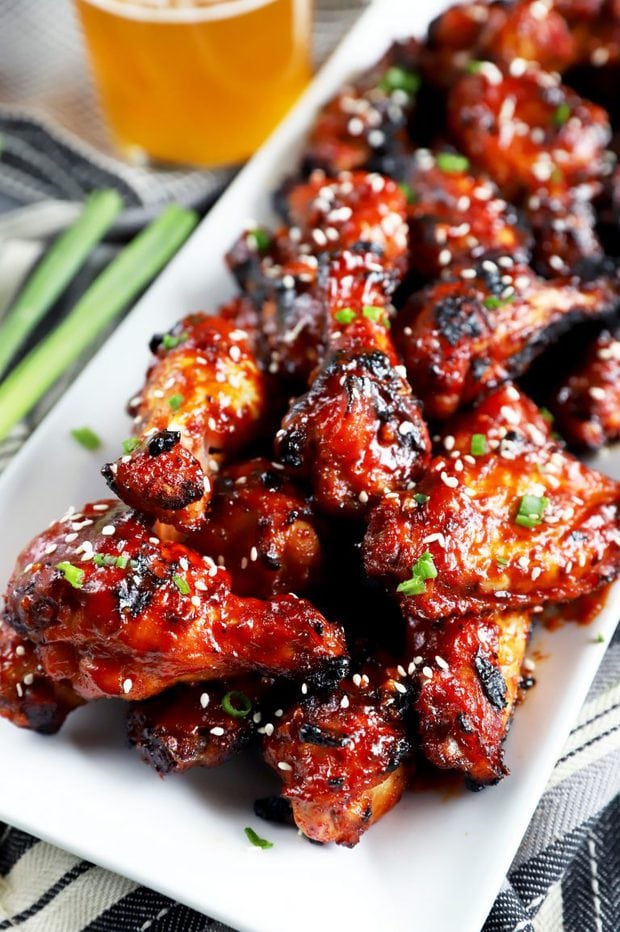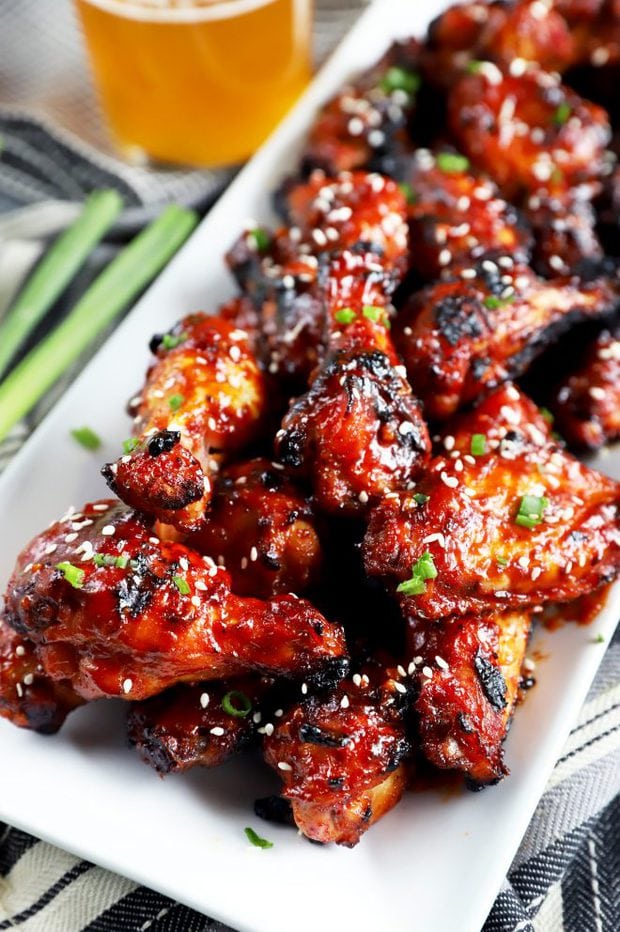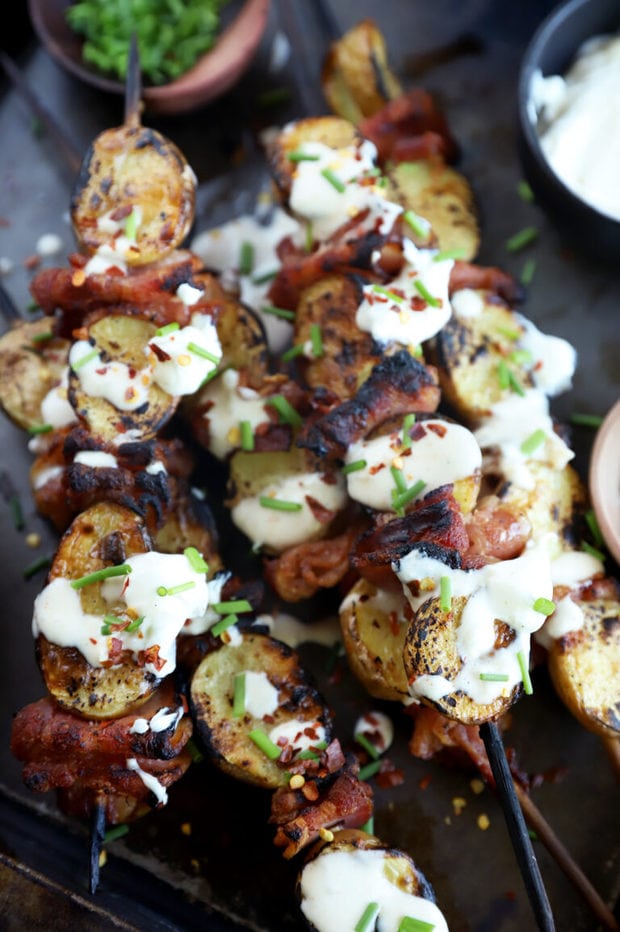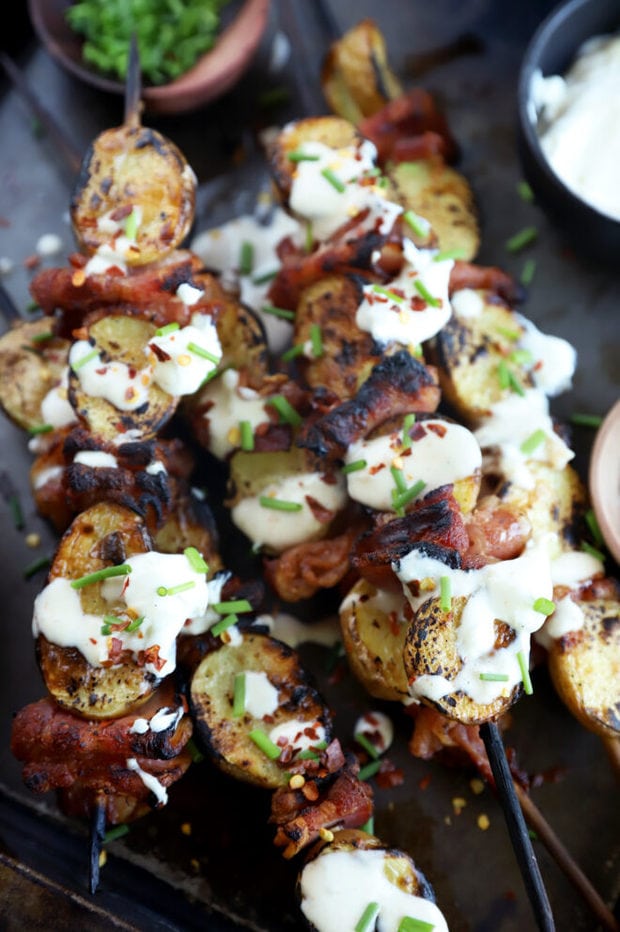 Salsa Verde Chorizo Grilled Pizza