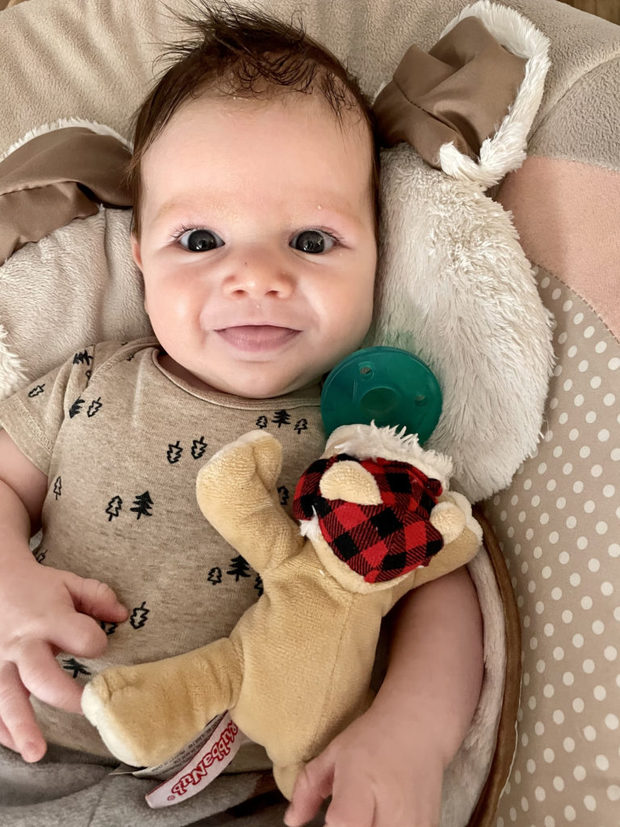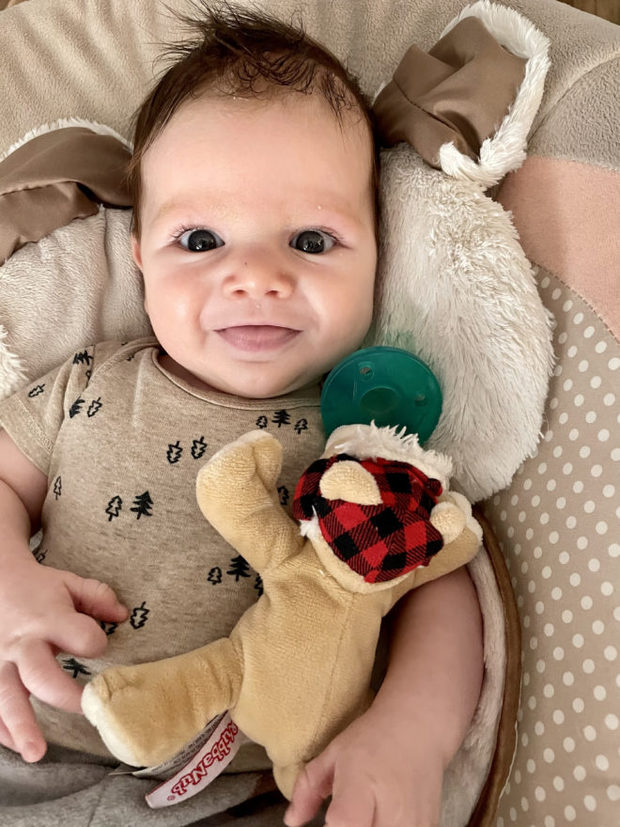 There's not much cuter than that little face, am I right? YES, I know I am biased lol. I can't believe that he is almost three months old already! Time has FLOWN by and as I get back into work, it seems to be going by even faster.
This week has been all about getting into a new groove. Trying to add in workouts, trying to stop binge eating chocolate, and attempting to keep up with friends a little bit more. I've been adding in little elements back into each week and I'm starting to feel like we might actually have the hang of this whole parenthood thing! At least for now… once he starts moving and grooving around we can revisit that sentiment.
Babycakes is full on smiles most of the time, a big cuddler, and growing like crazy. I am SO thrilled to have him fitting into the next size up because we have some REALLY cute clothes to put him in, haha. It's the little things, right?
In the meantime, the recipes are going to be coming back slowly. I'm hoping to pick things up in the next couple of months, but I will have at least one a week for you all! It's been fantastic to get back in the kitchen 🙂 I just can't wait for Babycakes to be old enough to get in there with me!
song of the week
Song of the Week is Dancing In The Dark by Bruce Springsteen. This might become song of the week for Babycakes because it's been driving my music choices lately LOL. He was jamming to this song the other night while we were hanging out, so it's been stuck in my head ever since!
foodie things
I need to use my air fryer more and I'm excited to try these cilantro lime air fryer chicken thighs from Spoonful of Flavor (even though the Man hates cilantro… sigh).
roast fig tartness with blue cheese and prosciutto from Drizzle & Dip…. YES PLEASE.
have you made baked tacos before? This recipe from How Sweet Eats looks DELISH.
sheet pan 30 minute sticky apricot chicken from Half Baked Harvest is going on the menu for next week!
I would love a slice of this lemon gooey butter cake from Table for Two with my afternoon tea.
funfetti cookies are always a good idea! This classic recipe is from My Baking Addiction.
one-pot chicken and artichoke cavatappi from Skinnytaste. There isn't enough cavatappi in my life and that needs to change.
fun things
LOVING the kid-friendly charcuterie boards on The Baker Mama's IG account lately. We aren't anywhere close to solid foods, but I have GOALS.
Hav you ever heard of the Razzies?? I had no idea these awards existed!
"It was self-defense but help me hide the body!" crime novels LOL These are totally my kind of books.
Ok, did you hear about the shrimp tails in Cinnamon Toast Crunch?? My childhood is now ruined…
inspirational things
Anyone out there raising or raised a kid with two languages? I know a decent amount of French and have already started speaking it to Babycakes here and there. I thought this article about baby talk was interesting. Apparently a new study says that there could be a benefit?
The only way to prevent car crashes is more cars. I'll just leave this one right here.
In 2021 and Beyond, Let's Continue to Celebrate Our Essential Workers. 100%!!!
Can therapy save the pandemic-era workplace? This is a fantastic read.
lovely smelling things
I'm really into yummy smelling candles right now… I mean, I always have been, but for my bath nights and while I'm cleaning up the kitchen, I love having a lovely scent wafting through the air.
I keep hearing about Boy Smells candles and the LES candle has my eye at the moment.
I also really love the idea of homesick scented candles! I live in my home state, but the UK Homesick Candle sounds divine. I MISS TRAVEL.
If you really want to splurge, these Diptyque Bakes Candles are really well reviewed and I love the rose/black currant scent.
Personally, nothing beats the smell of crackling wood and these wood wick candles are really unique!
do you know the bunny is coming?
Easter is just around the corner… are you preparing your menu? I'm all about fun updates on the classics like deviled eggs, lamb, and carrot cake! Here are some favorites to add to your menu!
Smoked Salmon Avocado Cream Cheese Pastries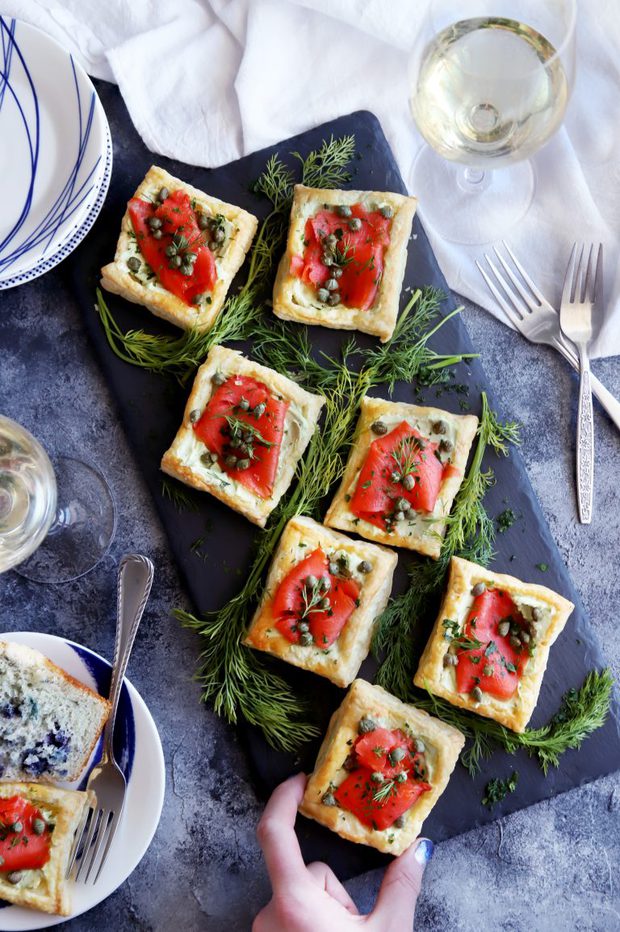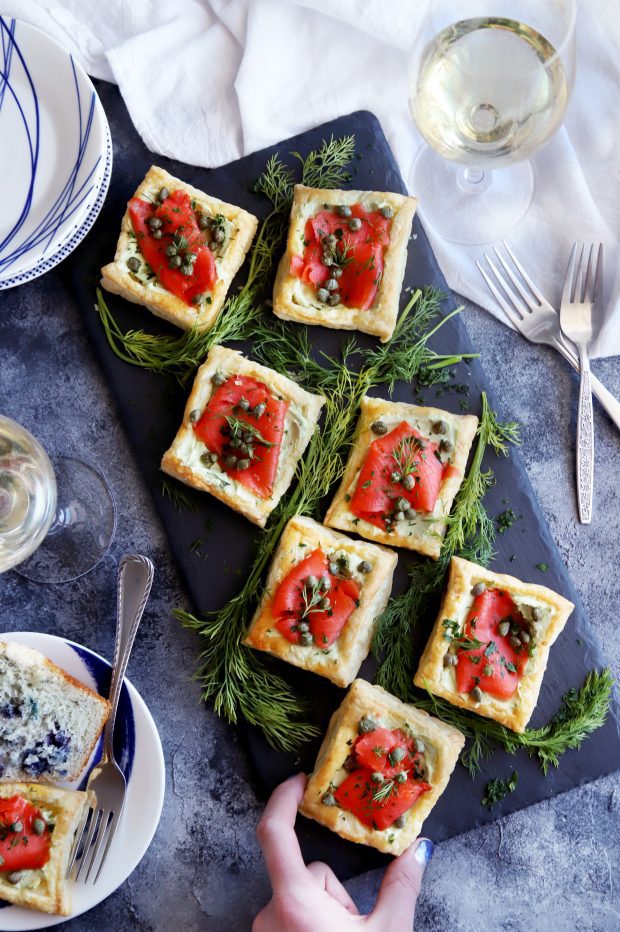 Ancho Chili Rubbed Leg of Lamb