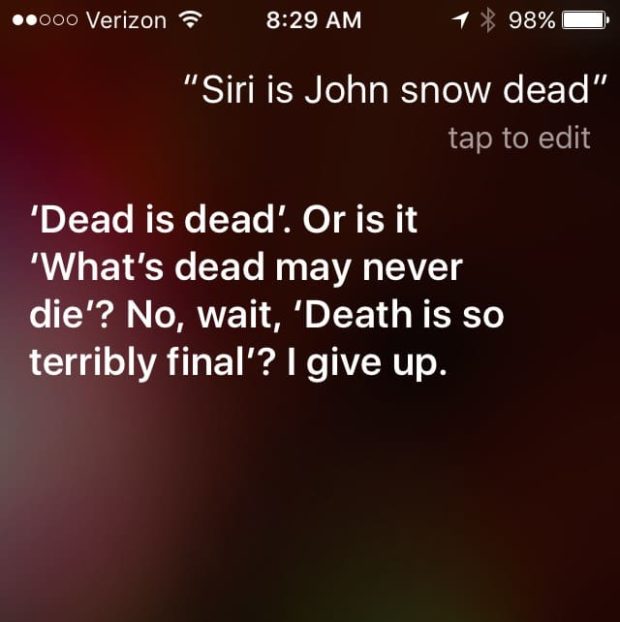 1. Ask Siri if John Snow is dead. Just do it, because it's hilarious. Also ask if winter is coming. Is anyone else counting the days until the GOT premier? I still have to figure out where the hell I'm going to watch it, but I will stalk a random stranger if I have to so I don't miss it. Anyone out there offering??
2. Do you all know 'Girl with No Job'? All these things about not being able to adult – it's like reading through a daily account of my life. Too real, folks. Too real.
3. Song of the Week is The Heart of Me by Mike Snow. I'm totally digging the vibe – just the right amount of pep for spring without being too summery (yes that's a thing).
4. The epic hunt for a milkshake at McDonald's, as told by this drunk man on Twitter. Freaking. Dying.
5. Who's watching Hell's Kitchen?? Black jackets, finally! I'm kind of torn about who is going to win. I think it'll definitely be a girl this time, but it's tough to narrow it down. What are you thinking?
6. I just started re-watching Friends for the millionth time… I think I need to find a new sitcom to binge on. Ideas please!
7. Honestly, I'm in a whole of crazy work, cooking and attempting to find some balance in my life all while trying to continue hitting the gym and eating healthy. So all I can say this week is that next week's Wednesday Slice will be a whole lot better! OR it'll be the recount of how I have a complete mental breakdown over the weekend. One of the two.