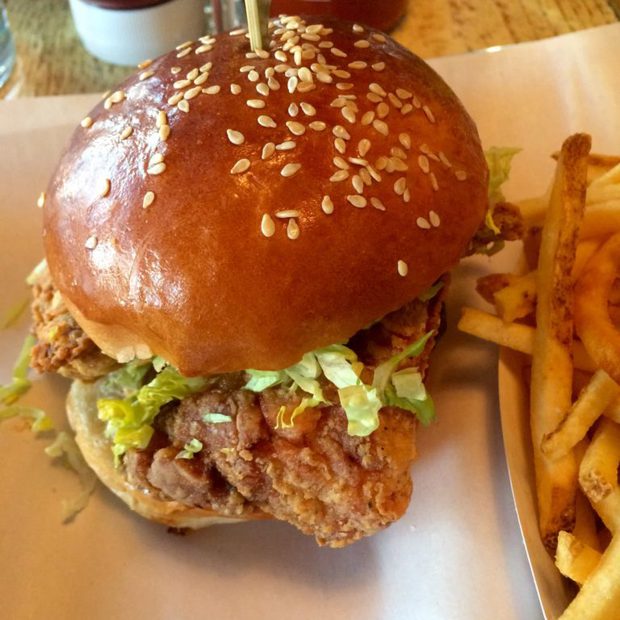 1. Ok, so I might still be craving this fried chicken sandwich from a couple weeks ago… Badly. The sad thing is, this is the last real world food photo I have on my phone. It's time for a new foodie adventure, but where to go… Suggestions in Denver? Or anywhere in the world? I need another vacation (says the girl who just had almost two weeks off….).
2. Get ready to have your mind messed with… These optical illusions had me distracted for hours.
3. I know you are all so sick of me sharing resolutions and such, but these things you need to give yourself a little more credit for this year really struck a chord with me. I can't even narrow down my favorites because they ALL apply.
4. You know when you hear someone describe a story attached to a song and it plays so vividly in your mind, you feel as though you were there? Ok so maybe that's just me and my extremely wild imagination, but that's what inspired this week's song of the week – Halcyon On and On by Orbital.
5. I am guilty of all these things when it comes to my fur baby, Kya… #sorrynotsorry
6. Time to get out of your comfort zone, folks. I know, turn that phrase right back around on myself… And I intend to.
7. Real talk time… The big 3-0 is coming up this year and I literally only put that together yesterday. Apparently I have some irrational weight put on this age because the idea of it coming up so fast is a little unnerving. HOW am I almost 30??? I still feel like high school was just yesterday, when I was running to choir practice or theater rehearsal every five seconds and had no real grasp on reality beyond college. Yes, I know I shouldn't be worried. But 30 is THE age for me, you know? We all have an age where it's like, whoa, how the hell did all that time already fly by. Tell me somebody else out there knows what I'm talking about??