You know those recipes you find on Pinterest? You pin them and stare at the gorgeous pictures that make you drool but you never actually make the recipe. Instead you pin more recipes and these just keep getting buried under a heap of more newly pinned recipes.
Or is that just my Pinterest recipe hoarding experience? I have been gawking at this recipe for a while and finally after starting at my new job on Monday I decided these cookie bars would be the perfect way to de-stress. Did I mention how difficult it is adjusting to a new job? It is beyond overwhelming.
These are my solution, my yummy gooey nutty chocolate solution… Oh and also this music video… because my taste in music is insane and I literally can't stop listening to this song. I also can't stop doing the dance.
While eating cookie bars.
As my hubby stares at me like I am from a different planet.
Just watch it.
Did you notice how I couldn't even take photos of these cookie bars without taking a bite? This is a sickness….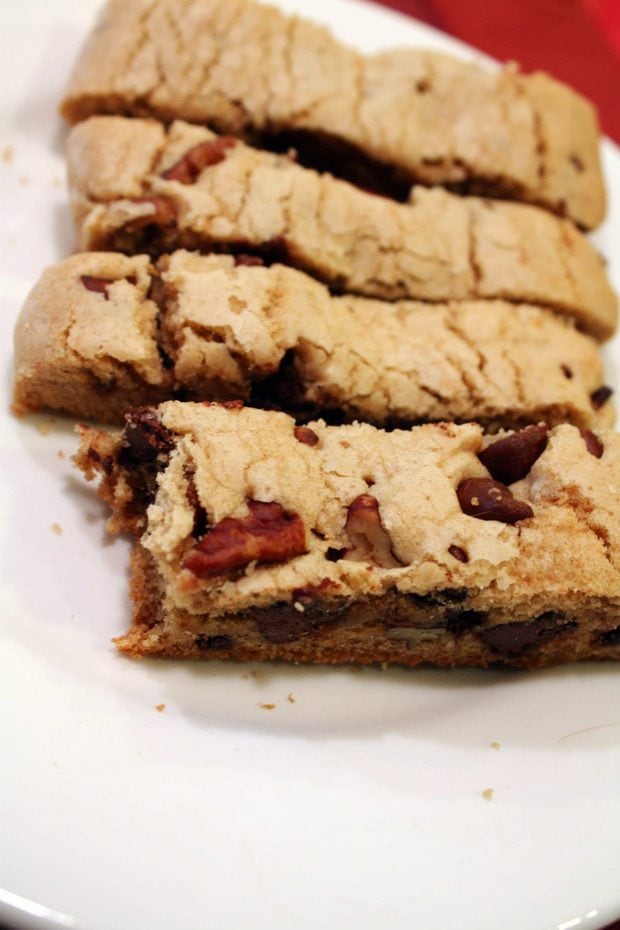 Soft and Gooey Chocolate Chip & Pecan Cookie Bars
Total Time:
1 hour
40 minutes
Soft, chewy and gooey - they are the perfect dessert bars!
Ingredients
3/4 cup packed brown sugar
1 egg
1 1/2 tsp pure vanilla extract
1 1/2 cups all-purpose flour
1/2 tsp baking soda
1/2 tsp salt
3/4 cup milk chocolate chips
3/4 cup pecans
Instructions
Preheat oven to 325 degrees. Line a baking sheet with parchment paper.
Spread pecans in a single layer on the baking sheet and bake for 10 minutes, until toasted and fragrant. Cool prior to chopping them. Set aside. Increase oven temperature to 350 degrees.
In a medium bowl, stir together oil, sugar, egg and vanilla.
In a large bowl, stir together flour, baking soda and salt. Gradually add in sugar mixture and mix well. Stir in chopped pecans and chocolate chips.
Divide dough in half. Shape each portion into a 9x12 inch rectangle on a large, greased baking sheet. Refrigerate for 1 hour.
Bake for 20 minutes. Cool before slicing and serving.