Roasted Lemon Garlic Herb Shrimp & Pasta
It's getting chilly here in Denver….
Per my usual habits, I turn indoors at the first sign of a cold streak and thus the trips to the store on weekends become few and far between. So the challenge of making something new and different becomes even more difficult…
So I went to the good ol' lemon and garlic combo that I know and love.
I have never tried roasting shrimp before and this is the perfect time of year to heat up my house with my oven.
Have I mentioned that my hubby likes to keep the house extremely cold, even during the winter? He is one of those guys that is always hot and complains about how I radiate heat in the middle of the night and thus force him to retreat to the other side of the bed just to be cool. Though his retreat to the other side of the bed might be due to the fact my puppy and I have completely taken over the bed at this point. I can't help it. I didn't know she was going to get that big. And no, she cannot sleep on the floor. She is my leg heater. I need her.
I should probably stop giving you these little insightful gems into my everyday life huh? I think I am starting to scare some of you away…
So…. these shrimp. They are pretty awesome. Just the right amount of citrus without making your face go into that sour expression. Plus when the weather is like it is here in Denver, you never know when the next summery day is around the corner. So be prepared with these bad boys.
You'll thank me later.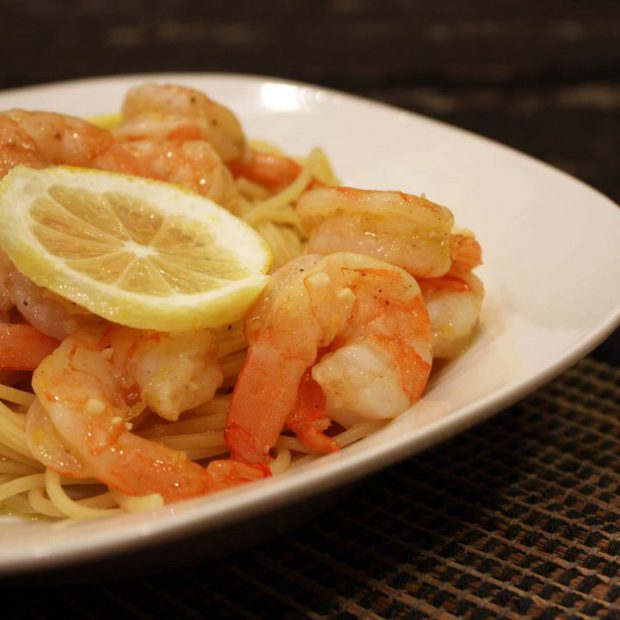 Roasted Lemon Garlic Herb Shrimp & Pasta
Ingredients
1/4 cup olive oil
1 lemon, zested then half cut into thin slices and other half into wedges
1 1/2 tsp dried thyme leaves
Salt & pepper
Spaghetti for serving
2 Tbsp butter
1 lb fresh medium shrimp, shelled and deveined
4 cloves garlic, minced
Instructions
Preheat oven to 400 degrees. In a medium size glass baking pan combine olive oil, lemon zest and thyme. Season with salt and pepper. Bake in oven for 5 minutes.
Cook spaghetti, drain and toss with a pat of butter. Set aside
Remove pan from oven, add butter, shrimp, garlic and sliced lemon. Toss to coat everything evenly. Bake for 8 to 10 minutes or until shrimp is pink and cooked through.
Serve over spaghetti with additional lemon wedges.