Loaded Mango Serrano Guacamole Toast is a spicy, savory and sweet flavor explosion that takes snacking to a whole new level. All of the textures and colors transform an everyday snack like guacamole toast into a work of art!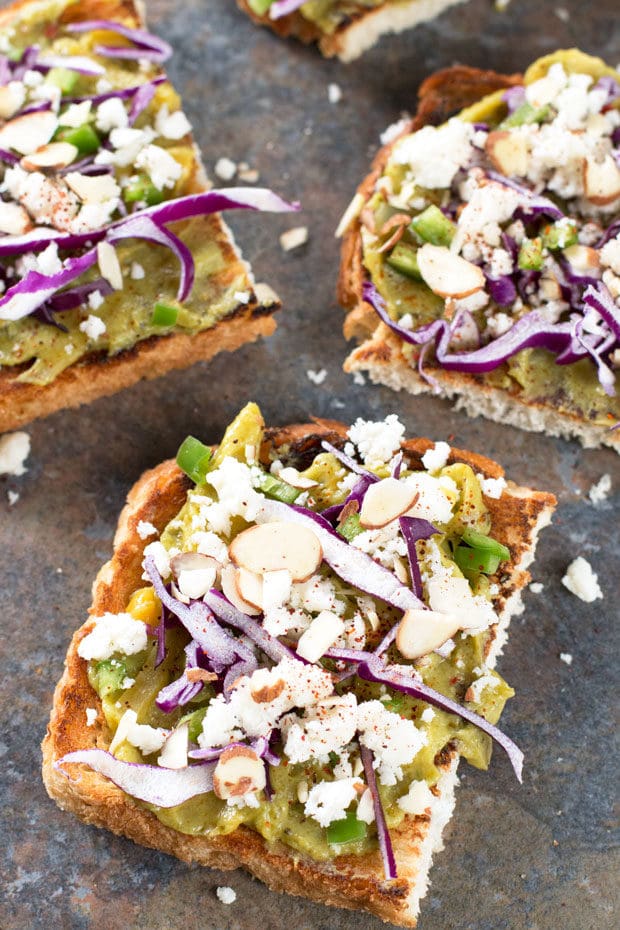 I can't even handle this week. I have been running on very little sleep, working my butt off and to top it all off, I'm in the best mood. I don't know how the combination of sleep deprivation, insane amounts of cooking and being completely ridiculous permanently attaches a smile to my face – but it does.
That crazy goofy smile that's affixed to my face also shows up whenever I look at these guacamole toasts. I mean, would you just look at all that color?! This is the snack to beat all snacks. It's the King of Snacks, if you will, and it's mighty addictive.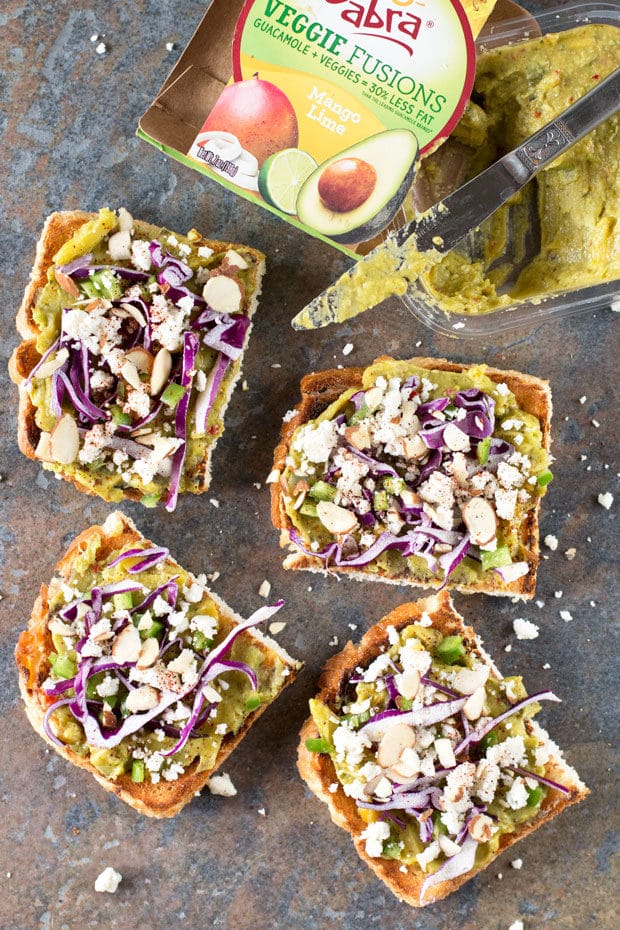 Now I know I said these are guacamole toasts, but that's not exactly PC to call them that. Why, you ask? That thick layer of what appears to be just plain ol' guacamole is actually Sabra's latest innovation – Veggie Fusions. These veggie fusions are guacamole made with Hass avocados, but they are also loaded up with mass amounts of crisp veggies (there are 7 different kinds in each flavor) and other goodies to make your guacamole eating experience that much more amazing.
Of course I honed in on the Mango Lime flavor the moment I opened my Sabra package (there's also South Western and Garden Vegetable, btw).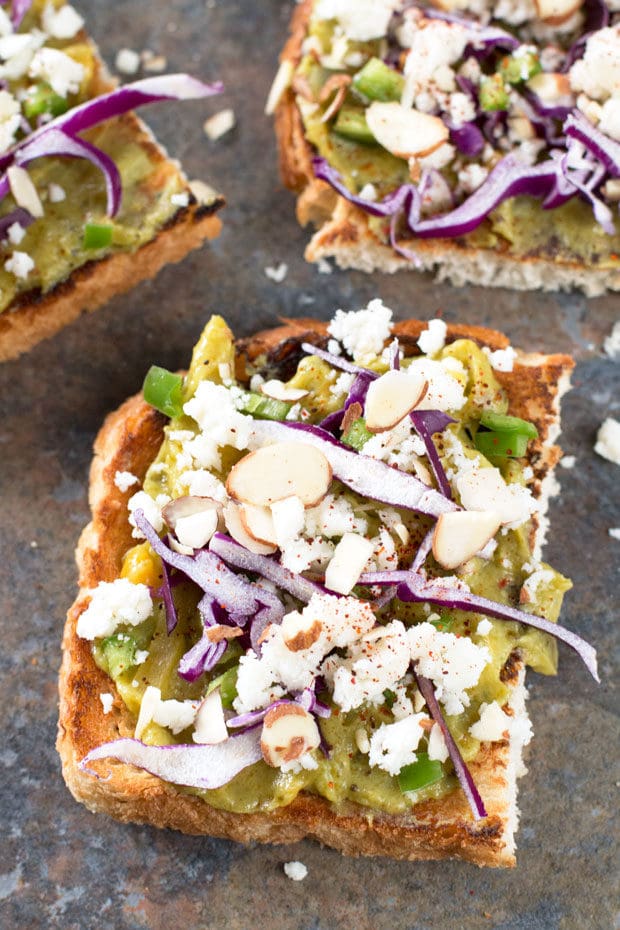 If I'm loading up some guacamole toast, I want something fruit in there to offset all the savory deliciousness.
Then I trashed it all up with some red cabbage, cojita cheese, sliced almond, serrano peppers for some spice and a dash of chili powder on top. When all of this comes together, it's literally an explosion of flavors and textures that you can't resist. PLUS it's healthy so you don't feel guilty about eat another one… or two…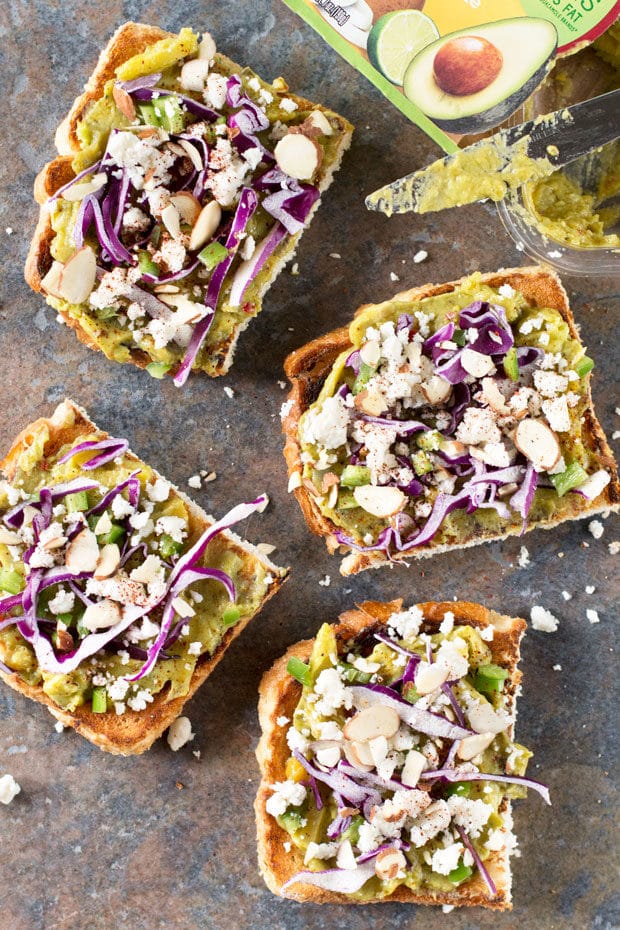 Hey, I like to eat, ok?
Eat it for a snack or devour one for breakfast – there's serious no way you can go wrong with this one!
Sabra is being extra awesome to you lovely readers today, by the way…. They are giving away a $1 coupon towards any of their fusions! Click here to snag yours before it's too late.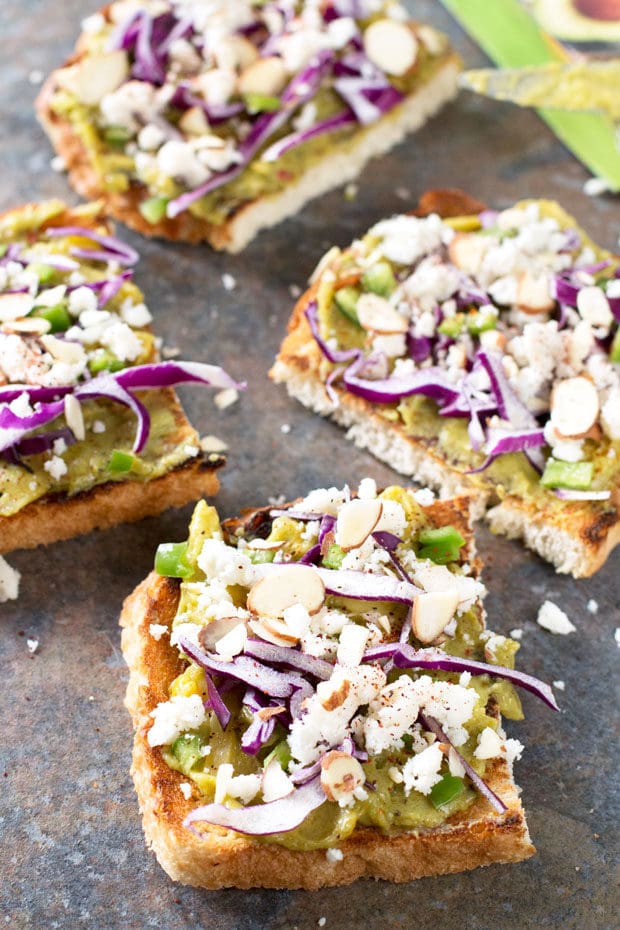 Disclosure: I received free product from Sabra and was compensated for my time as part of this post. As always, all opinions and recipe are my own. Thanks for supporting the brands that support Cake 'n Knife!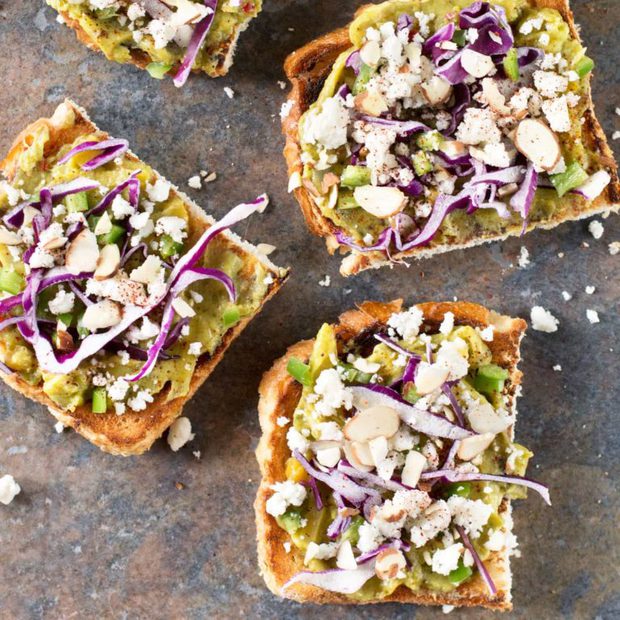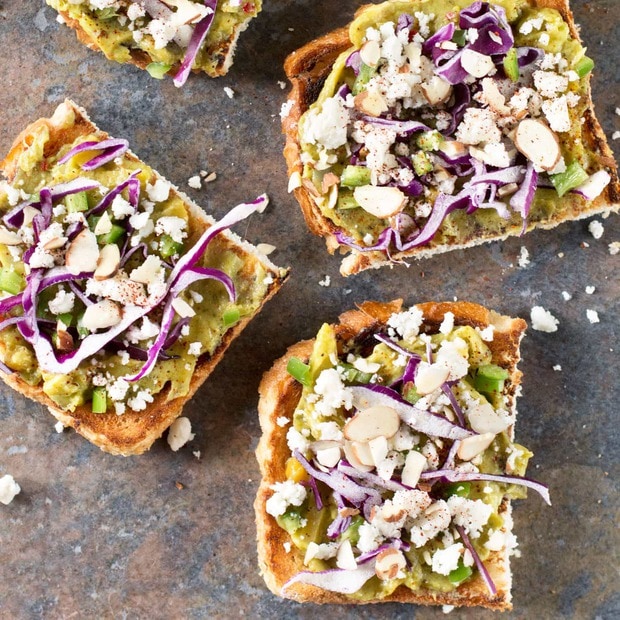 Loaded Mango Serrano Guacamole Toast
Full of flavors and textures, it's impossible to get bored with this version of guacamole toast.
Ingredients
2 slices sourdough bread, cut in half and toasted
1/2 cup Sabra Mango Lime Veggie Fusion
1 serrano pepper, seeded and diced
1/2 cup shredded red cabbage
Cojita cheese, crumbled
Chili powder
Sliced almonds
Instructions
Divide the Sabra Mango Lime Veggie Fusion spread between the four half slices of toasted sourdough evenly.
Top with a red cabbage and sprinkle on serrano pepper, cojita cheese, sliced almonds and chili powder as desired.
Serve immediately.