Key West Mai Tai is the way to take a little trip to the Florida Keys any day of the week! But really, you should get down to The Florida Keys… Do you know how much amazing FOOD there is?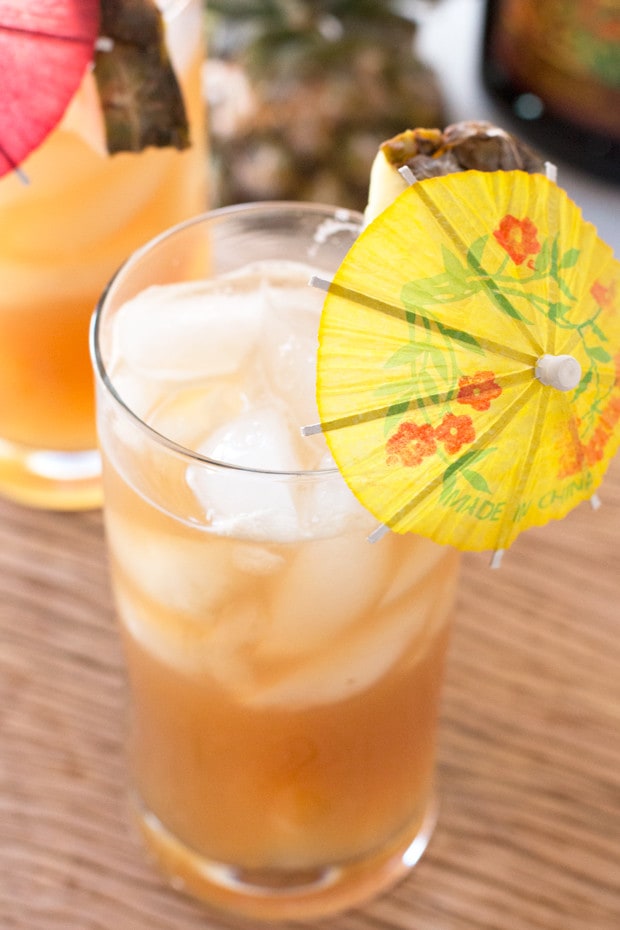 The first time I even heard about Key West was when my best friend's dad in high school went on and on about it as one of Jimmy Buffett's favorite ol' haunts (he was a big Buffett-head and it was pretty awesome). Of course, at the time, I thought I was way too cool for such a spot, but then I found out about the FOOD. If it hasn't been apparent by now, my obsession with food is legen….. (wait for it) DARY (yes, that just happened and it totally made your day, don't lie). As if the palm trees and sun-soaked beaches were enough to bring you down to Key West, the fresh fish and island cuisine is a new obsession of mine (like when I went to Jamaica!).
I'm taking you down to Key West this week, not only in spirit with this ridiculously addictive, and strong, Key West Mai Tai, but also in photos!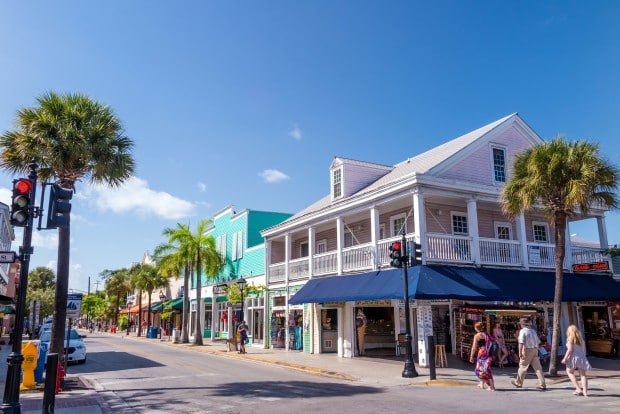 Streets like this are something out of a movie right? It's basically the place I'd want to hangout for the rest of my life if I had infinite resources and never had to work again. Fresh seafood, sidewalk cafes, live music and watching the sunset over the Gulf of Mexico every day… Yep, that's the life. The Florida Keys has not one, not two, but five unique districts (reminding me a lot of Paris), but the one that I would insert myself into would be the most southern area of Key West. It's got the best weather and being the closest to the ocean means there's loads of seafood to indulge in. Not to mention it's the closest to Cuban and the Caribbean islands, so it's gone a crazy fusion that I can only dream of from my mile-high Denver home.
For those of you ready to get away, like, NOW, I got the chance to have Paul Menta of Three Hands Fish give us the lowdown. He's a pro chef, though he seems more like a pro surfer with his "hang loose" attitude. He knows the in's and out's of little ol' Key West so he pointed us to the secret dining spots that you just gotta hit when you're down there.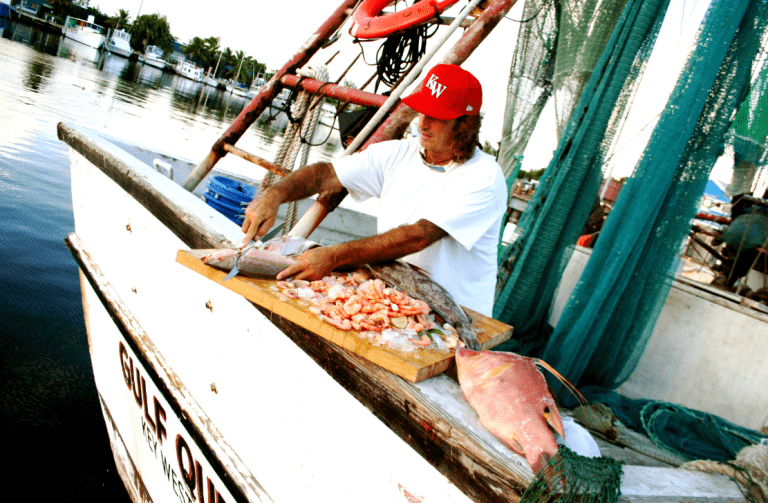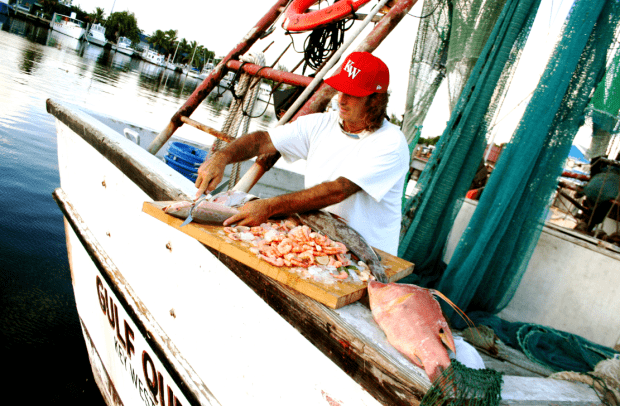 His most recent venture, Three Hands Fish is a community supported fish market in Key West. Its members, chefs and home-cooks, have access to the freshest fish, shrimp, stone crabs, and lobster that come in on the docks. As Paul describes it, the first hand is the hand of the fisherman, the second the market, and the third is when the fish makes it into the hands of the individual or restaurant. It's impossible for him not to be proud of his market and the local, traceable seafood it brings while still avoiding overfishing.
Key West has an insane variety of seafood unlike anywhere in the world and I even remember this from my extensive trips down to Southern Florida. I still haven't experience seafood variety like that anywhere else in the world in my travels. I've been told it's because the Gulf of Mexico mixes with the Atlantic ocean making a perfect nursery for fish, lobster and more. I might not know the specifics, but I'll gobble up that stuff all. day. long.
As Paul says, "Not only are visitors able to jump on the boat for themselves and go fishing in some of the clearest waters, but they are able to sit back and relax, knowing they can find the same fresh fish in local restaurants."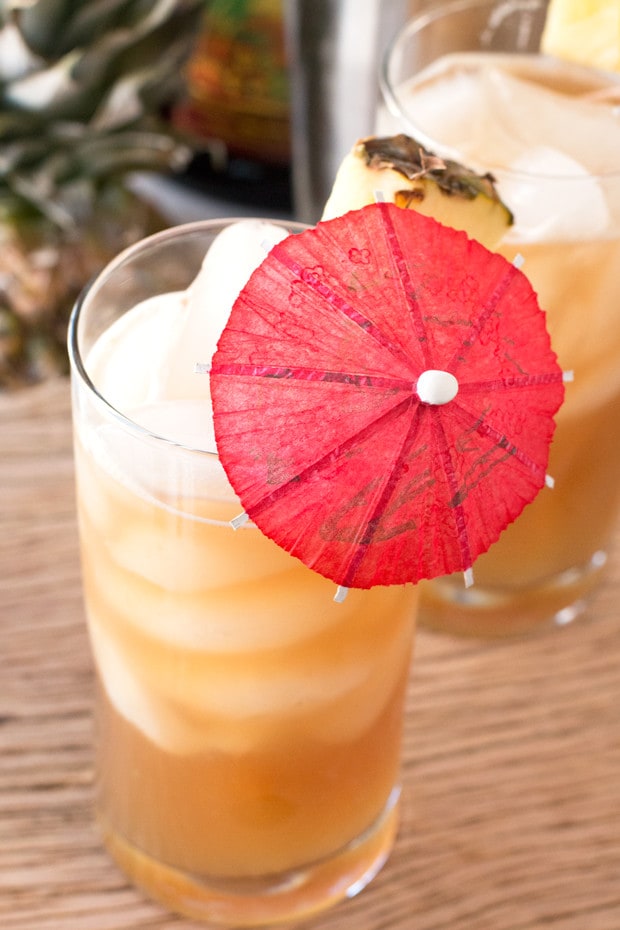 Here's the other places Paul suggested for your Key West dining indulgence:
The Stoned Crab: The freshest seafood you'll get in the area. They're particularly famous for their stone crab and ocean views in a classic 1950s resort that keeps the tradition of amazing food going. Don't miss out on staying at the Ibis Bay Resort where The Stoned Crab lives.
Lucky Fleet: For the adventurers out there (ahem, *raises hand*), you can head out on this private charter where Captain Moe (no, seriously, that's his name) will help you catch the best seasonable seafood. Then head on over to….
Isle Cook: Take your fresh catch over here and Paul pro-chef himself will teach you how to cool local recipes!
"Being a chef and commercial fisherman I can tell you there is no better teacher of how to use, care for, store, cook and eat a product than a fishermen. They have ideas and techniques that most chefs would die for….but they have to ask…..so we spread the word to them," says Paul.
If you're planning a vacation this year, it really should be Key West – I mean, if you're not convinced by now… who ARE you? In the meantime, while you wait for the trip of your dreams to roll around, just indulge in a few of my Key West Mai Tai's to get in the tropical mood. Envision yourself on the beach, Mai Tai in hand, eating fresh seafood, enjoying the warm breeze and leaving all your worries behind – Buffett-style.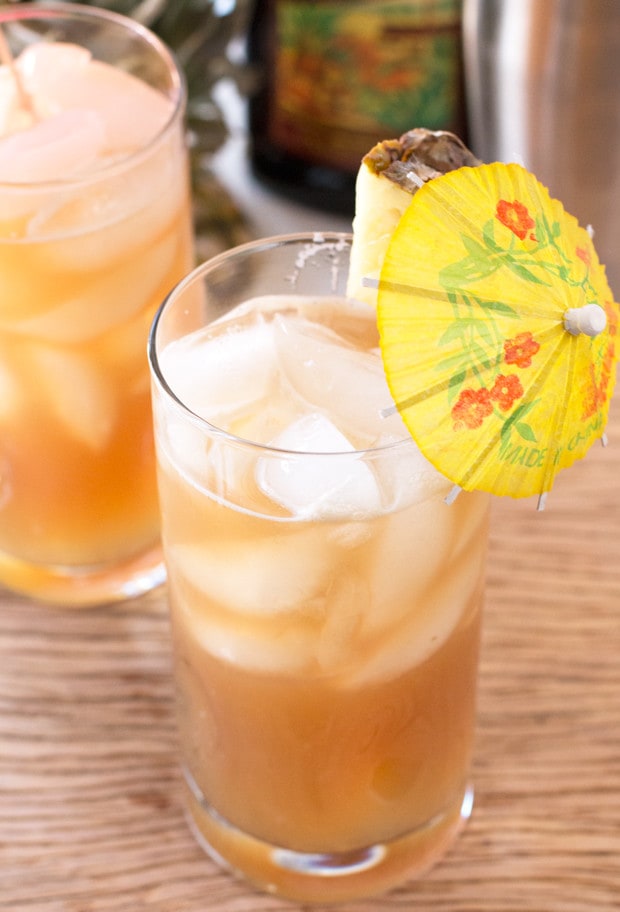 Disclosure: This post is sponsored by the The Florida Keys & Key West. While I was compensated for my time, as always, all opinions and the recipe are my own. Thanks for supporting the brands that support Cake 'n Knife!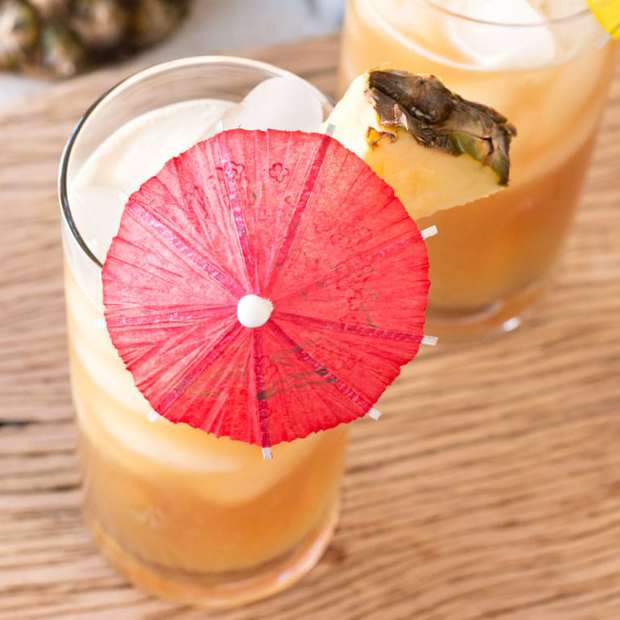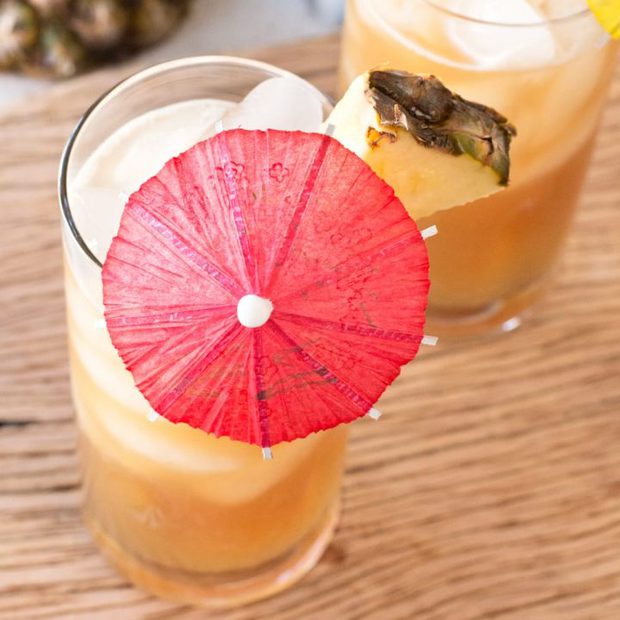 Key West Mai Tai
Key West Mai Tai is the way to take a little trip to the Florida Keys any day of the week!
Ingredients
1/2 cup fresh pineapple juice
2 oz fresh orange juice
1/2 oz fresh lime juice
2 oz dark rum
1 oz triple sec
Pineapple wedge, for garnish
Ice
Instructions
Fill a cocktail shaker halfway with ice. Add the pineapple juice, orange juice, lime juice, dark rum and triple sec and shake for 15 to 20 seconds.
Strain into 1 tall ice-filled glass and garnish with a pineapple wedge.