I feel like I am technically cheating with this recipe.
It only has three ingredients. Really.
I know it's wrong.
Granted I could have made it a little more complicated by making the pizza dough and hummus from scratch but sometimes you just want some amazing homemade food to eat and you have no time to make it.
Thus this summer-y pizza was born into my hectic schedule this week. As summer is starting to come to an end, I am filled with the overwhelming urge to fill my days with lots of sun, including recipes that make me feel like I have a scoop of sunshine in my mouth.
Though the original recipe I adapted this from called for two pizzas, I decided one would be enough. Boy was I wrong… By the time the hubby and I polished off the pizza, we were both craving more.
So my advice is to double or triple or quadruple this recipe.
One just isn't enough.
But really, when is one ever enough?
My point exactly.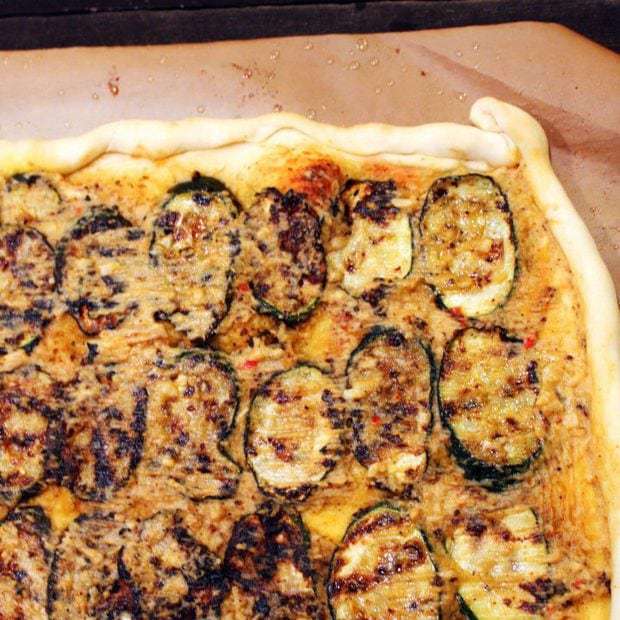 Hummus and Grilled Zucchini Pizza
A fun twist on grilled pizza for summer.
Ingredients
One 7-oz container of hummus (feel free to choose a fun flavor like garlic or roasted red pepper!)
One clove of garlic, minced
3/4 cup extra-virgin olive oil plus more for greasing
Salt and freshly ground pepper
1 medium zucchini, sliced
One 8 oz ball of pizza dough
Instructions
Set a pizza stone in the oven and heat the oven to 500 degrees for 30 minutes. Light a grill or preheat a grill pan. Add the garlic and olive oil to a small bowl and stir to combine. Season with salt and pepper. Transfer 3 tbsp of the garlic oil to a large bowl. Add the zucchini and toss to coat. Whisk the hummus into the remaining garlic oil and season with salt and pepper.
Grill the zucchini slices over high heat until they are lightly charred, about 5 minutes. Brush the zucchini lightly with some of the hummus and grill for 1 minute longer, turning once.
Lightly rub one sheet of parchment paper with oil. Stretch the ball of pizza dough into a 12-inch round on each sheet. Brush the round with one-fourth of the hummus and top with the zucchini. Slide the parchment sheet onto the hot stone and bake the pizza for about 8 minutes, until the crust is browned. Transfer the pizza to a work surface and drizzle with some of the remaining hummus. Cut into slices and serve.