Daring Cook's November Challenge: Roast Brined Chicken
My first roasted chicken….
This is a HUGE step for me and my culinary adventures. I mean, who really takes the time to roast a chicken when you can pick one up at the store for less than $10?
Not me, that's who.
Thankfully brining and roasting a chicken is not the most labor intensive thing in the world. You spend a lot of time waiting, but your hands-on time is a lot less than you would think.
The biggest challenge for me came when it was time to actually cut up the chicken. I had no idea what I was doing. I probably spent about 10 minutes standing over the golden brown bird, knife in hand, trying to figure out where to start. Somehow (thanks to this little thing called YouTube), I managed to get the legs and wings off. Then it was every man (or bird) for himself while I hacked away at the remaining meat.
Did I mention I have the patience of a 5-year-old when I get frustrated?
Yea, I got all the meat off. It wasn't the prettiest process, but I got it done.
Please stop rolling your eyes at me. I am aware of my ridiculousness.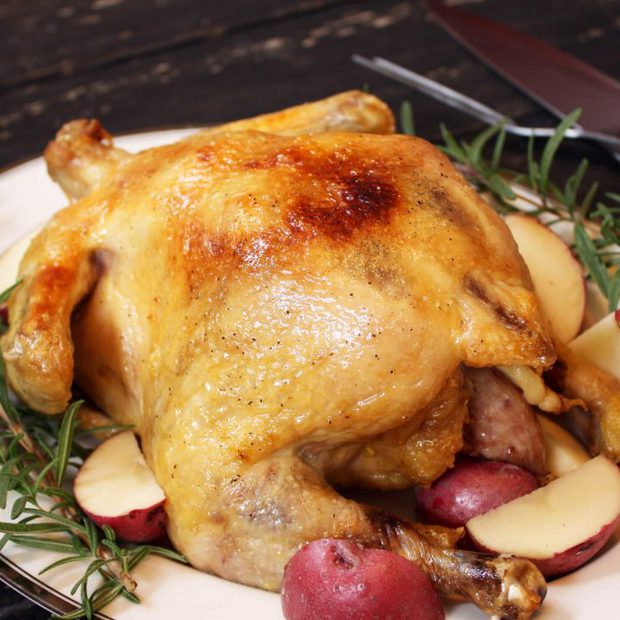 Roast Brined Chicken
Yield: Serves 4
Prep Time: 15 minutes
Cook Time: 15 minutes
Additional Time: 15 minutes
Total Time: 45 minutes
Roasted chicken is the ultimate treat!
Ingredients
All Purpose Brine
4 cups of cold water
1/4 cup salt
Spices - I used 6 peppercorns, 3 sprigs of rosemary, thyme, and 3 cloves of chopped garlic
Roast Chicken
1 whole chicken, about 4 1/2 lbs
Enough brine to cover the chicken (see the recipe above)
Instructions
Heat 1 cup of water to boiling point, add the salt, and stir until all the salt has dissolved. Place in a non-reactive container (glass, plastic, zip-lock bag, etc). add the remaining water and stir. Make sure all the salt has dissolved. Wait until the brine has reached room temperature.
Add your cut of meat and make sure the meat is completely submerged. Cover the container with plastic wrap to prevent odors from contaminating the flavor of the brine. Place the container into the refrigerator for the suggested soaking time (for a whole chicken, 3-8 hours).
Discard the brine and dry the skin and inside of the bird with paper towels.
If you desire crispy skin, leave the bird on a rack for several hours or overnight in the refrigerator so the skin can dry.
Preheat over to 425 degrees. Roast for 15 minutes. Reduce oven to 350 degrees and roast for another 12-15 minutes per pound (the internal temp should be 165 degrees).
Rest for approximately 30 minutes covered loosely in foil.